What Is Wet Dry Vacuum – All Exciting Information 2024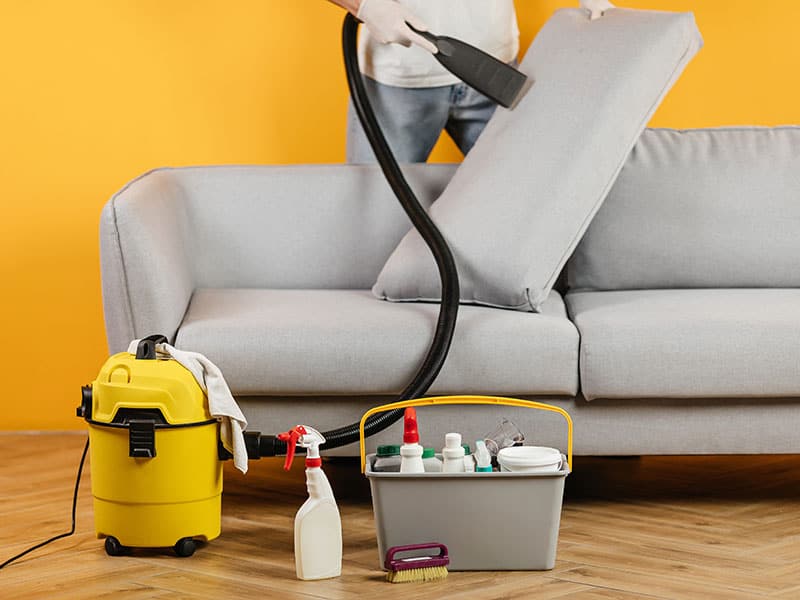 I have found many opinions about "what is wet dry vacuum," but I am not satisfied with the information about this famous and specialized cleaning device. Therefore, I created this post to give concise and complete knowledge about it.
The article will not only be limited to telling you what a wet-dry vacuum is but will also present the common uses of a wet-dry vacuum in cleaning your living space. In addition, you will learn the criteria that you will prioritize when purchasing this vacuum cleaner.
All Fantastic Information About A Wet-Dry Vacuum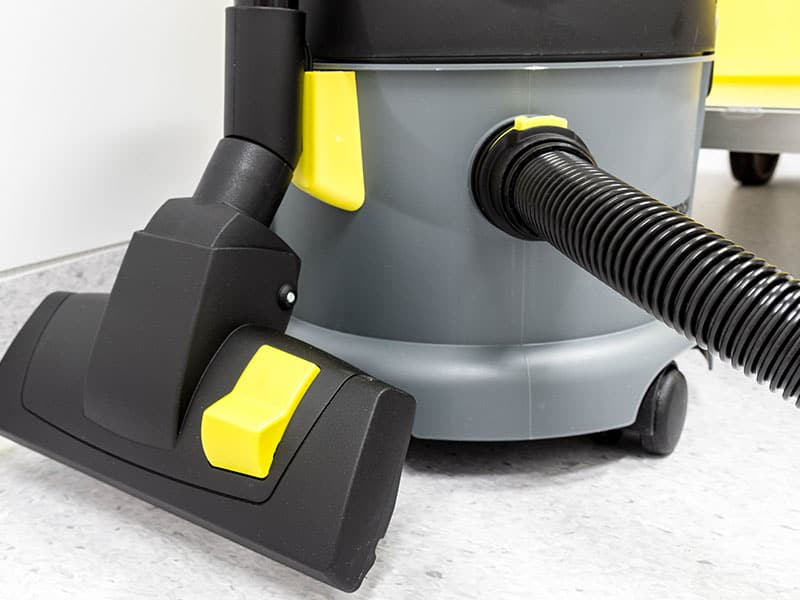 The wet-dry vacuum cleaner is a cleaning device that offers many different properties and uses. Its versatility is reflected in its ability to remove dry dust and damp spills on various surfaces (1).
This vacuum cleaner has a bag filter, and it does not collect dust and debris, but dust and wet spills will be kept separate, thanks to two different bucket systems. The brushes are designed to be interchangeable when cleaning with dry dust or wet spills.
The two separate systems of the wet-dry vacuum are precisely designed to avoid damage, inconsistencies, and electric shock to the equipment during use. When cleaning wet spills, its foam filter will operate, and the paper cartridge filter will work with dry dust.
This type helps save time when cleaning water tanks, floors, and garages. Furthermore, you can use it to clean construction sites, commercial areas, carpets, curtains, and fireplaces.
Due to the different sizes of debris, dust, and wet spilled areas, various wet-dry vacuum cleaners are manufactured to serve different needs and uses.
Small size: It is the right size for small debris. Its lightweight design makes it easy to move and store. However, its cleaning capacity is limited due to its size. It is recommended to use hose sizes between 1.25 and 1.5 meters for this type.
Medium size: This type is preferred for cleaning by households. Its moderate and compact size makes it easy to use, and its cleaning ability is also stable. Hose with a size of about 1.5 to 2.5 meters is suitable for small and medium debris.
Large size: If you want to clean large debris in large spaces, the large size vacuum will bring you excellent performance. However, moving it will be quite tricky since it is pretty heavy. You need to use a hose with a size of more than 2.5 meters.
Why You Have To Own A Wet-Dry Vacuum Cleaner?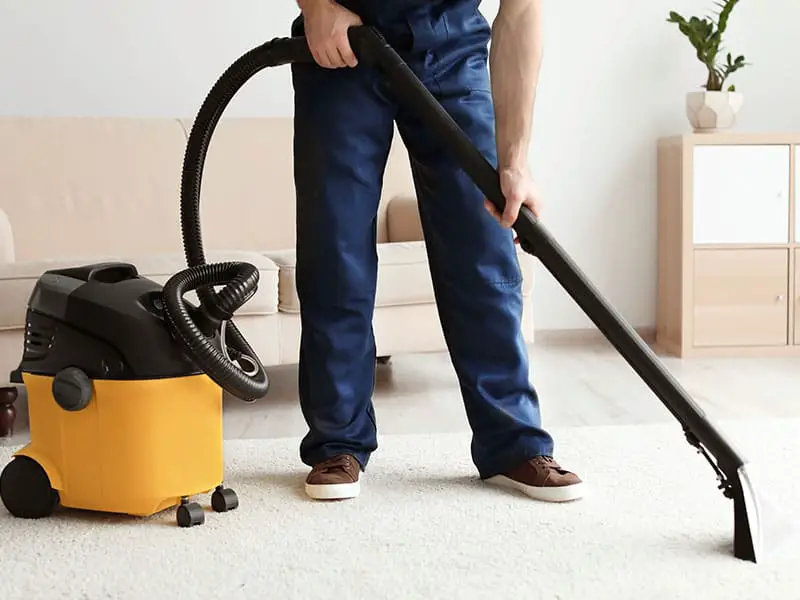 Versatility is a hallmark of a wet-dry vacuum cleaner. It will help you to remove all surface dirt. In addition, nails, screws, and large debris can be discarded by it. You can use it to make a gallon of water disappear quickly.
Dual performance is another essential element of the wet-dry vacuum cleaner. According to its working mechanism, a small hole at the top of the device will let the air out. You can remove the hose and install the exhaust on it for more blowing force.
The variety of sizes and types is what comes to mind when talking about wet-dry vacuum cleaners. Its dimensions are designed to fit its intended use. Therefore, you will be free to choose a suitable plan to use according to your wishes.
Although it comes with two built-in functions for dry dust and wet spills, you will not have to worry about electrical hazards when using the wet-dry vacuum cleaner. Dirt and liquids, when sucked into the vacuum cleaner, will not pass through any electrical equipment.
The Differences Between Wet-Dry Vacuum And Wet, Dry Vacuums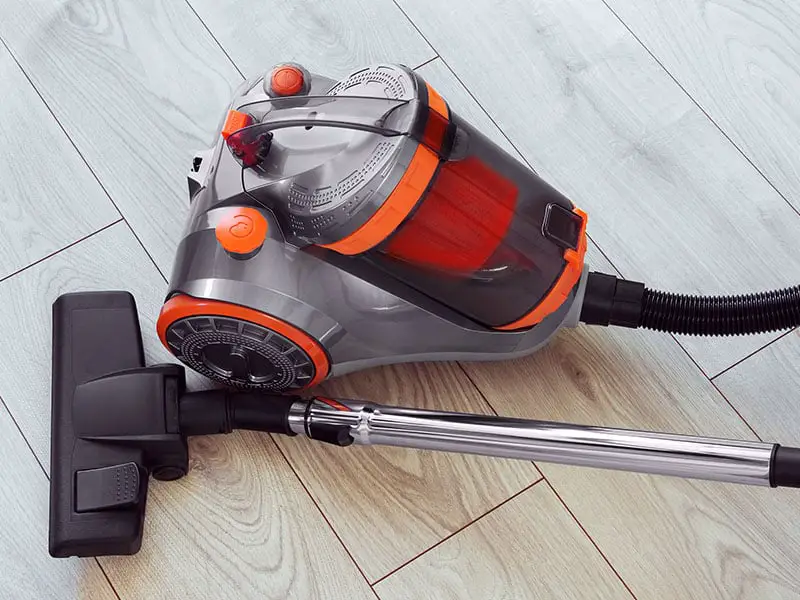 Wet-dry vacuum cleaners have many differences from wet and dry vacuums. If the wet-dry vacuum cleaner has two separate cleaning systems to deal with dry dirt and wet stains, wet or dry vacuums cannot perform the two tasks at the same time.
Wet vacuum cleaners will help remove wet stains, spill or clean water tanks, and dirty water regeneration projects. Meanwhile, dry vacuum cleaners can only remove dry dust and debris on floors, carpets, or sofas.
When using a wet-dry vacuum cleaner, you will integrate 2 functions at the same time, so it will save more time. Otherwise, you need to change between a wet vacuum or a dry vacuum to get rid of wet and dry messes.
Common Variations Of Wet-Dry Vacuum
Besides different sizes, wet-dry vacuum cleaners are also diverse in types. There are 3 common types of wet-dry vacuums on the market that you can find, including shop vacuums, handheld vacuums, and vacuum mops.
Vacuum Mops
Vacuum mops are specialized devices for house cleaning. It is a combination of vacuuming and floor washing capabilities. This type has all the features of a regular vacuum cleaner, but you will find a dust compartment and a dirty water tank from it.
You just need to press the button to switch the cleaning mode you want. Besides this tremendous built-in feature, vacuum mops also bring many upgraded properties such as floor lights, rotating brushes, floor cleaning solution containers.
Shop Vacuums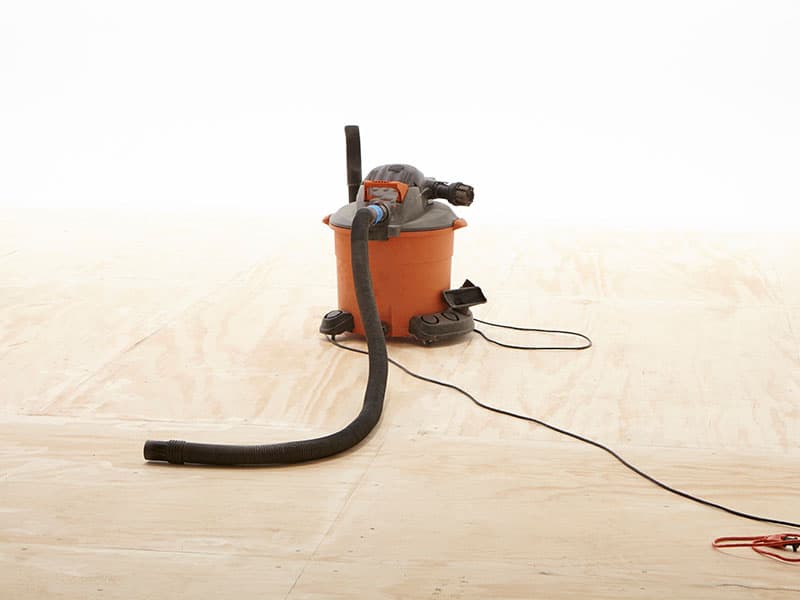 Shop vacuums are commonly used in industry; with a powerful engine and colossal suction, they can wipe out all debris, big or small, at construction sites. Its waste bucket can hold more than 14 gallons of trash.
The hose of this type is pretty long and flexible, so you can vacuum while standing or working in tight spaces. This type also plays an essential role in removing liquid messes from wet carpets or areas with water.
Handheld Vacuums
You can use handheld wet-dry vacuums for quick cleaning tasks. This type of vacuum has many different styles and designs.
Indoor designs: This style has no wires and is compact as the motor will be fixed to the vacuum funnel. This method is commonly used to remove pet dander, hair, and dust from sofas, carpets, or stairs.
Tool designs: This handheld vacuum cleaner has a lithium-ion battery. This is also a distinctive wireless design. The same battery makes it easy to switch batteries between handheld vacuums and cordless drills.
Shop designs: They are similar to shop vacuums but with a smaller size. The canister-type collection system is also slightly similar to shop vacuums but smaller. Flexible hoses come with several accessories that can be taken away.
How Does A Wet-Dry Vacuum Cleaner Work?
The operation process of a wet-dry vacuum cleaner is pretty simple. It is designed with 3 main parts, including a bucket, motor, and hose. Dust and water spills will be stored in the bucket. The vacuum motor is located on the bucket, and the hose will suck the dust inside.
Its working principle is based on the air generated from the fan that will pass through the hose and form a suction force to pull all dust, water, and particles inside.
In addition to vacuuming all dirt, a wet-dry vacuum also has a blowing function. Therefore, you can use it to blow dust in hard-to-reach areas quickly. Moreover, this function is helpful when cleaning leaves in the garden.
Listen to some essential things about wet-dry vacuum and its working principle.
Advantages And Disadvantages Of Wet-Dry Vacuums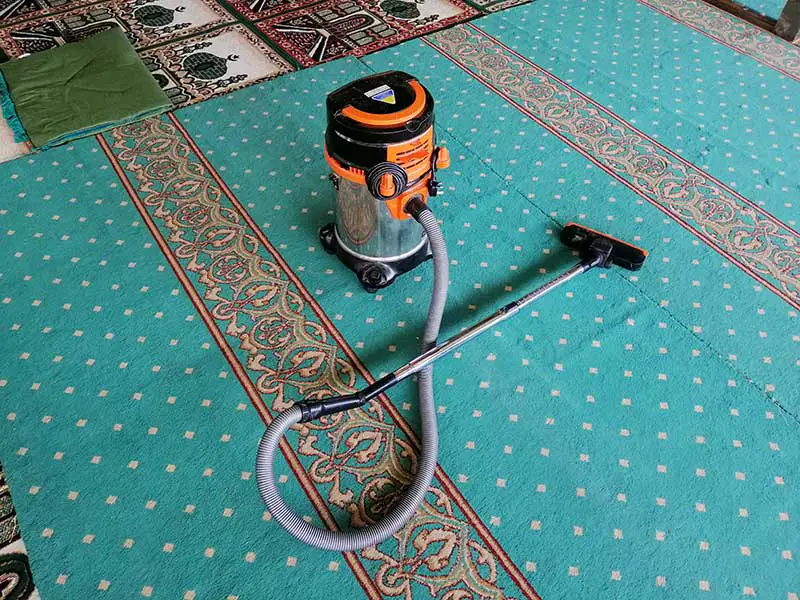 Before using a product, you need to understand the advantages and disadvantages of the product clearly. A wet-dry vacuum cleaner still has pros and cons for you to explore before choosing to use it.
Pros Of Wet-Dry Vacuum
First, you and I will learn what benefits the wet-dry vacuum cleaner will give you when cleaning with it:
Versatile cleaning ability is a fantastic advantage of it. With its unique features, you can easily and quickly clean dry and wet areas without changing between dry and wet vacuum. You will reduce cleaning time and remove stains.
The wet-dry vacuum cleaner has stronger suction power than conventional vacuums. Therefore, you can shorten the cleaning time as well as remove large debris more easily. The intense suction makes it suitable for use in homes and offices.
Its powerful motor allows you to use it at a constant temperature during cleaning. The life of the motor is 3 times longer than that of a conventional vacuum, and it can clean continuously for 1 day.
The collection chamber will keep the waste and dispose of them quickly. Furthermore, the drainage hose will help remove the wet mess easily.
Your health will be better protected, thanks to its wet and dry filters of premium products. They will reduce the possibility of harmful bacteria in the messes being sucked in. Dust will be better absorbed to avoid affecting respiratory health.
For wet-dry vacuum cleaners of moderate size and weight, you can quickly move them or bring them to the areas you want.
If you take good care of it, the wet-dry vacuum cleaner can work well for a long time, thanks to its good durability.
Cleaning with a wet-dry vacuum cleaner is faster, thanks to its power. It can remove large spills or a water bath quickly. Furthermore, large debris is handled easily with its power.
Disadvantages Of Wet-Dry Vacuum
You need to know a few disadvantages of a wet-dry vacuum cleaner that you will face when using it:
Besides the wet-dry vacuum cleaners of moderate size and weight, there are some types of vacuum with large sizes. Therefore, you will have difficulty in moving them. The large sizes used for industrial projects are pretty heavy besides.
It has unpleasant odors because it sucks up dust and wet messes like pet urine and spilled drinks. In particular, the collection chamber is the part that most often has this problem. You should put deodorant in the vacuums.
You will find it difficult and costly to clean the wet-dry vacuum cleaner because of its complex structure with 2 separate systems. Moreover, when cleaning in cold places, you should make sure it does not clog.
You need to spend a lot of money to own a commercial wet-dry vacuum cleaner for industrial use because of its large size and powerful capacity.
Uses Of Wet-Dry Vacuum Cleaner
Today, the wet-dry vacuum cleaner has become an essential cleaning appliance in many households, thanks to its versatility. This type of vacuum cleaner is both easy to use and has many great applications.
Remove Liquid Spills
With its wet messes removal feature, you can use it with confidence to clean up liquid spills. When you spot tea, milk, wine, or soft drinks spilled on the floor or carpet; you can use wet-dry vacuum cleaners to remove them immediately.
Clean The Fireplace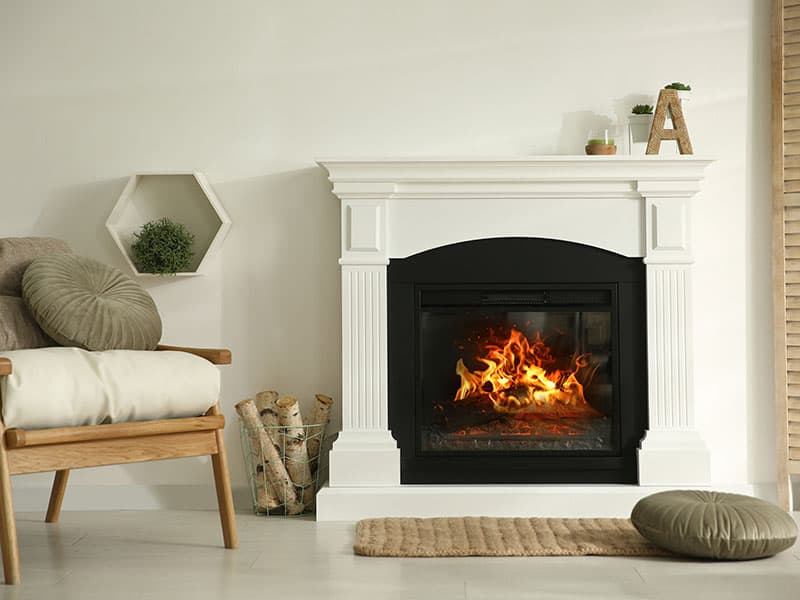 If you have trouble cleaning your fireplaces, let wet-dry vacuums help you. With the suction mechanism and the dry messes tank, you can simply use it to suck the ash from the fireplace with ease. However, you need to let the ash cool entirely before doing so.
Discard Dust And Water Spills On Curtains And Floors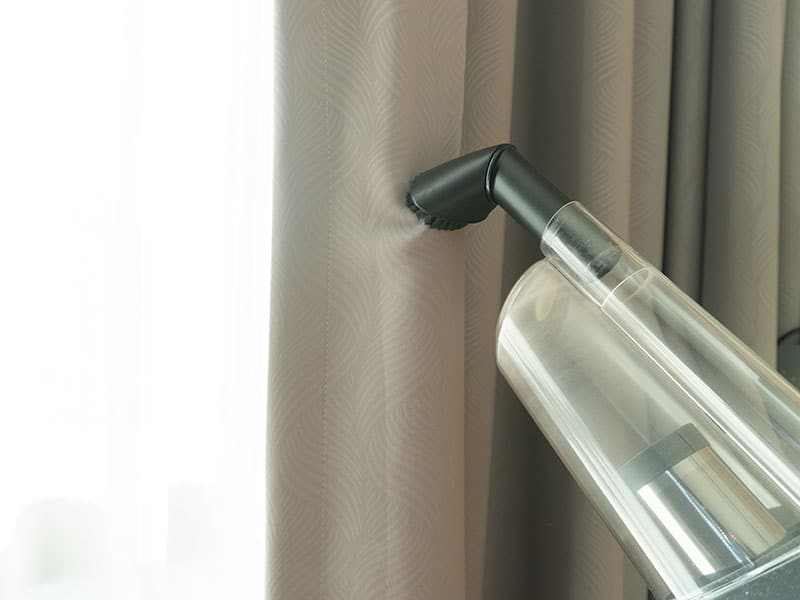 Floors and curtains are the dustiest parts of your house; the arrival of a wet-dry vacuum cleaner makes dust removal simple. When cleaning floors, this vacuum will be best suited for various types of floors.
Clean The Carpet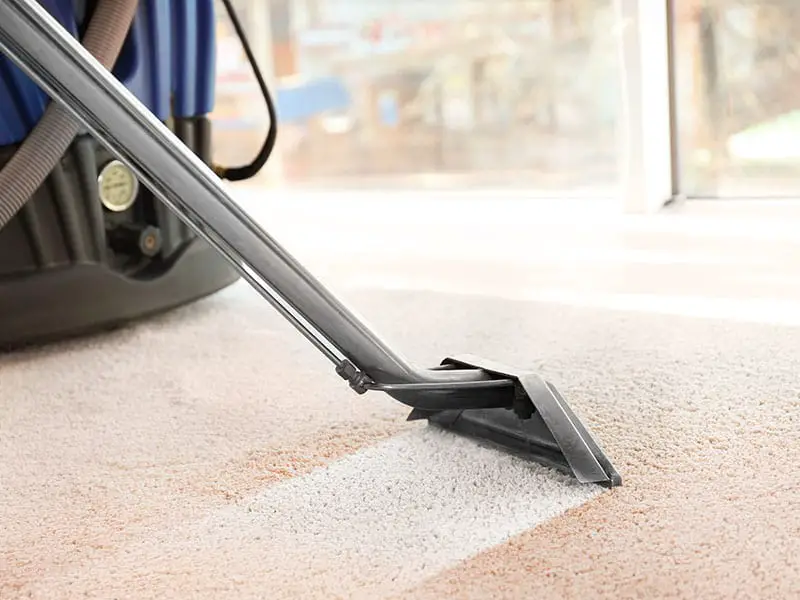 You cannot clean dust, pet hair, debris, or liquid spills from the carpet with a broom or mop; the best way to remove them without damaging the carpet is to use wet-dry vacuums. Also, you will discard mildew, stains, and marks on carpets faster with the vacuums.
Remove Water And Particles From Hot Tub
If you need to clean hot tubs or sinks full of dirt, you should apply a wet-dry vacuum immediately. It will remove all excess water inside the tub when turning on the blow mode and suck all dirt and debris from the clogged locations.
Use For Wastewater Treatment
Large-capacity commercial wet-dry vacuum cleaners make wastewater treatment faster and more efficient. They will help remove dirty water in the tank faster and more effectively.
Clean The Outside
The blowing function of the wet-dry vacuum cleaner will help remove light dust from areas outside the home. In addition, when cleaning the garden, you do not need to use a broom to sweep the leaves anymore because there is a vacuum.
Extraction System
You can use a wet-dry vacuum cleaner for cleaning after home improvement work. You can connect it directly to many tools to quickly vacuum up dirt. In some cases, its power socket is built into the device, so you do not need an additional power socket.
Remove Dust In The Workshop
Dusting in the workshop is a fantastic function of the wet-dry vacuum cleaner. With different nozzles, you can simply remove different types of dirt and spilled liquid.
Collect The Lego Pieces
Lego sets will be scattered all over the house after your kids use them. With the powerful suction of vacuums, you can get lego pieces out of tight nooks and crannies, sofa, and underneath the radiator smoothly.
Remove Condensation
The problem of condensation is a common phenomenon in the cold season. Moisture in the air will condense at low temperatures. Therefore, you will often catch steam on the surface of your window. All you need to do is to remove them with wet-dry vacuums immediately.
Dry Floors After Mopping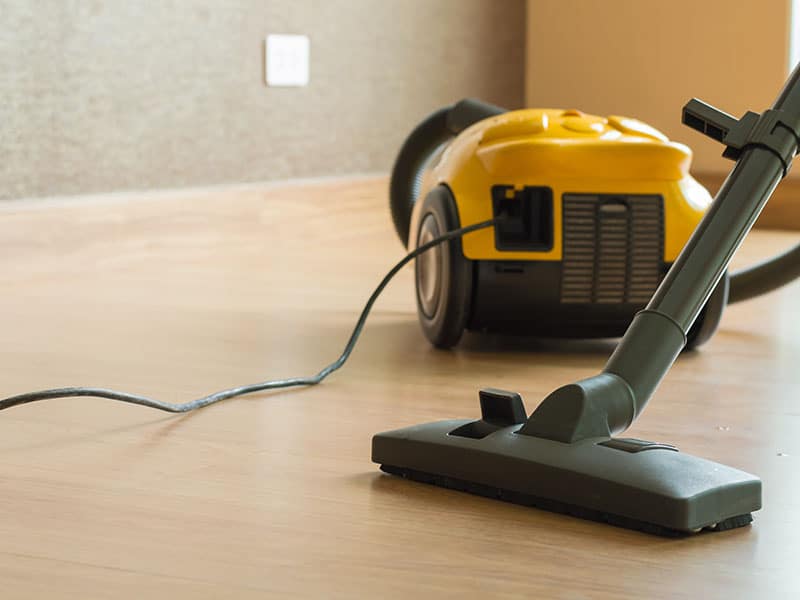 After mopping or rinsing the floor with water, excess water on the floor surface will harm your floor if it is not removed. You just need to put the wet-dry vacuum on the floor and suck up all the excess water and residue left on the floor.
Clean And Dry The Car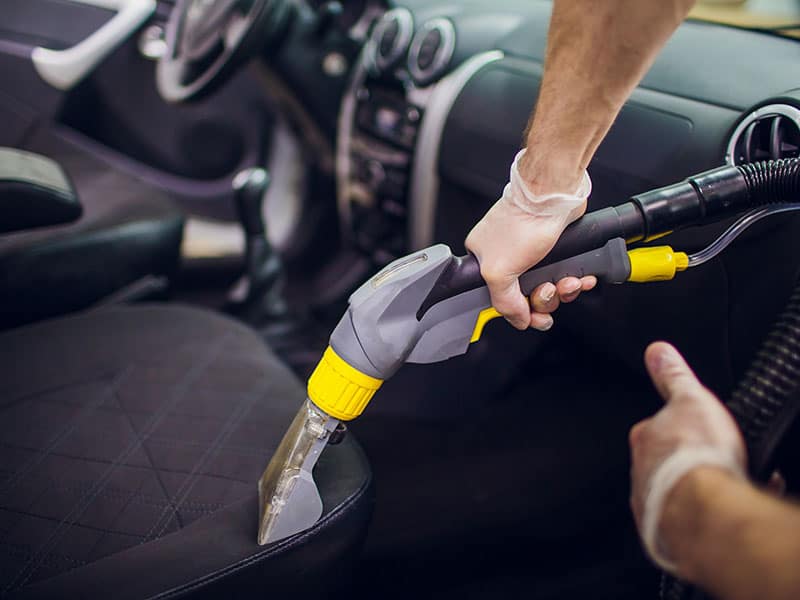 A common use of a wet-dry vacuum cleaner is to clean and dry a car. The dirt on the car can be completely blown away with vacuum cleaners.
Especially, thanks to the long hoses and flexible wheels, you can easily remove dust in narrow and hard-to-reach places on your vehicle. Also, when you have washed your car, please dry the water on it with a wet-dry vacuum.
Learn the ways to use wet-dry vacuum cleaners.
Water Bed Removing
If you want to remove the water from the water bed, you can use a wet-dry vacuum cleaner to speed up the process. However, you should empty the mattress first.
How To Clean A Carpet With Wet-Dry Vacuum Cleaner?
The advent of a wet-dry vacuum makes carpet cleaning simpler. You do not need to do much when everything is handled simply and quickly by the wet-dry vacuum cleaner.
What you need
Carpet cleaning solution
Spray bottle
A brush
Wet-dry vacuum cleaner
Instructions
Step 1: Remove furniture from the carpet before cleaning. You should move the furniture gently to avoid damaging the carpet.
Step 2: Select dry mode to remove all dust and dry stains on carpet surfaces.
Step 3: Choose the carpet cleaning solution according to the manufacturer's recommendation.
Step 4: Use a spray bottle to spray cleaning solution on stubborn stains on the carpet.
Step 5: Use a brush and gently scrub to remove stains from the carpet.
Step 6: Start the wet-dry vacuum cleaner and select the suction function to suck up all the stains and cleaning solution.
Step 7: Continue to repeat the process above to dry the carpet entirely.
Criterions You Need To Pay Attention When Buying Wet-Dry Vacuum
There are various types and sizes of wet-dry vacuum cleaners on the market, so you need to choose carefully before buying. To select a suitable and perfect wet-dry vacuum cleaner, you should follow the criteria below.
Corded And Cordless
The first criterion you need to consider is to buy corded or cordless vacuums. This choice is based on your intended use. If you want to quickly clean dirt, spills, and wood shavings in your home, it is good to buy cordless vacuums with lithium-ion batteries.
Cord vacuums will be suitable for large and industrial areas. You should use cords of the length specified by the manufacturer. When the cord is shorter than 50 feet, you should use a 14-gauge cord and a 12-gauge when the length is more than 50 feet.
Size And Weight Considerations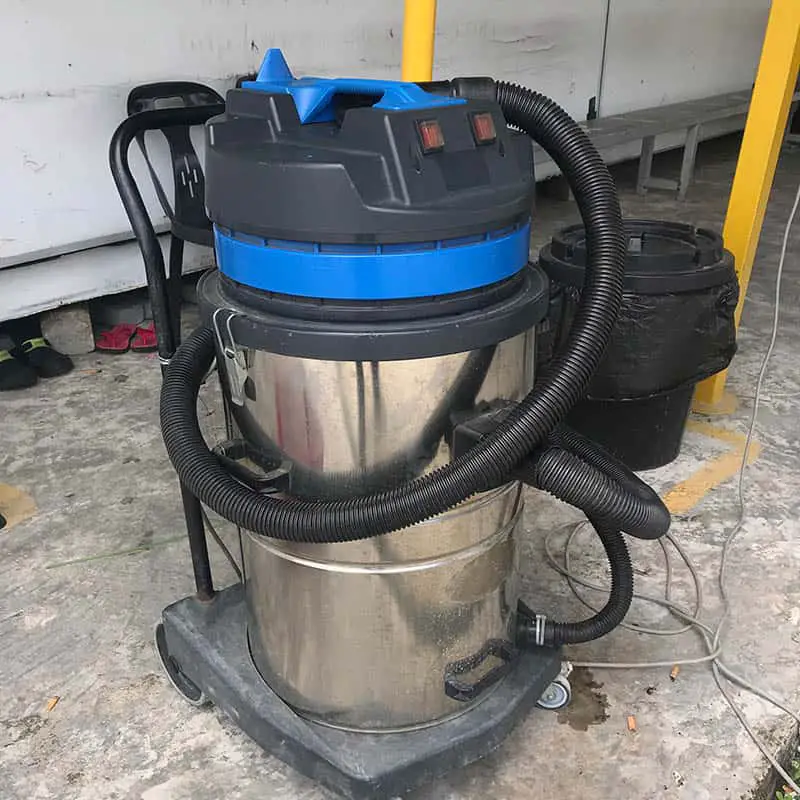 Wet-dry vacuums are available in many sizes and volumes. The weight of the shop-style vacuum is under 3 pounds, and the height and width are about 1 foot. If you choose a vacuum with a large canister, it weighs more than 35 pounds and is about 3 feet tall.
When you want to buy a vacuum for home and office use, you should choose compact or handheld models that weigh less than 2 pounds. In contrast, high-volume vacuum cleaners are suitable for industrial cleaning.
The Power Of The Vacuum Cleaner
You should consider the horsepower of corded vacuum cleaners before buying to know their capacity and suction power. Besides horsepower, hose size and other factors also affect the suction power of wet-dry vacuums.
For battery-operated and cordless vacuum cleaners, their power is determined based on the number of volts.
Light duty: This type is suitable for household cleaning and small areas. Light duty cordless vacuum has the power of around 18 to 20 volts. Meanwhile, 1 to 4.5 horsepower is the power of corded vacuums.
Medium duty: If you want to remove debris for small and medium constructions, you should use a corded vacuum cleaner with an engine reaching 5 to 6 horsepower. Medium duty cordless vacuum will drain the battery more when requiring about 20 to 24 volts.
Heavy duty: Engine of heavy-duty more than 6.5 horsepower. This type is suitable for commercial activities. Heavy-duty battery-powered vacuums are not widely produced, but they will be produced more in the future as technology develops.
Based On The Hose Length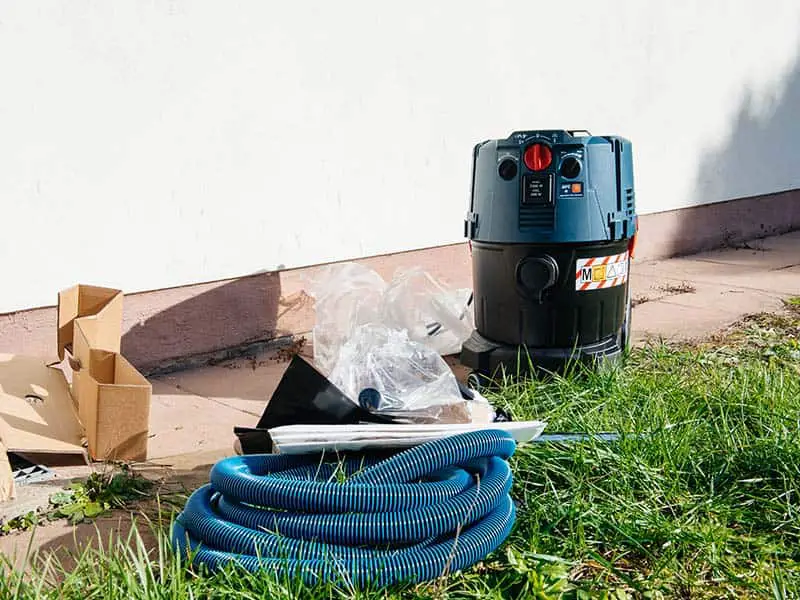 Choosing a wet-dry vacuum cleaner with the proper hose length is a wise decision for you. The hose size is different depending on the various sizes. Typically, this size is about 6 to 30 feet.
Hoses with a longer size will help you to have simple access to the central area. Moreover, you can easily work from top to bottom with a long hose. However, long hoses are prone to twisting when used. You should choose a vacuum with a holder to keep the hose for storing.
Capacity Criterion
Considering the capacity of wet-dry vacuum cleaners is essential when purchasing. The larger the capacity, the larger the debris tank.
Large capacity: If you want to clean muddy water at construction sites, you should buy vacuum cleaners with large capacity with collection tanks that can hold about 14 to 18 gallons.
Medium capacity: When you need a wet-dry vacuum cleaner to remove dirt and water for a large workshop, you should choose one with collection buckets with a capacity of about 6 to 14 gallons.
Small capacity: You should buy vacuum mops or handheld models with a capacity of about 0.5 to 6 gallons for quick and light cleaning operations. This type can dump debris easily. If you are a crafter, vacuums with small capacity are a perfect choice.
Consider The Filters Of Wet-Dry Vacuums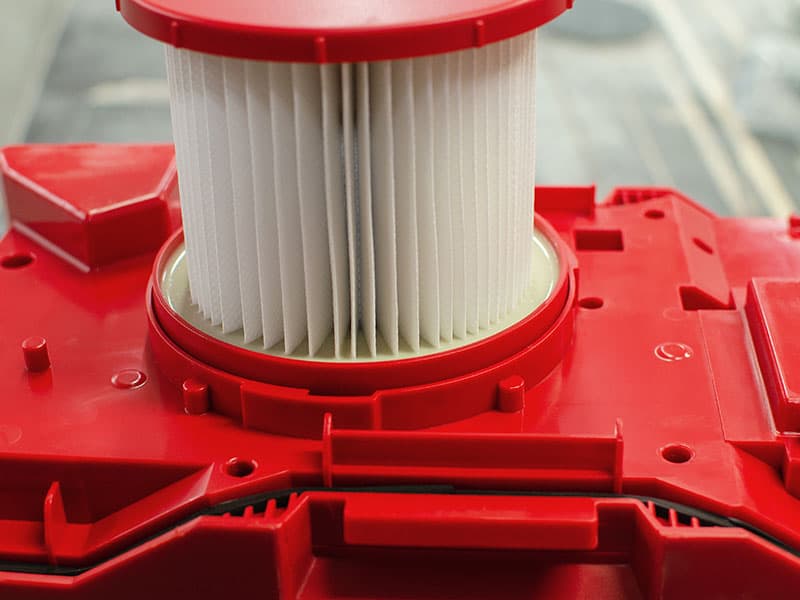 The filters are an essential part of the structure of wet-dry vacuums. They will collect dust and small debris to prevent them from recirculating in the air. Shop vacuums are usually equipped with a corrugated paper filter with a rubber seal on both ends.
This feature helps to keep dust out of the filter and canister. Larger particles will be prevented from corrugated filters by foam pre-filter. Therefore, the blockage of the vacuum will be limited. You should remove the filter to suck up water before using it.
The vacuum has high-efficiency particulate air filters that can handle about 99.97 percent air dust, mold, bacteria, and pollen over 0.3 microns in size (2). This type of filter appears in shop vacuums, vacuum mops, or home vacuums.
Attachments Criterion
To mount components and make the vacuum work in small areas, a wet-dry vacuum needs other accessories. A wide floor unity connected to a rigid extension wand is required to work on the floor.
Here are attachments that will make cleaning easier:
Remove dirt from tight corners with a crevice nozzle.
Working around corners is easier with an elbow wand.
You will clean car interiors faster with a brush nozzle.
Clean liquids spilled on the floor are more convenient with a wet nozzle.
Remove leaves from the garden yard by using a blower connection.
Contain debris with single-use or reusable dust bags.
Additional Properties
The performance of wet-dry vacuum cleaners will be improved with additional features. You should prioritize buying vacuums with these characteristics:
A vacuum installed with a drain plug will drain water from the vacuum without disassembling the collection canister.
You should choose a vacuum with integrated antimicrobial ingredients in the filters to destroy mold.
Vacuums should have hose holders and built-in cords for more accessible hose and cord storage.
Washable filters save money on replacement.
You should choose the type that can stick to the wall to save space for a home model.
Follow these considerations when buying wet-dry vacuum cleaners.
FAQs
The answers below will answer your other questions regarding the content of this topic. Collect all valuable things in this section right now.
Do You Like Wet-Dry Vacuum Cleaners?
Now, you can rest assured to use a wet-dry vacuum cleaner after knowing what it is and its great uses. Your cleaning will be faster, easier, and more efficient with the versatile wet-dry vacuum cleaner. You should take advantage of it right away.
Share this helpful information about wet-dry vacuum cleaners with those around you to make their cleaning easier. I would be happy to receive your additional comments and suggestions on the contents of this article.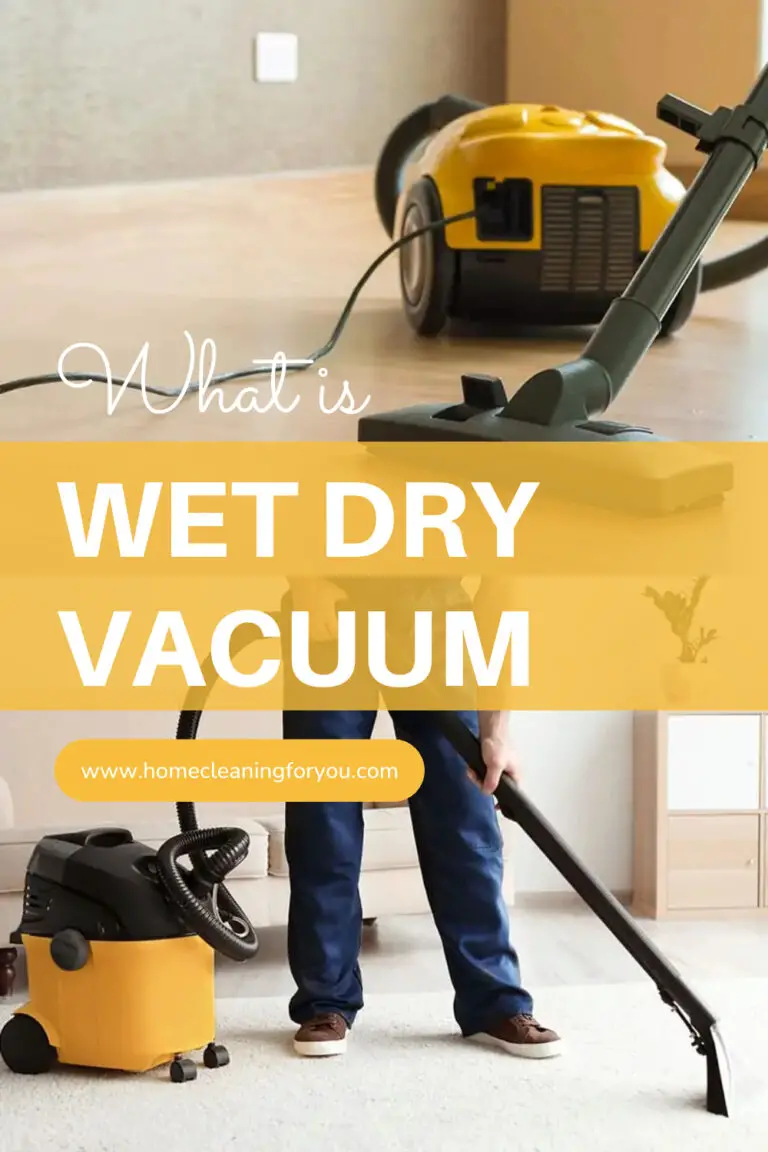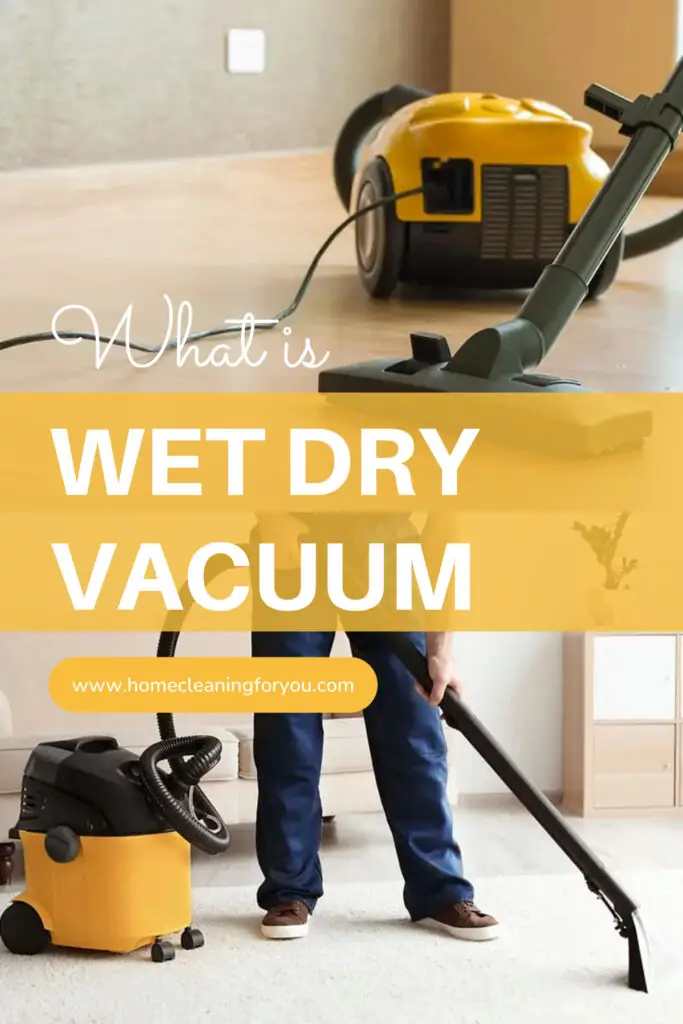 References
[1].En.wikipedia.org. 2021. Vacuum cleaner – Wikipedia. [2].HEPA Vacuum: What It Can and Cannot Do.