What Is EVP Flooring? Such A Versatile Material 2024
What is EVP flooring? Should I choose it for my house's floor? It is always a difficult decision when picking the best flooring material for your house, right? Almost everyday activities take place on the floor, so you have to choose the material wildly.
Don't freak out! I will show you the suitable situation for using EVP flooring and which type of EVP you should pick. Read thoroughly! You don't want to miss the vital information.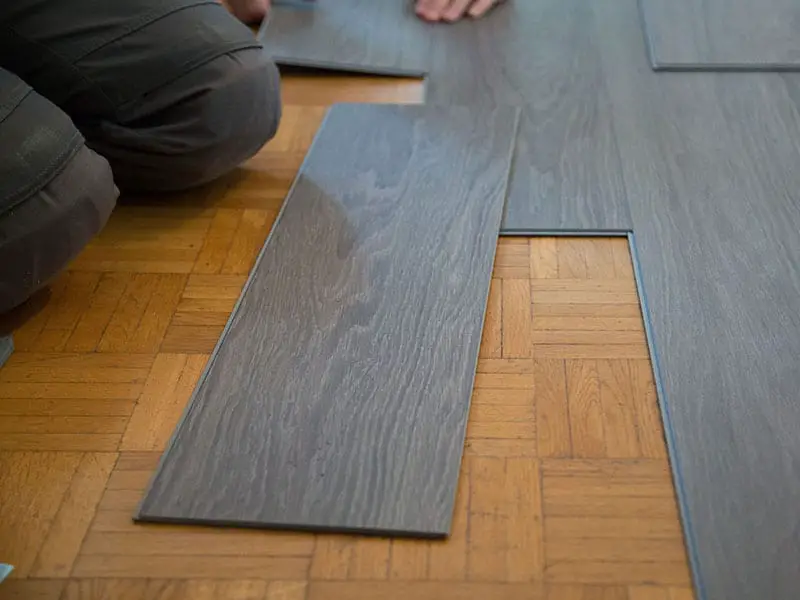 EVP In A Nutshell
EVP (aka engineered vinyl plank) is a vinyl-based floor that has been strengthened with a rigid core. The attached cored makes EVP thicker and more rigid than the traditional vinyl material.
The floor manufacturers want to create a high-density core layer by combining several floor components. As a result, EVP is a hybrid material of luxury vinyl planks (LVP), laminate, and engineered hardwood.
As a manufactured product, EVP comes with different styles and patterns. This material can mimic wood and stone surfaces flawlessly. This feature makes this material so popular as it can give your house the appearance of fancy material at a low price.
EVP is a waterproof and durable flooring material. It is commonly used in high-traffic areas of your house because it can endure foot traffic with minimum damage. The average expected lifespan of EVP can last up to 30 or more years.
With the interlocking technology, gluing EVP is not required while installing. As a result, installing EVP takes a short amount of time, convenient for those who have to move often.
Let's have a look at a quick overview of EVP.
Five Technical Layers Of EVP
EVP is famous for its superior durability. Here is why: The material has five different layers that enhance its endurance and protect the surface from scratches. Let's start from the bottom of the plank.
Structural Back Layer
This layer is made of foam or cork, which gives comfort to underfoot feelings. The layer also absorbs noise and stabilizes the subfloor for your floor. This underlayment protects other layers of the plank from the original floor.
Rigid Stone-Based Core
The rigid stone-based core makes EVP stand out from other vinyl floorings because it adds endurability to help the material stable and hide the subfloor's imperfections. Usually, there are two types of EVP core (SPC and WPC) that you can choose depending on your needs.
Vinyl Layer
This is a beautiful vinyl layer with a waterproof characteristic. The layer plays an essential role in protecting the EVP from water or any kind of moisture that can threaten other layers.
Decor Layer
The decorative layer is made from vinyl which can replicate the natural patterns of other materials like woods, stones, tile, or even ceramic. You can choose your favorite type of pattern to costume your house.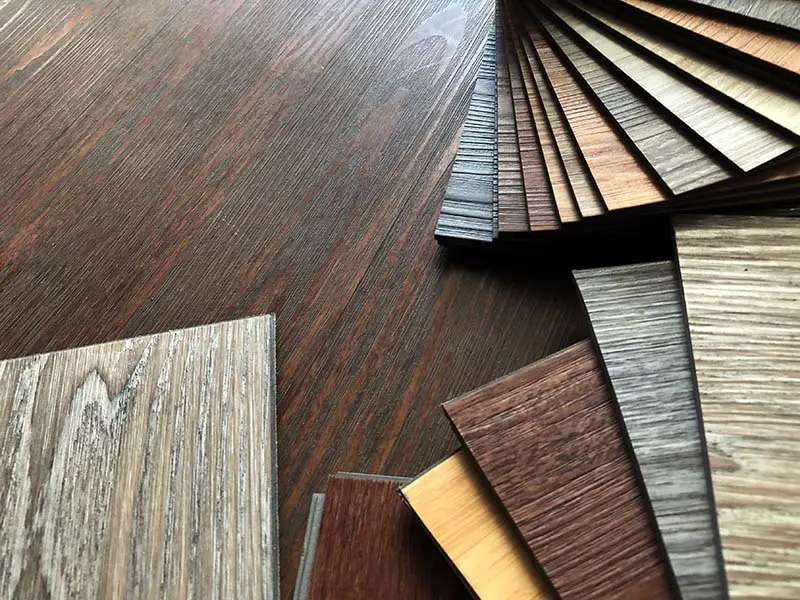 Some manufacturers produce EVP with EIR (embossed in register) vinyl patterns. These patterns allow you to feel the texture of the material. This feature takes the realistic feeling of the EVP flooring onto the next level.
Protective Wear Layer
This topcoat layer protects the material from scratches and stains with a thick, heavy-duty plastic transparent protective layer. The thickness of this layer will dictate the cost of the whole EVP floorings.
So, if you plan to place the floor in a high-traffic area, consider using EVP with a thick wear layer.
Two Subcategories Of EVP
The layer that makes EVP different with its durability is the rigid core layer. There are two types of EVP core that you can choose in manufacturing EVP, and each kind has its signature features that serve different purposes.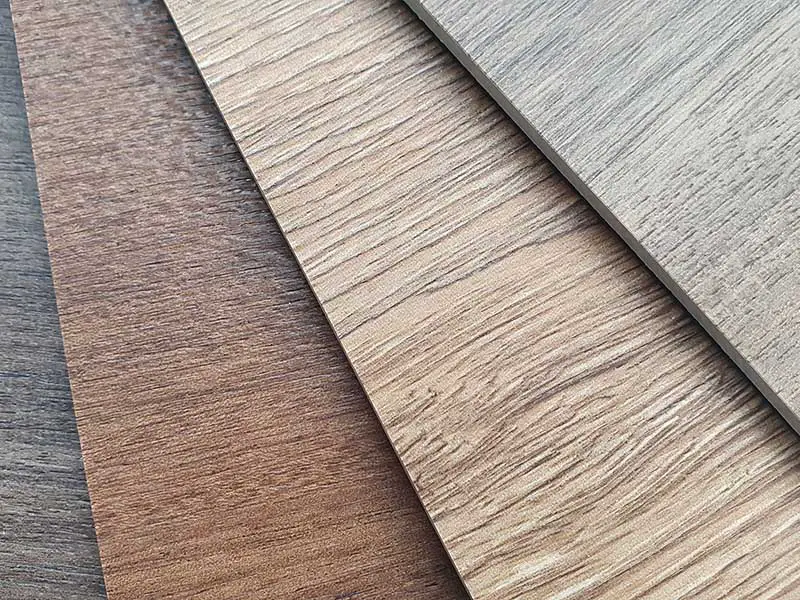 The table below will show brief information about SPC and WPC for your convenience to compare the cores.
Features
Stone Polymer Composite (SPC)
Wood Polymer Composite (WPC)
Look & style
Can mimic natural materials visually and texturally
Can mimic natural materials visually and texturally
Properties

60% calcium carbonate (limestone)

Polyvinyl chloride

Plasticizers

Polyvinyl chloride

Calcium carbonate

Plasticizers

A foaming agent

Wood or wood-like materials (Ex: wood flour)

Cost
Affordable
Slightly higher than SPC
Foot feel
Harder underfoot
Soft and warm
Thickness
Around 3.2 and 7 mm
About 5.5 to 8 mm
Application
Commercial applications
Residential area
Durability

Resistant to scratches and stains

Dense stone core

Durable

Resistant to scratches and stains

Less dense than SPC

Less durable and more likely to dent

Moisture resistance
100% waterproof
100% waterproof
Installation

DIY friendly with interlock technology

Don't need to prepare the subfloor before installing

DIY friendly with interlock technology

Don't need to prepare the subfloor before installing
Temperature fluctuations
Lose temperature quickly

Resist expansion and contraction better than WPC
Trap heat inside the core
Sound insulation
Able to absorb sound
Absorb sound better than SPC
Both stone polymer composite (SPC) and wood polymer composite (WPC) have excellent waterproofing. They can replicate the appearance, patterns, and textures of natural stone and wood flawlessly.
SPC has superior resistance to dents due to its density structure of 60% limestone with zero foaming agent. In contrast, the foamed core of WPC allows more air access to the material, which makes WPC vulnerable to dents if it suffers from the serious force.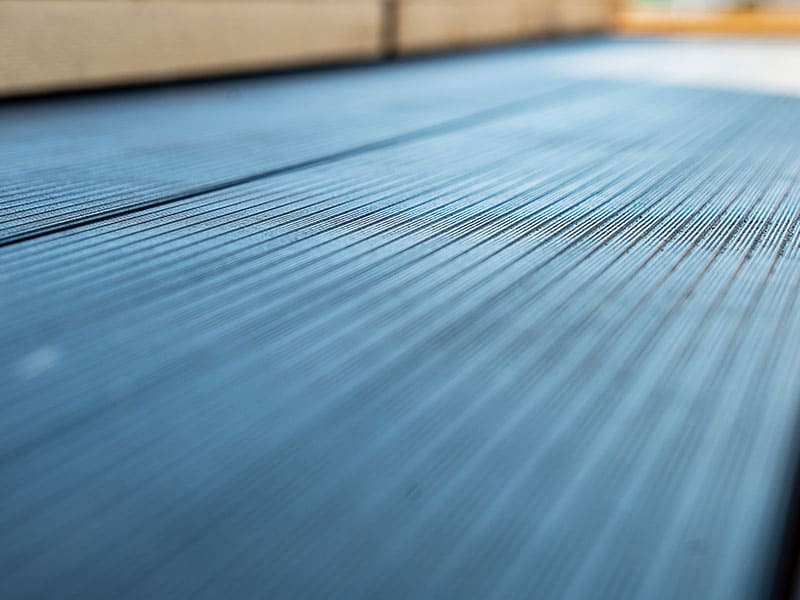 Thanks to the foaming agent, WPC is a resilient and comfortable material. It provides stability and a cushion feel when walking on it. SPC, on the other hand, is stiffer and sturdier with the rigid stone core.
While WPC gives you a warm and comfortable feeling when stepping on, SPC will have a freezing touch when it comes to winter. This happens because of the wood-like material and the foaming agent inside the core of WPC.
For installing the floor at the drastic temperature areas, SPC has a more stable performance of resisting expansion and contraction compared to WPC. SPC's hard and dense core also strengthen its durability against movement better than WPC core.
If you want your house to be quieter, consider choosing WPC core. As the core is thicker and made with foam-like substance, it helps absorb sound better than the SPC core.
You don't have to mind the messy glues while installing because both WPC and SPC don't require using glue to seal the floor. With the support from the interlocking technology, applying the floor takes you no effort.
Overall, both WPC and SPC have pros and cons. Depending on your need, choose a suitable core for your EVP. WPC core is an excellent choice in residential areas with pleasant feelings, while SPC core is perfect for commercial applications for its durability.
A brief comparison between WPC and SPC core is right here.
The Cost Of EVP
EVP is a budget-friendly option with an average price of around $4-$6 per square foot with an additional $1.50-$6 for installation. In contrast, the installation cost of engineered hardwood flooring is about $3-$8 per square foot.
Solid hardwood floors are even more expensive, not to mention tile flooring. As a result, if the price is the primary factor in your decision, EVP seems to be the most suitable choice. You can have a look at the table below for general price comparison.
| Flooring material | Average price ($ per square foot) |
| --- | --- |
| Natural stone tiles | 5.00 - 10.00 |
| Solid hardwood | 4.00 - 10.00 |
| Wood/stone pattern ceramic tile | 4.00 - 6.00 |
| Engineered vinyl plank (EVP) | 4.00 - 10.00 |
The core of your EVP could also affect the cost of the whole plank. For instance, SPC has a retail price of around 3.5-7 dollars per square foot, whereas the price of WPC is roughly 3-6 dollars per square foot.
Another factor that can affect the EVP price is the style of the plank. For example, if you choose herringbone or geometric patterns, the price could reach 14 dollars per square foot for high-quality EVP.
The same quality with simpler style effects like stone, wood, marble, metallic, and slate effects will cost around 7 dollars per square foot. It is recommended that you should pay an extra 10% of the total price for trimming when purchasing EVP flooring tiles.
EVP Vs. LVP: What Should You Choose?
Both EVP and LVP are members of the vinyl flooring family. They both share some traits, but there are specific criteria that they differ from each other. The table below shows some general differences between EVP and LVP.
| Factor | EVP (Engineered Vinyl Plank) | LVP (Luxury Vinyl Flooring) |
| --- | --- | --- |
| Appearance | Various choices from colors and textures | Plenty of choices that replicate wood and stone surfaces |
| Maintenance | Require little maintenance and cleaning | Require little maintenance and cleaning |
| Material | Rigid core | Flexible core |
| Installation and repair | DIY friendly with plank interlocks | Require glues for installation |
| Water resistance | 100% waterproof | Water-resistant but not in large quality |
| Heat Insulation | Can store temperature (WPC core) | Lose temperature quickly |
| Cost | Higher price than LVP | Low price |
| Durability and flexibility | Extremely durable with SPC or WPC core | More flexible than EVP but lower in durability |
| Life expectancy | Up to 30 years and more | 10 to 20 years |
Generally speaking, EVP is like an upgraded version of LVP with greater durability. EVP can fulfill some of the tasks that the original LVP can't. With the support from either WPC or SPC core, EVP is more durable and can withstand heavy pressure.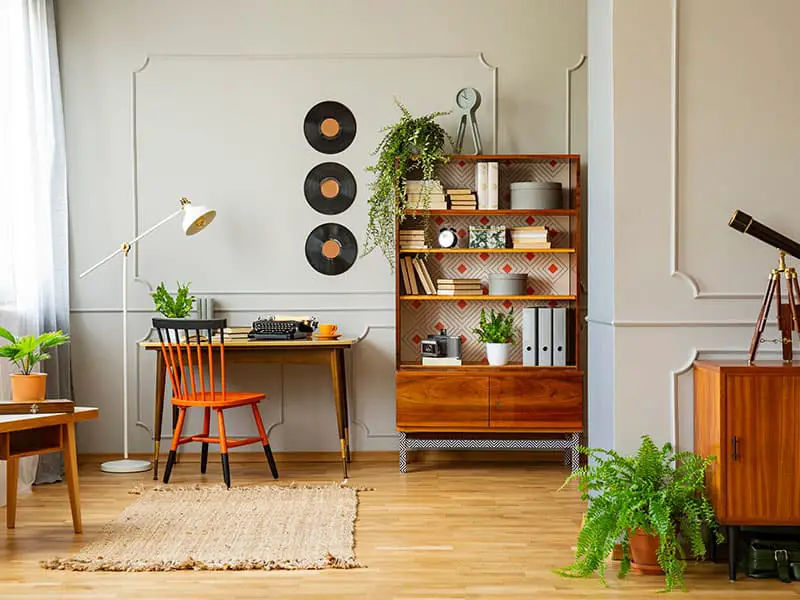 EVP is easier to install because it doesn't require any glues while flooring, and it is necessary to apply glue when installing the LVP floor.
Both EVP and LVP come with various choices with different colors and textures. These types of flooring are great for use in a high level of moisture area of your houses like bathroom or kitchen.
Another advantage of EVP is this material has a higher resale rating. As EVP planks are durable and have a longer life expectancy, you can reuse the material or sell them at a reasonable price.
The wear layer of EVP could reach up to 30 mm, while this layer on LVP is only 20 mm. As a result, the EVP is the better option for the area with high traffic. So, if the price is not the main factor in your buying decision, EVP is a better choice in terms of durability and stability.
Pros And Cons Of Using EVP Floorings
I will gather the advantages and disadvantages of using EVP as a flooring material. This section will help you decide whether to use this material or not.
Pros
EVP's multi-layered structure helps it endure a large amount of pressure. The material can resist scratches and stains because of its thick wear layer. Not to mention the 100% waterproof, which will protect the subfloor from structural damage caused by moisture.
This rigid-core flooring is cheaper than natural materials and has high reselling value. Not only can you buy EVP at an affordable price, but you can also sell or reuse the old planks.
Due to the application of EIR technology, EVP can replicate the appearance yet the texture of the natural material too. This makes your floor have an authentic look from the fancy natural material.
The tongue-and-groove locking mechanism of EVP will speed up the installation duration because it is super easy to apply the planks by yourself. You can install the planks over tile, concrete, or even plywood floor.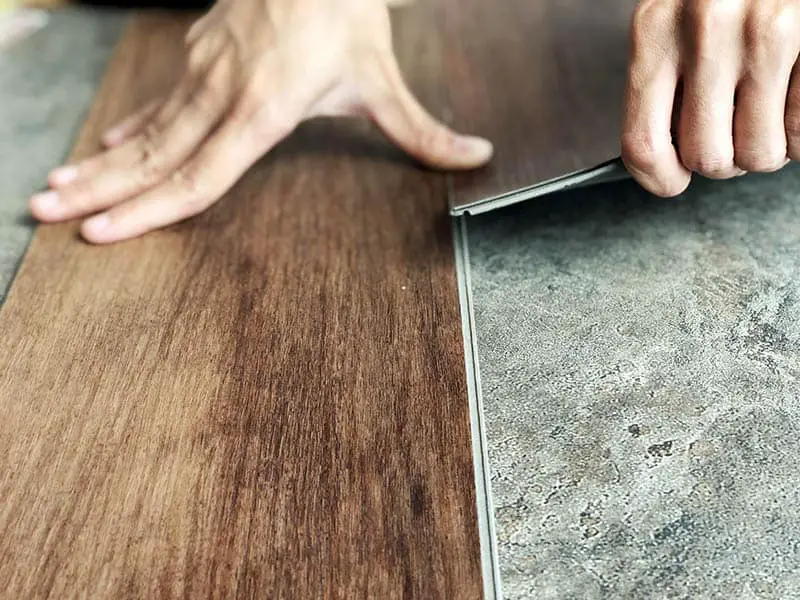 Applying EVP flooring can help reduce the noise entering your house. The SPC, or especially WPC core, will absorb the sound, creating a quiet and peaceful living area for you. Thanks to these rigid cores, the floor won't make any sounds when you walk on them.
Plus, you don't have to worry about maintaining the floor; a simple sweep and mop with water will keep the EVP planks sustained for decades.
Cons
Some manufacturers produce EVP that contains a high amount of volatile organic compounds (VOCs) (1). Low-price EVP flooring will be more likely to emit VOCs and harm your family's health.
Therefore, always choose the manufacturer that produces low-VOC EVP planks. Also, the PVC content of the rigid-core flooring can cause environmental pollutants.
Direct sunlight can damage vinyl material surfaces (2). The protective wear layer might protect the material from ultraviolet rays, but discoloration is unavoidable. So, don't install EVP in areas that have lots of sunlight.
If there is any damage to the EVP plank, you have to replace it. Makeover methods like staining, sealing, and sanding will not work on this material.
I am amazed by the performance of EVP right now!
Are There Any Alternatives To EVP Flooring?
Sure, besides EVP flooring, some materials are suitable for your house. Let's check them out!
Tile Flooring
When you need an extremely durable flooring material, tile flooring should be the first option that pops up in your mind. This classic material is stiff, resistant to water, stains and can endure many types of damages.
Basically, anywhere in your house could apply tile flooring, but the most common applications are bathrooms and kitchens. Tile flooring doesn't have as many colors and models as EVP.
Wook look tile seems to be a nice choice for your house.
Tiles' surfaces will be cold and freezing in the winter, so you might need to install a floor heating system if cold weather usually occurs in your area. Installing tile floorings is quite challenging and requires a lot of skillful techniques to apply them successfully.
Another notice is that the tiles' surfaces could be slippery, so it could be dangerous for children and pets running around.
Laminate Flooring
Both laminate and EVP are pretty easy to install with the click-and-clock installation. Laminate planks can be applied over the existing flooring without causing any damages.
However, laminate is not entirely resistant to water, so this material can not replace EVP in high moisture level areas.
EVP has a higher cost compared with laminate, laminate floors are one of few types that are cost-efficient.
Should I choose laminate flooring?
Engineered Hardwood Flooring
Engineered hardwood flooring is made by adhering natural hardwood to several core types. This makes the material even more durable than EVP. Engineered hardwood flooring is able to endure pressure from high traffic areas.
The solid wood veneer at the top layer makes the material have the fancy and flawless look of natural wood. The material comes in different styles, such as hickory, oak, and maple.
The life expectancy of engineered hardwood flooring can reach up to 40 years. So you could enjoy the material without worrying about replacing it with a new one.
Let's learn about engineered hardwood flooring!
Can I Install Rigid Core Luxury Vinyl?
If you want to install the EVP flooring yourself, the procedure is straightforward. Here are some vital notes on how you should install the material.
Acclimation is not required before installing the EVP planks; you can apply the material immediately when it arrives at your house.
Always prepare the subfloor. EVP can only be installed perfectly on the even subfloor, clean and dry subfloor. Although glue is not necessary for applying EVP, you need to ensure the subfloor meets the suggested requirements before conducting any installation.
Highly wet areas like wet rooms or steam rooms are not recommended for installing rigid core flooring. EVP can sustain the hydronic radiant heating systems of the concrete floor with a temperature below 85°F (30°C).
A floating floor method is commonly applied because of its convenience. However, if you plan to install EVP under the area exposed to a lot of sunlight, consider using the glue-down method.
A detailed instruction on how to install the EVP flooring perfectly.
5 Easy Ways To Maintain EVP Flooring
Proper maintenance helps lengthen the expected lifespan of EVP flooring. So I will advise you of some practical methods to clean EVP thoroughly. Don't worry! They are pretty simple.
You can use pH-neutral detergent to clean EVP flooring and prolong the quality of the material. Ask the flooring manufacturer for the cleaning product that is suitable for your EVP flooring before using it. Don't apply oil or wax polish on the material.
A quick vacuum/sweep and wet mop will do the trick. As EVP requires little maintenance, vacuuming, or sweeping the dust out of the floor. Then, cleaning with a damp mop will be sufficient to keep the floor clean.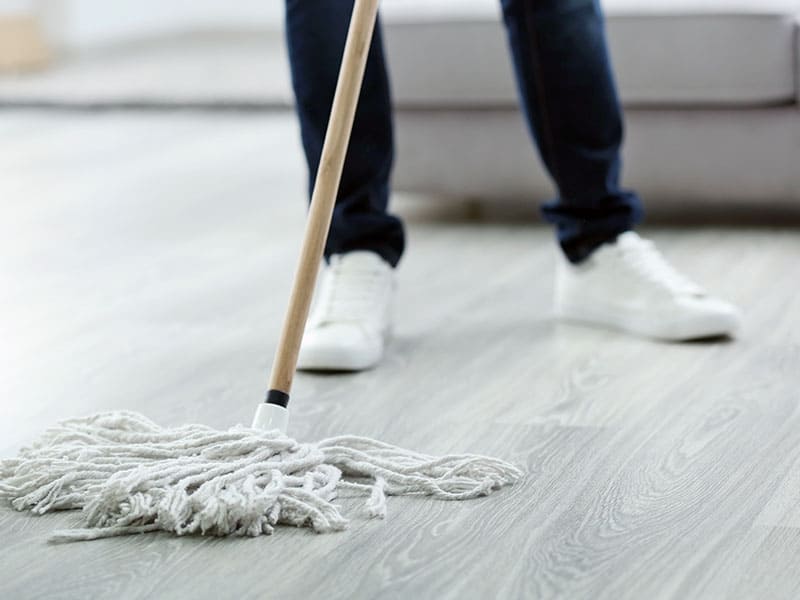 Always avoid direct contact with a large amount of water. Although EVP flooring is waterproof, exposure to too much water like flood or hurricane will harm the material. So, remove spills and splashes immediately with a mop to maintain the surface.
Try using felt pads or casters for your furniture's legs or bottom and place rugs in high traffic areas to reduce heavy furniture's force.
You should avoid direct sunlight to your EVP flooring. The UV rays from the sun could discolor the material. Install blinds and drapes in your room to block the sunlight and prevent them from reaching the EVP flooring.
FAQs
Hey! Here are some related questions that might solve your wonders. Check them out right now!
Choose Flooring Material Widely
You have to consider plenty of vital aspects before choosing any material as a floor for your house. EVP has excellent durability, yet along with some downsides. Ensure that the material meets your needs not to waste any money.
Do you know any interesting facts about EVP? How do you feel about the material? Let me know your opinion in the comment section. Have a good day!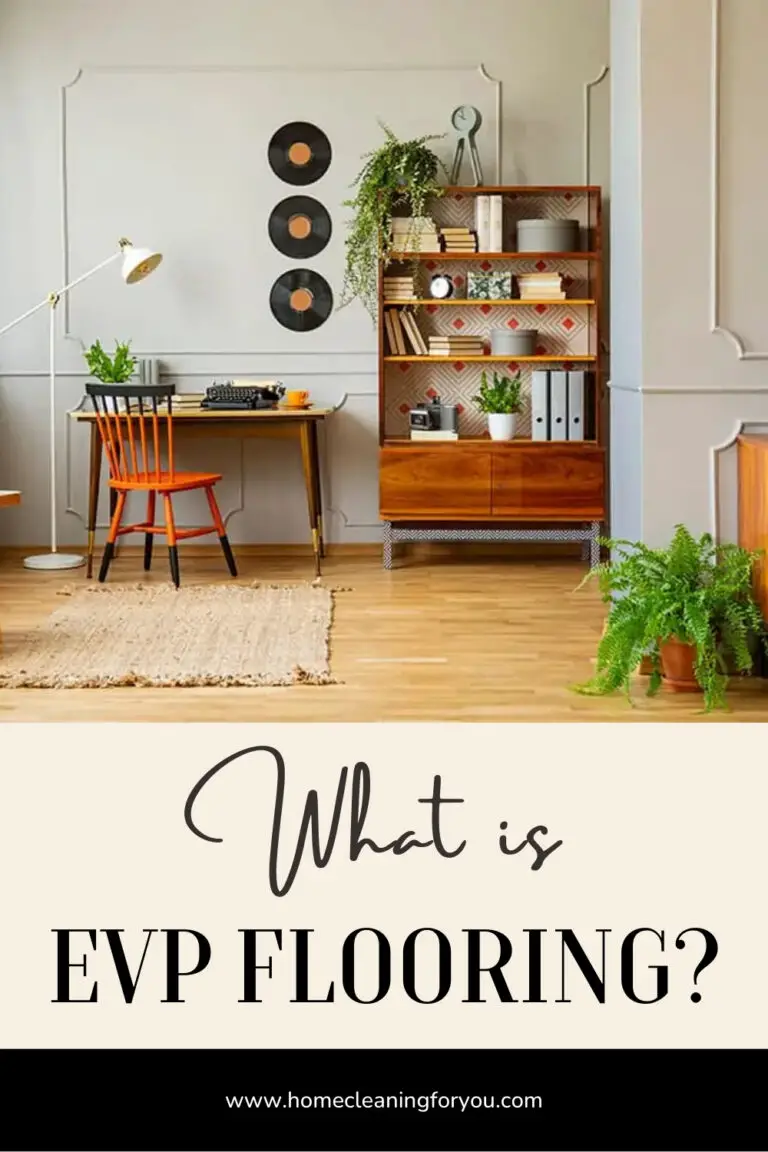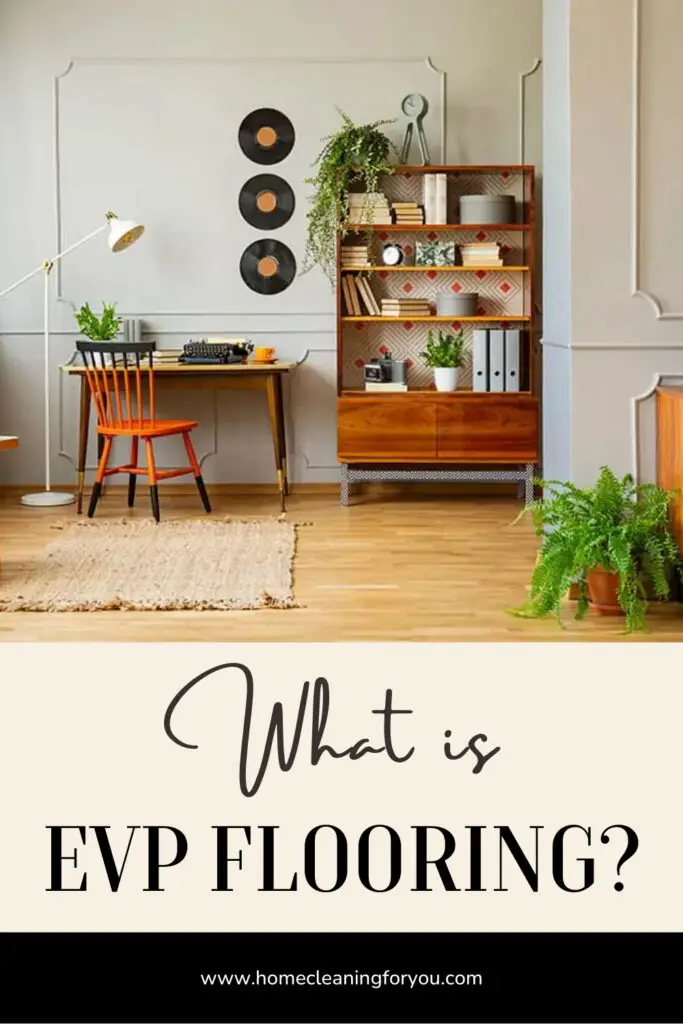 Reference
Ncbi.nlm.nih.gov. 2021. Volatile Organic Compounds
Images.homedepot-static.com.