What Is LVT Flooring: Everything You Need To Know 2024
What is LVT flooring? It is not a newbie in the flooring industry, and the chances are that you are walking on it right now. With several wonderful features and designs to choose from, the flooring has managed to rocket to fame in recent years.
But, is LVT flooring that good? Does it have any flaws that people want to consider before installing? These questions are common, and rest assured that this post will give you the most satisfactory answers.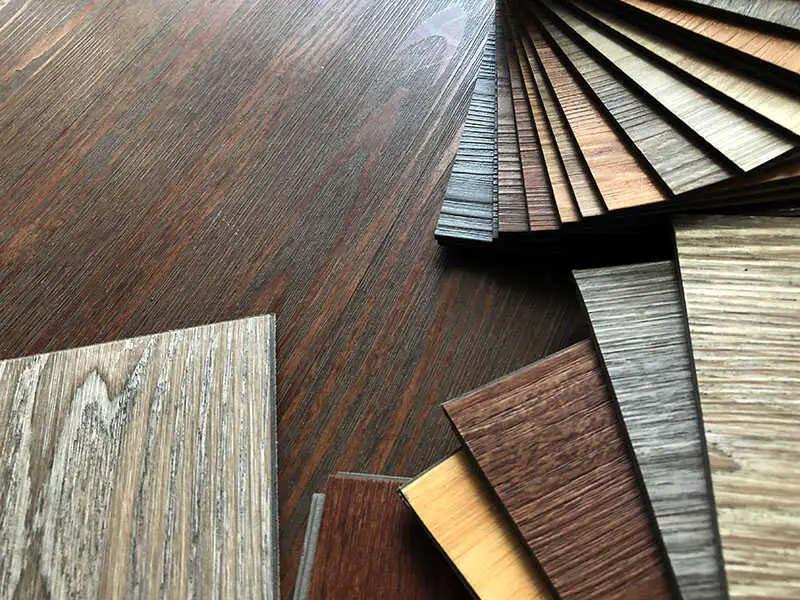 LVT Flooring 101: History, Classifications, And More
LVT flooring strikes a fine balance between extreme durability and attractive appearance that replicates natural materials, such as wood or stone. It is not too difficult to see it these days, be it in public amenities or private residences.
Nonetheless, that's not all about LVT flooring. This section will provide further insights into its origin, classifications, and applications – some facts will blow your mind!
A Brief Overview Of LVT Flooring And Its History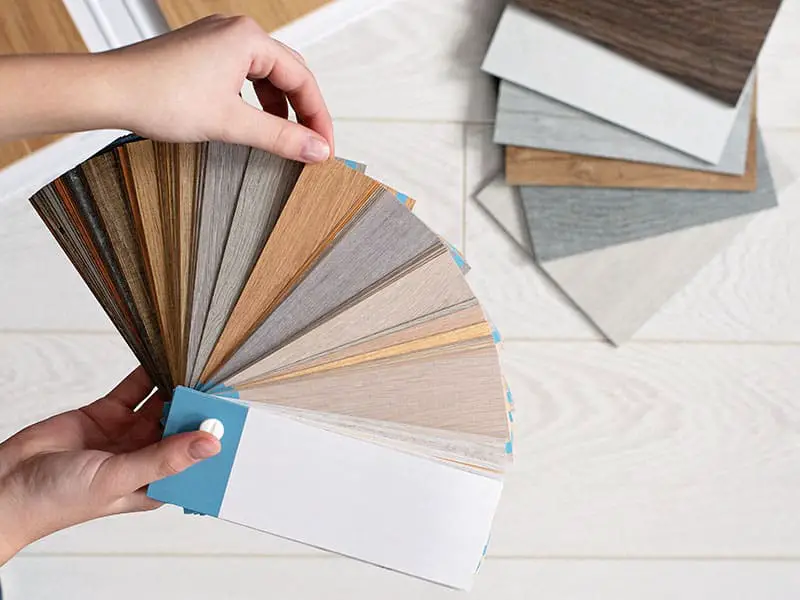 LVT is an abbreviation that stands for Luxury Vinyl Tile. Much to people's surprise, this type of flooring was invented unexpectedly by Waldo Lonsbury Semon, a researcher in Ohio, in 1926. His original aim was to find an adhesive that could bond rubber and metal.
Before the 1930s, there were various resilient flooring options, from rubber in the 1100s to linoleum, which used to have its moment for about 70 years before witnessing a decline in popularity.
Years later, rubber tiles made a comeback, along with new faces like cord and asphalt. They were durable but came in very limited design, not to mention the exorbitant installation price. Gladly, vinyl is there to change the game for good.
Vinyl flooring made its very first debut at the A Century of Progress International Exposition. Needless to say, people were obsessed with the flooring and its features, and it did not take vinyl flooring long to become one of the most popular flooring options at that time.
Jumping back to the 21st century, LVT flooring is available in more colors, patterns, textures, and finishes than ever. It matches with a wide range of color and decor schemes, be it rustic, art deco, or contemporary.
Some Best LVT Flooring Brands To Check Out
Nowadays, you can easily find tons of LVT flooring brands on the market, with each claiming to offer you the best-quality LVT flooring at a competitive price.
No need to do your research whether such claims are true or an overstatement; below are a few big names specializing in LVT flooring that guarantee to meet your expectations, even if you are one choosy customer.
1. Karndean
Founded in 1973, it did not take Karndean too long to shoot to fame. The brand is one of the largest LVT flooring suppliers in the UK, known for realistic designs that bring your home not only character but also comfort.
2. Kahrs
With years of experience in the industry, Kahrs is a popular destination for those in search of high-quality LVT flooring. The brand's Dry Back and Looselay collections are the two shining examples, which strike a delicate balance between quality and affordability.
3. LifeProof
You are totally missing out if you have never heard of LifeProof. The California-based brand can cater to different tastes and budgets with a wide array of options. Adding up to durability and affordability, LifeProof's vinyl flooring is effortless to clean and not susceptible to stains.
LVT And LVP: What's The Difference?
You already know about LVT, but what about LVP? What is it anyway? Short for Luxury Vinyl Plank, LVP is not too dissimilar compared to LVT except for these three characteristics:
LVP is cut into planks instead of tiles like LVT. In short, they are different in size only; the way they are manufactured is the same.
LVP often mirrors the look of natural materials (such as stone and wood). At the same time, LVT offers a wider selection of design prints that can match your personal preference, be it basic stone-tile look, bamboo, fabric, or art and animal skin patterns.
LVP is somewhat more popular because it takes less time to install.
Hence, with very few differences, the two terms can be used interchangeably without adding to the confusion. The term "LVT" you see throughout this post will refer to both of them.
Different Types Of LVT Flooring And How To Install Them
LVT flooring can be classified into four types, with glue-down and loose-lay being the most preferred. The installation will differ slightly
The quick chart below will give you an overview of four ways to install four types of LVT flooring, along with their pros and cons for you to weigh up.
| Types Of LVT Flooring | Pros | Cons |
| --- | --- | --- |
| Self-Adhesive | Easy and mess-free installation | Time-consuming to remove |
| Glue-Down | Strong and durable bond | Difficult to remove |
| Interlocking | Easy to install, unlock, and lift | Limited designs |
| Loose-Lay | Easy to install and remove | Limited designs |
1. Self-Adhesive
Regarding the name, you can roughly guess how these tiles can be installed. They will come with an adhesive layer on the back (think adhesive tapes). To install them, you will peel away the protective film, position the tiles into place, and give them a little pressure.
While it's true that installing self-adhesive LVT flooring can be a DIY project, removing it is a different issue. You will need to melt the adhesive first using a blow dryer and then cut the tiles into smaller pieces with extreme caution, which is perhaps best done by a professional.
Peel and stick your LVT flooring like a pro with this informative guide.
2. Glue-Down
Glue-down LVT flooring is pretty similar to the previous kind, but here, the adhesive will be applied first, followed by the tiles immediately. Both the installation and removal should be done only by a professional because they are challenging.
Glue-down luxury vinyl is often incorporated into larger installations, such as hotel or airport lobby because it is more durable and can put up with rolling traffic (from wheeled suitcases or trolleys) pretty well.
3. Interlocking
Also known as click-locking or tongue-and-groove, these tiles use a mechanism that snaps them into place with no effort. Interlocking LVT flooring is a DIY-friendly, time-saving option and perfect for those who plan to lift the floor up in the next few years.
Interlocking LVT is the best flooring choice for your new home.
4. Loose-Lay
Even though no fastener or adhesive is involved, these tiles still adhere firmly to the ground using heavyweight and their rubber backing, which has excellent sound-absorbing qualities. Glue is sometimes used on the edges of the room, but this is completely optional.
Some quick notes to keep in mind before installation:
Underlayment: LVT floor itself is soft and pliable. Therefore, the underlayment must be tough enough to strengthen the stability. A high-quality underlayment can absorb noise much more effectively as well, perfect for active households.
Acclimate: LVT floors must be acclimated to a new environment for at least 48 hours before the process takes place. Hence, you should have the flooring delivered before the process for 2 days.
Expansion gap: LVT is sensitive to climate changes, so make sure that you leave a gap as large as 1/4 inches around the perimeter to prevent warping or buckling in the center.
Applications Of LVT Flooring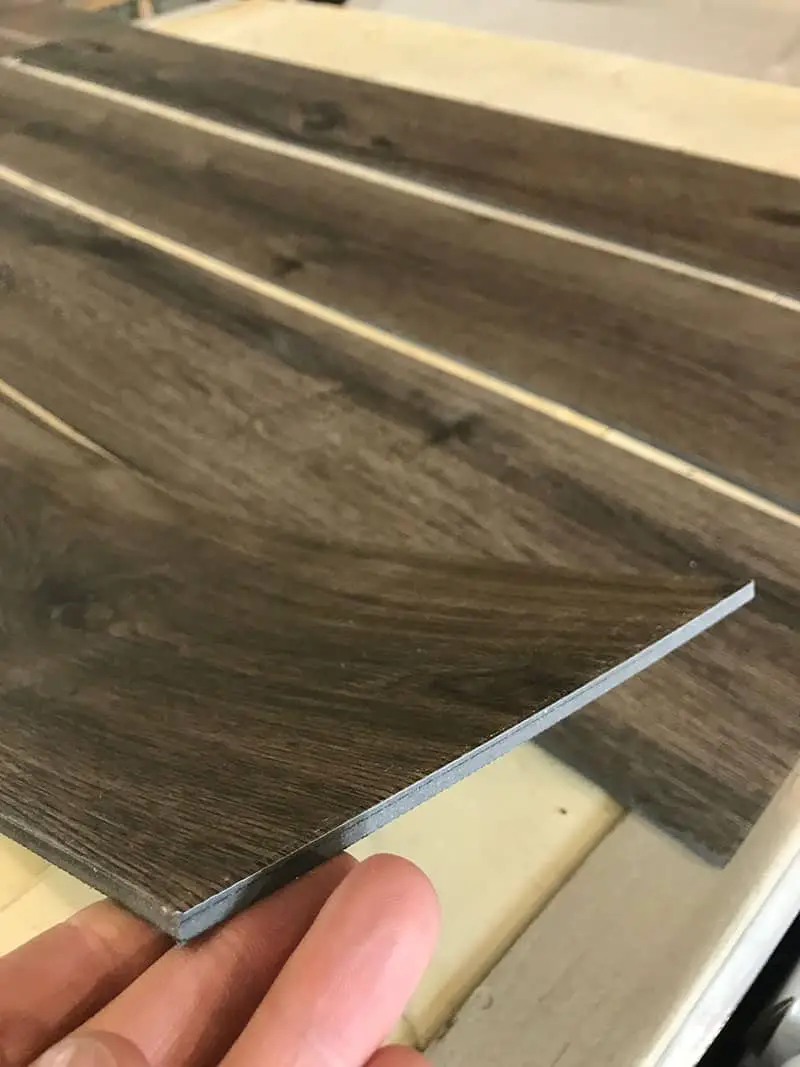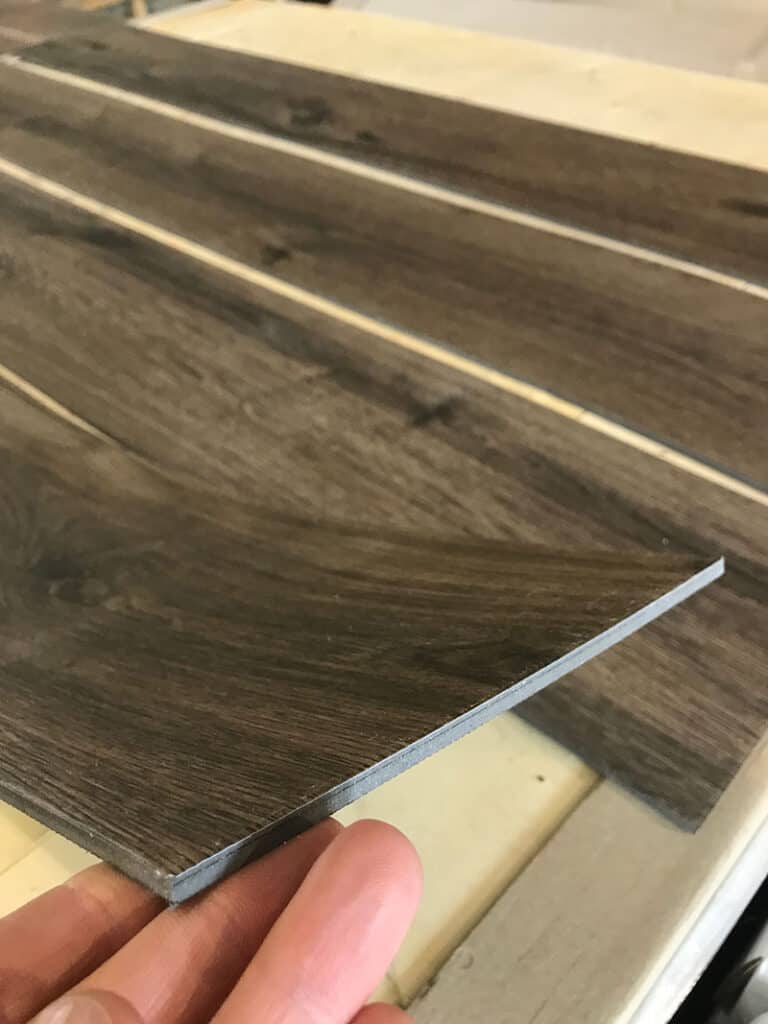 LVT flooring has both residential and commercial uses. One of its strong points is that it can resist water well, ideal for kitchens, bathrooms, or basements, where splashes and spillages often occur.
Furthermore, it can withstand high foot traffic well, so you can expect to see it in commercial buildings like hotels, hospitals, or airports. Some homeowners also prefer to use LVT in their bedrooms because it offers a touch of warmth and comfort.
Surprisingly, LVT's applications can go beyond the ground – some manufacturers have come up with luxury vinyl products that can be installed on walls, staircases, or even facades. With such versatility, it is little wonder to see it become everyone's perennial favorite.
LVT usually comes in four thickness levels: 12, 20, 30, and 40 mil. 12-mil LVT flooring is your best bet for residential and light commercial uses, while the other three levels are suitable for medium to high foot traffic. The chart below should make it clearer for you.
| | |
| --- | --- |
| Thickness Of Wear Layers | Performance Level |
| 12 mil | Residential or light commercial use |
| 20 mil | Low to medium foot traffic levels |
| 30 mil | High foot traffic levels or rolled traffic |
| 40 mil | Heavy-duty commercial use |
Break Down The Construction Of LVT Flooring
LVT is composed of plenty of laminated layers, resulting in a product with not just aesthetics but also long-lasting durability. These layers serve different purposes and are as vital as one another in the flooring's quality and performance.
This section will help you gain a core understanding of these layers, starting from the bottom towards the clear protective layer on top.
Note: Some LVT flooring will have additional layers. The guide below will only cover the core ones.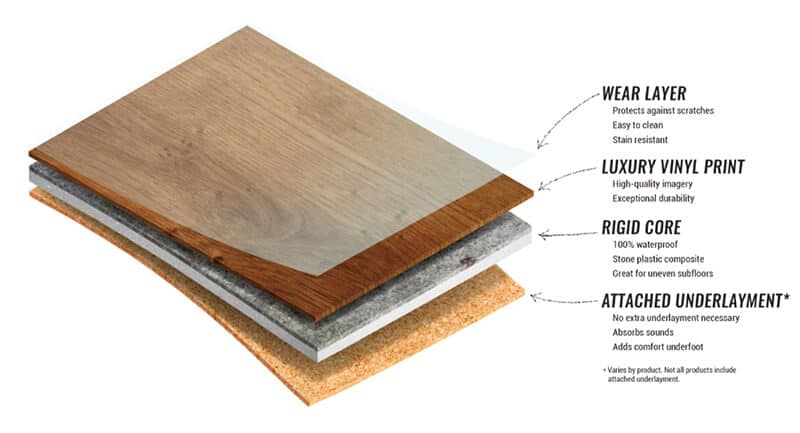 1. Backing Layer
The backing layer is of the greatest importance, as it is the foundation for upper layers. It is engineered to provide extra flatness and stability to your LVT, allowing the bond to become stronger when applied to the subfloor.
2. Inter-Core Layers
Moving on, the inter-core layers add up to the thickness of the product with polyvinyl chloride and precision ground inorganic fillers.
The number of layers will vary depending on the manufacturers. Together, they provide extra support for the face layer, which is utilized only when you go with the skeletal print film route (a printing technique that will be explained below).
3. Print Layer
Also called the visual layer, it is made using one of the following printing techniques: digital and rotogravure, with the former being more popular as it's better for repeated patterns and diverse color schemes.
Some premium-grade LVT products make use of a unique printing technique called skeletal print film. Indeed, the final cost will be somewhat more pricey, but it helps enhance the depth of your flooring's colors and patterns to a much greater extent.
4. Protective Layer
The protective and also the outermost layer of LVT is transparent, which does more than just provide the product with a finishing touch. It is made of PVC, which facilitates maintenance work and also protects your flooring from unsightly damage like stains, scuffs, or scratches.
Once the layers are assembled, they will undergo a process known as lamination, calling for extreme effort, time, and heat so as to amalgamate the layers into a single unit.
The Endless Benefits Of LVT Flooring
Apart from its timeless beauty, LVT flooring has more to offer. This section will let you know why LVT flooring is the absolute choice for your home with the following benefits. Read on!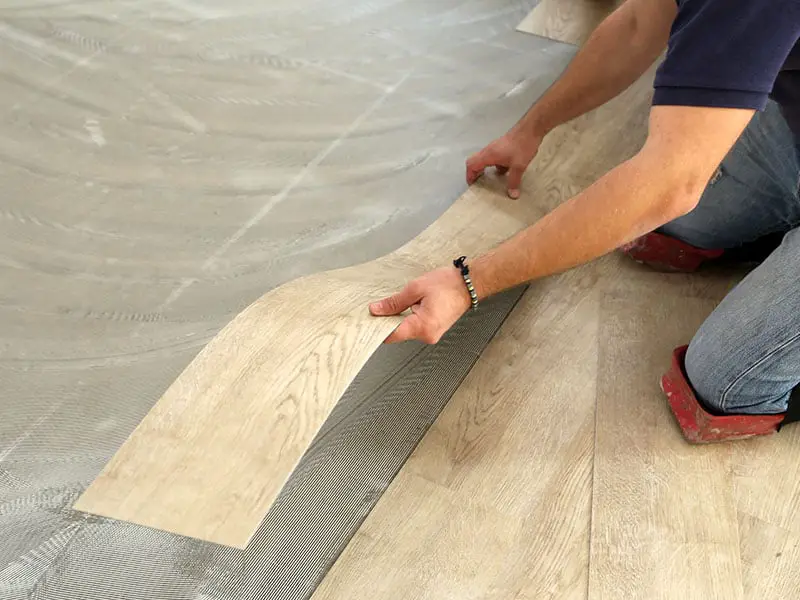 Easy Installation
First and foremost, LVT flooring can be installed with minimal time, cost, and effort, and you can even do it yourself without seeking help from an expert (except for the glue-down type). In case you change your mind or plan to move soon, the flooring can be removed easily as well.
Low Maintenance
LVT flooring requires very little to almost no upkeep, even if your children keep throwing their toys at it. To maintain its natural shine, just some daily or weekly mopping should do the job – no oiling or waxing treatment is needed!
Affordable Price
In general, you will have to pay $2.50-5.00 a square foot, with a few options that can exceed $6 but come with better quality. However, compared to the installation price of laminate and engineered hardwood flooring, it's still a bang for your buck.
Great Durability
LVT flooring boasts extreme durability as it's a synthetic material. As stated previously, it is made up of various layers, which play different roles and together build up stiffer resistance to moisture and temperature changes. Some styles will even offer you a lifetime warranty!
Strong Resistance
Thanks to the protective layer, water damage is kept to the bare minimum. Furthermore, LVT flooring can also resist scuffs, scratches, indentations, and other physical damage, excellent for households with children or pets.
Extra Comfort
Thanks to its soft and smooth surface, LVT will give your feet the ultimate comfort during any climate. Indeed, this is conditional upon the underlayment, which has to be laid out evenly in advance.
Note: Not every vinyl flooring needs an underlayment, such as LifeProof vinyl plank flooring.
Beautiful Design
With advanced printing and texture-embossing technology, you can customize your LVT flooring to your likings. From natural surfaces like wood or stone to more unconventional choices like dynamic colors and animal patterns, the sky's the limit.
Eco-Friendly
The only downside of LVT flooring is that its manufacturing process can be pretty detrimental to the environment. Nonetheless, that was a thing in the past. Most products produced today no longer contain phthalates, a group of chemicals that are to blame for asthma, cancer, and other critical diseases. (1)
Tear Down These Myths About LVT Flooring
A very common myth about LVT flooring is that it is nothing but a piece of vinyl. Dead wrong! If such myths are planting doubts in your head, let me erase them for you with this section, where I will introduce you to a series of myths about LVT flooring and debunk them one by one.
1. LVT Is Just Another Appellation Of Laminate Flooring
People often mistake vinyl plank with laminate flooring, sometimes regard them as a flooring type with two different names. However, there's a world of difference between them, with the most obvious one being the manufacturing process and the use of material.
2. LVT Flooring Is Poorly Made
Similar to other floorings and as introduced earlier, LVT is made up of various layers. The top one, which is clear and made of urethane and other additives, can protect the film print layer underneath and resist damage competently.
3. LVT Flooring Lacks Visual Depth
Much to everyone's concern, repeated patterns on LVT flooring are showcased with realistic depths. This is even more accurate with high-quality products, which often employ advanced printing technology to embed the texture of natural materials onto the finished result.
4. LVT Flooring Is Difficult To Clean
Among every flooring option, LVT flooring is perhaps the easiest to clean. It can take several years of wear and tear, resist staining, and withstand water damage extremely well. It is also the reason why LVT flooring often comes with more-than-ten-year warranty.
An Extra Guide To Preserve The Gloss Of LVT Flooring
As mentioned in the post, LVT flooring is beloved for many reasons, with the most noticeable characteristic being its minimal upkeep requirement. Despite that, you should not neglect the importance of cleaning it frequently.
Most experts suggest that it's best to clean your LVT flooring every day or two. If you are one busy bee and cannot devote much time to such cleaning activities, once per week should be agreeable. And, instead of plain water, you will be using apple cider vinegar.
The following section will also give you some quick tips to deal with stains, scuffs, plus those nasty scratches left by your heavy bookshelf! Let's get down to business!
Cleaning Your LVT Flooring
Don't rush! Before wet mopping your vinyl floors, you will first want to rid the dirt, dust, and debris properties. For this job, you can choose between sweeping or vacuuming, with the latter option requiring the correct use of settings and attachments.
Next, you will move on to the wet mopping process, which calls for apple cider vinegar. With its high acidity, it will leave your floors free from germs, bacteria, and other impurities, not to mention it does wonders with the room odors.
To kick its cleaning power up a notch, you can add some squirts of dishwashing soap (make sure it's bleach-free) to tackle set-in dirt, matted hair, and other heavy stains. To add a bit of shine to the result, mix in some drops of baby oil or mineral oil.
Here's a friendly note: LVT flooring is water-resistant, not water-proof, meaning that standing water can still take a toll on it if you happen to soak the surface. Moreover, allow the surface to dry completely before you enter the room to prevent footprints.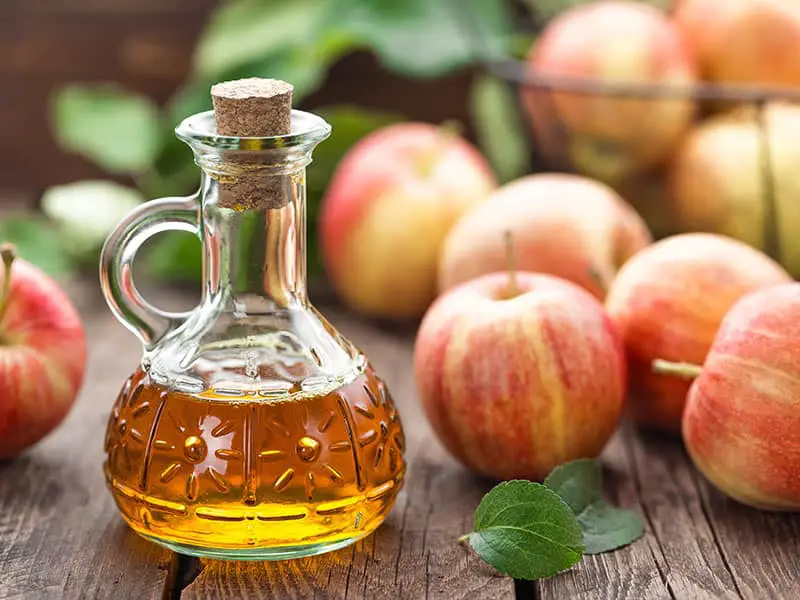 Treating Stains On Your LVT Flooring
Stains are a nightmare, and sometimes, you feel like they want to reside in your cozy house for good. Well, sad news; they are not invited and will have to leave your house immediately – thanks to these household remedies.
Check out the list I have rounded below and grab the corresponding tools and supplies.
Drink spills: Mix baking soda and water, then apply to the stain and wick the mixture away using a washcloth or a shop vac. If you don't have a shop vac, it's time to invest in one. A shop vac can clean carpeting and flooring with great efficiency.
Pigment stains: Stains left by lipstick or pen can be remedied with rubbing alcohol. It is a toxic cleaning agent that can cause difficulty breathing, so don't forget to put your gloves and mask on. (2) Saturate a cotton ball with it and dab the stain gently.
Scuffs: To loosen scuff marks, you will use WD-40 or jojoba oil. Pour a small amount of it into a washcloth and give it a gentle rubbing. Another trick is to spear them using a tennis ball or a rubber eraser. Bet that you did not know this!
Scratches: Depending on how badly your flooring was scratched, a restoring oil and WD-40 will cover up these imperfections. Unfortunately, if the scratches are too deep, you have to call in a professional and have your tiles/planks replaced.
Don't hesitate to heal those scratches on your LVT flooring.
Note: In some events, damage caused by scuff marks and scratches is irreparable, so you are recommended to use a doormat to keep the dirt and debris out of your home. In addition, outfit your furniture's legs with floor protectors so that they won't indent your floors in the long run.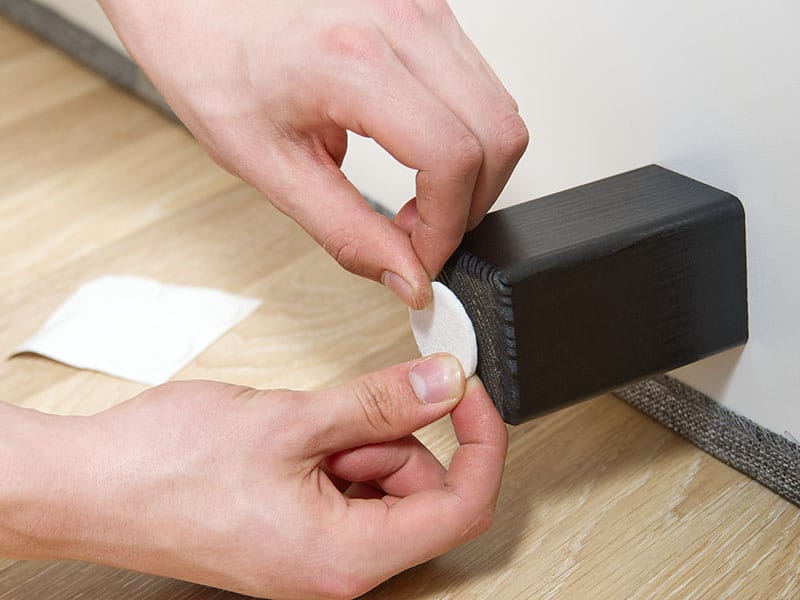 LVT vs. Laminate Flooring: Which Is Better?
Here's a showdown you have been eagerly waiting for: LVT vs. laminate flooring. Initially, you can barely tell the differences between them. This section will provide you with a lowdown on their similarities, differences, and how to distinguish them.
Similarities
Firstly, both flooring options are available in an abundance of designs. They also flaunt great durability and stability, requiring very little upkeep if your home does not experience high foot traffic levels.
Another feature that will leave an impression on you is their resistance to moisture. They can be installed with remarkable ease even when you go with the DIY path. With such strengths, they are ideal for both residential and commercial applications.
Differences
There are many differences between LVT and laminate flooring, but I will only highlight those that can help you tell which is which:
Materials: The core layer of LVT, as you know, is made of PVC vinyl, whereas that of laminate is crafted from high-density fiberboard, which is somewhat flexible.
Installation: LVT flooring can be installed using a glue-down or floating floor system, but with laminate flooring, only the first option is available.
Resistance: Laminate flooring can handle stains and even limited flame exposure. In contrast, LVT flooring is incapable of resisting staining or high heat well. Furthermore, the chances of finding mold under laminate flooring are higher, as it is not waterproof.
Feel: You can feel the grains of wood on laminate flooring. Meanwhile, LVT flooring is much smoother since it is made of vinyl – to some, it bears a resemblance to plastic.
FAQs
You can learn everything about LVT flooring in a single day! If you have additional questions, the next section is unskippable.
LVT, The Best Flooring Choice For Your Home
With my post, I hope that you have found the answer to the "What is LVT flooring?" question. If you have just moved into a new place and wonder what flooring option to opt for, I believe that this post has helped you make the final decision.
What else did I miss about LVT flooring? Do you know any fun facts or additional tips to keep it beaming for long? Come on and type down your comments! I'm looking forward to hearing all of your opinions.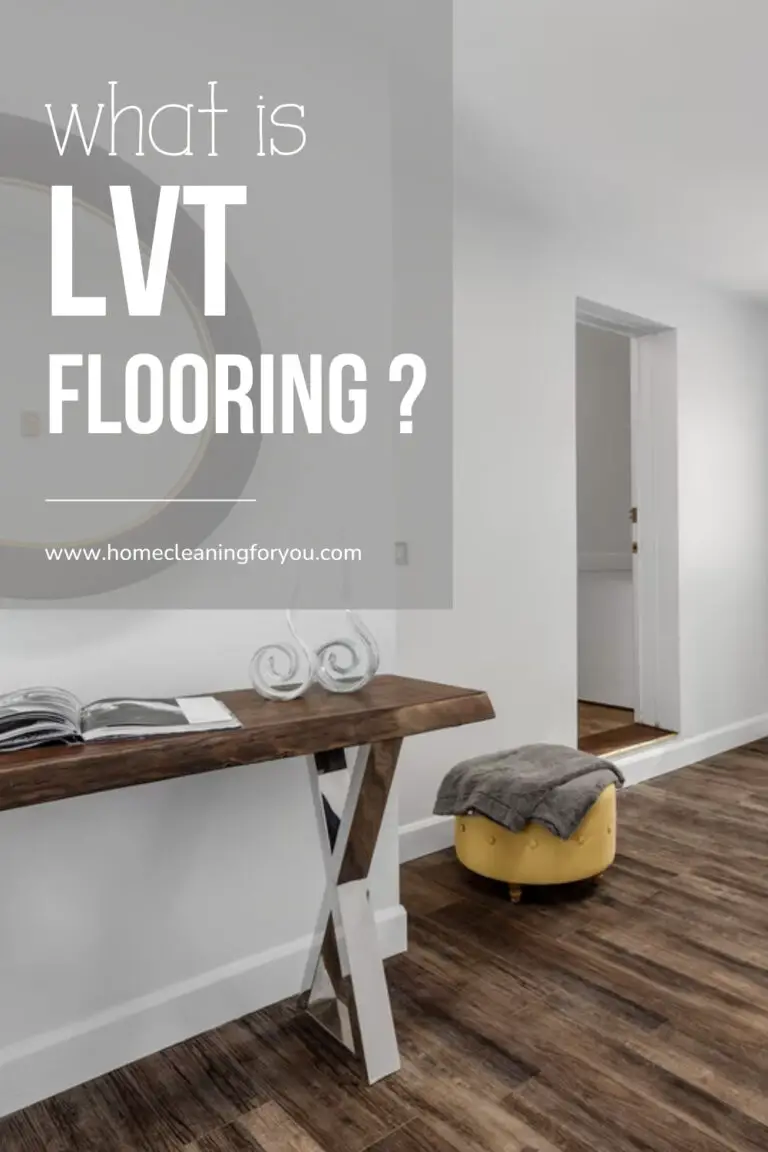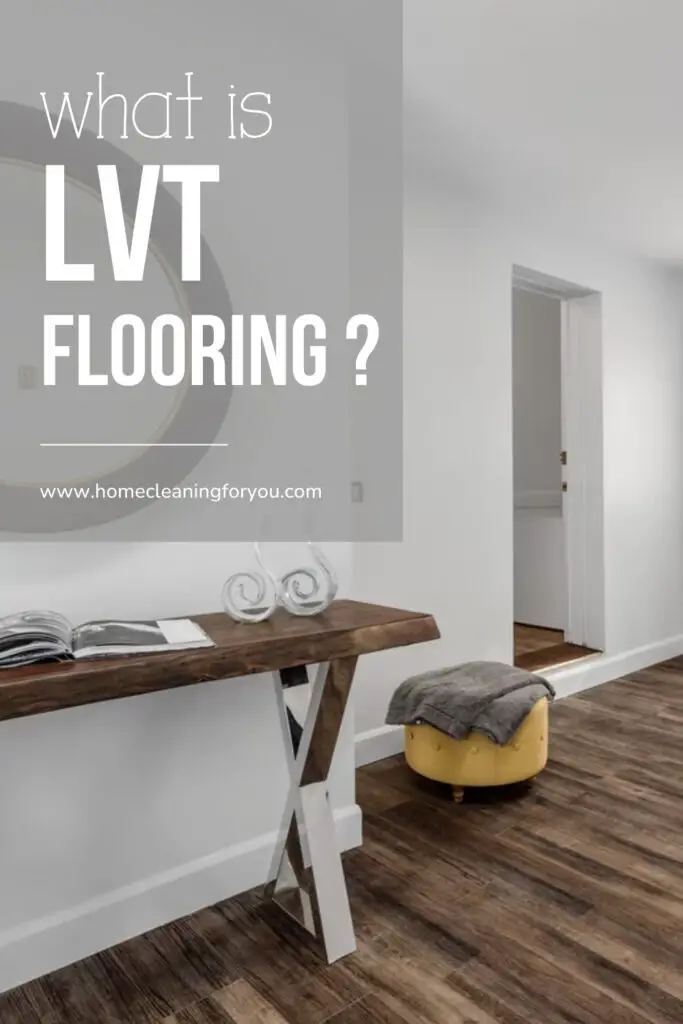 References
Hydrogen Peroxide: Uses, Side Effects, Interactions, Pictures, Warnings & Dosing – WebMD. (2021). Retrieved from https://www.webmd.com/drugs/2/drug-76035/hydrogen-peroxide/details.
Chemical enemy number one: how bad are phthalates really?. (2021). Retrieved from https://www.theguardian.com/lifeandstyle/2015/feb/10/phthalates-plastics-chemicals-research-analysis.