What Is VCT Flooring: A Detailed Guide For Beginner 2024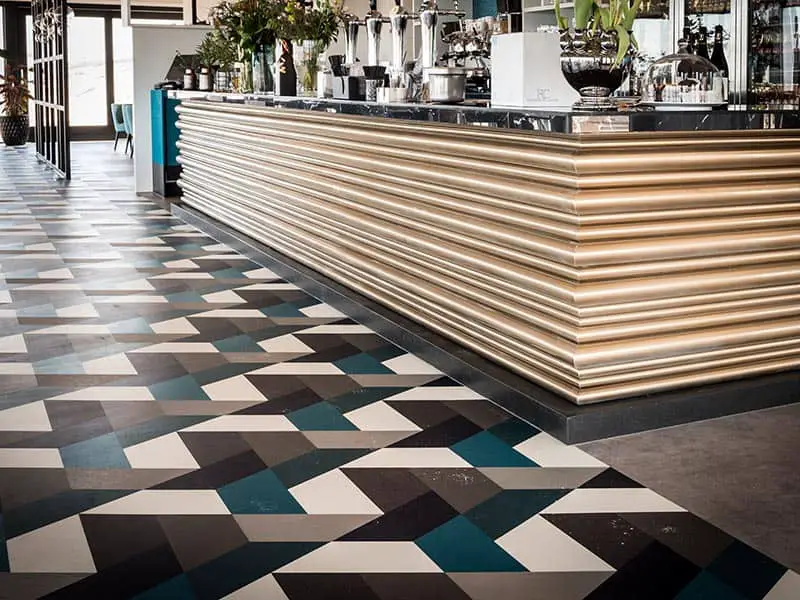 What is VCT flooring? As you look for the appropriate flooring option for your house or office, you're likely to come across VCT flooring. If you want to learn more about it and consider it as a potential option, this article is for you.
Besides talking about the definition and technical features of VCT flooring, I will also give you further information such as installing, cleaning, and maintaining. This will help you decide whether every aspect of it is suitable for your purpose and availability.
VCT Flooring: Definition, Key Features, And Uses
Vinyl flooring is dominating the flooring market. A lot of types are available, and VCT flooring is one of them. It has some characteristics that may meet your specific needs. Let's see whether you should invest in it.
What Is VCT Flooring?
VCT is the abbreviation of Vinyl Composition Tiles. They come in the form of separated thin square or rectangle tiles. The tiles have different sizes. Some are 12×12 inch while others can be 12×24 inches, depending on the manufacturer (1). They are about 1/8″ inches thick.
The tiles are diverse in colors and textures. Some tiles are produced in individual colors. You will also see those that replicate the texture of stone, ceramic, wood, and terrazzo.
The material that is used to make them is colored polyvinyl chloride (PVC) chips. Generally speaking, they are pressed and heated to form a smooth and even tile shape. The detailed technical feature is provided below.
60-70% of limestone
10% resin (vinyl)
10-20% binder
5% fiberglass
3-5% plasticizer
1-5% pigment
VCT flooring tiles are installed on a subfloor, which is usually made from wood or plywood. On the surface, VCT flooring looks porous, bright, and shiny. It is the perfect option to take your place to the next level.
Commercial Uses
VCT flooring has wonderful durability and is easy to maintain and repair. Therefore, it is the perfect flooring solution for public places because it can handle a heavy amount of traffic. You will often see VCT tiles in hospitals, coffee shops, classrooms, and other high-traffic areas.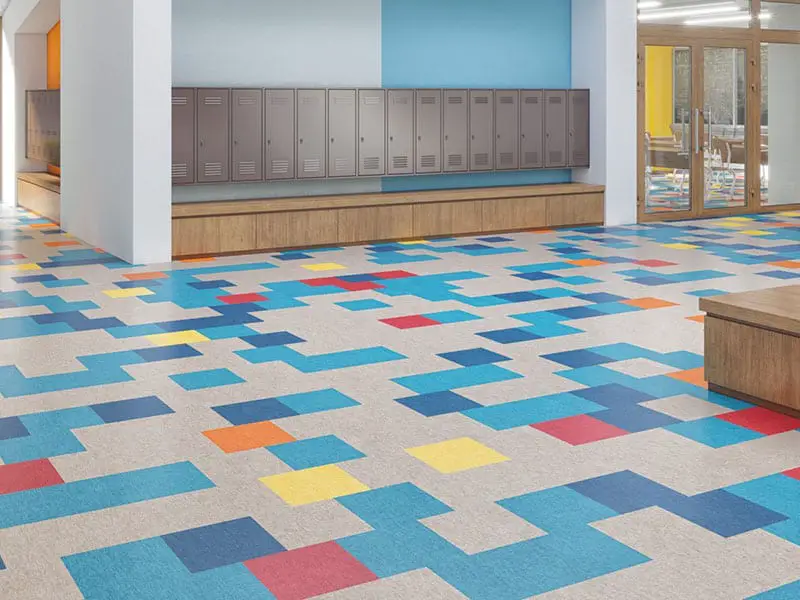 Advantages And Disadvantages Of VCT Flooring
After knowing what VCT flooring is, you should learn about its advantages and disadvantages over other kinds of flooring. See the table below for a quick understanding.
Advantages
Disadvantages

Has a good durability
Water-resistant nature
Wide range of styling options
Low level of noise
Effortless installation and maintenance
Affordable price

Difficulty in uninstallation
Sensitivity to bad weather conditions
High maintenance cost
Advantages Of VCT Flooring
First, I want to mention the wonderful advantages of VCT flooring that cannot be found in other flooring options.
Excellent Durability:
VCT flooring has an excellent resilient and durable nature since it is designed to cope with high foot traffic. Furthermore, it is easy to install, clean, and maintain. When a tile is damaged, you just need to replace it with a new one.
This type of flooring is more adaptive to the sunlight. It will not discolor or fade when interacting with the sunlight frequently. It can protect itself against damage, such as scratches and dents, because of the amount of inorganic filler. Its lifespan can be up to 20 years.
Good Waterproof
This amazing type of flooring also has good resistance to water accrual. Because of that, it will not get slippery or expand when interacting with water. Other kinds of flooring such as wood or concrete do not have this characteristic.
Easy Installation And Maintenance
While most types of flooring require underlayment padding above the concrete and under the flooring, VCT flooring does not need it; you can install it directly on the concrete just with an adhesive.
It can also make dirt and dust become invisible. Even when it is heavily damaged or very dirty, you will not see that very well. All you see is clean and spotless flooring.
Variety Of Styles
Another feature that makes VCT flooring stand out is its diversity in styles and colors. You can choose any design that is deemed suitable for your commercial and public places.
Limited Noise
One more amazing thing about VCT flooring is that it rarely creates noise when you step on it. That's why it is great for high-traffic public areas.
Low Investing Cost
Finally, let's talk about the price. The cost to install VCT flooring is generally lower than other flooring options, such as natural stone flooring and concrete flooring. Does it sound tempting?
VCT flooring can last for several decades, given that it is well-maintained.
Disadvantages Of VCT Flooring
Besides the fantastic advantages, VCT flooring also has some weak points that you should carefully consider when choosing it.
Complicated Uninstallation Process
In addition, the adhesive used to install VCT flooring is very strong, which makes it hard to uninstall it when you want to replace it with another one or repair it. This task requires much time and effort with the use of multiple methods.
Poor Weather Adaptation
First, although there is hardly anything that can harm VCT flooring, environmental conditions are its enemy. VCT flooring is not ideal for you if you live in a very cold place. The low temperature will cause brittles and other changes in color, making it look unlively.
While VCT flooring is relatively easy to install, the procedure must be done very carefully because if anything is not in place, brittle will appear.
Costly Maintenance
The cost for maintaining VCT floorings such as polishing and waxing can be quite high. Periodic and restorative maintenance should be done frequently.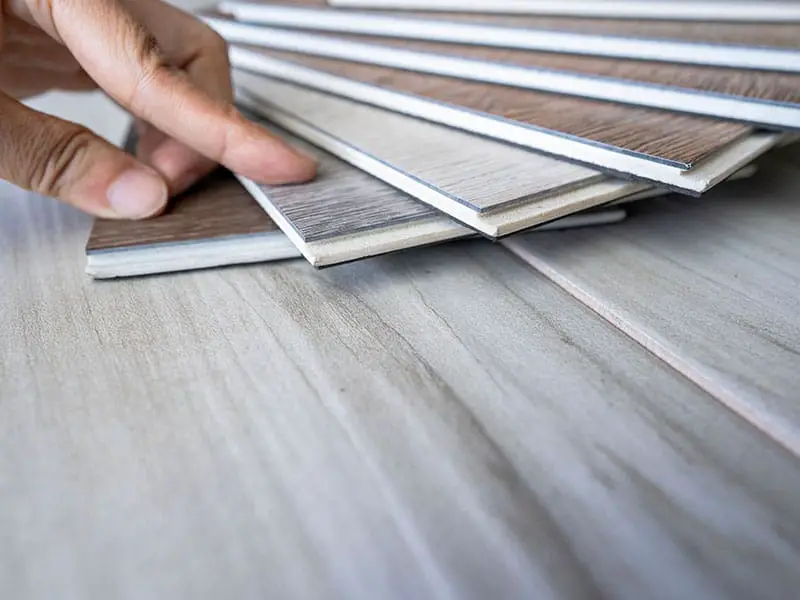 VCT Flooring And LVT Flooring: What To Choose?
Feature
VCT Flooring
LVT Flooring
Cost

Affordable
Slightly higher maintenance cost

Affordable but is a bit higher than VCT flooring
Low maintenance cost

Durability
Can endure high foot traffic
Suitable for high traffic areas, can mask debris
Styles
A lot of styling options, although more limited in comparison to LVT
Countless styling options
Uses
Commonly used in schools and healthcare institution
Mostly used in commercial industries
Maintenance
Waxing and polishing regularly is required
Minimal maintenance
Besides VCT flooring, LVT flooring (luxury vinyl tile) is also a popular option for low-cost flooring. Let's see how it is different from VCT flooring.
Cost
Both VCT flooring and LVT flooring are great options if you cannot afford high-end floorings such as stone and wood. Their prices are nearly equal. Yet LVT flooring is a little bit more expensive.
Durability
Good durability is the key feature of these two kinds of flooring. They remain stable and undamaged when experiencing high traffic. LVT has an advantage over VCT flooring, which is the ability to mask dust and dirt.
Styles
VCT flooring and LVT flooring has a wide range of options when it comes to styles and color. Yet LVT flooring has an infinite number of designs while that of VCT flooring is quite limited.
Use
These 2 flooring options are suitable for commercial and public places where there is a lot of traffic. VCT flooring is often used in education, mostly in K-12 schools. On the other hand, LVT flooring is used pervasively in commercial industries.
Maintenance
The maintenance issues of VCT flooring and LVT flooring are very different. VCT flooring has to be waxed and polished routinely. But LVT flooring does not need to be. The cost for maintenance is much lower than VCT flooring.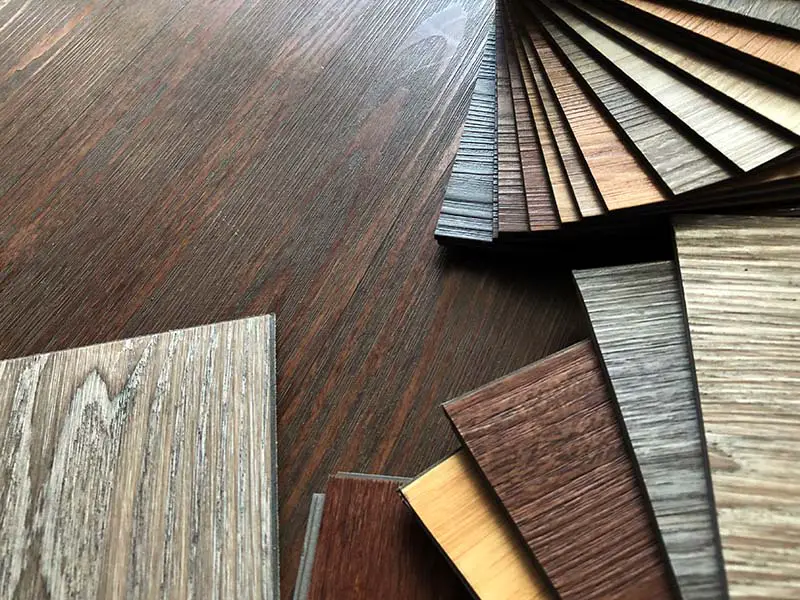 VCT Flooring Ultimate Installation Guide
I have mentioned before that VCT flooring is very easy to install. Now, I will be more specific about the procedure. So you will have a more complete understanding.
The most important thing when installing VCT flooring is preparation. This first step should be done without flaw so that the entire process will be smooth and result in perfect VCT flooring for your building.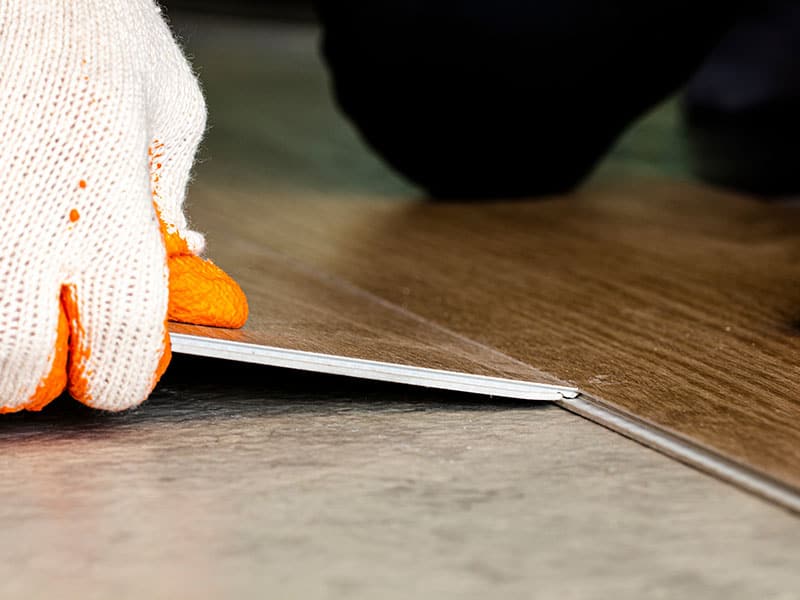 What You Need
VCT tiles
Adhesive (produced specifically for VCT flooring)
Broom
Floor polish
Chalk
Vinyl tile cutter
Trowel
Floor roller
Step-By-Step Instruction
Step 1: Place The VCT Tiles In The Room
Bring all of the VCT tiles to where you plan to install them 3 days before the installation process. The purpose of this is to help the tiles to adapt to new conditions.
Step 2: Prepare The Floor
Make sure you fix and clean the space carefully so that there is no dirt, dust, bumps, or holes. You may want to set up a layer of plywood before installing. This will create an even space for installing. Also, uninstall the door threshold and remove all of the base moldings and trim work.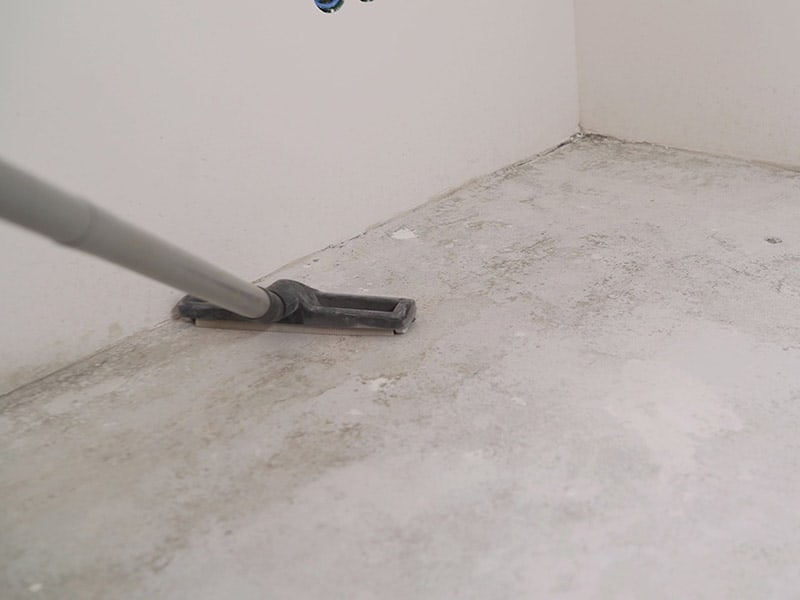 Step 3: Create The Grid Lines
Draw the gridline to lay the VCT tiles later on using chalk. Make sure you spare some space between each tile. After you're done, loosely arrange the tiles on the grid lines to see whether they are well fitted.
Step 4: Spread The Glue Over Over Place
Grab the broom and sweep the floor one more time to remove any remaining debris. Next, use a trowel to apply an adhesive layer to a small area. This process will take you around 1 hour.
After the glue is set, which is when it becomes clear and dry, you have roughly 6 hours to lay the tiles.
Step 5: Arrange The VCT Tiles
It's time to lay the VCT tiles. You should be careful while laying the first tile since it will determine the success of the installation process. Arrange it according to the grids that you have drawn, starting from the farthest edge.
Make sure you press it hard to make the tiles stick to the glue. When you're done laying, use a floor roller to keep the tiles in place.
Step 6: Clean The VCT Flooring
After installing, you should clean off the remaining residue on the new VCT flooring. Use mineral spirits to get rid of the excessive adhesive. Wet clean the floor after 4-5 days.
Step 7: Polish The VCT Flooring
Allow the floor to dry completely and coat it with 2 layers of polish. Apply the polish on the flooring using a mop, and spread it evenly all over the floor. Wait for the first layer to dry until applying the second layer.
A detailed and simple instruction on how to install VCT flooring is right here.
How To Clean VCT Flooring Properly?
Are you curious about the proper way to clean VCT flooring? I have it right here, and I am happy to share it with you.
Dry Cleaning
VCT flooring should be dry cleaned on a daily basis to prevent accumulated dust and dirt. The method is very easy and can be done effortlessly.
Sweeping VCT Flooring
You should sweep CVT flooring every day to wipe away dirt and dust and prevent them from building up. Sweeping is particularly important when the flooring has large chunks of debris such as paper, plastic, metal, and glass.
Use a soft-bristle broom to sweep every corner of the floor. A wide broom will be more effective in cleaning large spaces like cafeterias and hallways.
Vacuuming VCT Flooring
When you clean up all of the big trash on the flooring, use a vacuum cleaner to remove the remaining dust and dirt. Make sure you choose the lowest height setting and remove the beater bar so that it will scratch the floor.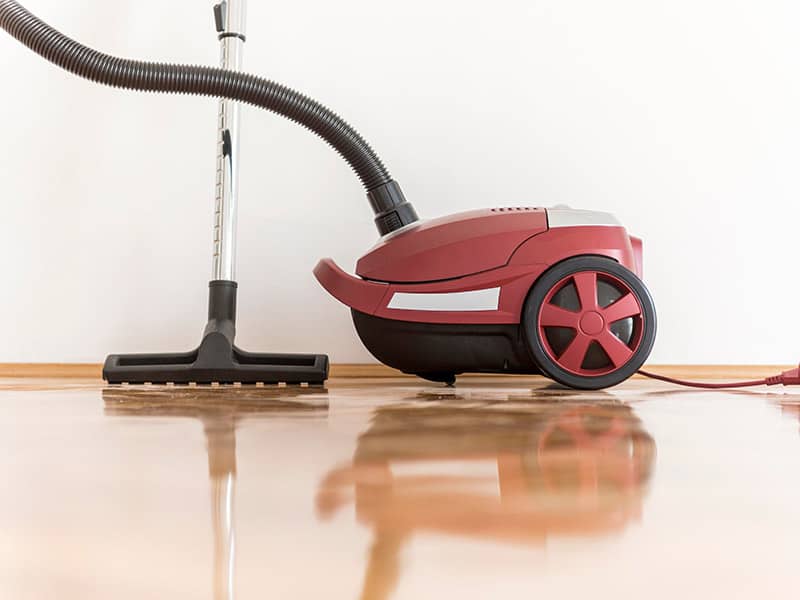 Spot Cleaning
Whenever you notice any stain on the VCT floor, spot clean it immediately. The longer it stays on the flooring, the more damage it will cause.
Method 1: Use Vinegar
For liquid stains, it is best to use a mixture of vinegar and warm water as the cleaning solution. You should clean it right after you detect it on the floor.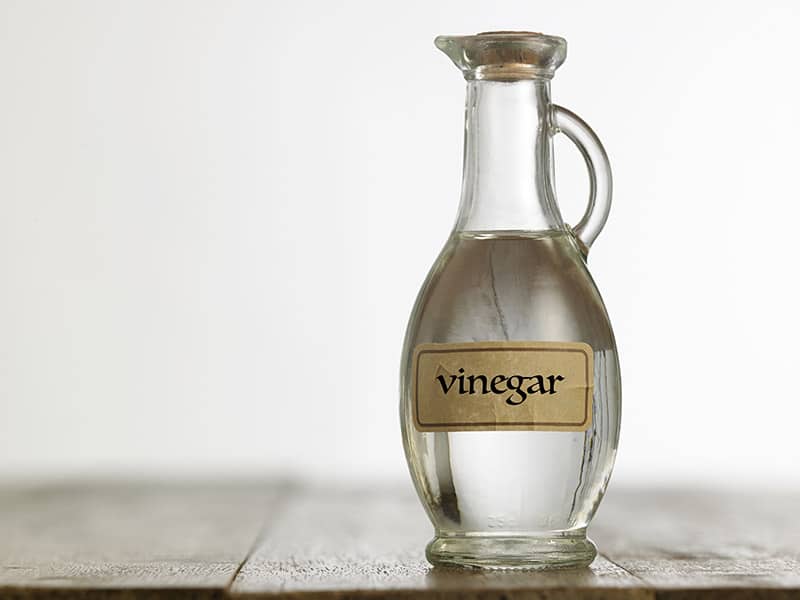 What You Need
Step-by-step Instruction
Step 1: Combine 1 cup of vinegar and 1 gallon of warm water.
Step 2: Apply the mixture to the mop.
Step 3: Mop the floor to absorb all of the spills.
Step 4: Clean the mop with freshwater and absorb all of the remaining water and vinegar.
Step 5: Use a rag to dry the cleaned area.
Method 2: Use Rubbing Alcohol Or Mineral Spirits
For more stubborn stains, use rubbing alcohol or mineral spirits to remove them. This step-by-step guide is everything you need.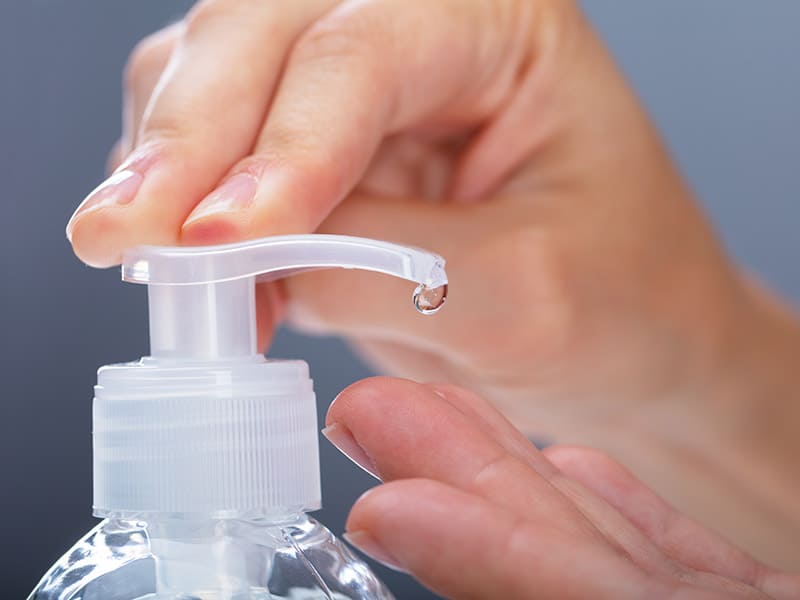 What You Need
Water
Rubbing alcohol (or mineral spirits).
White rag
Step-by-step Instruction
Step 1: Apply rubbing alcohol on a clean white rag and scrub to remove the stain. Do not use a colored rag since it will affect the color of your VCT floor.
Step 2: Rinse the area with fresh water.
Method 3: Use Bleach
Another alternative is bleach. It is a strong detergent that can clean even the toughest stains. You should be careful with the amount.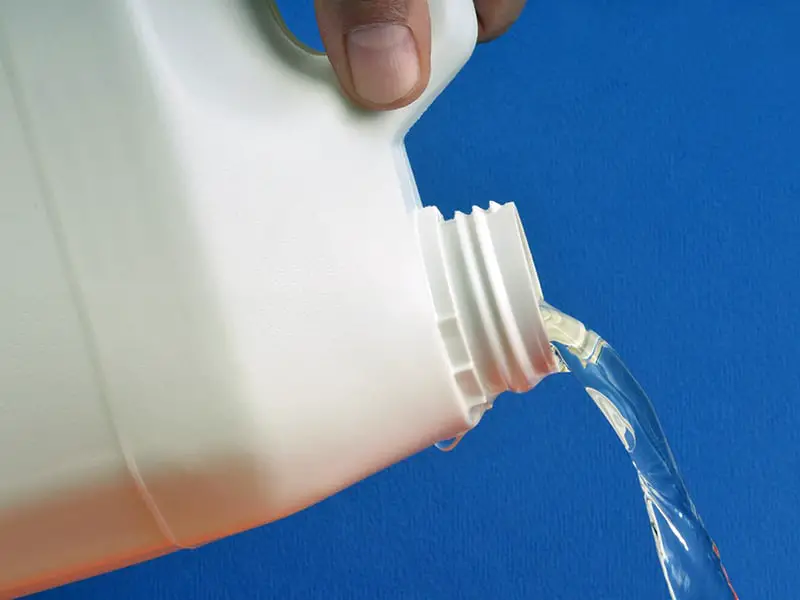 What You Need
Step-by-step Instruction
Step 1: Combine one portion of bleach and 4 portions of water.
Step 2: Soak a rag into the mixture and leave it on the stained area for 1 hour.
Step 3: Put the rag away and rinse the area with fresh water.
Wet Cleaning
Besides dry cleaning, VCT flooring needs to be deep cleaned with a chemical cleaner to remove accumulated dust and dirt.
The frequency of wet cleaning is dependent on whether it experiences heavy traffic or not. Whenever you see that the floor looks dull and darkened, it's time to clean it.
What You Need
pH neutral vinyl floor cleaner
Water
"Wet floor" sign
Microfiber or cotton-blend mop
Auto scrubber (optional)
26-quart bucket for small spaces (35-quart bucket for large spaces)
Step-By-Step Instruction
Step 1: Dry Clean The VCT Flooring
Before cleaning, you need to sweep and vacuum the VCT flooring to remove all of the loose dust and debris to prepare for deeper cleaning. Place a "wet floor' sign so that other people will not step on the area.
Step 2: Prepare The Cleaning Solution
Dilute the floor cleaner in the bucket following the manufacturer's instructions. It is important that you use the exact amount of water and cleaner as recommended to ensure its effectiveness.
Step 3: Mop The VCT Flooring
Immerse the mop in the bucket, wring it out, and start mopping the floor. You should mop from the furthest location from the door so that you don't affect the cleaned area by stepping on it or moving the equipment through it.
If the space is too big, you can use an auto scrubber to save time and energy. Just roll it over the floor.
Step 4: Dry The VCT Flooring
Wait until the floor is completely dry before stepping foot on it. Clean the mop with fresh water and hang it without letting it interact with the wet floor.
This is the end of the wet cleaning process. Your VCT flooring should look bright and shiny. If you do this routinely, the quality and appearance of the flooring will be well maintained.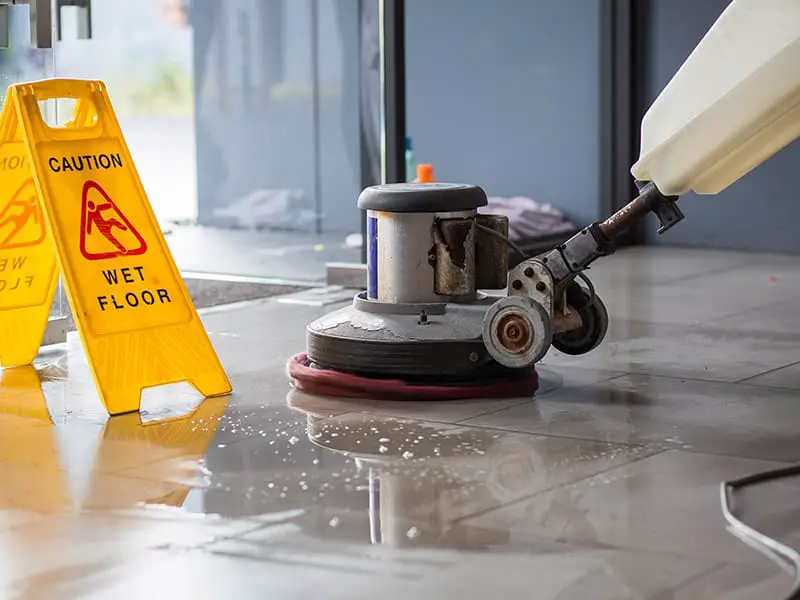 How To Do Periodic Maintenance For VCT Flooring
When tear and wear start to become visible on VCT flooring, it's time to perform periodic maintenance. This process includes scrubbing and recoating the finish.
If your VCT flooring experiences low traffic, it should be periodically maintained twice a year. But in case it is installed in a high-traffic area, you should repeat the process more times than that. Here is the detailed guide for you.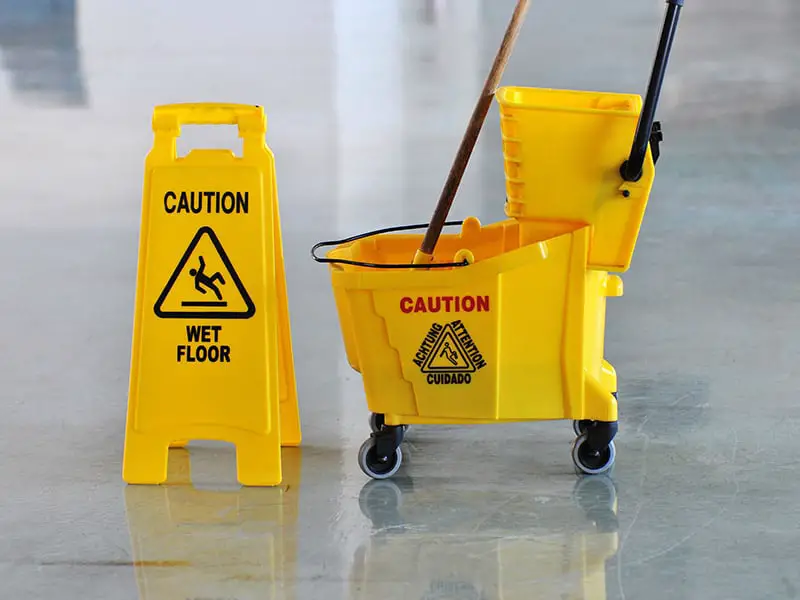 What You Need
Floor buffer (also called swing machine) (or an auto scrubber)
Wet vac
Vacuum cleaner
"Wet floor" sign
Floor finish
Neutral pH floor cleaner
Bucket
Freshwater
Step-By-Step Instruction
Step 1: Dry Clean The VCT Flooring
First, you should vacuum the floor thoroughly to remove all grit and grime. Remember to clean the entire floor.
Step 2: Prepare For Scrubbing And Recoating
Dilute the neutral pH floor cleaner in the auto scrubbers tank according to the manufacturer's instructions. Make sure that the pad is in place. Choose a pad that is labeled a light scrubbing pad so that the floor finish will not be removed. The purpose is only to remove dust and debris.
Also, place a "wet floor" sign at a noticeable place to warn passers-by not to step on the floor.
Step 3: Scrub The VCT Flooring
Move the auto scrubber over the targeted area 3-4 times to scrub the floor. When the pad builds up, flip it to the other side.
Step 4: Rinse And Dry The VCT flooring
Use a clean mop to rinse the entire VCT flooring with freshwater. Remove the remaining residue with a wet vac. Finally, put the auto scrubber and everything else away from the floor to prepare for the recoating step.
Step 5: Recoat The VCT Flooring
When the floor is entirely dry, pour the floor finish in the bucket and apply a thin, even, and smooth layer on the floor. Let one stroke slightly overlap the other to increase the effectiveness. Perfection is the key here. After you've finished, let it dry for 45 minutes.
Then check whether it is ready to step on. If it's not, it will be sticky, tacky, and slippery, which will create footprints when you step on it. If it is dry, apply another layer and wait for another 45 minutes. Normally, 2-3 coats are enough for recoating.
The scrubbing and recoating procedure has never been easier.
Restorative Maintenance Is Also Very Crucial
For VCT flooring, restorative maintenance should be conducted every year to restore its look and keep it away from scratches, dents, and discoloration. Restorative maintenance means stripping the VCT floor to replace the current finish with a new one.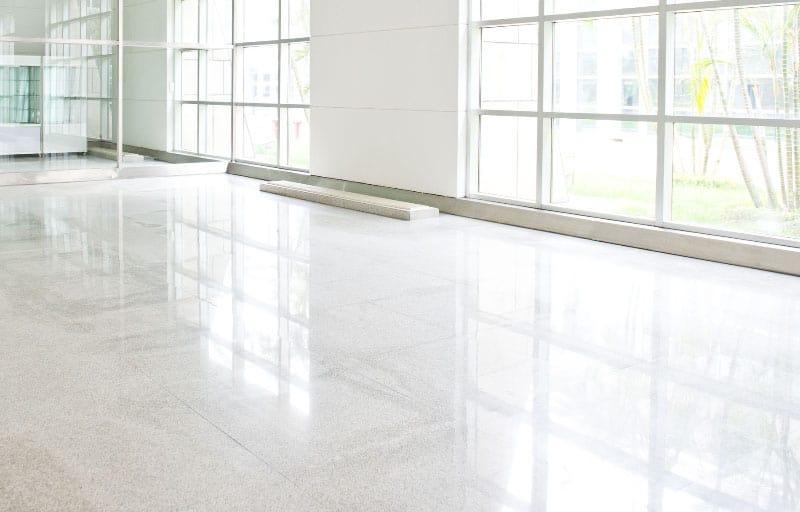 What You Need
Stripper
Microfiber or cotton-blend mop
Bucket
Wax
"Wet floor" sign
Water
Rubber gloves
Safety shoes
Floor cleaning machine (low-speed – 175-250 RPM)
Step-By-Step Instruction
Step 1: Prepare For Stripping
Before stripping, you have to move all of the furniture and other objects away from the flooring. Next, dust mop it to clean any existing debris. Stains must also be removed.
Step 2: Apply The Stripper Onto The VCT Flooring
Mix the stripper in the bucket following the label's instructions and apply it to the VCT flooring using a mop. Remember to wear rubber gloves to protect your hands from irritation.
Note: The floor will be very slippery at this time, so be careful when you step on it. Set a warning sign somewhere to let everyone know not to walk on it.
Step 3: Strip The VCT Flooring
Use an auto scrubber to strip the VCT flooring. Make sure you use a stripping pad, preferably the black one. You should need to push it in one direction. Work in a small area at a time. When the pad does not work well, flip it.
After you're done, check the floor to ensure that there is no remaining wax.
Step 4: Vacuum The VCT Flooring
Vacuum the floor thoroughly to remove all remaining floor finish. You should also clean all of the remaining strippers in the mop and bucket. Make sure you clean them thoroughly with more water than usual and dry them completely. They will be used in the next step.
Step 5: Apply The New Finish
Pour the wax into the bucket. Soak the mop in it and apply the wax on the VCT floor. Spread it evenly. Work in one small area at a time.
Step 6: Dry The VCT Flooring
After you're done, let the wax dry in 15-30 minutes. Open the window and turn on all of the fans to make it dry faster.
With this illustrative instruction, the stripping process will be easier.
Tips To Keep Your VCT Flooring Always Glossy And Shiny
Maintaining is a very important issue when it comes to VCT flooring. Maintenance costs can be high, so it is crucial to keep it clean and undamaged as much as possible.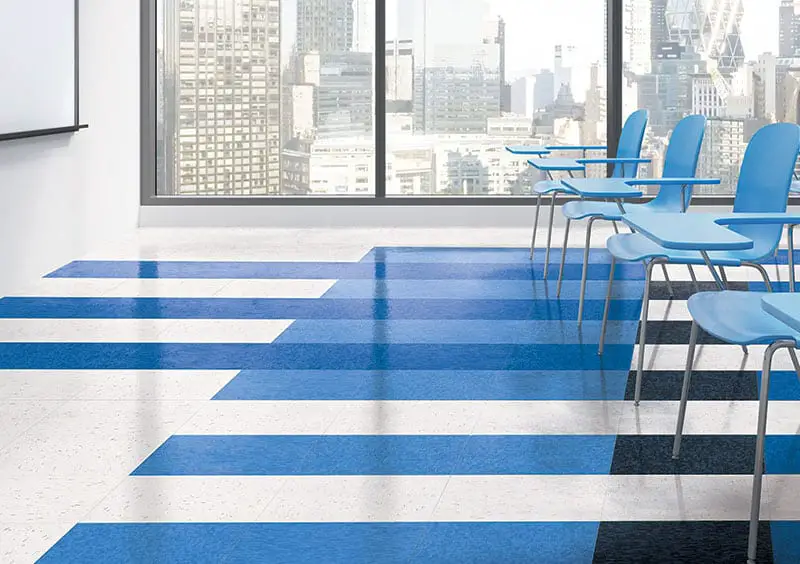 Clean the spills right after they appear on the floor surface, especially those that can change the color of the floor.
Vacuum and sweep VCT flooring daily.
Do not use bleach and ammonia-based cleaner on VCT flooring.
Protect the VCT flooring with mats or rugs at the entry. Choose those that have rubber backing. And remember to clean them regularly.
Burnish the VCT flooring once a week to make it always glorious.
Do not use abrasive strippers to VCT flooring that has been installed for less than 2 years.
Read the manufacturer's instructions carefully when choosing a cleaning product for VCT flooring.
To protect your VCT flooring from being damaged by the sunlight, equip the window around it with UV blinds, curtains, and film.
Rearrange the furniture every few months to prevent it from scratching the floor surface. But do not drag it.
FAQs
Is there anything that you are not clear about VCT flooring? If yes, your questions may be answered below. Take a look at them first. In case you cannot find the answer, just leave a comment to let me know. Then, I will answer you as soon as possible.
Choose VCT Flooring For Your Commercial Space
Choosing a flooring solution can be quite tricky and time-consuming since you have to consider a lot of options. But with all of the information about VCT flooring that I have provided, I believe that you can determine whether it is worth investing in or not. If it meets your needs, go for it.
VCT flooring is a wonderful option if you want beautiful, durable, affordable, and stain-resistant flooring. Although the maintenance issue is quite complicated, it will not be a problem if you keep it as clean as possible.
If you have further questions or concerns, just type them in the comment section, I will try to help you with everything I have.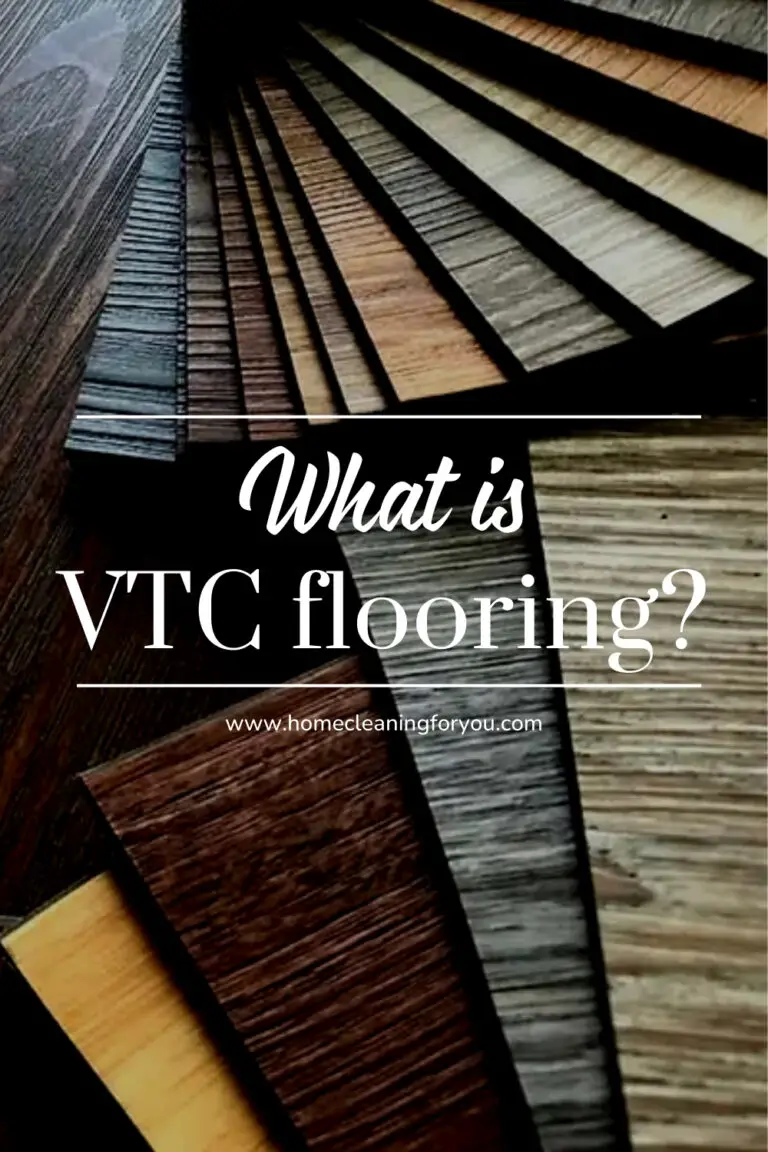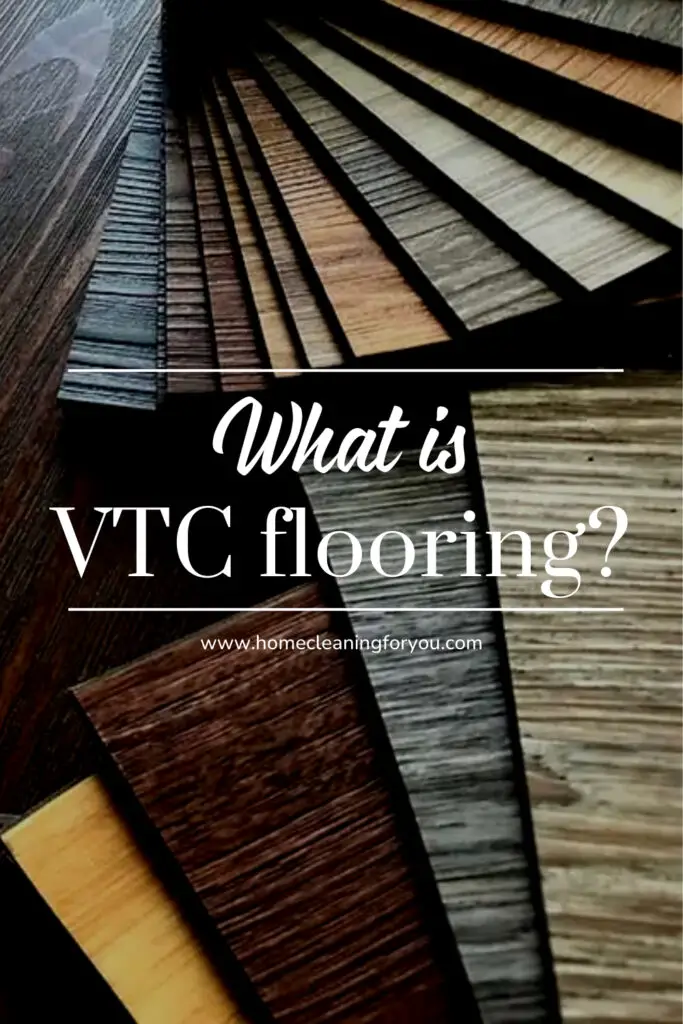 References
En.wikipedia.org. 2021. Vinyl composition tile – Wikipedia
US EPA. 2021. Learn About Asbestos | US EPA.