The Detailed Comparison of Lifeproof Carpet vs. Stainmaster
Lifeproof carpet vs. Stainmaster carpet, which one sounds more familiar to you? Or which one do you prefer?
I know how challenging and exhausting it is to select a decent carpet that can meet all of your needs, finances, or lifestyle requirements. That's why I wrote this article, hoping it can help you out.
But out of the numerous carpet brands, I will only choose 2 famous brands, Lifeproof and Stainmaster, to compare. And based on that, you can find out the ideal carpeting option that benefits you and your family.
Wait no more! Let's see how they differ from each other.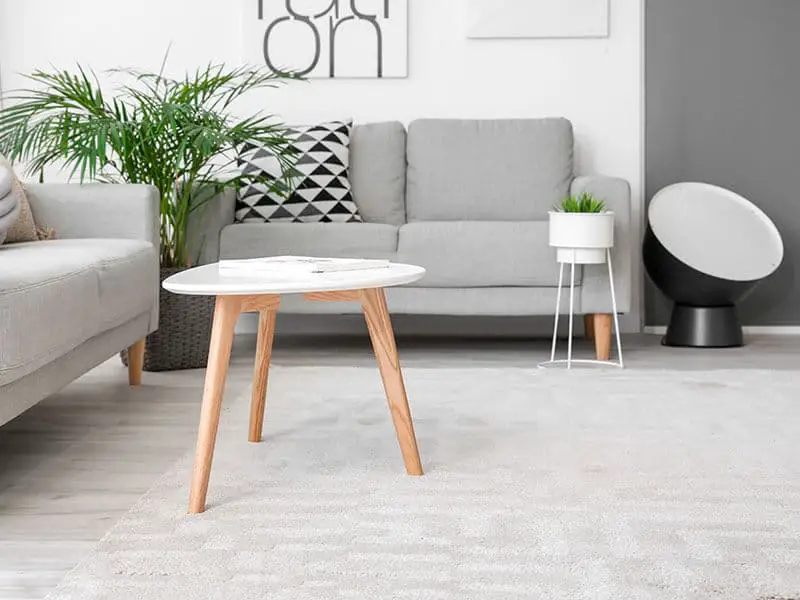 Lifeproof and Stainmaster At The Glance
In case you have not known about these brands yet, here is some general information regarding their manufacturer and distributors.
Lifeproof Brand's Manufacturer
Lifeproof carpets are sold by Home Depot only, so you cannot find them anywhere else. They do not have an official website, so if you want to review Lifeproof products, you can only check it on the Home Depot website or stores.
Though they are distributed through Home Depot, their manufacturer is Mohawk Industries, a big company in the flooring industry.
Unlike other carpet brands, Lifeproof carpets do not have specific collections. There are over 100 Lifeproof carpeting designs, yet still easy to search as they all have specific names. And ​this brand name is also famous for its stain-free capacity.
The Background of Stainmaster
You might have seen many Stainmaster carpets in Lowe's stores across the USA. But have you known who the original manufacturer of this brand is?
It is Invista. Lowe acquired this brand from Invista in April 2021 and now distributes Stainmaster in their stores.
This brand provides floor covering solutions for not only rugs, carpets but also hardwood and vinyl floors. And you can also find them in many qualified retailers nationwide.
Stainmaster offers more than 300 floor-covering styles with different colors and a broad price range. Many families and pet parents choose this brand due to its high quality in soil and stain resistance.
Overall, both brands have various benefits and drawbacks as well. So please keep reading for more information about them in the following parts.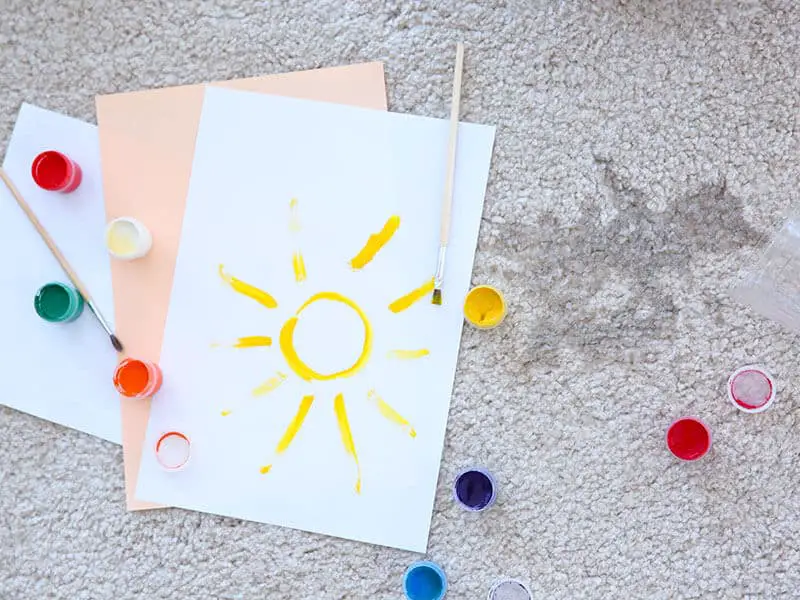 Lifeproof Carpet Vs. Stainmaster Carpet – 6 Things To Consider
For better analysis, let's break down their features into 6 significant aspects to compare and review. First, please check the below table to grasp both Lifeproof and Stainmaster highlights.
Aspects
Lifeproof Carpet
Stainmaster Carpet
Materials
Triexta (PTT), polyester, nylon, wool, or blended fibers
Mostly in nylon 6.6, some in polyester
Colors
Varied
Varied
Product Lines

Varied without in specific collections

Best-seller: Lifeproof Batesfield

Varied in specific collections

Stainmaster Signature
Stainmaster PetProtect
Stainmaster Essentials
Stainmaster LiveWell
Stainmaster TruSoft

Product Characteristics

Varied due to they are made from many different materials
Excellent fade, wear, and stain resistance overall
Suitable for allergic or asthma sufferers with low VOCs

Products made from nylon 6.6: High in durability, resilience, easy to clean and maintain
Products made from polyester: High in stain and fade resistance but lower in durability compared to nylon

Warranty
Based on products
Based on products (but you will get the minimum 10-year warranty overall)
Cost

Carpet: Around $2 to $9/square foot

Carpet pad: Around $1/square foot

Carpet: Around $1 to $6/square foot

Carpet pad: Around $1/square foot
1. Product Materials
Lifeproof carpet materials are varied. These materials can be Triexta (PTT), polyester, nylon, wool, or blended fibers. The most popular carpet fiber of the Lifeproof brand is Triexta, and the following is nylon.
Though the emergence of Triexta fiber is relatively new, they have gained trust from customers, thanks to their features that have mixed advantages of nylon and polyester.
On the other hand, Stainmaster mainly uses commercial-grade nylon, particularly Nylon 6.6, to make their carpets. Stainmaster also produces polyester carpets.
With different materials, both Lifeproof and Stainmaster carpets have different characteristics based on the features of their fibers. Therefore, it is hard to conclude which one is better in this aspect.
Nylon and polyester; which material is right for you?
2. Color Choices
Both Lifeproof and Stainmaster have broad color and shades ranges. With Lifeproof, you can choose not only neutral colors like gray, beige, brown, black, white but also some darker tones like green, blue, berry, etc.
Besides the color, Lifeproof offers some carpet designs with tiny patterns or flecks that can help you hide the visible dirt or stains before you have time to clean them.
Like Lifeproof, Stainmaster colors are varied and can meet anyone's preference, for example, beige, gold, gray, red, yellow, blues, etc., with many shades.
Some of their carpets also feature flecks, which are ideal for large families with children or pets since these flecks can disguise stains and dirt efficiently. But of course, the carpet still should be cleaned regularly.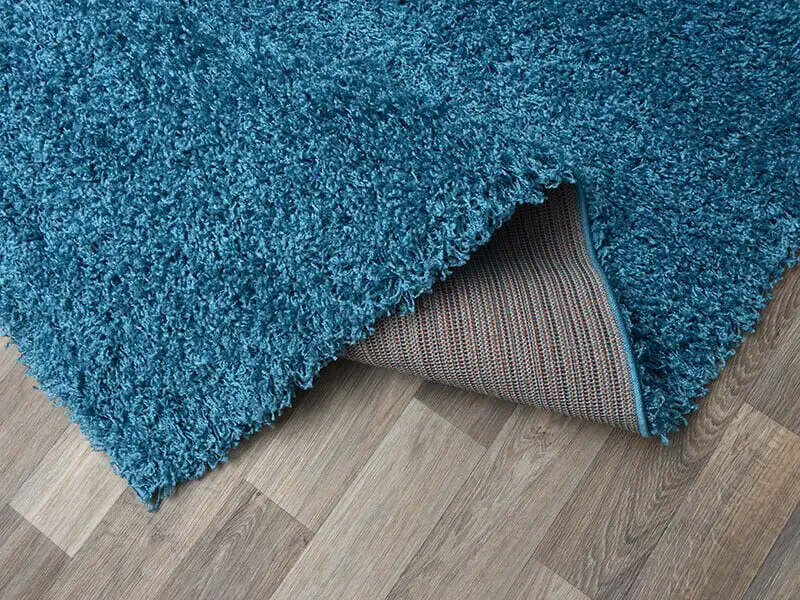 3. Product Lines
The product lines of Lifeproof are diverse, but they are not set in collections like other brands, as explained in the first section.
Some of their famous products are Lifeproof Batesfield (top-seller), Lifeproof with PetProof technology, Katama II, Enchantment, Aura, Superiority II, etc. They all have distinctive features so you can have more choices based on your lifestyle or needs.
Stairmaster product lines are also vast, grouped into 5 main collections: Stainmaster Signature, PetProtect, Essentials, LiveWell, and Trusoft. Here are some short descriptions of these collections:
Stainmaster Signature: Soil and stain resistant well, easy to clean, and suitable for big families with high traffic. Best used in the living room.
Stainmaster PetProtect: Ideal for your 4-leg babies to prevent pet hair, odor, stains, soils, or even damage. Color-safe after years of use.
Stainmaster Essentials: Come at an affordable price. Good at stains and spill resistance. Provide extra production with a high-end underneath pad.
Stainmaster LiveWell: Provide comfort for daily use. Easy to clean and maintain with better particle and dust reduction. Suitable for families and allergy sufferers.
Stainmaster Trusoft: A luxury choice. Offer the most comfort underfoot compared to other collections. Easy to clean and maintain with good stain resistance.
Looking for a quality carpet for you and your 4-leg babies, Stainmaster PetProtect might be the one.
4. Products' Characteristics
Since Lifeproof's materials are more diverse than Stainmaster, they have a broader range of product characteristics that you can choose from.
Generally, their products are durable with excellent fade, wear, and stain resistance. They are also perfect for allergic or asthma sufferers. And if you are concerned about their VOCs ratings, fortunately, Lifeproof carpets are also low in VOCs.
In Stainmaster's case, most products are made from Nylon 6.6, which means they carry various benefits in terms of durability and resilience and are easy to clean and maintain.
With their polyester range, Stainmaster also ensures good quality in stain and fade resistance. But apparently, polyester will never have the same durability as nylon. So if you want to install Stainmaster polyester carpet, choose low-traffic spaces.
Wanna know how good a Lifeproof carpet can prevent stains? Check this live demonstration.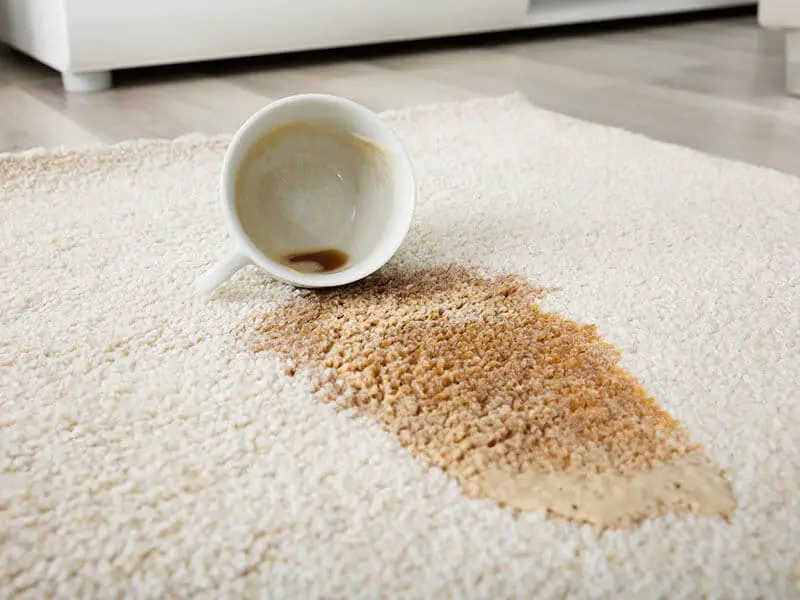 5.,Warranty
By using Lifeproof carpet, you will receive the Lifetime Stain and Soil, 25-Year Wear, and Texture Warranties from Home Depot (2).
However, you should remember that not all Lifeproof products have the same warranty policy. Some standard carpet warranties do not include Stain and Soil warranties; therefore, you should carefully check with the seller to precisely know the warranty cover you will get.
Regarding Stainmaster, you also have various types of warranty offers (e.g., Stain and Soil, Texture Retention, Anti-Static, etc.), and it is based on the product line you choose. But overall, you will receive a minimum 10-year warranty from Lowes (3).
6. Cost
Lifeproof carpets' price might range between around $2 and $9 per square foot based on what line you choose. Moreover, since this one is an exclusive brand of Home Depot, you do not have to spend a lot of time comparing their prices with other wholesalers.
In contrast, Stainmaster products' prices are much lower. Their price is from the low to the middle range, from around $1 to $6 per square foot. So you can go with low-pile types at $1 for 1 square foot if your budget is tight, or choose luxury ones at about $5 per square foot.
You can also buy the carpet pad for better carpet protection at around $1 per square foot from Lifeproof and Stainmaster.
Another good thing is both brands offer free installation services for a minimum purchase via the wholesalers. For example, you will get this free installation coupon when you buy at least $499 of Lifeproof carpet (1) .
On the other hand, Lowes provides a 90-days guarantee for their Stainmaster products, which means if you are not satisfied with the quality of your carpet, they will replace a new one for you within 90 days.
In case you want to install Stainmaster at home by yourself, this instruction can show you how.
Lifeproof Carpet Vs. Stainmaster Carpet – Pros and Cons
Another way to assist you in considering whether Lifeproof or Stainmaster carpet is learning their pluses and minuses. Keep reading for further interesting highlights.
What Will You Get From Lifeproof Carpets?
None of the carpet brands are perfect. They all have pros and cons, and so Lifeproof carpets are. Here are some main points that you should know before buying this brand product.
Pros:
Wide range of styles (e.g., textured carpets, twist carpets, loop and patterned), designs, colors.
Wide range of fiber materials (nylon, wool, polyester, triexta, or blended fiber)
Good in stain resistance
Free installation with minimum purchase
Good for allergic or asthma sufferers
Low VOCs level
Cons:
Higher prices than other brands due to it is an exclusive brand of Home Depot
Hard to compare the information with other brands
Require a suitable or high-tech vacuum to clean (many customers complaint Lifeproof carpet, particular high-pile type, is hard to vacuum with regular vacuum cleaners)
Require good research in their warranty as not all Lifeproof products have the same warranty
Long-day stains might be hard to remove
How About Stainmaster Carpets?
Determining the benefits or downsides of certain Stainmaster product lines is still reliant on their specific features. But in general, Stainmaster items still contain both positive and negative aspects.
Pros:
High durability as most of their products are made from nylon fibers
Easy to clean and maintain with most types of vacuum
Pet-friendly
Good in stain resistance and colorfast
Some carpets are antimicrobial which is friendly for allergic people
Wide range of budget (low to medium), styles, and colors
Free installation with minimum purchase and 90-day customer satisfaction replacement
Good warranty at least 10 years
Cons:
Lack softness as nylon cannot provide good soft-feeling underfoot like other materials
Stainmaster carpets' quality based on price causing the inconsistency in quality
Colors might deviate when ordering online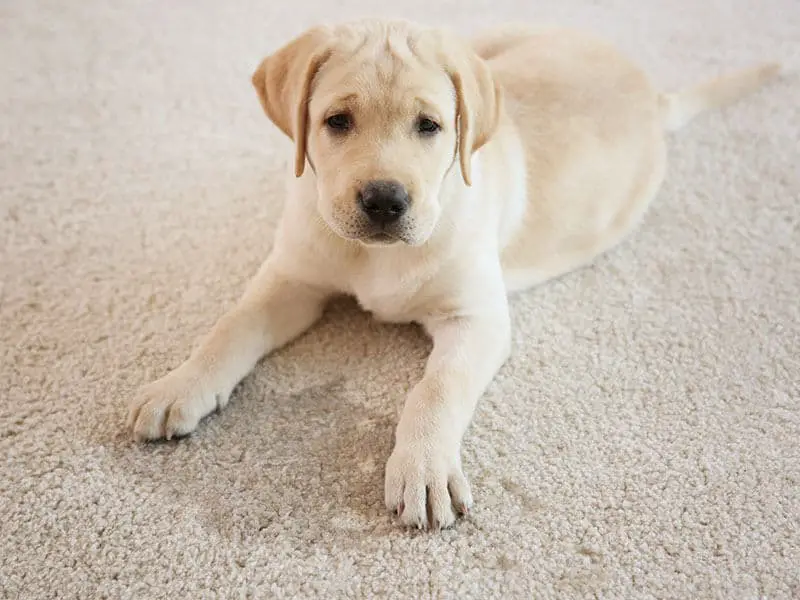 Cleaning and Caring Tips For Your Lifeproof or Stainmaster Carpet
Either your carpet is Lifeproof or Stainmaster; they all need good care with regular clean and maintenance. Below are some tips to ensure your carpet looks and smells fresh all the time.
Use Vacuum
Depending on your cleanliness level, you can vacuum your carpet weekly or twice a week. Also, there are various finest vacuum cleaners for carpets on the market that you can buy with varied price ranges.
Some long-fiber carpets might need an appropriate carpet, but do not worry as you still can find many options to choose from for a good vacuum cleaner for high-pile carpets.
Use Professional Cleaning Machines
If you have a steaming cleaner or a carpet cleaner at home, use it to deep clean your floor covering every 12 to 18 months for the best result.
A steam mop will treat your carpet with steam effectively. And the good thing about it is you can do it by yourself as they are not too difficult to use.
Or in case you are not sure how to perform a professional carpet cleaning appliance, you can hire carpet cleaning services with different costs.
Use DIY Cleaning Solutions
Another way to keep your carpet stain-free is using natural cleaning treatments. Therefore, you do not have to spend your money on specialized solutions to clean stains.
Remember, there are tons of methods to eliminate stains on carpets, which can be done by natural solutions or normal household items (e.g., dishwashing).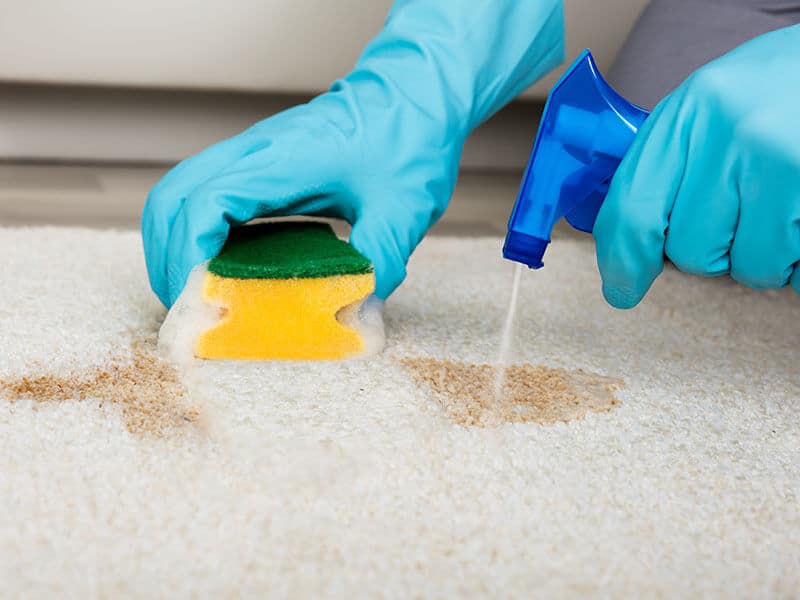 FAQs
Last but not least, if you still have other concerns regarding these carpeting brands, the following are commonly asked questions with short answers to explain some more information about Lifeproof and Stainmaster.
What Is Your Last Decision?
Although there are other carpet brands available, Lifeproof and Stainmaster are two well-known names in the carpet market. And after reading this post, you just have got an excellent foundation for your carpet selection process, particularly in these 2 brands.
Finally, I hope you will be satisfied with your choice. Please do not forget to share your opinion about one of them in the comment part. I am looking forward to hearing from you. Thank you.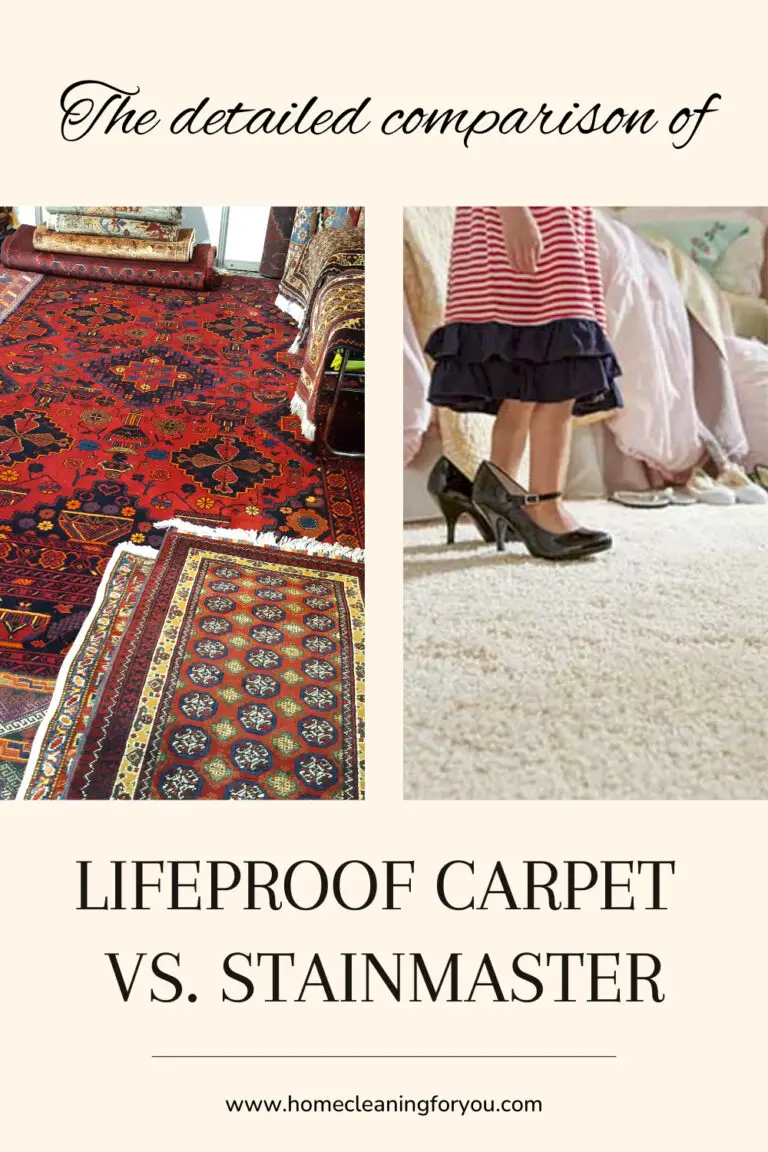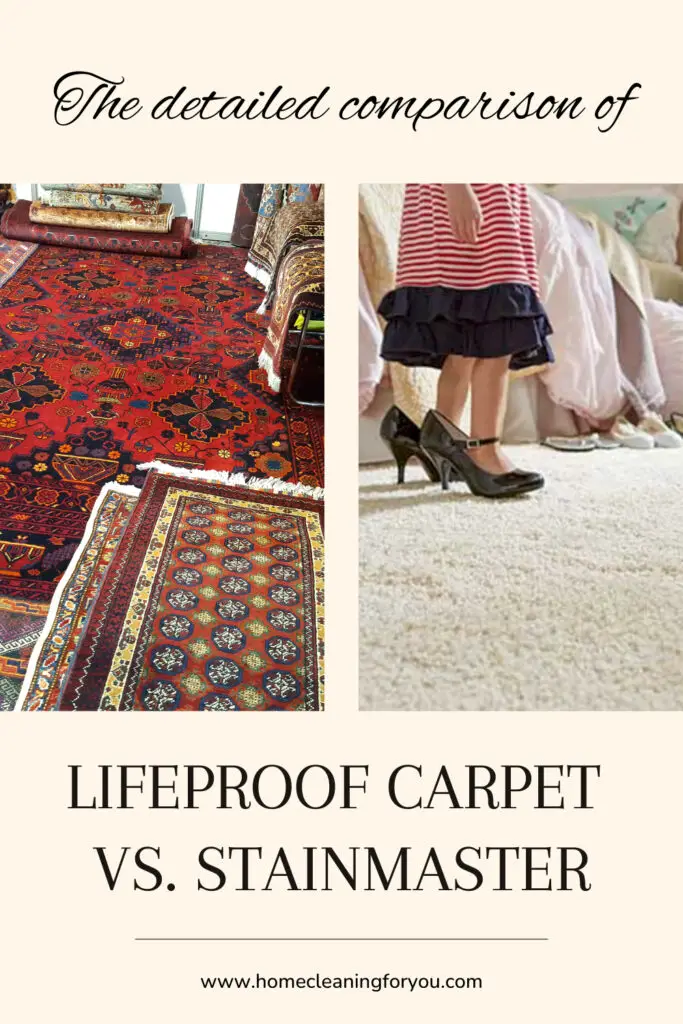 References
Homedepot.com 2021. Carpet Installation. [Online].
Homedepot.com 2021. Carpet Buying Guide. [Online].
Lowes.com 2021. Carpet Buying Guide. [Online].