Mannington Vinyl Flooring Reviews 2024
Mannington vinyl flooring reviews are there to help you decide about one of the largest flooring brands in the USA. Mannington offers a vast range of floorings at different costs, including laminate floorings, hardwood, tile and vinyl.
Back in the day, vinyl flooring was a synonym for cheap and fake floorings. But, brands, such as Mannington really improved their game and vinyl floorings gained new popularity. Vinyl plank floorings by Mannington are available under the brand name Adura in several collections.
The brand raised the quality in all aspects, and now offers realistic, waterproof floorings. But, how good are Mannington floorings for your home? Let's find out.
Is Mannington Vinyl Flooring Good?
If you are specifically looking for vinyl flooring, Mannington won't let you down. Their products are safe for indoor use, easy to install and maintain, available in different styles, colors and suitable for various applications around the house.
But, Mannington vinyl flooring has a significantly shorter lifespan than hardwood and stone floors.
What Is Mannington Vinyl Flooring?
Essentially, Mannington vinyl flooring has polyvinyl chloride – PVC construction with added compounds that made the flooring flexible, realistic, durable, etc.
The sturdiest Mannington vinyl floorings have been manufactured with a solid polymer core. Therefore, the core in the floor has limestone powder and polymer stabilizer to achieve the look and other quality vinyl flooring properties.
Vinyl floorings from different Mannington collections feature a WPC core for a waterproof, soft feel underfoot and excellent soundproofing properties.
Where Is Mannington Vinyl Flooring Made?
Mannington promotes its floorings as Made in the USA. Indeed, the sheet vinyl floors by Mannington are produced in New Jersey. (1) Other floor types, such as laminate and hardwood, are mostly made in North Carolina, and Alabama.
But, the company states that 80% of luxury vinyl floors by Mannington are made in Georgia. The origin of Mannington vinyl floorings is important as some of the products from the vinyl collection come in boxes with declaration Made in China.
Still, the Mannington vinyl flooring has mostly US origin and complies with the USA standards of quality, but some flooring components appear to come from China. But, an ongoing rumor in the flooring industry says that the company is looking to transfer the entire manufacturing in the USA.
The company already finds inspiration in some iconic USA mind images, such as Rushmore Mountain or Niagara falls.
Mannington Vinyl Flooring Collections
Mannington has several collections under their Adura brand of vinyl plank flooring and two options for vinyl sheet floors. Let's go through each line!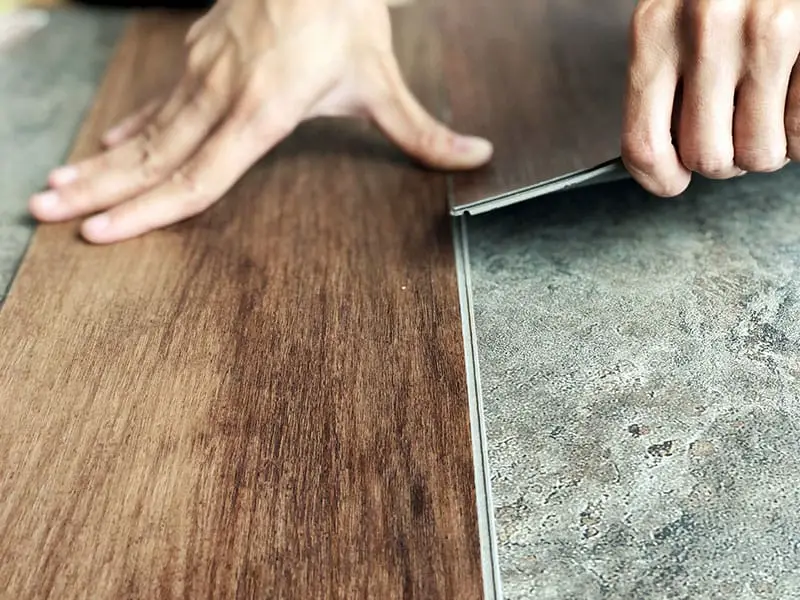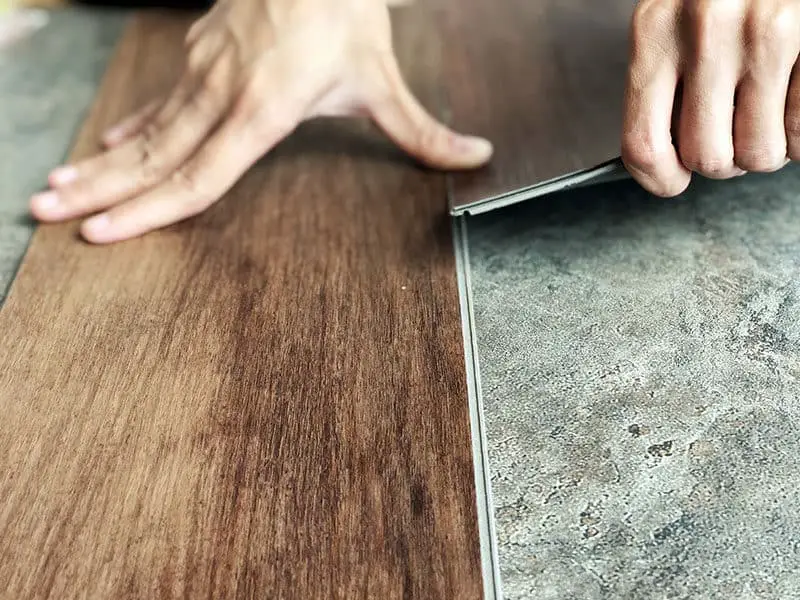 Adura Max
Adura Max is the primary collection of vinyl plank flooring made by Mannington. The collection includes stunning vinyl floors that resemble wood and stone. Overall, all the available floorings in the collection are in rustic and weathered style.
The floorings are sound-proof and comfortable. Adura Max has quite a wide style range, with 15 wood styles available in different shades and ten stone looks with similar variations in texture and colors.
The planks for wood styles are 6 x 48 x 7 inches in size, while stone styles come in tiles, with a 12 x 24 size.
Floorings from the Adura Max collection are suitable for bathrooms, and easy to install as floating floors. However, these are not suitable for warm rooms or rooms that are directly exposed to sunlight.
You can see this video to know more:
Adura MaxAPEX
Adura MaxAPEX and Adura Max are similar in construction but differ in aesthetics. MaxAPEX collection follows contemporary trends in the flooring industry. For example, some floors look like encaustic cement tiles, and some resemble special parquet floors.
You can choose nine wood looks, and the size of the planks depends on the style.
The MaxAPEX collection is easy to install and looks more striking than the Adura Max collection.
Adura Rigid
Adura Rigid is, as the name suggests, the sturdiest collection. The construction is reinforced against scratches, dents and damage. So, floorings from the Adura Rigid collection are better suitable for rooms with extreme temperature changes, rooms with hot temperatures and a lot of sunlight.
The difference between Rigid and other collections is the core. Rigid has a sturdy core as opposed to a flexible core in other collections. Therefore, styles from the Adura Rigid collection aren't as flexible and comfortable as Max and MaxAPEX products.
The Adura Rigid comes in the same design as the Adura Max range and the same plank sizes. It is a great choice for a bathroom floor.
Adura Flex
Floorings from the Adura Flex collection are traditional vinyl floors and you install them via glue down system. All other collections feature the floating floor installation method.
The styles are the same as Adura Max, with added new stone looks. Overall, the collection is good for people who have mobility issues because there aren't transition strips.
Adura Flex goes over any subfloor, but it requires the subfloor to be perfectly level and free of any imperfections.
You can use stone styles from this collection with or without grout and create the authentic stone tiles look as you want. Conveniently, Mannington also makes the grout product that goes perfectly with brand vinyl floorings.
You can see this video to know more:
Luxury Vinyl Sheet
The vinyl sheets by Mannington are affordable and come in a wide range of designs. You can choose between realist wood and stone styles, as well as decorative designs. These floorings are affordable, waterproof and come in rolls.
The flooring is easy to install using different methods.
Additionally, the realistic designs came from the brand's exclusive NatureForm technology, so the texture and the colors on these vinyl sheets are as vivid as possible.
Resilient Sheet
Mannington vinyl resilient flooring is sometimes referred to as felt-backed vinyl. It is traditional vinyl sheet flooring, with a special printing technique called rotogravure.
The floors are thinner than planks, but also waterproof and durable, with low VOC emission.
Mannington Vinyl Flooring Comparison Table
Here is a quick overview of all collections of vinyl floorings offered by Mannington.
| Collection | Type | Installation | Waterproof | Available styles | FloorScore-Certified | Suitable for |
| --- | --- | --- | --- | --- | --- | --- |
| Adura Max | Vinyl plank | Glueless floating installation - Lock Solid | Yes | Traditional Wood Stone | Yes | All rooms with optimal temperature |
| Adura MaxAPEX | Vinyl plank | Glueless floating installation - Lock Solid | Yes | Contemporary Wood Stone | Yes | All rooms with optimal temperature |
| Adura Rigid | Vinyl plank | Glueless floating installation - Lock Solid | Yes | Traditional, Contemporary Wood Stone | Yes | Rooms with extreme temperature changes, hot temperatures |
| Adura Flex | Vinyl plank | Glue-down | Yes | Traditional Wood Stone | Yes | All rooms with optimal temperature |
| Luxury Vinyl Sheet | Vinyl sheet | Permanent bond, releasable bond, loose lay | Yes | Wood Stone Decorative pattern | Yes | All rooms with optimal temperature |
| Resilient Sheet | Vinyl sheet | Permanent bond, releasable bond, loose lay | Yes | Wood Stone Decorative pattern | Yes | All rooms with optimal temperature |
How To Install Mannington Vinyl Flooring?
The installation depends on the product and the collection.
The vinyl planks flooring are installed via lock together method or glue down the system. You can install sheet vinyl floors by Mannington either by permanent or releasable bond. The simplest alternative is loose lay, but I don't recommend it for the rooms with heavy foot traffic.
The lock-together system is the most manageable and doesn't require special tools.
The vinyl floors by Mannington generally don't require underlayment. But, the underlayment depends really on the subfloor. When installing these vinyl floors, you need to clean the surface underneath thoroughly and fix any imperfections.
For example, if you want to install a vinyl floor on concrete, clean it first and apply a fresh layer of self-leveling concrete to make the surface flatter.
Additionally, you can install vinyl floors with an underlayment sheet to improve the soundproofing properties and insulation. If you decide to install underlayment underneath planks, remember to install plank perpendicularly.
Luckily, all Mannington products come with well-illustrated and informative installation instructions. You can hire a professional to help you install the floors, or take a weekend off and do it yourself.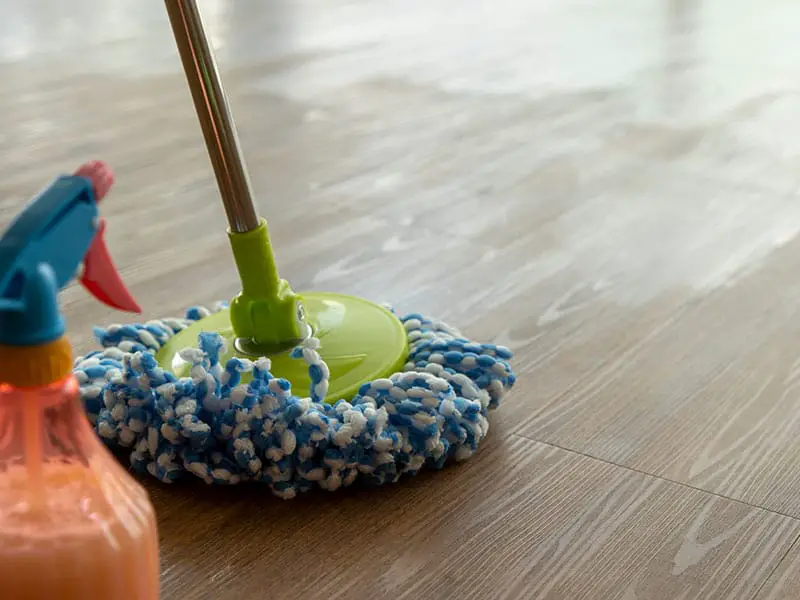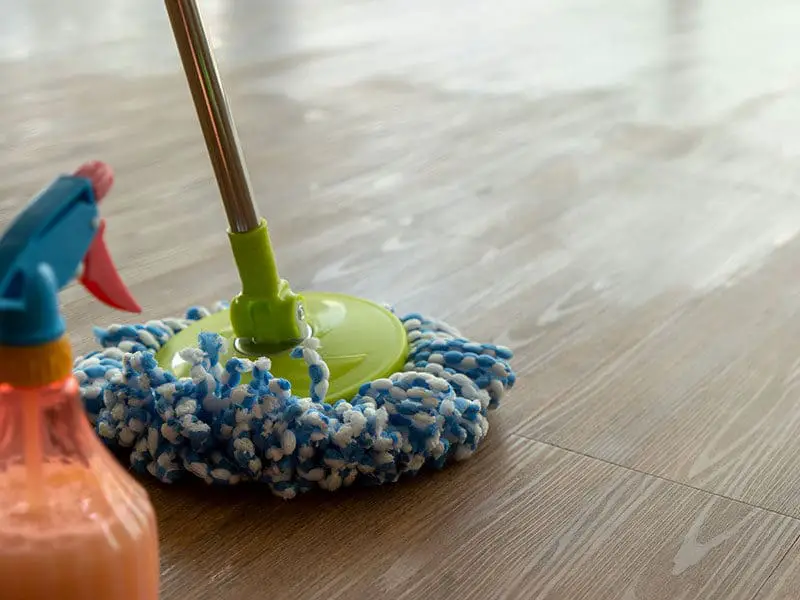 How To Clean Mannington Vinyl Flooring?
Vinyl flooring is easy to clean and won't easily stain. You can get Mannington's specialized cleaner for floors or make a floor cleaning solution at home. It will remove the most common stains without causing damage to your vinyl floors.
Mannington vinyl floorings come with detailed maintenance instructions. But, in reality, all it takes is sweeping the floors and cleaning them with a wet mop and a homemade floor cleaner once a week.
Never use a steam cleaner to clean the Mannington vinyl floor, as the heat can loosen the adhesives or interlocking and cause the colors to fade.
To remove sturdier stains caused by ink or paint, use a soft bristle brush or a dull knife to scrape the leftovers.
There are a few other things you can do to keep your Mannington flooring good-looking. Protect the floor using furniture pads, use non-staining mats and blot the spills as soon as they happen.
Do it for Mannington vinyl floor sheets especially, as they can be more prone to dents than plank floorings.
Mannington Vinyl Flooring Reasons To Buy
There are quite a few reasons to consider vinyl floorings by Mannington.
Here are the most important.
Wide Range Of Styles, Types, Colors And Prices
Mannington specializes in manufacturing different floor types and has a lot to offer in every category. Vinyl flooring by Mannington is available in a huge range of styles, tiles, woods, and decorative. Almost every style comes in a few shades from light to dark.
The advanced printing technology makes the design attractive and realistic. In short, you can find anything that you have imagined to fit in your home interior.
Construction
Whether you choose rigid or more flexible flooring styles, you can rely on the floorings to remain stable and keep the shape and look for years. The two types of cores are waterproof and won't dent easily. So, you can install the Mannington vinyl flooring in rooms despite the expected foot traffic.
Versatility
Mannington vinyl floorings do well on all types of subfloors. You can also install the floor below grade, on grade and above. Also, floors work for rooms with heavy moisture, such as bathrooms, basements and kitchens.
When installing hardwood floors, acclimation is a big deal. If the wood isn't acclimated properly, the quality and the performance of the floors can decrease.
With Manning vinyl flooring, you don't have to worry about acclimation. As soon as the boxes with floorings arrive and you clean the subfloor, you can install them.
Installation
Even though Mannington recommends professional installation of their products, you can do it yourself. The provided instructions, a couple of hours and basic skills will be enough so you can save money on DIY installation.
Most styles don't need underlayment, which further simplifies the installation. I recommend choosing vinyl planks with an interlocking installation method for the easiest application.
Simple Maintenance
Mannington vinyl floors are easy to maintain. You remove dirt with a sweeper or suitable vacuum for the vinyl floor. The attractive image on top won't stain or scratch easily with basic maintenance.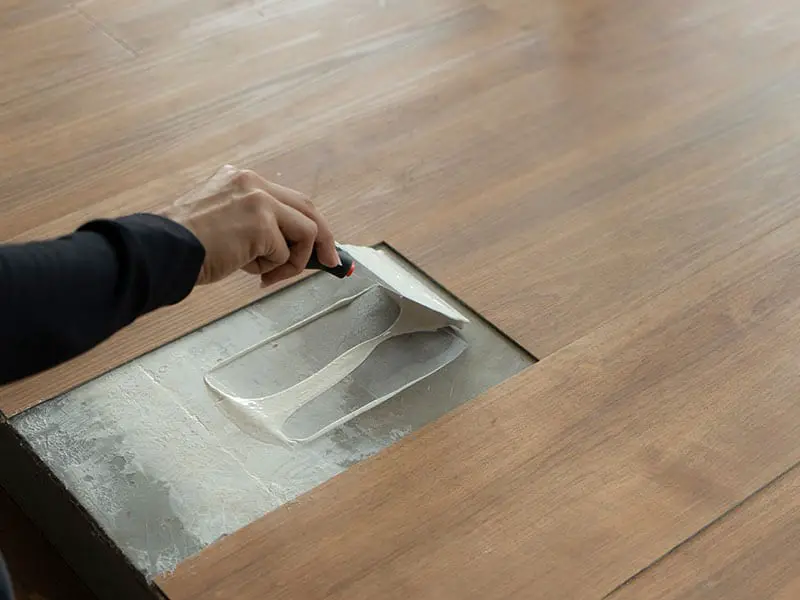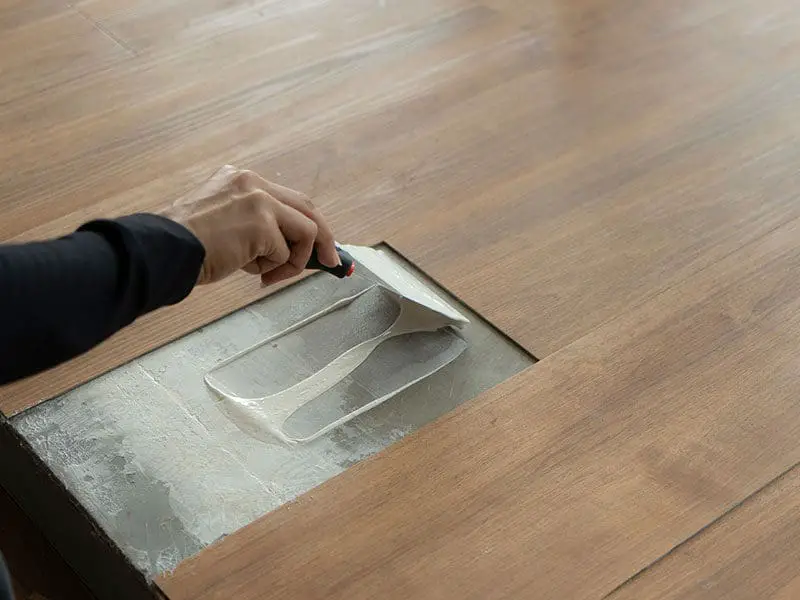 You can see this video to know more:
FloorScore-Certified
Mannington vinyl floorings come with FloorScore certification. It tells you that all vinyl products manufactured by Mannington have been tested by an independent agency for harmful emissions and passed.
Therefore, the floors don't cause harmful VOC emissions and don't compromise indoor air quality, which makes them safe for installation in every room in your home.
Mannington Vinyl Flooring Reasons To Skip
All flooring types come with drawbacks. Here are disadvantages of Mannington vinyl flooring that might make you move on to other brands and floorings.
Not-Biodegradable
Mannington vinyl floorings aren't good for the environment. They cannot be recycled and reused, so they permanently stay in the landfill after disposal.
Cheap Look
Despite the attractive design of the majority of the Mannington flooring, some vinyl sheets still look cheap and outdated. Those are mostly the ones with decorative patterns. Also, vinyl floorings in general don't add some real value to your property.
The Mannington floorings in their essence are the cheap imitation of premium hardwood and stone floors.
No Repairs
Accidents can happen and damage your floorings. If such a thing happens on your Mannington vinyl floor, there isn't a way to repair it. You cannot sand and refurbish vinyl floors, you have to replace either the entire floor sheet or the damaged plank.
You can remove stains from vinyl floors, but severe damage, such as scratch, puncture or dent is permanent.
You can see this video to know more:
Armstrong Vs Mannington Vinyl Flooring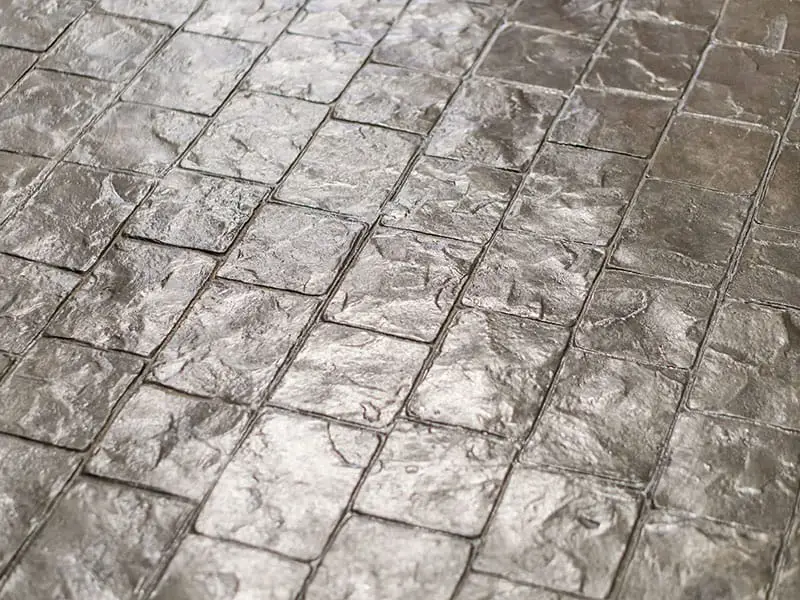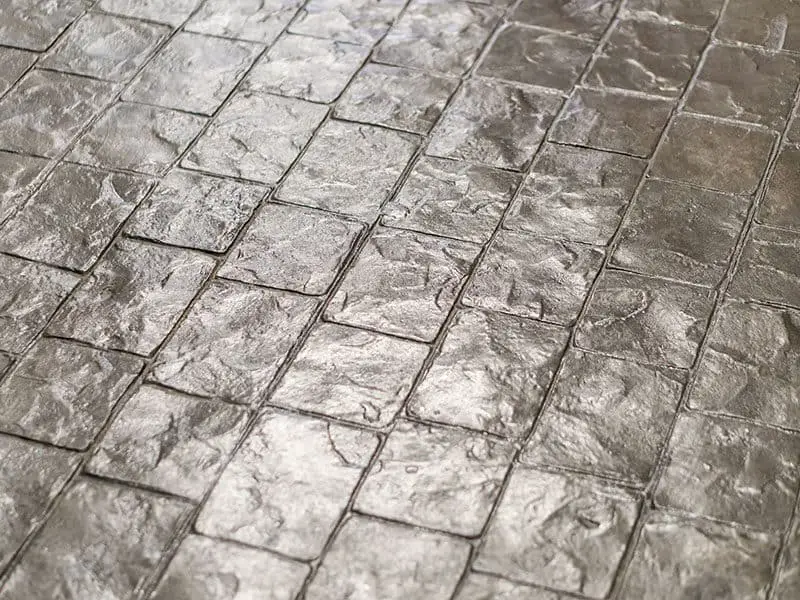 Let's compare Mannington vinyl flooring with its strongest competitor Armstrong. Mannington and Armstrong both specialize in manufacturing different flooring types, including vinyl sheets and vinyl planks.
Both brands offer realistic wood and stone tile imitations with certified low VOC emissions.
Some of the Armstrong floorings feature an exclusive FasTak installation, with a sticky surface behind the plank. So, tacky strips on the planks are suited for quick installation. But, the adhesive only works on dust-free floors.
Some styles in the Mannington vinyl plank collection are completely glue-free, which makes them better for the environment.
Overall, both brands are reliable and have quality vinyl floors, but Mannington offers some unique styles that aren't available from other brands.
Mannington Vinyl Flooring Making Choice
If you have narrowed down your options to Mannington vinyl floorings, I recommend choosing the vinyl plank type. It is more realistic and works better for rooms with heavy foot traffic. You can also install them around the house, even in the basement, on top of the concrete.
Mannington vinyl floors are affordable and beautiful, they will last for a decade or two.
It is up to you to take a stance on vinyl as opposed to genuine floors, such as hardwood and stone. If the budget doesn't allow you to invest in solid wood, Mannington vinyl floors can be the second-best option.
What do you think about Mannington vinyl flooring? In which rooms would you like to install it?
If you think the article is useful, don't forget to like and share it with your friends.