Shaw Vinyl Plank Flooring Reviews 2024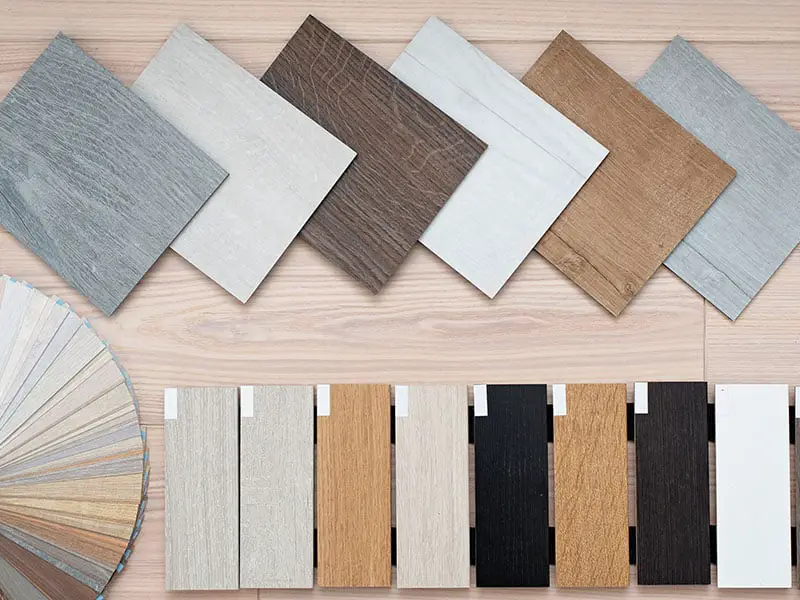 These Shaw vinyl plank flooring can help you determine if Shaw is the right choice for you.
It's undeniable that Shaw is a leading brand in the vinyl flooring industry at the moment. They're a well-trusted company with a good reputation thanks to their high-quality and affordable products.
In today's article, I will provide a buying guide, review some of their products, and talk about their main pros and cons. They provide four unique lines of vinyl plank flooring but what's their downside?
Without any further ado, let's dive into the topic and determine if shaw is a worthy flooring.
Is Shaw Vinyl Plank Flooring Good?
Shaw's vinyl plank flooring is perfect for high-traffic areas. It's stain-resistant, water-resistant, and very durable. Therefore, it's a good flooring option to consider when looking for flooring.
The company provides luxury vinyl planks with fiberglass filling that's made of virgin vinyl. This material is far stronger than recycled vinyl. And less toxic. The best part? Cleaning is a breeze.
Shaw Vinyl Plank Flooring Buying Guide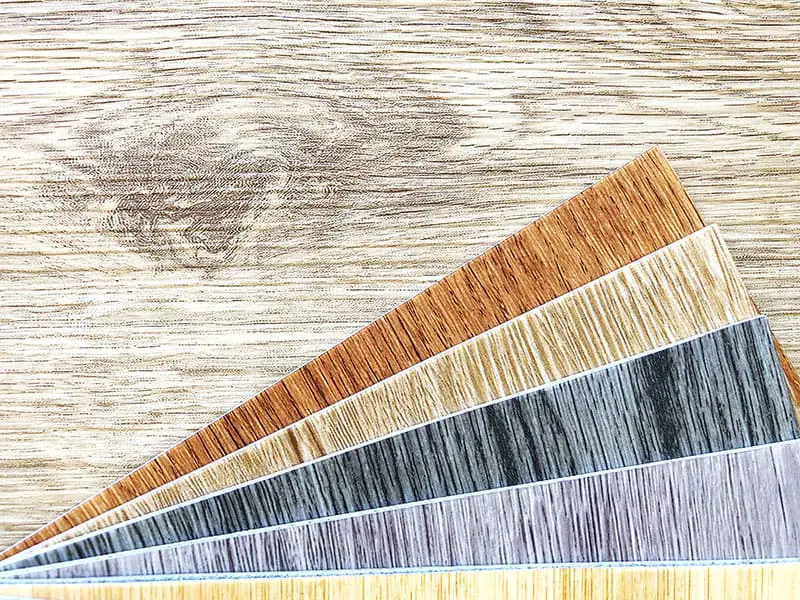 When shopping for the best LVT/LVP, there's a list of features to consider. In the following section, you will read the crucial things to look after and why they're important.
The Size of Your Room
The size of the room where you want to add the flooring is very important to consider. LVP is offered by the square foot, so knowing this info beforehand matters.
You need to know this information to know how much product and other things you need to purchase. If you're working on a big project, this will come in handy with the end prices and help you to find good offers on bulk ordering. Therefore, take note of this measurement.
Installation Method
Shaw vinyl plank flooring provides 2 installation methods. The first one and most common is the floating floor. The planks click together on the ends and sides to stay on the subfloor flat and sturdy.
The glue-down method, on the other hand, is less expensive. However, it's time-consuming. There's also some preparation to be finished before installation can start. Once you pick the installation method, you should determine if you will hire someone else or take the DIY route and install it yourself.
Plank Construction
Vinyl plank flooring is often made of 4-5 layers. This brand utilizes 5 coats and sells the strongest planks in the industry. The luxury vinyl plank includes padding on the bottom.
Thus, you don't need underlayment for this flooring (a water barrier may be required). The bottom coat represents a dense cork that provides softness and sturdiness to the planks.
The core represents a rigid core created of wood plastic and stone plastic core (WPC and SPC). The core provides all the strength, durability, and waterproofing. The surface layers include the image coat where the vinyl features a portrayal of a stone or wood. There's also the wear layer.
This company offers 8-30mm dense wear layers. The top wear layer consists of texture, embossing, and additional protection. Now, let's take a closer look at the LVP board sizes.
Luxury Vinyl Plank Board Size
Another thing you need to consider when buying LVP is the size of the board. Longer and thinner boards offer a smoother appearance while shorter, broader boards provide a more natural and rustic hardwood flooring look. Opt for the size that meets your needs and requirements.
Subfloor, Padding, and Underlayment
Not every Shaw luxury vinyl plank has the cork or rubber padding. Thus, if you opt for one that doesn't, you may need to invest in underlayment for your new flooring.
However, even if you select a style that has this extra feature, if the concrete is a subfloor, I recommend adding a water barrier. Keeping humidity and moisture from leaking from the subfloor to the bottom of the luxury vinyl planks is highly important to the water-resistance of your new flooring.
If you're applying as a floating floor, you can do it over any existing flooring, carpet excluded. But doing it straight on a subfloor is better to help prevent, hide, and cover any damage.
Price and Warranty
You will notice that Shaw warranties will differ from 5 years to lifetime coverage, depending on what the install spot is, the type you purchase, and where you purchase from.
The initial cost and final cost will also differ, depending on the amount, style, and installation technique. DIY install costs less upfront but you need to be confident in your skills.
Extra Tips
Shaw is the second-biggest flooring company in the world. Therefore, there's no problem regarding how legit the brand is. It has reps, dealers, and retail displays all over the country.
Overall, it's one of the most respected flooring brands out there. Their LVP line comes in different looks, colors, and styles. However, the way this brand has presented its lines is quite confusing.
There are no common denominators between the many styles within each line. For instance, you would expect they may all be the exact thickness or feature a specific technology exclusive to them.
However, they don't except for the waterproof Forte line. They come in random colors, thicknesses, and sizes, so which line is right for you? The next section provides more details on each collection.
Shaw Vinyl Plank Flooring Reviews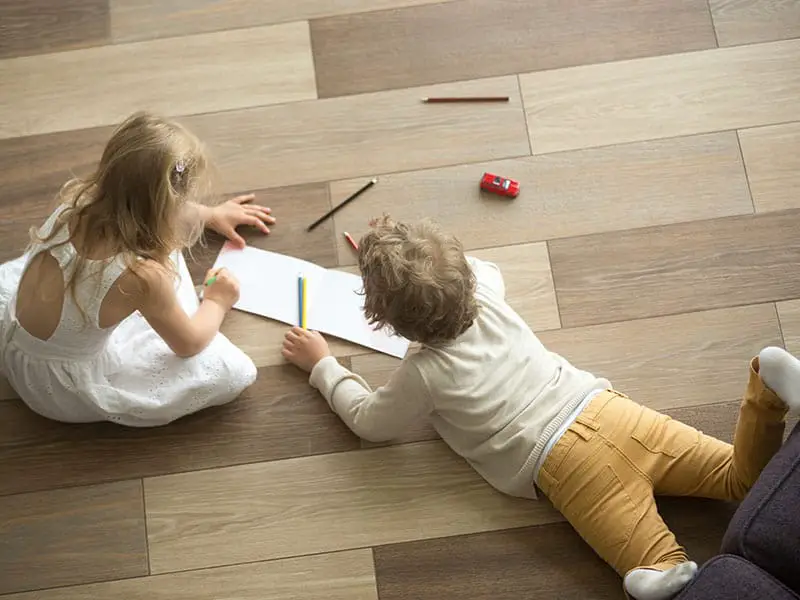 Shaw has over 50 years of product experience and expertise. And it's the biggest brand in the company's portfolio. They provide hardwood, carpet, tile, stone, laminate, and luxury vinyl flooring.
Their floors have been designed with homeowners in mind since 1967. They believe living spaces should be cozy. Now, I look at their four vinyl lines and review each one in detail, so let's begin.
Floorte
The largest line in Shaw's collection, Floorte, provides premium luxury vinyl planks with a wood-plastic core. They're all water-resistant with a waterproofing seal.
This seal is applied to the wear layer. Floorte luxury vinyl planks make the perfect choice for at or above-grade installation. The best part? You can choose from 14 different styles in multiple colors.
The Floorte collection mainly consists of types of wood grain patterns but the texture and embossing are minimal. The image coat is clear, strong, and without the texture, the boards still appear real. Only when you step over them, you know they aren't actual wood. They're high-quality but also affordable.
However, the cheapest option, of course, is the standard version. But here's the kicker. They're backed by a 20-year residential warranty against damage, fading, and defects, as long as you follow the routines for care and proper installation. You can read all of this useful information in the warranty.
They're also available in the owner's manual. Overall, if you're looking for a floor that resembles actual wood without the price of hardwood, look no further than the products in the Floorte line.
Let's have a look at the following video:
Floorte Elite
The Floorte Elite collection is the newest of all the Shaw flooring choices. It consists of 2 options at the moment. And they all come in 20 different colors and shades.
Meaning, you can easily find the ideal product for your home. The difference between the regular and Elite collections is their durability. They're 100% waterproof and made with a stone plastic core.
Each design is suited for application in any area, above, at, or even below grade. The 30mm wear layer is the densest of the brand and includes rich embossed textures for an even more realistic appearance.
The best part about this collection is the lifetime warranty. It's the ideal choice for those who want only the best in terms of texture and longevity without spending too much.
The video below should be able to help you:
Floorte Pro
The Floorte Pro collection is slightly more robust. Just like the traditional version, they're all created with WPC. However, you can also find a few versions with an SPC upgrade option.
The Pro products have a rubber backing that eliminates the need for an underlayment. They're available in 16 different styles with multiple colors to pick from. All summed up to make 125 different mixes.
The plank thickness, wear layers, and prices vary the most in this collection. Also, you pay extra than the regular Floorte options but less than the Elite, so it's a great balance of durability, price, and choice.
If you're on a budget or don't want to spend too much, consider this line. The Pro collection is suitable for people who want high-quality vinyl plank flooring but may have a tighter budget.
Learn More About This Collection from Professionals:
DuraTru
DuraTru Luxury Vinyl Plank is the rebranding of the Urbanality and World's Fair options from a few years ago. This line provides sheet vinyl options if you prefer something besides tiles or planks.
This line provides 15 different styles and over 65 colors. The style range is about half of what it used to be. However, it's a much stronger plank than before. All the flooring options include a cork backing.
Thus, they will still require an underlayment. The best part about this line is the softness underfoot. The planks provide comfort. They're also the cheapest luxury vinyl planks offered by this popular brand.
However, they also come with the shortest warranty (5-10 years). So, if you don't mind the maintenance and precautions (like furniture pads), and you don't have pets, this line is perfect for you.
This Video Provides Details on How to Install DuraTru Flooring:
Shaw Vinyl Plank Flooring Comparison Chart
Now that you've learned more about each collection by this brand, let's summarize their key features to make your shopping decision even easier.
| Collection | Warranty | Color/style options | The thickness of the wear layer | Price per square foot |
| --- | --- | --- | --- | --- |
| Floorte | 20-year warranty | 75+/14 | 8-12mm | $3-$5 |
| Floorte Elite | Lifetime warranty | 20+/2 | Up to 30mm | $4-$8 |
| Floorte Pro | 20-year/lifetime warranty | 125+/16 | Up to 20mm | $4-$6 |
| DuraTru | 5-10-year warranty | 65+/15 | 8-12mm | $2-$4 |
Pros and Cons of Shaw Vinyl Plank Flooring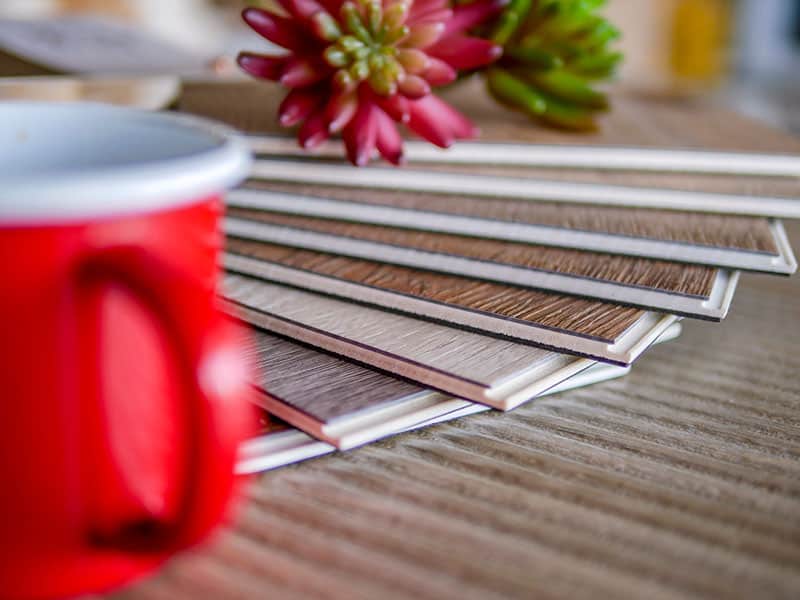 As with anything in the world, Shaw vinyl plank flooring has pros and cons. The brand provides countless stunning patterns and colors of LVP that look like stone, tile, and wood among many others.
Meaning, if you're looking for something specific, you surely can find it among the Shaw LVP collections. Now, let's take a closer look at the main pros and cons and determine if Shaw is considering.
Pros:
Super Durable
Shaw vinyl plank flooring is best known for being extremely durable. It's a combination of durability and versatility. I can honestly say that it's more durable than the wood you can't install in a damp area.
It's also stronger than tile that's prone to damage when installed in some parts of your home, especially high-traffic areas. With the Shaw vinyl plank flooring, liquid spills or drops shouldn't worry you at all.
What I like most about vinyl material is that it's easy to clean and it's not prone to scratching or chipping easily. Therefore, the risk of suffering from damages is low. It's suitable for all parts of your home.
Warm Underfoot
One of the biggest advantages of Shaw vinyl plank flooring is the warmth. People who decided to install this flooring into their properties have confirmed it's warm and comfortable.
The reason for this is the way it's made. This flooring can retain the room temperature. It also includes padding which plays a huge part in how warm and comfortable it is underfoot.
Low Maintenance
Luxury vinyl plank flooring is one of those materials that's effortless to clean. Just vacuum your flooring with a vacuum cleaner that eliminates pet hair and other traces of dirt and debris.
People prefer upright vacuums because of their convenience. You can occasionally sweep your floor and wash it utilizing mild soap and water. As you can notice, it's low-maintenance flooring.
Sealing, waxing, or refinishing the material isn't necessary, making it fully different from other materials and coverings. The well-known laminate cleaning routines might also work for LVP.
Super-versatile
The Shaw vinyl plank flooring is so versatile that it's suitable for all parts of your property. It's even good to install in damp rooms thanks to the water-resistant nature.
This makes vinyl plank flooring perfect for bathrooms and kitchens. It's also suitable for low-level places of your home such as the basement since it's not nailed down.
Elegant Appearance
Shaw vinyl plank flooring is also elegant. Therefore, it's the perfect choice for homeowners who wish to add more elegance to their business space, home office, living area, or commercial space.
Thickness
Never order vinyl plank flooring that's less than 5mm thick. This is often enough for light residential use. For light commercial areas or parts of your home with high traffic, pick planks at least 8mm thick. Shaw's flooring ranges from 5-12mm thick, so you can easily find something that meets your needs.
Noiseless
Another thing I like about Shaw vinyl plank flooring is the noiselessness. It's one of the quietest options available on the market. Meaning, it won't produce sounds when you walk over it, therefore, it's perfect for homeowners with large dogs and small children at home.
Effortless Installation
This flooring is simple to install which is why people prefer it over other floorings on the market. You can install this beautiful flooring within just a couple of hours.
Unlike wooden and tile flooring materials, in which the whole installation process leaves almost no room for mistakes, vinyl plank flooring is easy to install. Most of the planks can easily fit together and securely lock in place. After getting the hang of the process, you will be able to finish it quickly.
You can either glue the material or let it float. If you plan to install it in smaller spaces like kitchens and bathrooms, then it's better to lock it. Gluing is more suitable for big commercial areas.
The glue-down method can add to the stability of your floor because you need to lock the planks before you glue them together. You can add this item over almost any subfloor and on most levels, basements included. It's moisture-resistant and works well with most subfloors.
Water-resistant
What's also impressive about Shaw's floors is the water-resistant structure. They can resist water, which makes Shaw vinyl plank flooring perfect for kitchens, bathrooms, and other damp areas.
Is Shaw Vinyl Plank Flooring Waterproof?
Not only is this product water-resistant but also waterproof. This brand seals the plank's edges. They're moisture-resistant. Most Shaw products don't include wood that's prone to moisture damage. Thus, it's safe to install in places that experience standing liquid for some time.
Stain-resistant
This vinyl plank flooring is stain-resistant, so you don't have to stress about staining it too soon. Thanks to the stain resistance, this flooring can stay beautiful for a long period. However, removing a stain from this type of flooring is also easy, so nothing can beat this product.
Less Toxic
Not only Shaw vinyl plank flooring is water-resistant, waterproof, and stain-resistant but also less toxic. It makes a safer option than other materials with fiberglass filling in all planks.
Padding or Underlayment
Some of the lines of Shaw luxury vinyl plank flooring provide an underlayment or padding. The attached pad is a good thing because it can decrease noises. This is why you never hear homeowners complaining about LVP being loud to walk on. Thus, it's perfect for homes with kids or pets.
Embossed in The Registry
Shaw vinyl falls under HD flooring. And this is enough evidence that this type of floor utilizes the registry technique to emboss it. What's amazing about this technique is that it can deliver a genuine appearance to the product, which anyone who walks over it can also experience.
FloorScore Certified
Lastly, Shaw vinyl plank flooring is FloorScore certified. This certification serves as another proof that it's a good investment. It's a popular industry certification that proves that some types of flooring materials underwent strict testing for dangerous compounds.
Therefore, Shaw makes a great option for homeowners looking for a material that's low-VOC. This label is a type of assurance that it's really low-VOC flooring.
Cons:
Expensive
One disadvantage of Shaw vinyl plank flooring is the high price. It's more expensive than other flooring materials. However, it's definitely worth investing in.
Might Fade
This isn't a common issue with Shaw LVP. If the temperature and conditions inside are right, fading can still happen. This can only occur if you install your new flooring where it gets exposed to direct sunlight all the time. Strong direct sunlight might lead to fading in the long run.
Does Shaw Vinyl Plank Flooring Require Underlayment?
Most of Shaw's vinyl plank flooring includes an underlayment added to all the planks. So, you don't need to spend extra money on an underlayment.
If your preferred option doesn't include an underlayment or you prefer an additional moisture barrier or an extra sound dampening, you can invest in an additional underlayment.
Shaw also provides a lot of underlayments that they made for use with their vinyl plank flooring. Keep in mind that glue-down vinyl plank flooring doesn't require an underlayment.
You can install this flooring by gluing down straight onto the surface of the subfloor. Just make sure that the subfloor is level and dirt-free beforehand.
How to Install Shaw LVP?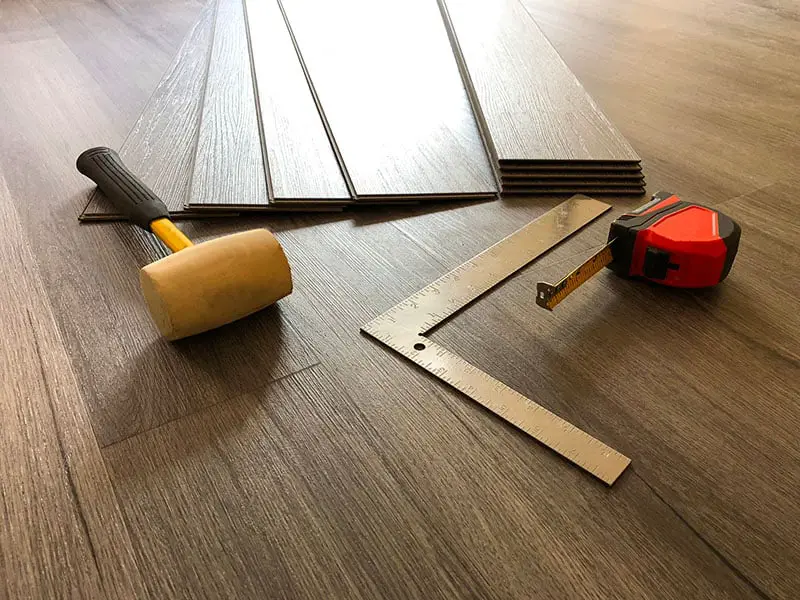 Installing Shaw vinyl plank flooring is a breeze. This section contains easy guidelines you have to follow during the process if you take the DIY route.
Prepare the Floor
First, leave the flooring to stay in your room for 24 hours to acclimate to the humidity and temperature. Then, vacuum and mop the floor, so there's no debris before you start.
Also, ensure there's nothing that will interrupt the process. For example, if you wish to paint the space, it would be perfect to apply the paint first before the installation of your flooring.
This will prevent paint from falling on your brand new flooring and ruining everything from the start. It's also very important to remove all previously applied flooring materials.
Plan Everything Beforehand
It's very important to make a floor layout beforehand. This way, you can lower the risk of encountering problems after installation, like short pieces located at the end of some rows as well as narrow widths of planks found at wall junctures.
To make a proper layout, just make sure that you install the planks parallel to the wall that's considered the longest, which is the outer wall.
Get to Work!
The installation method depends on the individual item you have picked.
For instance, if you chose the Floorte product collection, you will have to apply the floor with the Fold n Tap method. It's a method utilized in piecing or joining the pieces together.
Underlayment isn't mandatory for the installation. You only need a clean, smooth concrete foundation. You can also buy multiple padding options in this line. But it's unnecessary.
You can install Shaw vinyl plank flooring right over your concrete subfloor.
Final Tips
One of the advantages of Shaw is that it doesn't need any "rest" time after the installation process. It's ready for use! Just remember to sweep the area before you step on it.
You don't even need the most expensive vacuum cleaner for the finishing touches since the installation won't cause a huge mess. You don't also need to remove any hardware, materials, or tools.
After the finishing touches, you can start using your brand new floor. However, the foot traffic shouldn't be very high within the first days. Other than that "rule", you're good.
How to Care for Your Shaw LVP?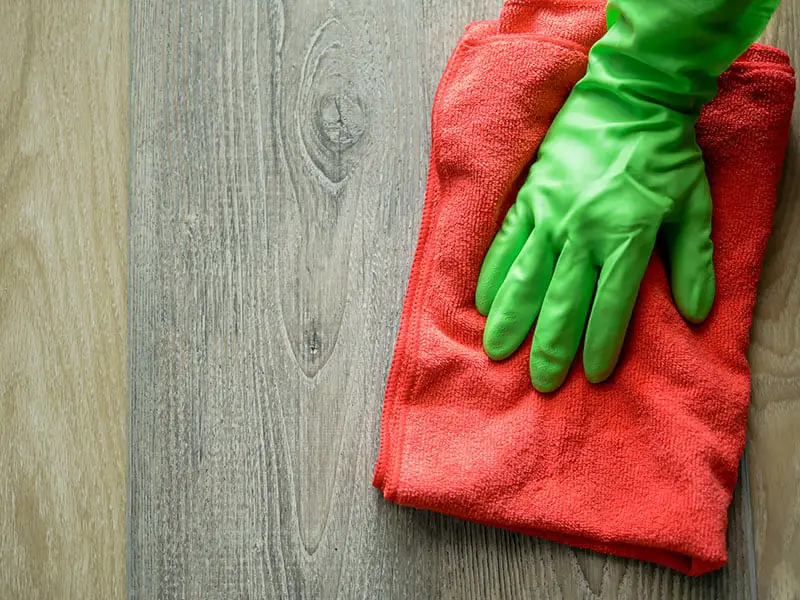 Shaw luxury vinyl plank flooring doesn't need extensive cleaning or care. It's a low-maintenance flooring material. It doesn't even need polishing or waxing.
Furthermore, it doesn't ask you to utilize chemicals to preserve the lovely gloss. To clean it, follow these 4 steps. Otherwise, you might void your warranty.
Sweep the Floor Regularly
You can also use a vacuum cleaner to remove all the dirt and debris. It's super important to dust, sweep, and vacuum your new floor regularly.
Wipe Up Liquid Spills Immediately
Shaw vinyl plank flooring is both water-resistant and waterproof. However, it's still important to wipe up liquid spills immediately to prevent issues in the future.
Utilize Floor Protectors
Always utilize floor protectors as they play a key role in protecting the floor from any damage that heavy objects might cause. Also, utilize the hard surface cleaner recommended by Shaw. Simply spray it on the surface and dry it with a clean cloth or dry mop, no rinsing required.
Do a Deep Clean Occasionally
Taking care of vinyl flooring isn't time-consuming. On the contrary, it takes minutes. Never utilize steam and chemicals. Wash your floor utilizing a floor cleaner occasionally and make sure to utilize a non-harsh and neutral cleaner.
Additionally, avoid wax polish and don't utilize a beater bar when you vacuum your brand-new flooring. Otherwise, you might damage the surface.
Is Shaw the Right Choice for You?
Hopefully, these Shaw vinyl plank flooring reviews can help you decide if this brand is worth your money and time. It's been rated highly among contractors, installers, and clients alike.
I highly recommend Shaw vinyl plank flooring for those looking for durable, water-resistant, affordable, and overall, high-quality vinyl plank floors. Also, cleaning this flooring is a breeze.
If you have first-hand experiences with this brand, drop a comment below and share your thoughts. And don't forget to share these detailed Shaw reviews with your social media friends.