COREtec Plus Vinyl Flooring Reviews – Is it Worth It?
COREtec plus vinyl flooring reviews will reveal if it is the right option for your home or office. Fixing and redoing your floors include a lot of research to determine the best option in terms of quality, durability, look and price.
The COREtec luxury vinyl plank by USFloors is worth considering for many reasons. It is more affordable than a hardwood floor, and the maintenance is simpler.
Let's dive into the features of COREtec LVP, so you can know what to expect from this type of flooring.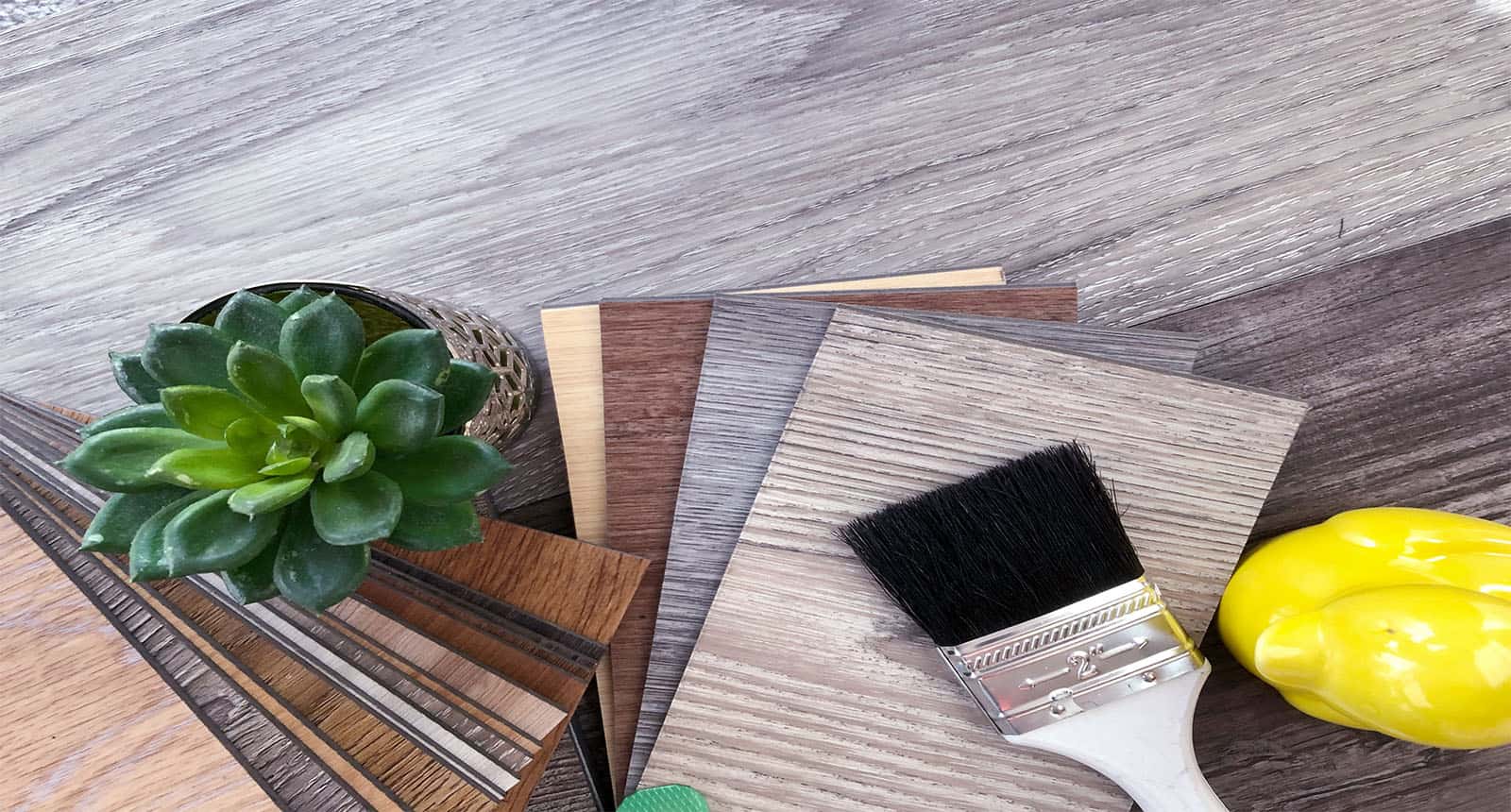 Quick Review: Is COREtec Plus A Good Vinyl Flooring?
The quick answer is yes. The COREtec Plus vinyl floors are multilayer flooring planks that don't require professional installation and are available in many styles. Compared to wood floors, COREtec Plus is less durable, cheaper, easier to maintain, and more versatile.
Compared to other non-wood floors, COREtec Plus is of better quality, lasts longer, gives an exceptional range of styles, it is readily available across the country, and pricier. Therefore, it makes a superb choice for modern homes.
What Is COREtec Plus Vinyl Flooring?
COREtex Plus is a luxury line of vinyl plank flooring. The flooring is made from polyvinyl chloride resins (PVC). During the manufacturing process, the resins are melted and mixed with carefully selected stabilizers and fungicides.
Then, the mixture is pressed into planks, which look like a hardwood floor.
The final results are multilayered planks, durable, resilient, and easy to maintain, but stylish at the same time. COREtec floors have been on the market for a while and gain popularity in the US market due to look and price costs.
How Does COREtec LVP Flooring Look?
The most obvious difference between COREtec and other flooring brands is the texture. Because of simulated graphics, COREtec has realistic texture and hardwood graining.
Additionally, the micro-bevel edge improves the impression of a hardwood look. When I first looked at the COREtec LVP flooring, I mistook it for genuine hardwood floors!
However, because the flooring is essentially vinyl, it is simpler to maintain than a real hardwood floor.
There are different COREtec plank styles, but each plank includes a protective wear layer, 20 millimeters thick. It is the key to durability and simple cleaning.
The middle of the plank is a resilient virgin vinyl layer and stable COREtec inner core.
The last layer is cork which improves the insulation and absorbs sounds. Therefore, walking on COREtec LVP is quiet.
Lastly, the planks are 100% waterproof, which means you can use them in the bathroom and basement!
COREtec Plus Styles
COREtec LVP is available in over 300 styles, divided into two primary categories – tile and hardwood. You can choose between different wood grains, rustic and modern looks.
Planks are available in two sizes – 5 inches and 7 inches wide and 4 inches long. There are also XL versions, 6 feet long and 9 inches wide.
You can mix and match the styles if you want to and create unique flooring.
Each style has some features and different graphic techniques. For example, the COREtex Plus HD line has an embossing structure that resembles wood graining.
Watch this video to know more:
COREtec Plus VS COREtec Plus Pro
COREtec Plus is an extensive collection of styles within the COREtec flooring family. It offers planks that look like a hardwood floor in distinct looks, from thin strips to wide planks. Also, Plus offers tile options that look like porcelain and natural stone.
COREtec Pro Plus is a collection dedicated to commercial use, specifically created for floors with a lot of traffic. Because of it, the floors are more scratch-resistant. To achieve that, the brand included a denser core, compressed vinyl core than in the COREtec Plus collection.
Basically, the planks are sturdier but less comfortable to walk on.
COREtec Plus Installation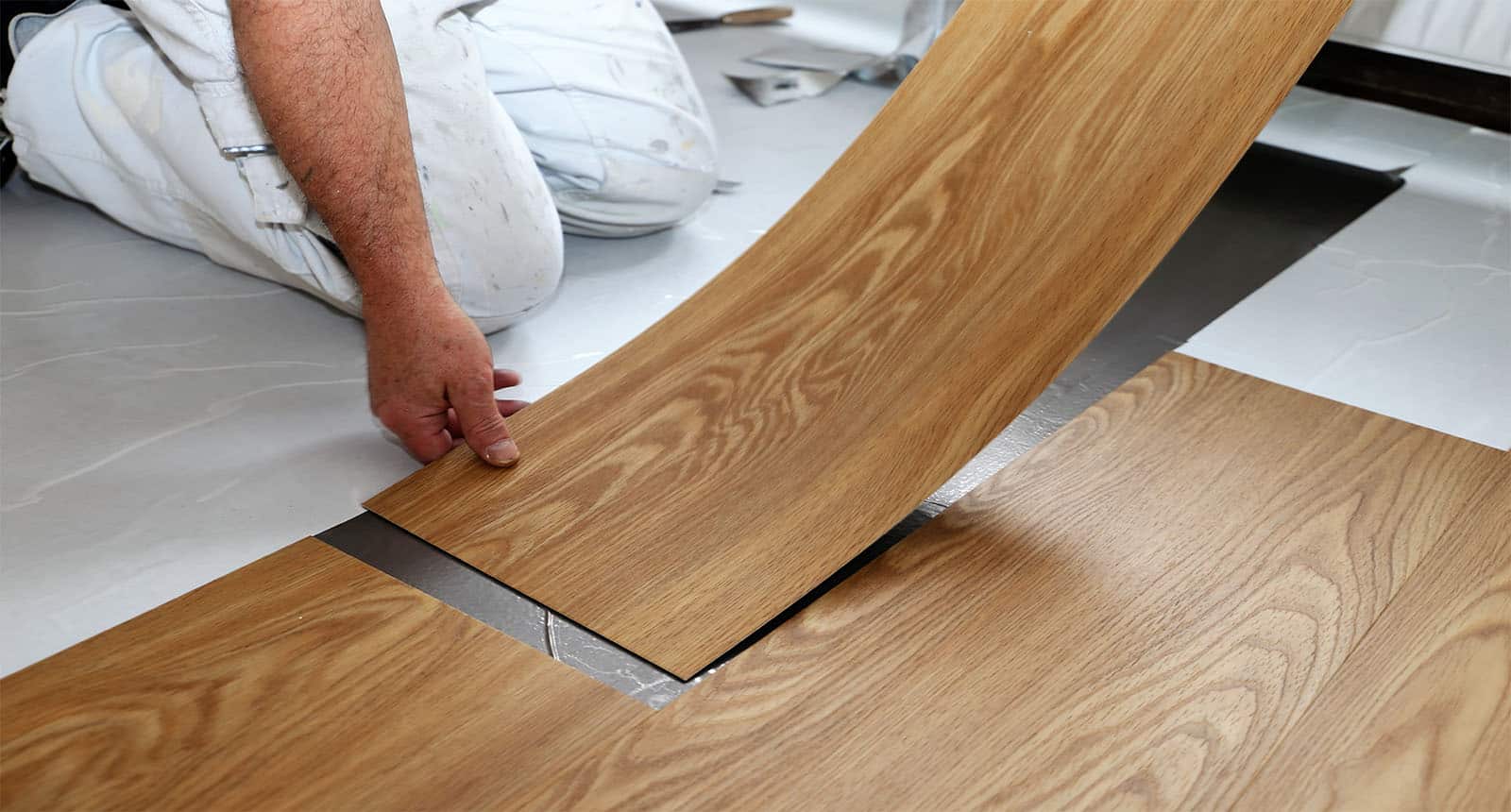 Before I dive more into COREtec Plus flooring, let's discuss one of the most important aspects of this type of flooring – DIY installation.
Installation is a determining factor for most people. Professional installation is a viable option for anyone who doesn't want to spend time working on the floor, or who has a large area to cover.
In most cases, professional installation costs more than a thousand US dollars for average space and different flooring options.
Luckily, you can install COREtec Plus flooring by yourself. It comes with convenient underlayment and can be installed over the current floor in your room.
How To Install COREtec Plus Vinyl Flooring
The exact installation steps depend on the style and flooring type you choose, but the basic steps are similar. Here is the basic concept of COREtec plus installation, but don't forget to check the manufacturer's instructions for precise information.
Adjustment
Here is a great tip for ensuring better results and durability. When your boxes with planks arrive, open the boxes and put them in the room where you plan to install them. The acclimation to the room temperature is a nifty touch that can improve durability and ensure a smooth installation.
The boxes need to be in the room for at least 24 hours to affect. If possible, leave them for a couple of days.
Prep Stage
The preparation stage is very simple. All you have to do is remove baseboards and transition molding from your current floor.
Planks expand so it is advised to leave 1/4 inch from the wall. It won't affect the installation or look of the floor, but it will be enough space for planks to expand.
Measure and mark the floor with chalk or pen. For easier orientation, find the center of the wall, and mark it.
Installing The First Row
The first row is the most important. If you do it right, you won't have issues installing the rest of the planks.
Keep the distance 1/4 inches from the wall and cut the first plank six inches, it will allow you to offset the row. If you have square tiles, you can skip the offset, just line grout lines.
Middle Rows
To prevent a bowing or undone look, keep the 6-inch offset within the edges. Also, if you keep the offset, you will create a brick pattern, similar to the real hardwood flooring. Take your time and check the instructions for illustrations that will help you install the floor correctly.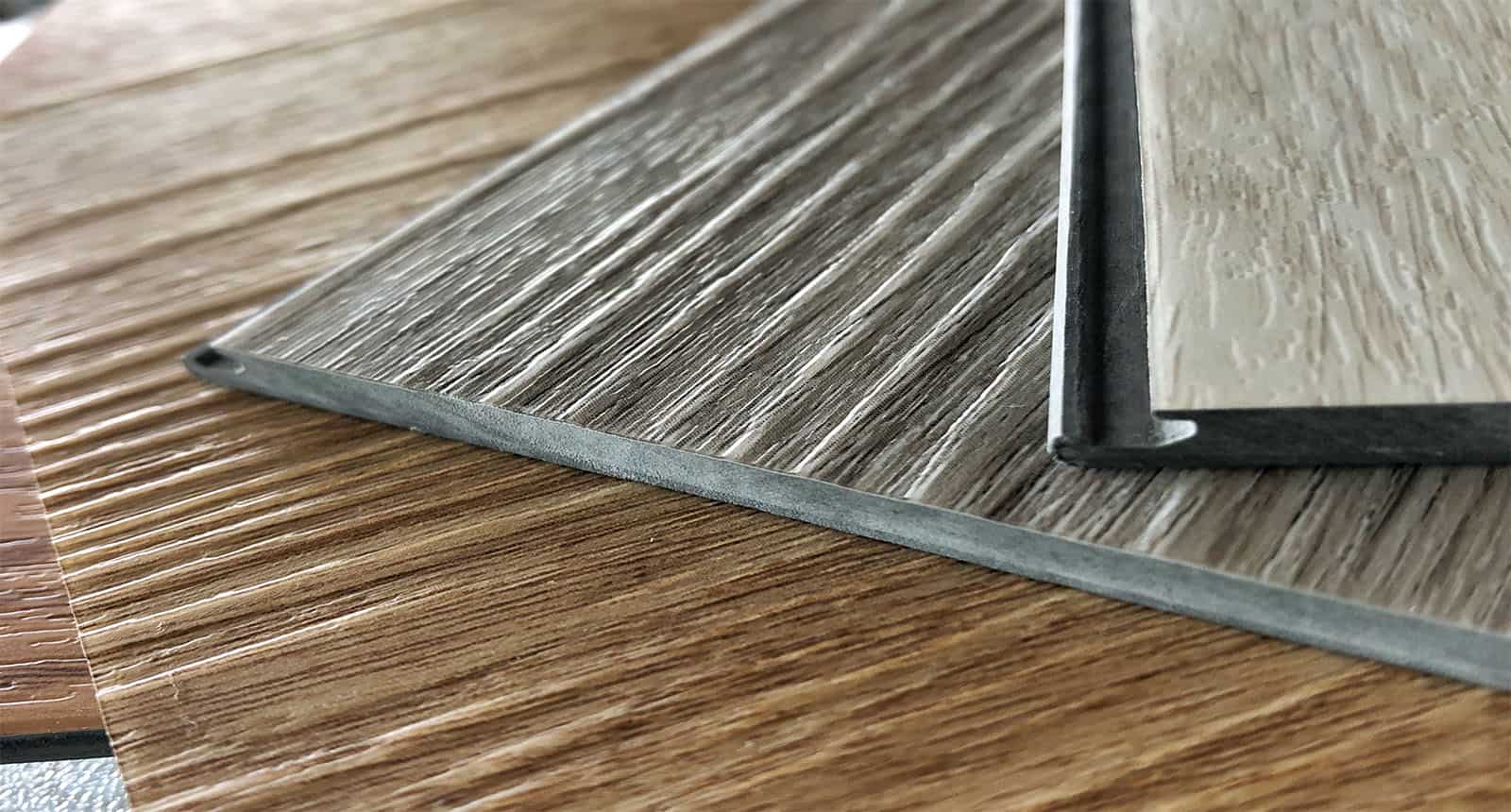 The Last Row
If you have reached the final floor without issues – congratulations! You've done great work. All it takes is to make the last row fit. To do so, you'll have to bend or twist the pieces to fit into their place. With the COREtex LVP, it isn't difficult. It might take you a couple of more minutes though.
Check if all pieces are locked, and secure the loose piece with a hammer. Don't put too much force, just a light punch between pieces will lock them in place.
Setting
If every piece is locked well, you need to let the floor sit at least 15 hours before you use the room, bring in the furniture or walk inside.
The setting period will let the plank expand.
If you can access the baseboards without walking too much on your new floor, you can reinstall them during that time. Or wait until the floor is set, to continue with finishing touches.
Watch this video to know more:
Maintenance
Keeping the floors clean is important, despite the price, look and type. Hardwood floors require special care, specialized vacuums, and mops. When it comes to floors, proper maintenance means getting the most out of your floors, in terms of durability and appearance.
COREtec floors are easy to maintain, but the cleaning routine starts from the first day. With COREtec Plus flooring, consistency is the key.
Once you install the floor, sweep it to remove dust and go over with a damp but not dripping, mop to clean it.
I always recommend using protective, non-marking pads on your furniture to avoid damaging the floors. Non-marking pads are a cheap way to keep the floor good as new for years.
Therefore, you can move and change the furniture and prevent scuffs and damage. Also, rugs and entrance mats are stylish, but those have a protective purpose as well.
COREtec Plus floors are safe for vacuuming, but only if the vacuum doesn't include a rotating beater bar.
The alternative is a vacuum with a brush roll you can turn off during vacuuming, something similar to a hardwood floor vacuum that won't scratch the floor.
Mopping the floors is recommended with clean water. You can also use pH-neutral floor clean to help clean the floor better.
Additionally, you can purchase Encore – a COREtec manufactured cleaning solution.
Lastly, don't ever use a steam mop on the COREtec floor. It will loosen the planks and make them warp or crack. Gentle and consistent care is recommended. Only use a mop for the vinyl floor to keep the floor looking tidy.
Watch this video to know more:
COREtec Plus: A Look from All Perspectives
COREtec vinyl flooring does sound like an exceptional deal. But, let me share some advantages and disadvantages of the COREtec Plus, so you can determine your priorities and choose accordingly.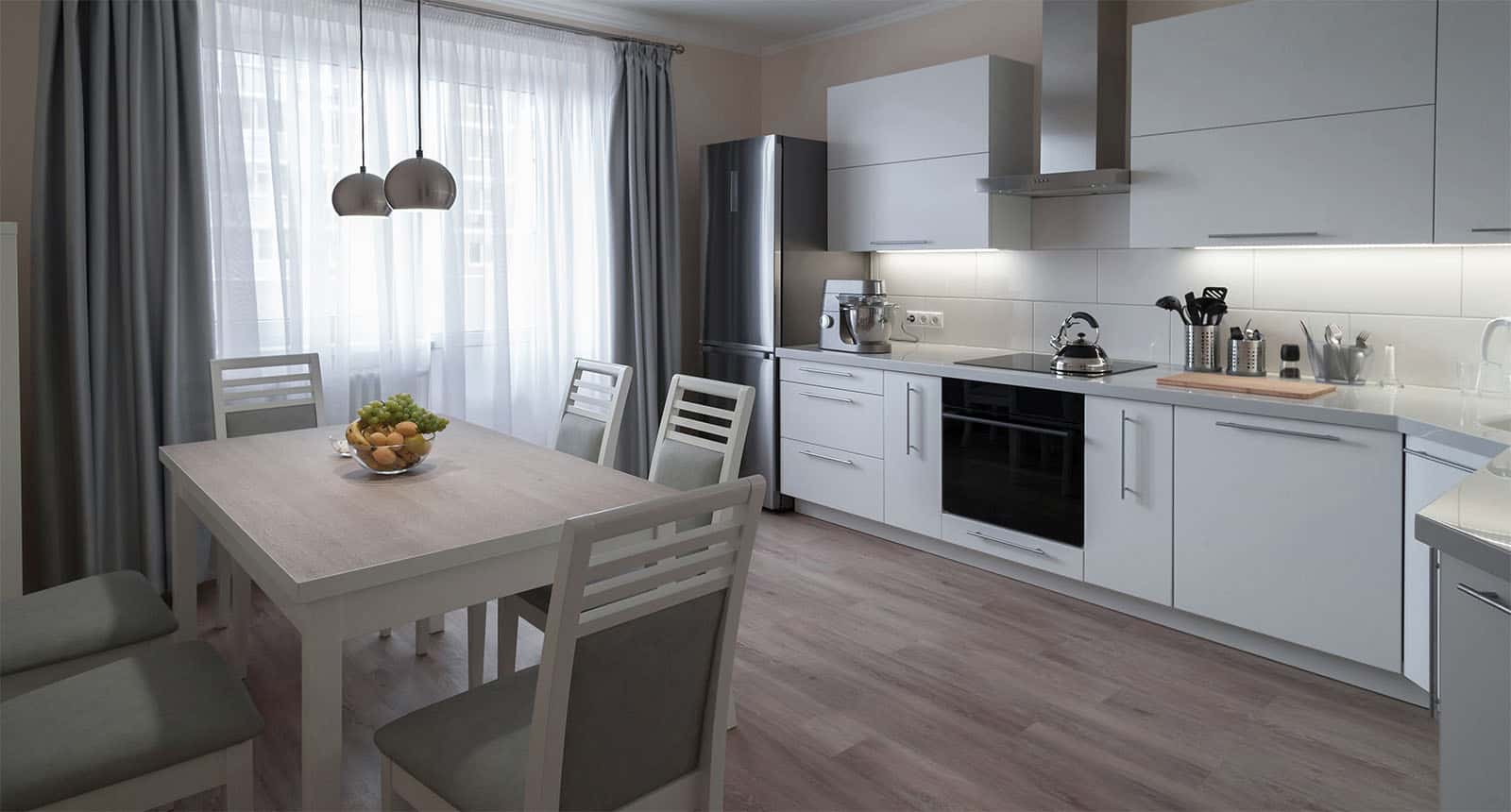 Advantages
COREtec is designed to meet the needs of modern people and serve them for years. Let's have a closer look at all the good things COREtec offers.
Price Tag
Hardwood floors are beautiful but expensive. The maintenance is also expensive and complex. If you are looking for a budget-friendly alternative with a similar effect, the COREtec luxury vinyl flooring might be a brilliant solution. It will cost you half the price of the hardwood floor, and the maintenance is cheap.
Although COREtec might be more expensive than similar vinyl floor brands, it offers a great value for the money – quality, durability, style, and ease of installation.
Longevity
Wood floors are prone to scratches and are hard to repair. If not careful, you can ruin them quite quickly, especially if you have pets. Oppositely, the COREtec floor is reinforced, and durable because of the 20 millimeters wear layer. It makes the floor look good as new for years.
Watch this video to know more:
Versatility
Wood floor isn't suitable for rooms with moisture, such as bathrooms, basements, etc. If you have underfloor heating, you also need to skip the wood floor. COREtec is versatile and fits in the kitchen, basement bathrooms, and every other room. It is also suitable for underfloor heating, as you don't increase heating over 140.
Watch this video to know more:
Simple Installation
Installing wood flooring is expensive, and you cannot do it by yourself. Hiring professionals to set wood flooring is costly.
You can have a weekend off and install your COREtec floor. It is simple and doesn't make a mess. Therefore, you will save some money on installation.
Convenience
COREtec Plus floors are quiet and comfortable to walk on, because of the practical cork underlayment. It muffles sounds and gives just the right amount of bounciness. Therefore, walking on the COREtec plus floor is good for your joints.
Disadvantages
COREtec Plus is without a doubt an excellent choice for most people. But, check the cons and see if those are huge deal-breakers for you to continue looking for floorings.
Potential Risks
Synthetic flooring, including COREtec Plus vinyl floorings, may emit VOCs into your home. The emissions are strictly regulated in the manufacturing process, and COREtec floors are safe for use. But, in rare cases and homes with family members who suffer from severe respiratory issues, vinyl floors might not be the best option.
Property Resale Value
Wood flooring adds to the resale value of your home. On the other hand, installing vinyl floors such as COREtec won't add to the resale value, despite a good look.
Lifespan
Solid wood floors have the longest lifespan and can last more than a century. Engineered wood lifespan is somewhere around 40 years, while vinyl floors hold up to 15 to 20 years. Among different vinyl floorings, COREtec is probably the most durable. Still, the lifespan is significantly shorter compared to wood floors.
Also, once the flooring has been damaged, you cannot sand it or refurbish it, you need to install new flooring. You may try to fix discoloration on the vinyl floor, but severe damage is irreparable.
Not Recyclable
If you are worried about the environmental impact of your floors, you might skip the COREtec flooring. The vinyl flooring is difficult to recycle.
Still, COREtec is trying to improve the environmental impact more than other vinyl floor companies, by using biodegradable materials in some styles for the core layer.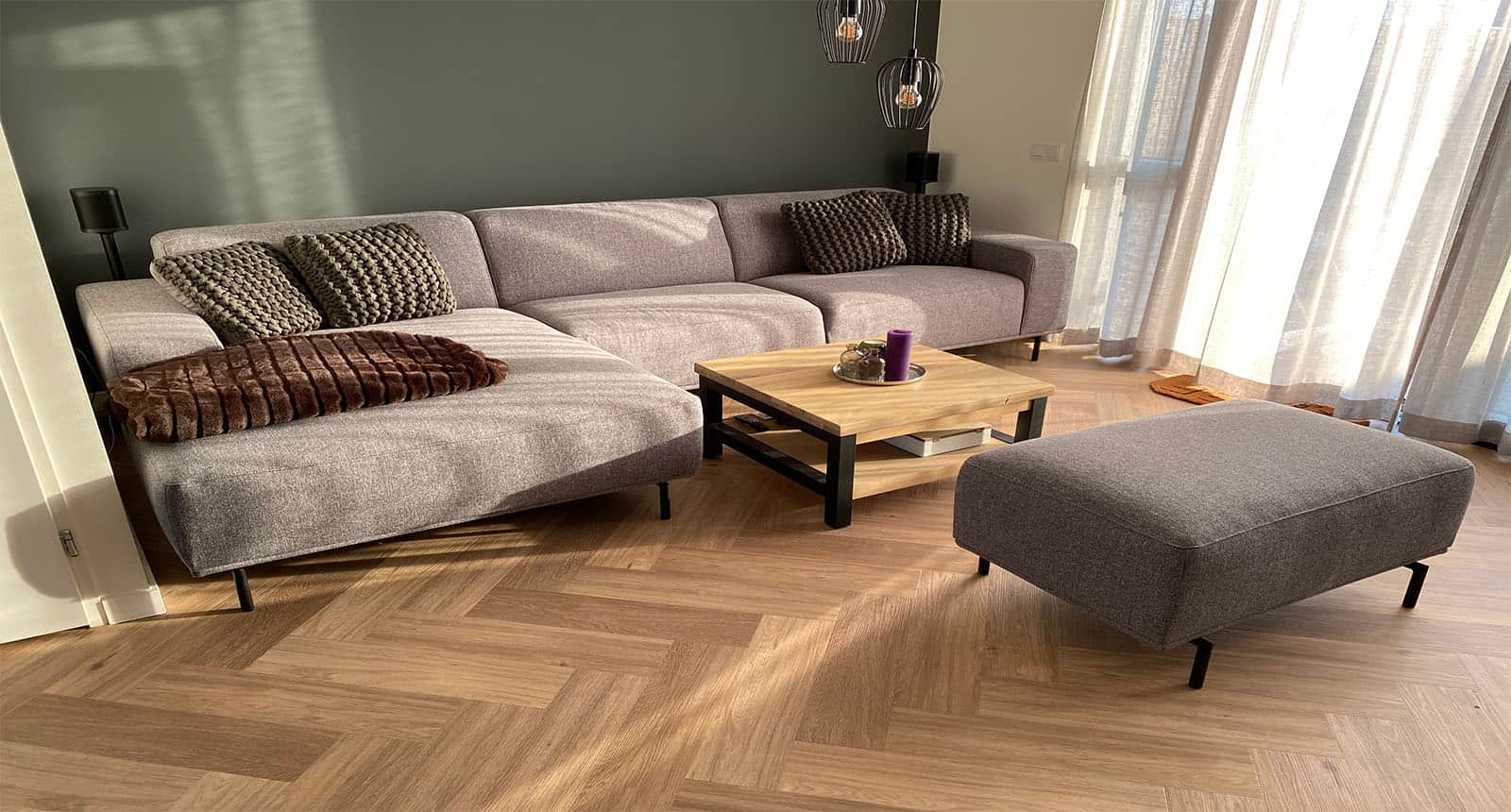 COREtec Plus: Is It For You?
If you have a budget for hardwood floors, I say: go with the wood. In all other cases, COREtec Plus flooring is a superb alternative.
All aspects of the floorings meet the criteria: quality, price, installation, maintenance and looks. With more than 300 styles and look, COREtec floors can improve your room from average to exceptional!
Tell me, have you tried COREtec Plus vinyl floorings? Or is the floor renovation project still on hold while you figure out which flooring to get?
If you've learned something new, please consider sharing the article with your friends and giving it thumbs up!