What Is Travertine Flooring – All Things About It 2024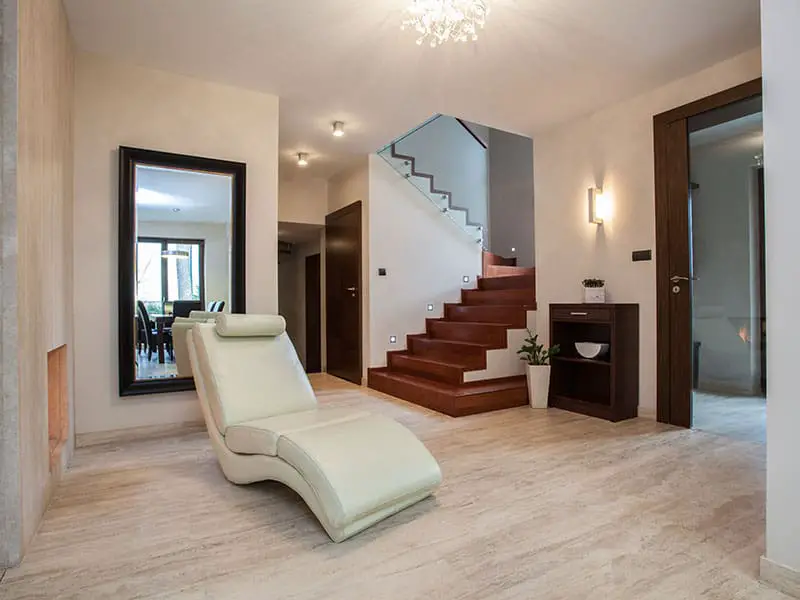 What is travertine flooring? Is this type of floor the same as a tile floor? You will feel these questions are easy for you after reading this article. It contains all the helpful information about travertine flooring and how to install it.
If you are researching to choose travertine for your home, I am sure you will have a decision right after the end of this article. It is time to expand your knowledge about the flooring field.
A Few Crucial Things About Travertine Flooring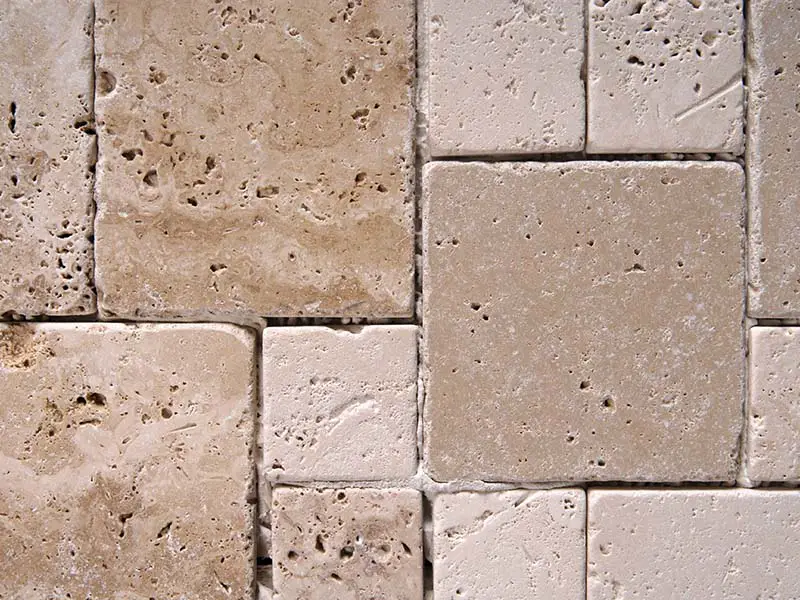 Travertine is a type of flooring that is not too unfamiliar to everyone. However, there are still many people who do not fully understand the outstanding characteristics and origins of this type of flooring.
1. What Is Travertine Flooring?
Travertine flooring is a type of tile flooring made from limestone found in mineral springs quarries (1). The main ingredients that makeup travertine are similar to the marble and granite you find in your bathroom and kitchen.
Calcium carbonate from limestone will undergo melting at high temperatures and precipitate into travertine tiles. Unlike granite, manufacturers do not need to press or use molds to cast.
When looking at the surface of the travertine, you will notice holes and grooves. If you touch the travertine tiles with your hand, you will feel the roughness created by these holes and grooves.
The dominant earth tone of travertine floors will look pretty outdated compared to other types of flooring. If you combine them with antique and traditional materials, your floors will look outdated, but when paired with modern materials, you will create a modern-classic style.
2. The Key Characteristics Of Travertine Flooring
Travertine tile flooring has pretty good thermal conductivity, so if you want your room to get warm faster, you can use this type of flooring to install the indoor heating system.
In the past, travertine tile floors were usually cut in a square shape. As manufacturing technology develops, tiles are created in various sizes and thicknesses. The smallest size is 4"⨯ 4," and the largest is 24"⨯24".
If you choose travertine tiles for flooring, you should choose tiles with a width of ⅜ ", ½," hoặc ⅝". Tiles used for outdoor paving will be thicker and more prominent in size.
This type has long durability and is often used to bring aesthetics to your home. It is not difficult to clean, install and maintain travertine tile flooring. It is pretty heavy and porous, so you need to seal its surface often.
This type of tile floor can withstand extreme weather conditions, so you can use it to pave your garden walkway, outdoor, pool, or wall. It is also equipped with an anti-slip texture, so it is widely used on bathroom floors.
Travertine flooring is sourced from Turkey, Italy, and Iran. In different countries, travertine tiles will have distinct colors and textures. This comes from the difference in soil composition of each country.
Listen to some fantastic knowledge about travertine flooring.
3. Various Types Of Travertine Tile Flooring Finish
You can find travertine tile floors in dissimilar varieties. The difference in the finish has created fantastic variations of travertine flooring. This finish also affects the price of each travertine tile.
Honed finish
This is a lightly polished and filled travertine tile. Its finish is similar to matte and less glossy, smooth, and shiny than the polished version. It is created by grinding an unfinished side of the stone. This type is suitable for use in bathrooms, outdoors, and pools.
Polished finish:
You should use a polished version if you are looking for luxury from the travertine floor. This tile has a glossy surface and shines with a sealer layer. The smoothness of it is top class and looks similar to marble tile.
With this look, I recommend using polished tiles in commercial areas or house floors, but you should not use them outdoors because you will easily slip when walking on them.
Tumbled finish
The edges and corners of this travertine floor are rounded. This type gives an antique look to your house. You will find it difficult to slide when moving on this floor, but you should equip a layer of sealer to prevent stains.
The tumbled travertine floor is made of pieces of stone that are cut and placed in a plastic barrel with water and abrasive grit. A little acid will be added. The plastic barrel will be rotated so that the stones collide, causing the edges to wear.
The texture of this type is pretty good, and its edges are pretty soft. You should not use this type for floors that are heavily used.
Brushed finish
This type of travertine tile has a flat and rough surface. Subtle colors are a prominent feature of this variety. If you want the most natural and sophisticated floor, you should choose the brushed version.
To create brushed travertine flooring, you need to use a brush or wire wheel to brush the surface of the stone until you get the texture you want. This type is suitable for places where the honed and tumbled versions are available.
4. How Many Colors Travertine Flooring Has?
Besides the dominant earth tone, the travertine floor comes in a variety of colors. The main factor that creates these various tones of travertine is the iron content of the stone. Here are the colors you can find on travertine floors.
Cream color
This is a popular color of travertine tile floors. Their shades are not the same, and they depend on the countries exporting the tiles. This color is suitable for floors and bathrooms.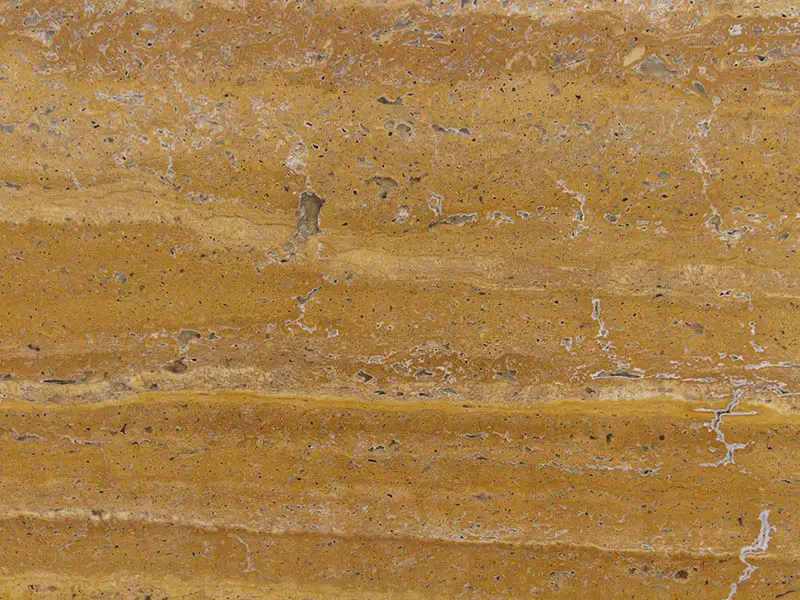 Gold color:
If you want your floor to look luxurious and aristocratic, you can choose travertine tile floors with eye-catching gold. There are many different shades of gold to choose from.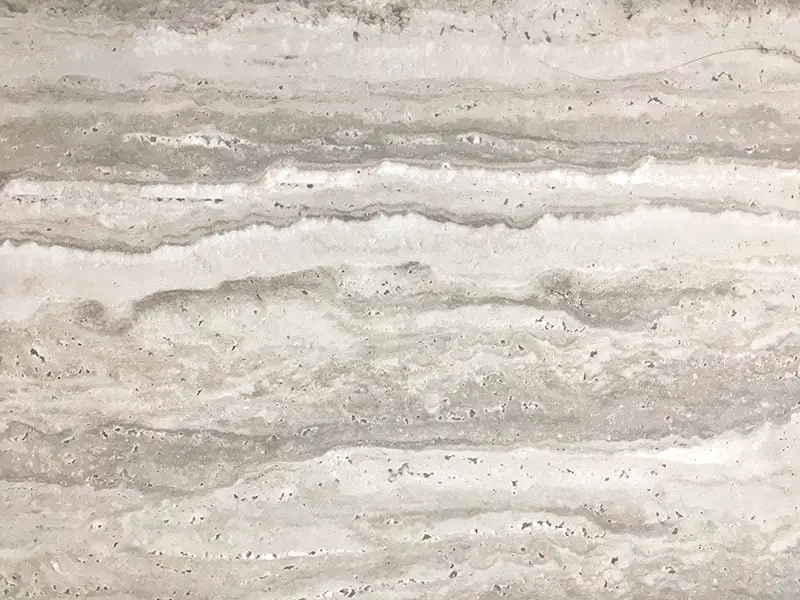 Brown color
Brown is a distinctive color of travertine flooring. Its shades range from warm to cold and dark to light. Travertine of Iran offers a golden brown and light brown color that resembles coffee. If you want a darker brown, you can choose from Italy.
Red color
You can choose from red with shades ranging from rose red to deep red. Travertine floors come in peach rose for lightness and rich colors. Red tiles are standard in Turkey and Iran. Iran's travertine is a darker red, but you can also find salmon pink in Iran.
Gray color
Your floors will look softer and more natural with the signature gray color. It is suitable to make the inside of your home more beautiful, elegant, and luxurious.
The minerals in the stone directly affect the type and color of travertine tile flooring, especially the amount of color in the stone. You will not find two travertine tile floors that look alike.
5. Costs Of Travertine Tiles: Cheap Or Expensive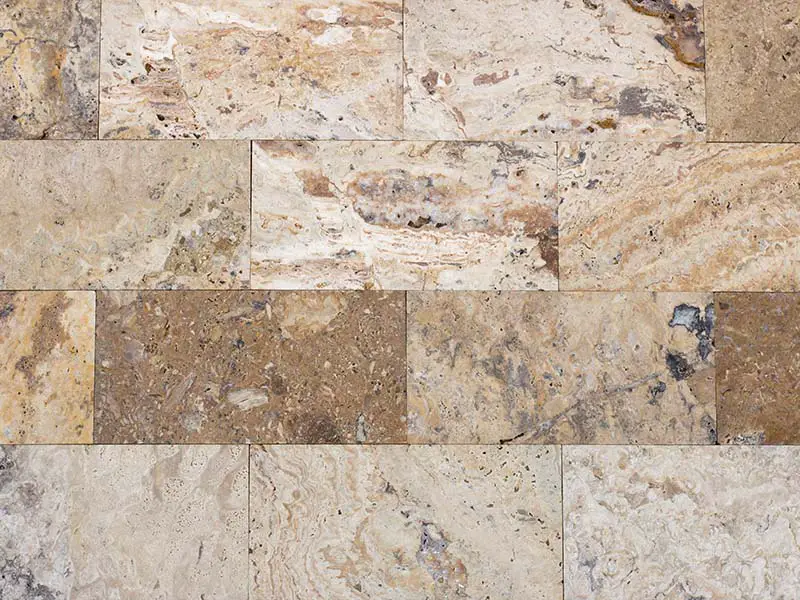 Travertine stone is priced in the mid-range, but travertine tile floors are priced at the top of the flooring materials list. The average price for a square foot of it is around 25 dollars. This figure includes materials and installation costs.
Meanwhile, if you want to install granite tile floors, it will cost you about 12 dollars per square foot. The price to buy and install a square foot marble floor is about 20 dollars. Laminate flooring has the lowest cost at less than 5 dollars.
The costs of travertine flooring are pretty diverse, ranging from 3 dollars to 30 dollars per square foot. Its price will be determined by the quality and finish of the stone.
Floors with natural surface textures are the cheapest. When you choose a honed floor, you will pay a little more and will increase as the surface is polished. The highest cost belongs to the type of floor with a sealed cover.
6. Travertine Tile Flooring: Pros And Cons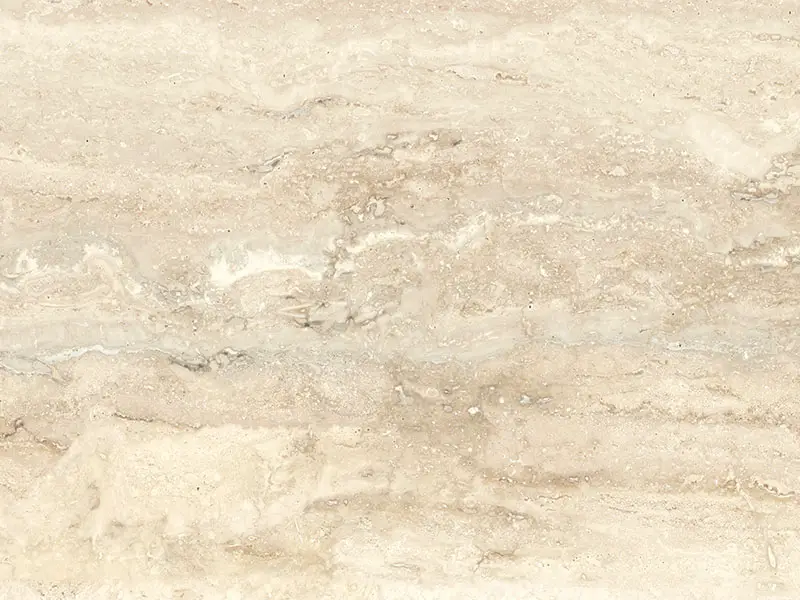 For you to have a more specific view of travertine tile flooring, I will give the pros and cons of using and installing this type of flooring. You should look carefully before choosing travertine tile flooring.
Advantages
Disadvantages

Durable and resistant to damage, scratches, chips, and cracks

Bring an eye-catching look to your house

It can last for a long time if you protect it well

It is simple to repair when detecting any damages

Reasonable price and you can afford it

Diversify in types of surface finish

It has anti-slip properties

Not cause bad effects to the environment

Installation might be slightly hard.

More costly to install

You will feel cold when walking barefoot

Difficult to maintain

Might be armful when cleaning with chemical cleaning agents (might react when contact with acid substances)

Cannot get the rich and strong patterns and colors

Difficult to select due to the variety of colors, shades, and appearance

Can absorb moisture easily due to porous texture
Pros Of Travertine Flooring
Travertine flooring will bring a lot of good value to you, thanks to its unique characteristics. Let's explore the fantastic things that this type of flooring can bring to you together.
Travertine flooring is pretty durable as it is made from natural stone formed from the earth. Therefore, it is pretty resistant to damage and weather changes. It is hard to get scratches, cracks, or chips.
However, over a long time, it can be impacted and damaged by the weather. In particular, floors with honed and polished surfaces have a high risk of being scratched.
Travertine flooring brings a high aesthetic element to your house. Each type of travertine tile brings a different color and character. In addition, the floor type with the polished surface will bring beautiful light reflection effects.
The long life of this type of flooring means you do not have to spend time changing floors constantly. If you maintain it well and regularly, you can keep the floor for decades. Sealed tiles can resist weather changes.
You can easily repair it when the travertine tile is damaged. However, you should choose the color of the new tile appropriately to match the color of the remaining old floor.
Compared to other types of flooring made from natural stone, travertine flooring is reasonably priced, and you can ultimately afford to own this type of flooring.
There are many finish options for you when wanting to use travertine flooring. You can choose from a polished, honed, and tumbled finish. In addition, the type that is sealed will provide long-term durability for your floor.
You should choose travertine flooring when you want a floor for your bathroom, laundry room, swimming pool, or kitchen because you will not have to worry about the floor being slippery anymore, thanks to its natural anti-slip properties.
Travertine tile is an eco-friendly flooring as it is slowly formed by the deposition of material around hot springs. It does not need to go through complicated manufacturing processes that can release environmental pollutants.
Cons Of Travertine Tile Flooring
In addition to the above advantages, travertine tile floors still have disadvantages that you need to know. I will detail the cons below for you to compare and evaluate easily.
Travertine flooring is pretty heavy, so you need too much time to install the floor. When installing travertine tile floors, you need good engineering and a solid subfloor to prevent damage from the mass of the travertine floors.
Although you can afford to buy the travertine floor, its price is also on the expensive side. Because it is difficult to install, you need to hire a professional to do it. In addition, a few other costs such as glue, grout, and sealer.
The travertine floor is made of stone, so it gets pretty cold when you walk on the floor barefoot. However, it also becomes warm quickly thanks to its good heat absorption ability when it is warm.
Travertine flooring is more difficult to maintain, even though it has good durability. Liquids and seep through the microscopic pores on the surface of the floor and cause damage to it. However, you can use a waterproof sealer to prevent this.
When cleaning floors, you need to use cleaning agents with natural ingredients, which will be better than cleaners containing chemicals. In particular, you should not use salt and vinegar to clean travertine flooring.
Travertine tile can be affected by acidic substances such as vinegar, alcohol, coffee, orange, or lemon juice. Because calcium carbonate in limestone will react with acid (2). You need to prevent these substances from coming into contact with the floor.
The tones and hues of travertine tiles are neutral because the dominant color of the limestone is white. Therefore, you cannot find bold and strong colors from travertine floors.
Your floors will not look uniform and consistent in color, appearance, and tone because travertine floors vary in these respects. Therefore, you need to choose and install them carefully.
The porous texture is a disadvantage of travertine flooring because moisture and water can be easily absorbed. This structure also makes the floor prone to wear and tear after a long time of use. Porous texture simplifies the beauty of the floor.
The Uses Of Travertine And Common Places With This Tile
Thanks to the durability and aesthetics of travertine flooring, it is used for flooring, furniture, or wall cladding. However, it is most commonly used for floors. The floor with travertine tiles will bring classic and sophisticated beauty.
There are many different patterns and designs to suit each unique style. You need the floor to exude a classic look, you should install travertine tiles with Regular or Stagger patterns. The sophisticated style will suit French or Herringbone patterns.
1. Dominant Travertine Tile Floor Patterns And Their Uses
French patterns are widely used for interior design. This pattern will make your room more beautiful. The styles of country and coastal houses are pretty fond of the French pattern. This pattern is also suitable for outdoor areas.
The Antique pattern will give your floor a rustic feel. Similar to the French pattern, it is often used for indoor and outdoor designs.
Your room will become more modern with a Spiral pattern. Travertine floors with this pattern are often used for decoration. You can apply them to walls or backsplashes. For this pattern, you should give preference to polished travertine flooring.
Travertine tile floors with Regular patterns are the most commonly used. You will often find this pattern on bathroom and pool floors. Cream, gray, and beige are popular colors in this category.
The Herringbone pattern is a pattern of travertine flooring pretty similar to the Spiral pattern. This type is often used for decorative purposes. It appears a lot on walls, backsplashes, and floors.
2. The Common Places That Use Travertine Floors Regularly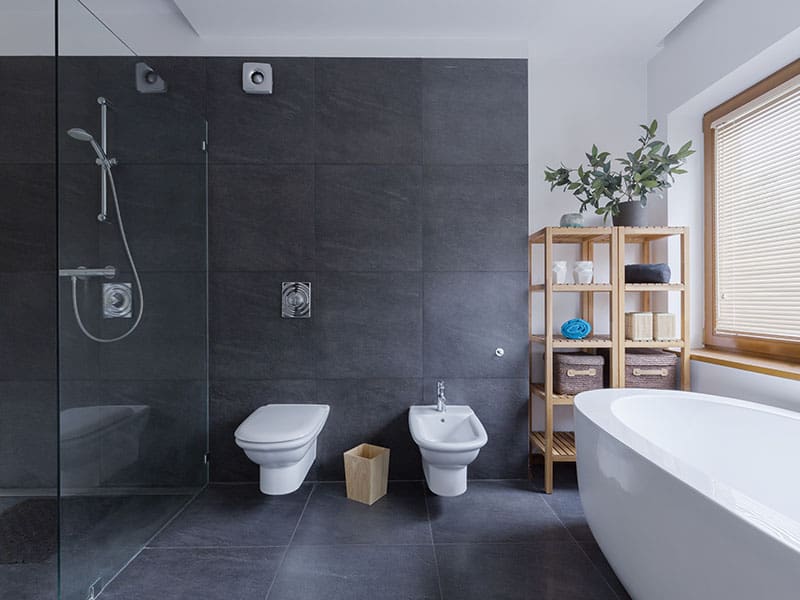 Travertine flooring is especially suitable for decorating hallways and corridors. It will bring a sense of luxury and elegance to your hallways. Different color tones will create accents for hallways and corridors. It will give a vintage touch.
Many people prefer to use travertine tile floors for the kitchen. You can use it for the kitchen wall or make interior and flooring. With characteristic colors, travertine tiles will bring a new atmosphere to your kitchen.
The bathroom is the most preferred area to use the travertine floors. They will bring a sense of elegance and relaxation to your bathroom. You should place the tiles diagonally to create beautiful diamond shapes. Travertine floors will turn your bathroom into a palace.
Aside from the indoor rooms and designs, the beauty of the travertine tile floors is also used outdoors. Swimming pools, garden paths, and exterior structures look eye-catching and classic with this type of tile.
Proper Instructions To Install Travertine Flooring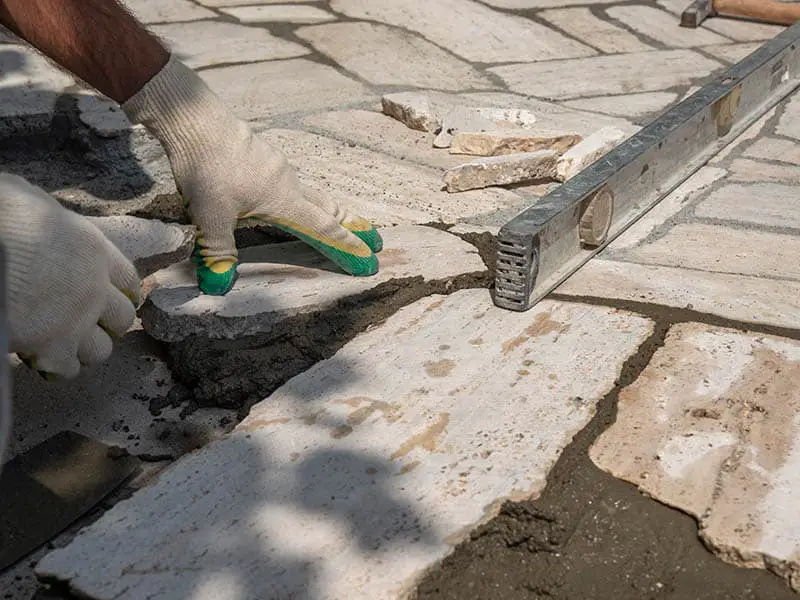 Do you know how to install travertine floors yourself? If not, you should not skip this section. After reading this part carefully, you will no longer need to spend money on hiring a professional to install the floor.
What You Need
Measuring tape
Travertine tiles
Bucket
Mortar
Trowels
Damp sponge
Tile cutter
Putty knife
Spacers
Wet saw
Grout
Sealer
Carpenter's angel
Carpenter's level
Chalk
How You Do It
Step 1: If you have the old flooring, you need to remove the old floor before installing travertine flooring.
Step 2: Use a measuring tape to determine the size of the area you want to install to see how many tiles you need to buy.
Note: You should prepare more tiles than the estimated number because, during the work, the tiles may break or not match the color.
Step 3: After you have a floor surface to install travertine flooring, proceed to clean the surface before installation.
Use a vacuum cleaner to remove all remaining dirt on the floor.
Remove small lumps from the surface with a putty knife.
Mop the floor to make sure no debris or residue remains on the floor.
Note: If your subfloor is wooden, you should put a cement fiberboard about 5 inches thick so that the subfloor surface is flat.
Step 4: Identify and mark the center point of the area to be travertine flooring. This will help the tiles to be installed in a more symmetrical and balanced way.
Use a marker or chalk to mark the X and Y axes along the floor.
After determining the middle of the room, draw lines with chalk. You should ensure correct angles by using the carpenter's angle.
Step 5: Design the floor: Place the tiles based on the lines drawn. You should start with the center lines, place the following tiles, and leave space for the grout line.
Step 6: Prepare thin-set mortar in a 5-gallon bucket. You should make a thin-set mortar with the same consistency as mashed potatoes.
Note: You should use the grout within 2 hours after mixing.
Step 7: Apply thin-set mortar to the area to be tiled.
Based on the initial lines, you can apply mortar to the surface.
Use a trowel with a V-notched edge and angle it to 45 degrees to spread the thin-set mortar evenly and thinly.
Step 8: Place the tile on the thin-set mortar layer just spread. Follow the chalk lines drawn earlier. Ideally, you should place the first tile at a 90-degree angle at the center line and continue with the quadrants.
Step 9: When placing the tiles, you need to place spacers between tiles to help you identify the lines.
Step 10: Check the flatness of the tiles with the carpenter's level.
Step 11: Use a damp sponge to remove excess thin-set mortar on the floor.
Step 12: Cut the tiles around the baseboard.
Measure and record the dimensions in the notebook.
Use a wet saw to cut the tile precisely to the measured size.
Install the tile in the position of the baseboard.
Step 13: Wait about 1 to 2 days for the mortar to harden before applying grout.
Step 14: Combine grout with water to form a thick paste. It is better to use white grout for travertine flooring because it is porous flooring.
Step 15: Take the spacers out.
Step 16: Apply grout on the lines between the 2 tiles.
Step 17: Use a damp sponge to discard excess grout from the floor surface.
Note: You should proceed with grout in small areas and wipe excess grout immediately because it dries quickly.
Step 18: Apply a layer of sealer to the surface to increase the life of the floor.
Step 19: Wait about 2 weeks for the sealer to dry completely before using the travertine flooring.
Follow the instructions step by step to install travertine flooring.
How To Clean Travertine Flooring Effectively?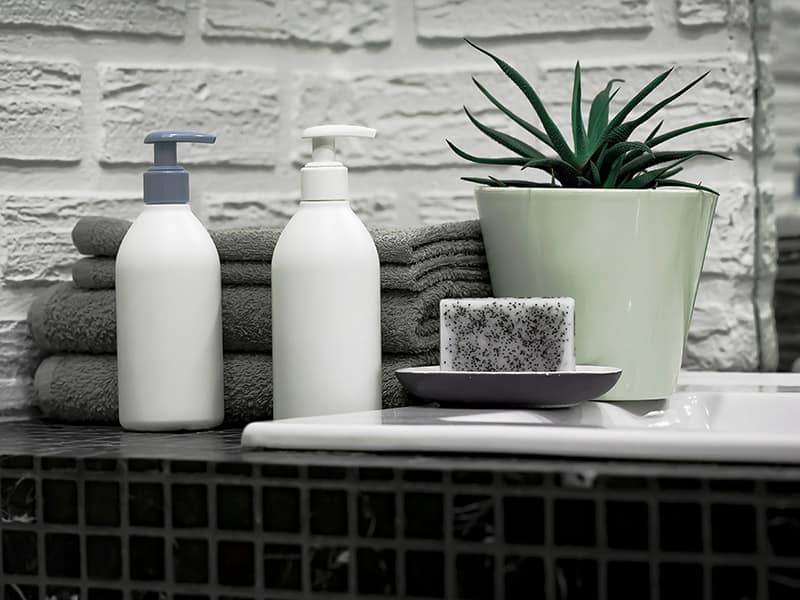 Cleaning travertine flooring plays an essential role in ensuring the cleanliness and quality of the floor. You need to know how to clean your floors effectively and adequately to get good results.
What You Need
Vacuum cleaner
Broom
Mop
Bucket
Clean water
Soap
Dry cloth
Sealer
How You Do It
Step 1: You will remove dirt, debris, and residue from the floor using a vacuum cleaner or broom. You can combine vacuum cleaner and broom for more thorough floor cleaning.
Step 2: Mix a sufficient amount of soap with clean water to form a cleaning solution.
Step 3: Dip the mop into the bucket containing the cleaning solution.
Step 4: Wring to remove excess water from the mop.
Step 5: Start mopping the floor from the furthest to the front of the room. You should not walk on wet floors that have already been cleaned.
Step 6: After mopping the entire floor, you need to dry the floor with a dry cloth. Alternatively, you can let the floor dry on its own.
Step 7: After the floor is arid, if you want the floor to be shiny and brighter, you can apply a layer of sealer to the floor's surface.
Let's clean your travertine flooring with the directions right now.
FAQs
This section will help you learn more about travertine flooring. Below are the most commonly asked questions on this topic, so I am sure you are looking for the answers.
Is Travertine Flooring Good?
Travertine tile flooring is a perfect choice to bring aesthetics and elegance to your living space. Through this article, you have understood the features, prices, and installation and cleaning methods in the most detail.
Do you want to install a floor with travertine floors? If so, do it now. When someone asks you about travertine flooring, you can give this post to them. Share your views and opinions on this topic in the comments section.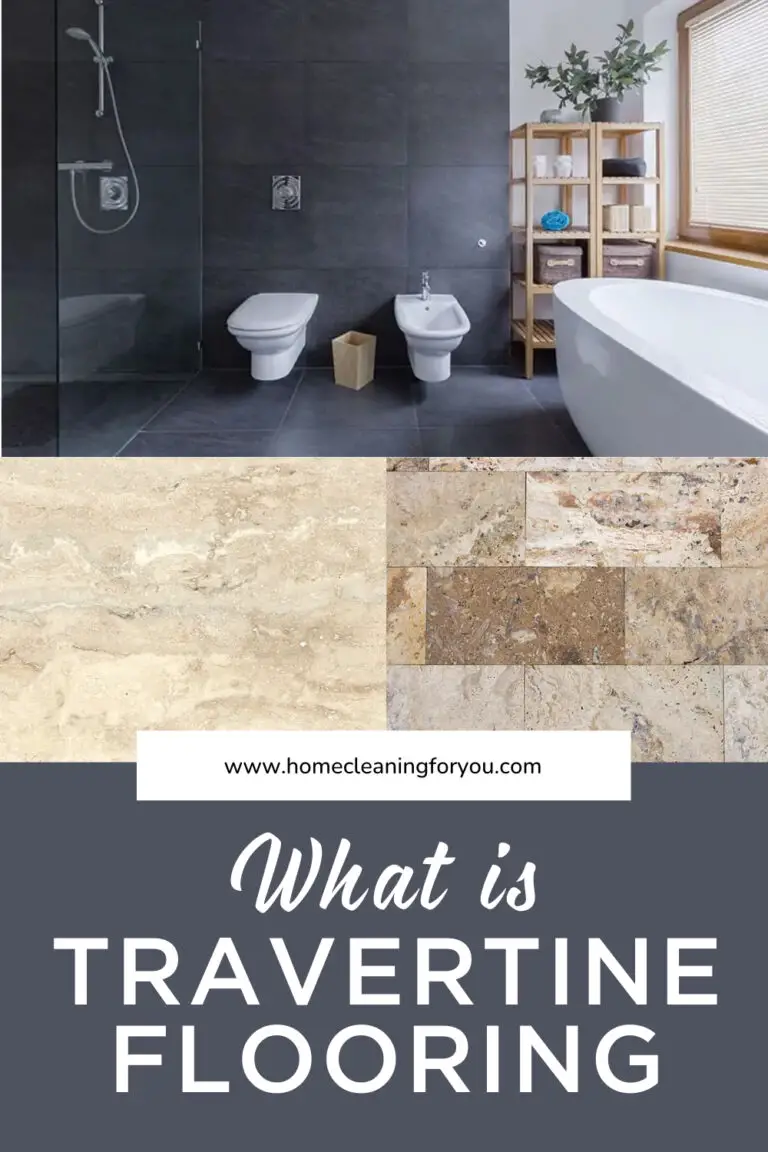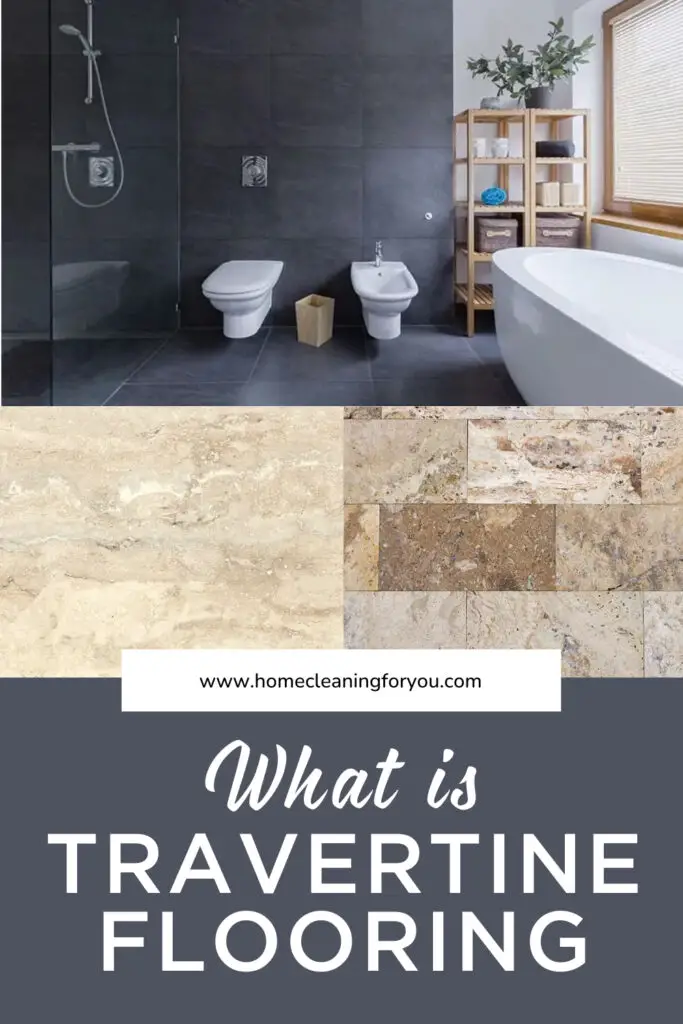 References
[1].En.wikipedia.org. 2021. Travertine – Wikipedia.
[2].Science Learning Hub. 2021. Carbonate chemistry.