Armstrong Rigid Core Luxury Vinyl Flooring Reviews 2024
My Armstrong Rigid Core luxury vinyl flooring reviews reveal whether this flooring lives up to the reputation!
In general, rigid core vinyl flooring is one of the highest quality vinyl flooring types available for so many reasons. The flooring is budget-friendly, resilient to many outer conditions, waterproof, and has an admiring lifespan.
The rigid core is an improvement after the previous vinyl flooring solution – flexible core. The two vinyl flooring types differ in construction, performance, and durability. Also, rigid core vinyl plank flooring is the same as engineered vinyl plank flooring.
Armstrong has excellent rigid core products with a stunning design both good-looking and practical, for smoother installation and long-term performance.
The best Armstrong rigid core vinyl floorings have embossed texture, which gives them a realistic appearance and feel. Overall, the Armstrong vinyl products enjoy a high reputation.
But, it is my task to inspect the overall quality and present all the facts that will hopefully help you decide whether Armstrong is a good choice for you.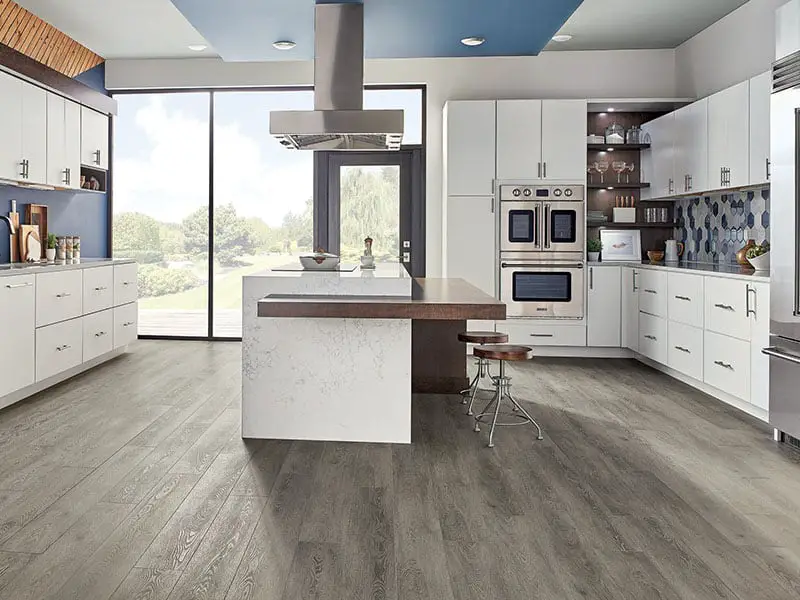 Is Armstrong Rigid Core Luxury Vinyl Flooring Good?
Yes, it is. Armstrong vinyl flooring with a rigid core has better dent-resistance properties. The products with rigid cores are good for installation over most subfloors.
Moreover, the vinyl planks have cork underlayment which improves noise absorption and hides subfloor imperfections. Rigid core vinyl flooring by Armstrong is waterproof, stain and scratch-resistant, easy to clean, and available in a wide range of styles.
What is Armstrong Rigid Core Flooring?
Rigid core in Armstrong vinyl floorings, and other brands, improve the vinyl flooring versatility. A rigid core makes it possible for vinyl flooring to be installed over any subfloor.
For comparison, flexible core vinyl flooring is only installed over perfectly level subfloors. Moreover, each imperfection on the subfloor will poke through vinyl flooring, and cause flooring deterioration.
It is because each plank comes with a rigid core and an underlayment. Armstrong underlayment is made of cork, which improves the comfort and the sound-absorbing properties.
Next, Armstrong rigid core vinyl plank flooring doesn't need to be acclimated. Flexible core, for instance, requires acclimation, because the materials in the planks were known to expand on high temperatures, which will later affect the performance.
Without proper acclimation, the planks will slightly change their shape and size, which will cause a gap in the joints. With Armstrong rigid core vinyl flooring, you don't have to worry about such issues.
Complete Armstrong Rigid Core Collections Overview
All Armstrong rigid core vinyl floorings are divided into four collections. Here is what you can expect from each collection.
Empower
Vinyl flooring products from Empower collection have outstanding durability and dent resistance. The core is reinforced with Armstrong Diamond 10 technology to improve the performance in high-traffic areas. Each of the 12 available products in this category has excellent scratch and stain protection.
Also, because of the Armstrong exclusive Reinforced Mineral core you can install these floorings in direct sunlight.
Because of the attached underlayment, the planks also reduce noise. The planks are 100% waterproof, which makes them a good choice for bathrooms and kitchens, alongside other rooms.
Oak and hickory are the two wood types that have been closely reproduced in these vinyl plank floorings. All have a low-gloss finish and install via the locking method.
My favorite is the Scandia Oak style in color Midsummer sun. By the way, all styles are available in multiple color options.
Rigid Core Vantage
If you are looking for something striking to become a central element in your rooms, consider the Rigid Core Vantage collection.
It offers long planks that you can use for a dramatic look. The collection has similar features like the Empower, with waterproof properties, click and lock installation and cork underlayment. The planks are 60 inches long, with standard width and thickness.
The top layer of these extra-long planks is commercial grade, and the planks have outstanding dent resistance. The 20 available styles in this collection are more suited for style-conscious homeowners because some of them have striking appearances with mixed wood types and multi-color appearances.
Watch this video to know more:
LUXE with Rigid Core
The LUXE Collection is a classic luxury vinyl plank collection with hardwood and stone styles. It is similar to what Shaw Floorte vinyl plank flooring collection includes, with slight variations.
Wood styles don't differ much from what other brands that sell rigid core vinyl flooring have to offer. But, the stone styles look very elevated and realistic.
If you prefer the contemporary or industrial interior design, you can choose vinyl planks that look like concrete flooring. You'll get the authentic concrete appearance, but with all rigid core vinyl flooring benefits.
The LUXE products are waterproof, easy to clean and install, and backed with a 30-year residential warranty.
My favorite style is the stunning Piazza Travertine in color Dovetail. Currently, Armstrong offers 22 flooring options in this category, and several are available in different colors.
Rigid Core Essentials
The collection Essentials from Armstrong includes ten distinct styles. Each has a 12-mil wear layer to ensure excellent protection against denting and scratches.
Planks are waterproof and have an acoustic cork underlayment. The available styles are traditional-looking wood floors with a low-gloss finish.
These are suitable choices if you want classical-looking wooden flooring with waterproof properties and dent protection.
You can install them at any level in your home.
You should see the video below:
Quick Comparison of Armstrong Rigid Core Collections for Visual Learners
A lot of products from Armstrong collections have the same features. So, how to choose? Here is a simple chart that might help you understand the differences between products and narrow your options to one collection.
| | Empower | Rigid Core Vantage | Luxe Rigid Core | Rigid Core Essential |
| --- | --- | --- | --- | --- |
| Styles available | 12 | 20 | 22 | 10 |
| Plank length | 72 inches | 60 inches | 48 inches/24 inches | 48 inches |
| Plank thickness | 0.280 inch | 0.230 inch | 0.310 inch | 0.200 inch |
| Wood looks | Hickory, oak, mixed types | Oak, hickory, rustic pine, mixed types | Acacia, oak, walnut, mixed types | Walnut, oak, hickory |
| Stone looks | 0 | 0 | 4 | 0 |
| Concrete looks | 0 | 0 | 1 | 0 |
| Warranty | 30-year residential; 15-year light commercial | 30-year residential, 15-year light commercial | 30-year residential, 10-year light commercial | 30-year residential, 10-year light commercial |
| Waterproof | Yes | Yes | Yes | Yes |
7 Exceptional Benefits to Make you Choose Armstrong Vinyl Flooring
If you wonder why to choose Armstrong rigid core vinyl flooring over other flooring types, the following section is for you.
Waterproof Properties
Some vinyl plank flooring might claim to be waterproof, but eventually, water penetrates through interlocking areas between two planks, and cause damage to the subfloor.
Because Armstrong rigid core planks have micro-beveled edges, the locking is tight, with less to no risk at all of the water damage. The top wear-layer and the polymer core keep the planks intact even in rooms with a lot of moisture and standing water, such as the basement and bathroom.
No Acclimation
The rigid core is resistant to outer conditions, such as sunlight, temperature, humidity. Therefore, the planks don't dent or expand due to changes in the conditions. So, when the boxes with your Armstrong vinyl planks arrive, you can install them as soon as possible and start using the room.
Wide Range of Styles
Currently, Armstrong offers 64 riding core vinyl flooring products. Almost every style is available in different colors. The flooring resembles different traditional and exotic wood types offer unique needs, various stone looks, and concrete.
Therefore, whatever flooring look you have in mind, there are high chances that you'll find what you're looking for in Armstrong's offer.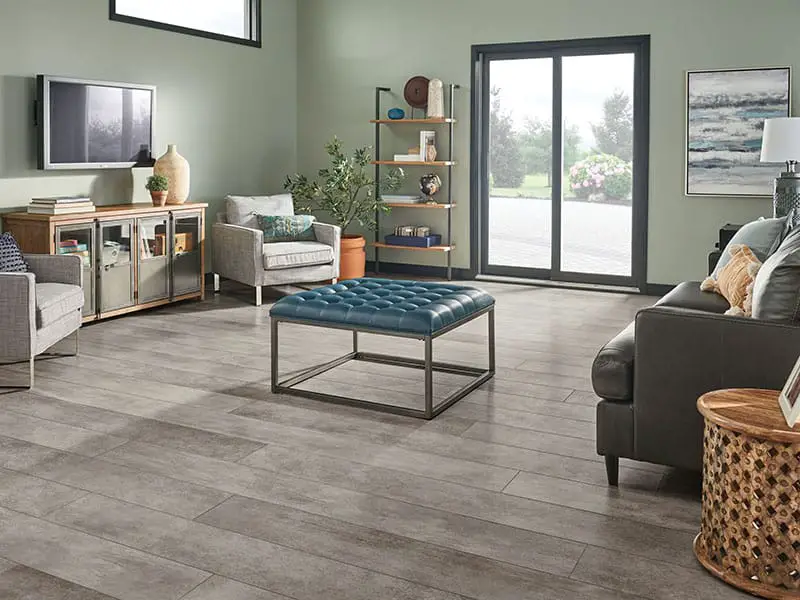 Thick Wear Layer
Armstrong products in the rigid core category come with a urethane wear layer of different thicknesses. The 12-mil wear layers provide outstanding protection against scratches, stains, and damage. Some products even have a 20-mil wear layer which is more of a commercial-grade choice.
It makes these products suitable for heavy foot traffic.
Maintenance
Vinyl floorings are easy to clean, and it isn't different with these Armstrong rigid core. Sweep and vacuum the floor to remove dust, and use a mop for vinyl flooring to eliminate grease and grime.
Most-Subfloor Friendly
Rigid core in these Armstrong vinyl floorings improves the application of these floors. They can go over almost every subfloor, which doesn't even need t to be perfectly level. You will still have to fill in major holes, but planks with underlayment will hide larger imperfections on the subfloor.
Also, the underlayment makes the planks more comfortable, which is a plus if you plan to install the flooring over concrete.
Improved Sound Absorbing Properties
Cork is one of the best sound-absorbing materials used in the flooring industry. Armstrong creates cork underlayment on each plank.
It will muff the sounds of walking, absorb shocks and improve sound isolation.
Perfect for DIY-ers
The locking method is excellent for people who want to install the floors themselves. Even if you are installing the flooring in rooms of irregular shape, Armstrong suggests which tools you can use to cut planks to custom size.
Moreover, underlayment is attached, so you don't have to install underlayment as an additional step.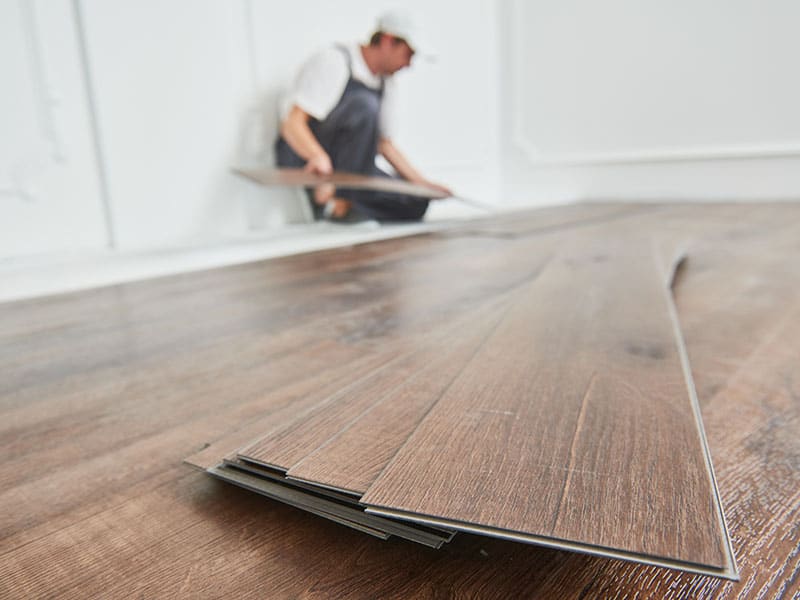 You should see the video below:
2 Drawbacks That will Make you Think Twice
Flooring isn't a seasonal item. Therefore, you need to know all the facts to be able to choose the flooring product that works best for you.
Here are two drawbacks of Armstrong vinyl flooring with a rigid core that might be deal-breakers.
Warranty
The brands that offer vinyl flooring products in the same price range as Armstrong offer a lifetime warranty for their products. For example, Smartcore Ultra Vinyl Flooring is backed up with a lifetime warranty.
But, most Armstrong rigid core vinyl flooring is backed up with a 30-year residential warranty and a 10-year commercial, with a few exceptions that have a 15-year light commercial warranty.
However, in most cases, the average lifespan of vinyl flooring isn't higher than 20 years in residential settings. The commercial setting includes a lot more foot traffic, so it would be better if all products had at least a 15-year commercial warranty.
Limited Range of Extra Long Planks
Armstrong has a limited offering in styles with extra-long planks. Most products are available in 48 inches long planks, but only a few come in 60 and 72 long planks. The length of the planks doesn't only affect the appearance.
Moreover, it improves the resilience of the floor, making it more stable, with fewer interlocking areas, and a lower risk of water damage. The extra-long planks add stability to the floor and a striking appearance.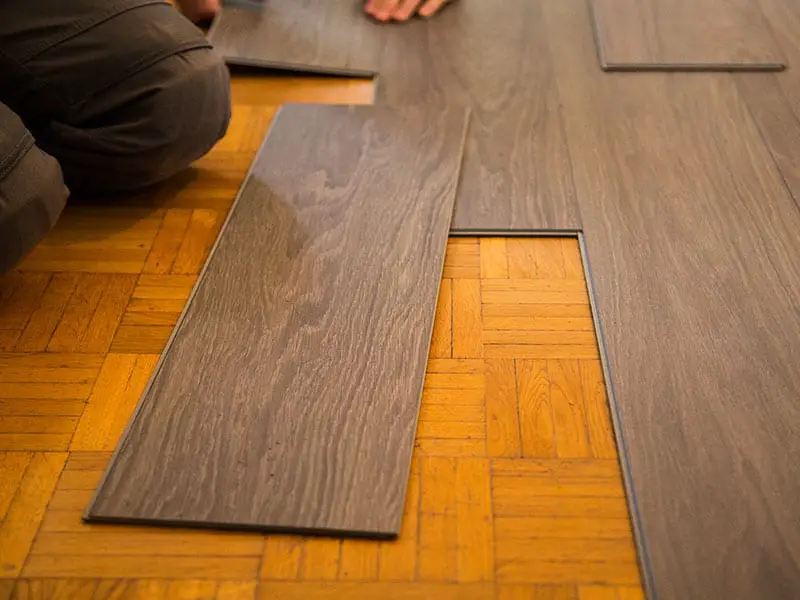 Armstrong Rigid Core Vinyl Flooring Cost
Vinyl flooring is more affordable than some other floorings types. But, Armstrong makes high-end vinyl floorings. The products from four rigid core collections are more expensive than vinyl sheets, for example.
You can expect to pay between $2 and $5 per square foot rigid core product. The price depends on the collection, wear-layer and plank size.
For example, you can purchase a beautiful vinyl plank flooring in walnut style for less than $1.5 per square foot and a 48-inch long plank. On the other hand, the extra-long planks in the style Flaxen field cost more than $4 per square foot.
Therefore, the price varies, but you can save a lot of money on DIY installation. The most expensive products come from the Empower collection and have reinforced mineral cores for extra stability and durability.
Is the Armstrong Vinyl Flooring Worth the Hype?
At the end of this Armstrong rigid core vinyl flooring review, it is safe to conclude that these floorings live up to their reputation. From appearance to performance in different conditions, Armstrong vinyl flooring with a rigid core can hold up almost anything.
The flooring is suitable for high foot traffic in residential and commercial settings, with a lot of moisture and water.
Therefore, the rigid core floorings offer great value for the money.
The concrete and stone-like planks have exceptional and realistic designs. If you are looking for a wood-like floor, you can choose classical hardwood floor looks, distressed, weathered, and hand-scraped options.
Do the mentioned benefits of Armstrong's rigid core vinyl product talk you into choosing this brand? If it isn't the case, please share your reasons!
Please consider sharing and liking the article if you enjoyed it!