NuCore Vinyl Flooring Reviews 2024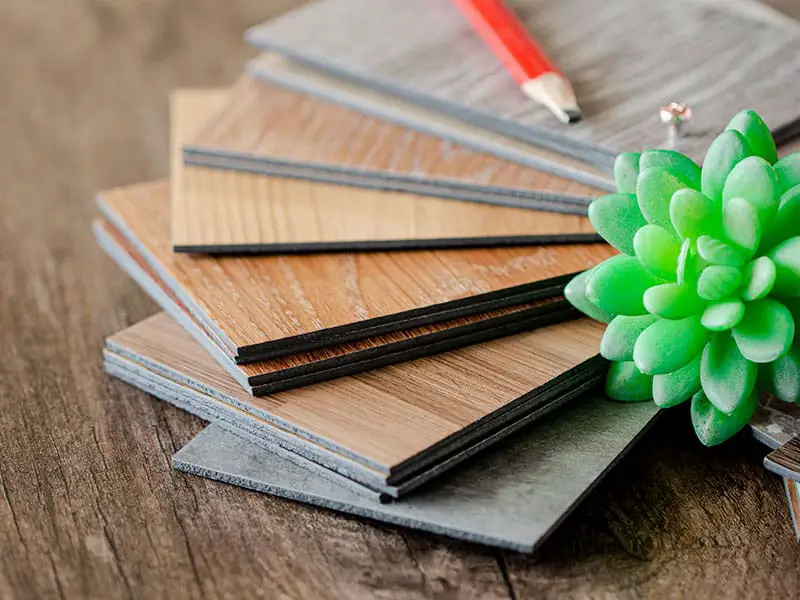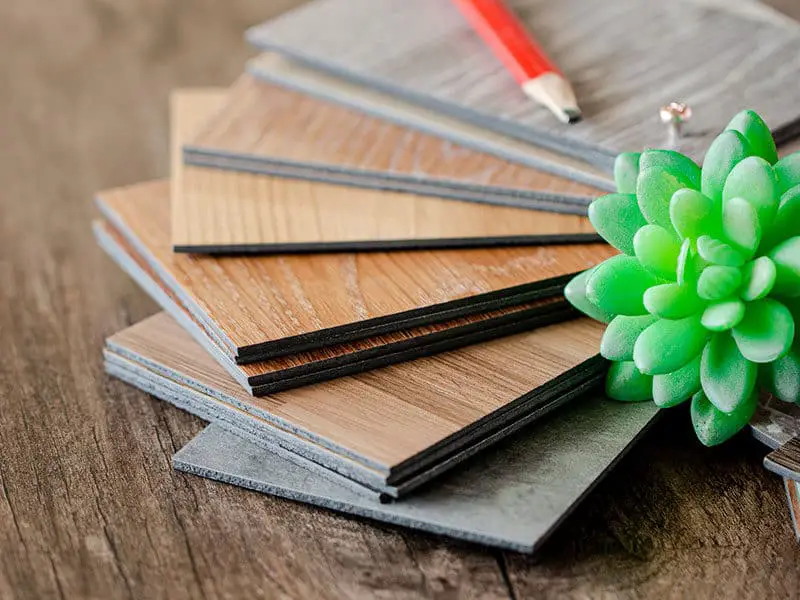 If you're looking for new flooring, look no further than these NuCore vinyl flooring reviews.
Luxury vinyl plank (LVP) is currently one of the biggest trends. The flooring is super versatile, strong, and waterproof. The main problem you will encounter is deciding which style and brand to go with.
In today's article, I will throw a glance at the vinyl flooring by NuCore, a Floor and Décor company with a wide selection of flooring options including LVP, pros, and cons of this flooring, and much more.
That being said, let's dive into the topic and help you decide if NuCore is a perfect fit for you.
Is NuCore Good Flooring?
NuCore is a 100% waterproof flooring that's exclusive to Floor and Décor. It appears and feels like actual wood but here's the kicker. You can install NuCore anywhere where you can't install real wood.
This flooring doesn't need acclimation time. Meaning, it's ready to install, right out of the box over most existing floors. It's one of the easiest floors to install thanks to the simple drop lock installation.
If you prefer a quieter floor that's naturally resistant to smell causing mold and mildew, you can choose some of their options with an attached cork underlayment. Now, let's learn more about Nucore.
What Is NuCore Vinyl Flooring?
Known as rigid core, NuCore is one of the newest types of luxury vinyl plank.
It's made in a few layers (something like laminate flooring) with a wear-resistant top layer, followed by a decorative layer (a stone or wood picture), then a vinyl layer adhered to a waterproof rigid core made of plastic composite. The cork backing is the last layer of NuCore that serves as underlayment.
What I like most about this flooring is the construction. All of the layers are 100% waterproof. According to NuCore, the top wear layer isn't only scratch and stain-resistant but anti-microbial as well.
The best part? This waterproof flooring is available in many sizes with stone looks in 12" x 24" tiles, and wood-look planks in 47.95" lengths and widths 3" to 8". Plank thickness is either 6.5mm or 5.5mm, while the wear layer is 20mm or even bigger. Now, let's talk about the different textures and designs.
Most of the NuCore rigid core designs offer a texture that has been embossed in the register. Thus, they have a textured design layer typically following the line of the grain or strata textures of stones.
There's a wide range of options. And each design is original in color and tone. You can also choose from different styles including classic high gloss mahogany, rustic hand-scraped barn wood, whitewashed oak, near blacks, dark grays, and everything else in between. So, there's something for everyone.
Last but not least, I want to address the price. NuCore flooring is budget-friendly. Expect to pay between $2 and $3 per square foot depending on what style you prefer. I highly recommend obtaining samples of the styles you're interested in before making a purchase, so you make a well-informed choice.
Each flooring sample costs $3 (shipping included). And they're 3" x 6". You can order the samples on the website (up to 10 samples at a time). The company also gives a $30 discount off your next purchase over $150 when you buy samples. Now, let's learn more about the construction of NuCore flooring.
What Is NuCore Flooring Made Of?
Luxury vinyl plank flooring is currently one of the most popular types on the market. It's simple to install, waterproof, and low-maintenance unlike laminate and hardwood flooring.
The main reason why it's so popular is the low price. Thus, it's perfect for homeowners on a budget who search for budget-friendly but waterproof, easy to clean, and long-lasting flooring.
Vinyl plank flooring (LVP and LVT) comes from synthetic materials made after the melting and mixing of calcium carbonate, polyvinyl chloride resins, plasticizers, fungicide, white pigments, and UV stabilizers. This is achieved utilizing pressure and heat before being applied to a backing layer.
As I already stated, traditional luxury vinyl consists of four layers including a wear layer, decorative layer, vinyl core, and a backing layer. Let's break down the layers in a few sentences.
1. Wear Layer
The wear layer is usually the transparent surface coating and makes vinyl plank both fade and scratch-resistant.
2. Decorative Image
The second layer is a slim digital image that's imported into the vinyl core (the third layer) to provide the planks the look of ceramic or wood tiles.
3. Vinyl Core
The vinyl core is the PVC material that's usually the main part of luxury vinyl planks and luxury vinyl tiles. It's quite flexible and also 100% waterproof.
4. Backing Layer
Lastly, there's the backing coat that's not only waterproof but also prevents mold and mildew. Now that you know about the construction, let's dive a little deeper and learn more about the features of NuCore and see why it's so popular among homeowners.
NuCore Vinyl Flooring Reviews
When buying vinyl flooring, you need to consider two things including the room where it will be installed along with the décor. Overall, you can pick between inland and printed vinyl flooring.
Inland vinyl flooring represents the floors with embedded color granules into the vinyl sheet providing a deeper appearance. This choice opens the possibility of choosing different colors when installing.
This type of flooring is often a pattern or color that's usually printed right onto the vinyl. It's designed to appear like the more expensive floors. This is what makes it popular among homeowners. You can select from different patterns of printed vinyl flooring. The best part? It's super easy to install.
NuCore Vinyl Flooring Design And Sizes
Just like other types of flooring, vinyl comes in a wide array of designs and sizes. It's available in varieties of sheet flooring, tile flooring, and plank flooring, so let's discuss each one in detail.
This type of flooring comes in the shape of a sheet. It's perfect for moisture-prone places like bathrooms and mudrooms. Unlike other flooring types, it's more expensive and available in sheets of between 5-12 feet. This makes it even easier to install. And on top of that, it's stunning!
A favorite for many homeowners, vinyl plank flooring is durable and dirt resistant. But here's the kicker. It's the one that closely imitates hardwood flooring. And costs less than sheet flooring. The installation is also easy. You can install these planks above a subfloor without an underlayment.
If you're searching for something that mimics ceramic or marble tiles, then vinyl tile flooring is the right choice for you. It's easy to install, waterproof, and gives any room a fresh look.
You can see this video to know more:
Key Features Of NuCore Vinyl Flooring
Regular vinyl plank flooring is a common choice among homeowners because of the many qualities such as waterproof and durability. Here's a list of the key features of NuCore vinyl flooring.
Vinyl plank is 100% waterproof. Therefore, you can install this flooring in wet-prone areas of your home like the kitchen, bathroom, and basement. That said, you will never have to stress about possible water damage due to the backing layer that makes it waterproof.
You can install vinyl planks below, above, or on grade, meaning, you can install them almost anywhere. Also, you can finish the installation yourself since it's available in click-lock or glue-down planks. So, you don't need a lot of tools or any special skills to install NuCore vinyl flooring.
Looks Like Hardwood Flooring
Vinyl flooring looks a lot like hardwood flooring thanks to today's digital printing technology. It's present in different styles, colors, and textures, so you have a lot of options to choose from.
Not only is NuCore vinyl flooring durable and waterproof but also non-slip, so it's suitable for wet places such as the bathroom. I especially appreciate this feature because I'm not slip-proof.
Luxury vinyl tiles and planks feel soft underfoot, more so than even ceramic or porcelain tiles. However, slim vinyl when applied over a concrete floor tends to have a harder feel than plywood flooring.
If you're on a budget, vinyl flooring is your cheapest waterproof option out there. Keep in mind that click lock vinyl costs more than glue down options.
Easy To Clean And Maintain
Hardwood flooring requires waxing now and then but vinyl flooring doesn't. Cleaning is a breeze as well as maintaining it. Just sweep the floor once in a while with a good floor sweeper and you're good to go! Occasionally, you can do a deep cleaning to keep your floors looking fresh.
You can see this video to know more:
Pros And Cons Of Nucore Flooring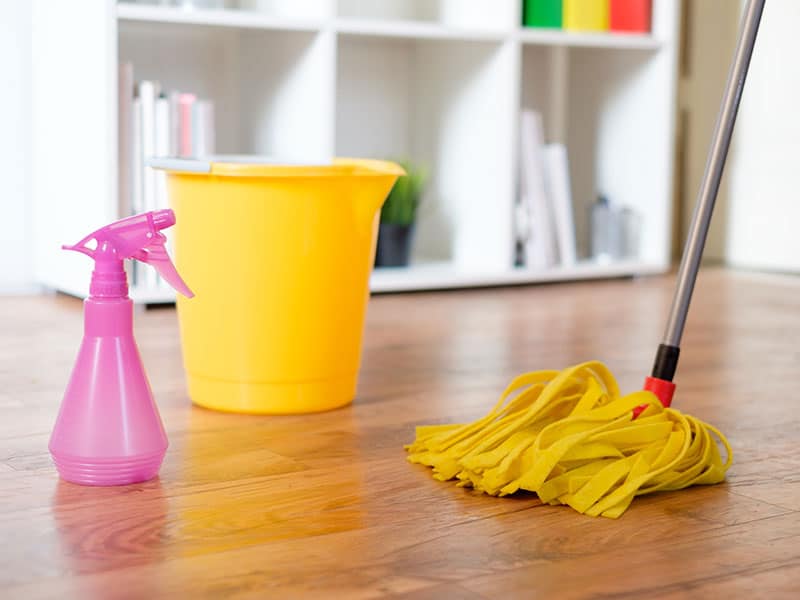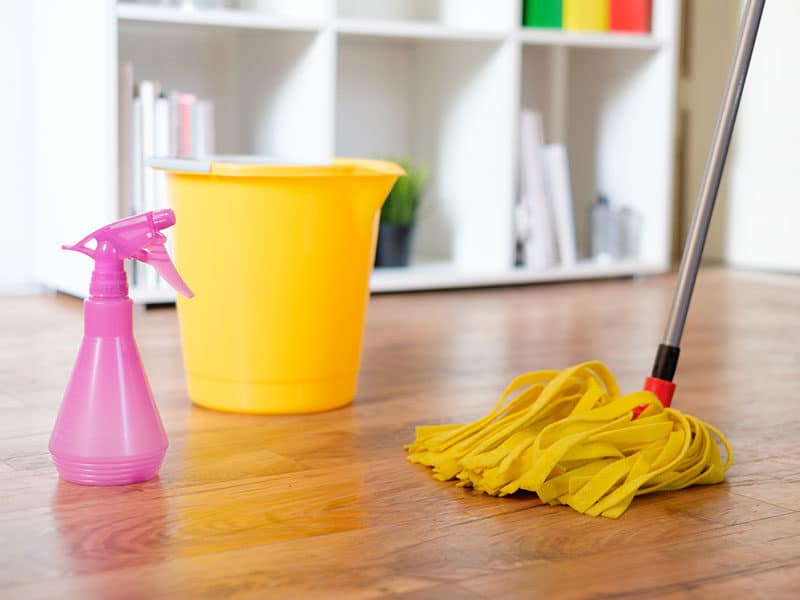 Certain NuCore vinyl planks include an anti-microbial layer against mold and mildew. They're both water and scratch-resistant. Now, let's take a closer look at the pros and cons of this flooring.
Pros:
Cost-friendly
You can easily clean NuCore vinyl flooring with a vacuum cleaner and a mop
A plethora of shadings and finishes (35 colors and patterns along with scraped, gloss, and hand-scraped finishes)
Limited lifetime warranty on residential installations. It doesn't cover any damage caused by negligence, improper installation, water erosion, extreme heat or temperature, abrasion, and cleaning other than advised.
Floor and Décor accept returns but ask for the buyer to cover the cost of the return shipment.
Cons:
There's no downloadable catalog, meaning, the styles differ frequently which can be a problem when you're looking to substitute damaged planks as it may be difficult to find matching planks.
No clear scratch or/and wear resistance level. Additionally, the lack of non-endorsed reviews is a problem.
Does NuCore Flooring Need Underlayment?
Underlayment is necessary for almost all floors. However, NuCore has a cork underlayment attached, so there's no need to install this individually unless you're laying the flooring right onto concrete sublayers. In this case, you should install a vapor barrier layer.
You can see this video to know more:
Is NuCore Really Waterproof?
NuCore vinyl flooring is 100% waterproof. Therefore, you can easily install it in wet-prone rooms of your home like the kitchen, bathroom, or basement and never stress about water damage again.
Is NuCore Flooring SPC Or WPC?
SPC stands for stone plastic core whereas WPC means wood polymer composite. NuCore vinyl flooring is 100% waterproof, no matter what option you pick.
Each plank features a waterproof wear layer and a rigid SPC middle layer that's durable and waterproof. Furthermore, each plank has a cork underlayment.
Can Nucore Be Installed Over Tile?
NuCore can be installed over almost anything including tile, concrete, vinyl, wood, ceramic tile floors, or linoleum. The only thing you can't install it over is a carpet.
What Can I Use To Clean My Nucore Floor?
To keep your NuCore vinyl flooring looking fresh and new, it's of big importance to clean it with the right cleaning equipment frequently and appropriately.
NuCore suggests utilizing soft bristle attachments for sweeping and vacuuming. Also, utilize a damp mop regularly with wax-free and oil-free floor cleansers.
You can steam clean your NuCore vinyl flooring. However, use the lowest setting. And keep in mind that ignoring these guidelines can void your warranty.
Is NuCore Vinyl Or Laminate?
If you google images of NuCore, I will forgive you for thinking it's a hardwood floor line but it's a line of vinyl floor planks made to mimic the appearance and look of hardwood floors.
It's cheaper than hardwood floors, of course. However, the low price isn't the only reason why everyone prefers vinyl flooring over hardwood these days. It's also waterproof and easy to install.
Additionally, vinyl flooring is easy to clean, soft underfoot, and decreases the noise of walking. Features like these matter to people with homes full of children and animals or commercial areas with a bunch of foot traffic. But it's not as durable as hardwood, so it's not suitable for all rooms.
Is NuCore Formaldehyde-Free?
Yes, NuCore is phthalate and formaldehyde-free. Meaning, you can safely use chemical products but it's not advisable. Stick to the brand's cleaning guidelines so you don't void your warranty.
Is Nucore Vinyl Flooring The Right Choice For You?
Hopefully, these NuCore vinyl flooring reviews can help you make a well-informed buy.
Overall, NuCore vinyl flooring is worth investing in because it's affordable, easy to install and clean, and waterproof. However, it's not as durable as the company claims. And the warranty has many exceptions. Meaning, it might be hard to make a claim. Therefore, avoid installing NuCore in high traffic spots.
If you have first-hand experiences with NuCore vinyl flooring or any questions associated with the topic, please post them below. And don't forget to share this information with your social media friends.
Was this helpful? What flooring or products would you like me to cover in the future?