Fusion Hybrid Vinyl Plank Flooring Review: Deep Analysis
Close your eyes and think of an attractive flooring. If the vision of a hardwood flooring that is affordable, water-repellent, and easy to clean comes to your mind, then open your eyes and continue to scroll down as this Fusion Hybrid Vinyl Plank Flooring Review is exactly what you need.
If you visit its homepage, you will see the manufacturer position Fusion Hybrid as an "attractive, affordable, and low-maintenance" flooring. However, it is hard to believe such flowery language, especially when it is from the manufacturer itself.
It would be essential to listen to other users' opinions in such an uncertain state and refer to some reliable review article, such as the one you are reading.
This article will offer a detailed assessment of Fusion Hybrid Vinyl Plank Flooring by analyzing certain criteria. My ultimate purpose is to help you determine that this particular flooring is the go-to selection.
Quick Rundown On Vinyl Plank Flooring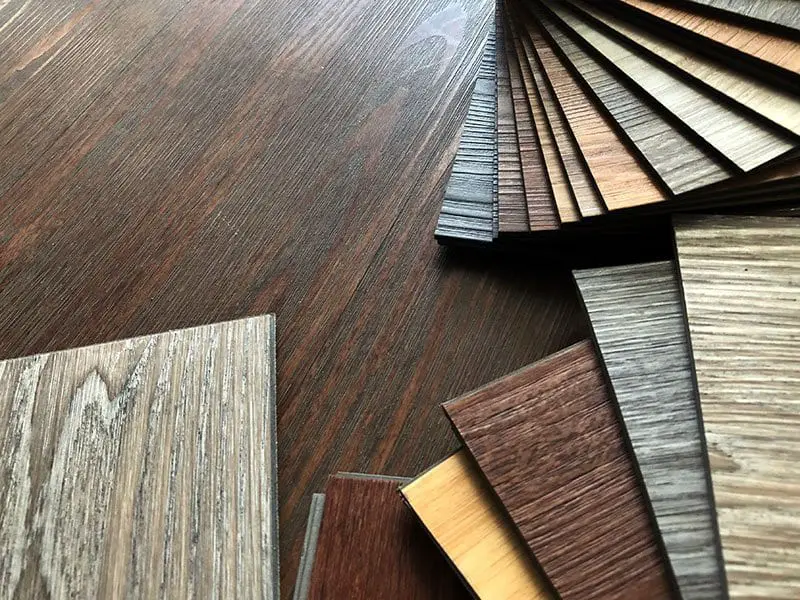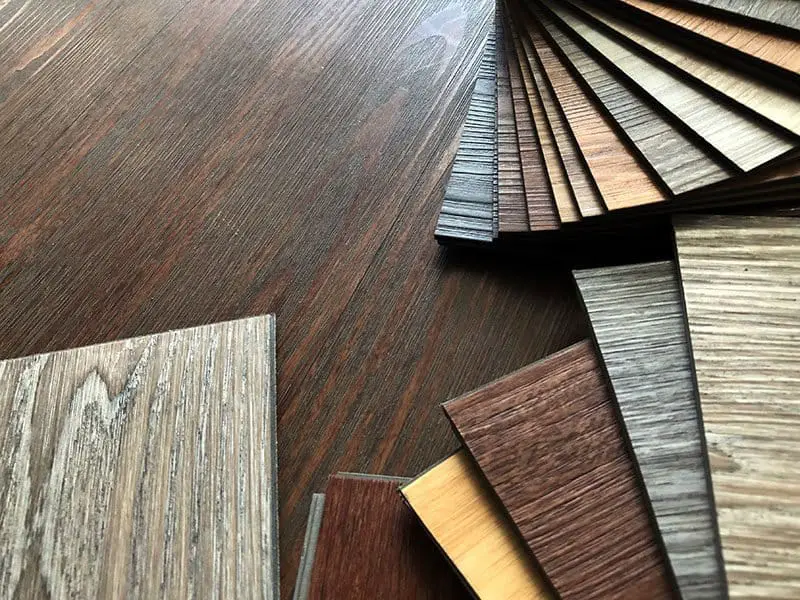 Vinyl plank flooring is becoming a more preferred choice in both household and commercial uses. In many specialized materials, this particular flooring often hides behind certain acronyms like LVP, WPC, or SPC. So, what are these terms?
In the world of vinyl plank flooring, there are two broad categories, which are:
Luxury Vinyl Plank (LVP).
Rigid Core Vinyl Plank: including Wood Polymer Composite (WPC) and Stone Polymer Core (SPC).
The next parts will provide more detailed information on these two categories.
1. Luxury Vinyl Plank (LVP)
Simply speaking, Luxury Vinyl Plank refers to planks that are designed as vinyl. This material gives your flooring the beauty of hardwood while maintaining all the fantastic benefits of vinyl. In some scenarios, you will hear people calling it LVT, which is the shorthand for Luxury Vinyl Tile. Basically, the two terms are used interchangeably.
In terms of structure, LVP has four (04) main layers. Take a look at the following table to understand each layer more easily.
| LVP Layers | Material | Characteristic | Function |
| --- | --- | --- | --- |
| Wear Layer | Clear coating | Diverse thickness, ranging from 6 to 30 mm | Protecting the floor from scratches, stains, and UV |
| Vinyl Layer | Vinyl | Printed with high-resolution digital image of wood or stone | Giving the wood (or stone) appearance |
| Backing Layer | Vinyl | Water-resistant | Providing strength |
| Bottom Layer (backer board) | PVC | Flexible | Enhancing stability |
Unlike other types of vinyl planks, LVP gains its strength from permanently gluing down all its layers with strong adhesive. Interlocking and floating mechanisms are not employed for LVP.
Speaking of vinyl floor installation, you should check out these errors for future avoidances:
Let's have a quick look at all the benefits and drawbacks of owning an LVP via this following table.
| Pros | Cons |
| --- | --- |
| Competitive price, compared to traditional hardwood flooring | Annoying smell of glue during the installation process |
| Huge variation in colors and patterns to depict the wood (or stone) appearances | Limited UV protection, making it easier to fade under natural sunlight |
| Water-resistant (more than laminate floorings, but not to the point of waterproof) | Unable to refinish like authentic hardwood floorings |
| Top-notch durability | |
| Easy to replace damaged planks via plucking them out | |
2. Rigid Core Vinyl Plank
Between the two categories, Rigid Core Vinyl Plank is the more popular item on the current market. As mentioned above, this group includes two subtypes, which are Wood Polymer Core (WPC) and Stone Polymer Core (SPC).
Like LVP, Rigid Core Vinyl Plank also consists of several basic layers with relatively different materials.
| WPC/ SPC Layers | Material | Function |
| --- | --- | --- |
| Wear layer | Clear coating layer | Protecting the floor from scratches, stains, and UV |
| Vinyl layer | Vinyl | Printed with high-resolution digital image of wood or stone |
| Core Layer | Composite of wood (or stone) powder and plastic (or resin) | Providing strength and completely waterproof |
| Base Layer | Foam and cork | Increasing comfort underfoot and sound absorption |
However, Rigid Core Vinyl Plank and LVP have two differences:
Waterproof Degree: Rigid Core Vinyl Plank is entirely waterproof. It does not buckle or warp under direct contact with water. On the other hand, LVP is only water-resistant. This difference originates in the distinct materials utilized to make the core layers.
Plank Connectivity: Layers of Rigid Core Vinyl Plank are linked via interlocking and float mechanisms. They utilize the tongue-and-groove connecting system. Thus, the installation involves no glue like that of LVP.
Once again, let's briefly assess the pros and cons when installing Rigid Core Vinyl Plank to your flooring.
| Pros | Cons |
| --- | --- |
| Cost-effective, despite being more expensive than LVP | Vulnerable under direct sunlight due to limited UV resistance |
| Endless color and grain variations for diverse flooring appearances | No refinish availability like real hardwood floorings |
| Effortless installation | More difficult in replacing damaged planks than LVP |
| Completely waterproof | |
| Applicable for installing on wet footprints (bathroom, basement, etc.) | |
| Extremely durable with high resistance against scratches, stains | |
Overview Of Fusion Hybrid Vinyl Plank Flooring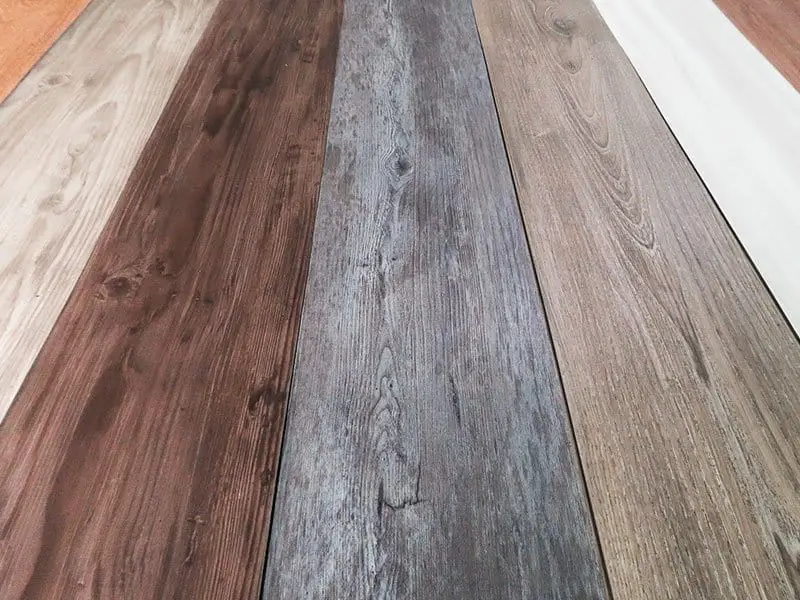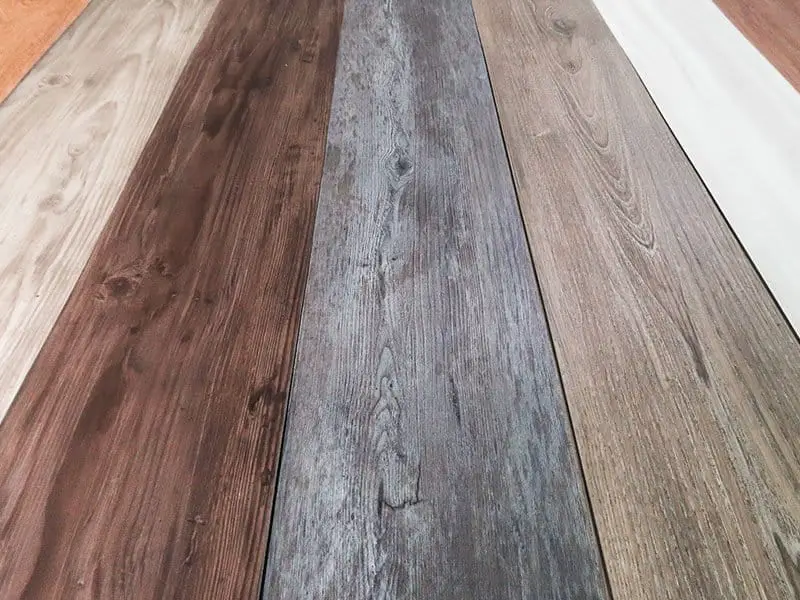 Fusion Hybrid Vinyl Plank Flooring is a high-quality, waterproof, and durable floating vinyl plank that utilizes Permacore technology. Being a dense recycled wood composite, Permacore allows the entire floor to be stable and not contract or expand like other flooring options.
Fusion floor is available in aesthetic tile and wood styles. The manufacturer has the Residential Lifetime Wear warranty and a 10-year Commercial warranty for this flooring product. Therefore, you can be confident about its top-notch quality.
Let's have a quick comparison among Fusion Hybrid Vinyl Plank Flooring with other Luxury Vinyl Plank and Laminate Flooring. The following table will reveal the superiority of Fusion products over other flooring options.
| | Fusion Hybrid Vinyl Plank Flooring | Other Luxury Vinyl Plank (LVP) | Laminate Flooring |
| --- | --- | --- | --- |
| Quick and effortless installation | Yes | No | Yes |
| Install without glue/ adhesives | Yes | Yes | Yes |
| Install without extensive floor preparation | Yes | No | No |
| Install in large rooms without transition strip | Yes | No | No |
| Walk on immediately without damaging the floor | Yes | Yes | Yes |
| Soundproof | Yes | No | No |
| Waterproof | Yes | No | No |
| Stable (not expand or contract) | Yes | No | No |
Fusion Hybrid Vinyl Plank Flooring Review: Comprehensive Analysis
This core section will dig deep into the assessment of Fusion Hybrid Vinyl Plank Flooring to provide better insights into this specific flooring type.
1. Styles Options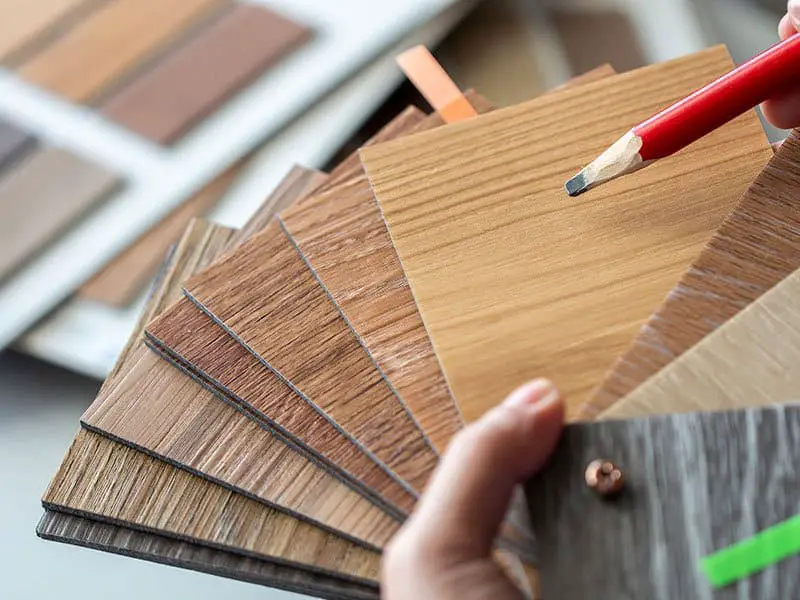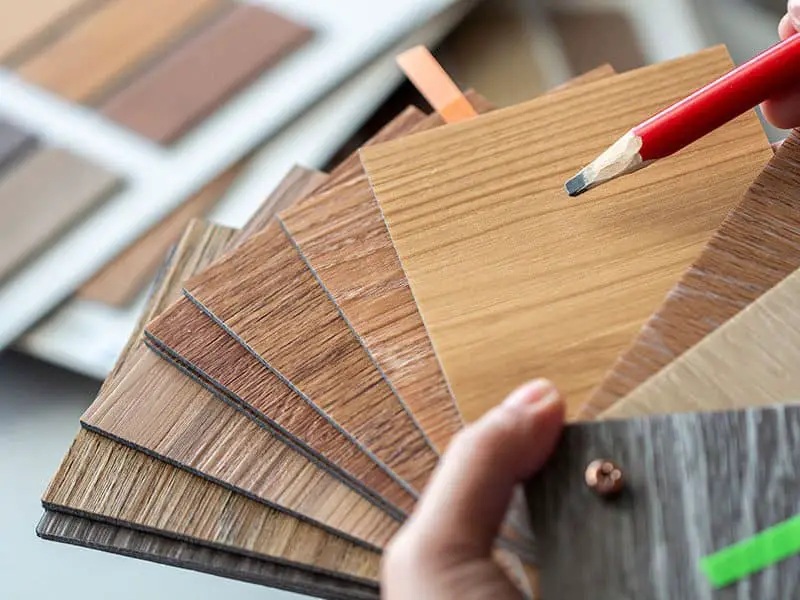 Despite being the new player in the market, Fusion Hybrid flooring is a specialized WPC, focusing on engineered planks. Currently, there are three (03) flooring types in this particular product line:
Fusion Hybrid Standard
Fusion Hybrid Max
Fusion Hybrid Summit
All three Fusion Hybrid collections share the common core material virgin PVC, limestone, wood, and bamboo dust. Their plank thickness is the same at 6.5 mm, too. However, each collection still has its own specification.
Fusion Hybrid Standard
Among the three collections, Fusion Hybrid Standard has the thickest core of 4.8 mm.
Regarding planks, this standard collection features up to 15 distinct wooden styles, including the exotic Acacia wood, the rustic Barnwood Gray, the classic Mahogany, and the unique Natural Hickory. Its models are available in a 6-inch width. However, their lengths vary (18 inches, 30 inches, and 48 inches).
Fusion Hybrid Standard is also available as tiles. Such tiles have the typical size of 12 x 24 inches and are very solid. You can browse among 4 different tile options for this collection, ranging from marble, slate to engineered vinyl ones.
Fusion Hybrid Max
The core thickness of Fusion Hybrid Max is 4.5 mm, which is in the middle range of the Hybrid products.
This lineup is more specialized in tiles than planks. Thus, it is an ideal choice for tile lovers. There are up to eight peculiar color schemes that you can select, from the light Matour to the grey Medoc and the rustic Roussillon. The tiles are available in 24 x 18.5-inch sizes.
This collection features planks, too. However, there is only one size of 7 x 71 inches produced. Such a size is too large and unsuitable for the majority of users.
Fusion Hybrid Summit
Fusion Hybrid Summit is the last collection in this product line, with the thinnest core of 4.3 mm.
As the name infers, this collection features mainly natural wonders and mountain peaks as their nine available styles. You will see decorations of Yellowstone and Denali in this Summit category.
The Summit engineered planks have a big size of 7 x 48 inches, while its tiles are available in 12 x 24-inch size as the standard version.
2. Durability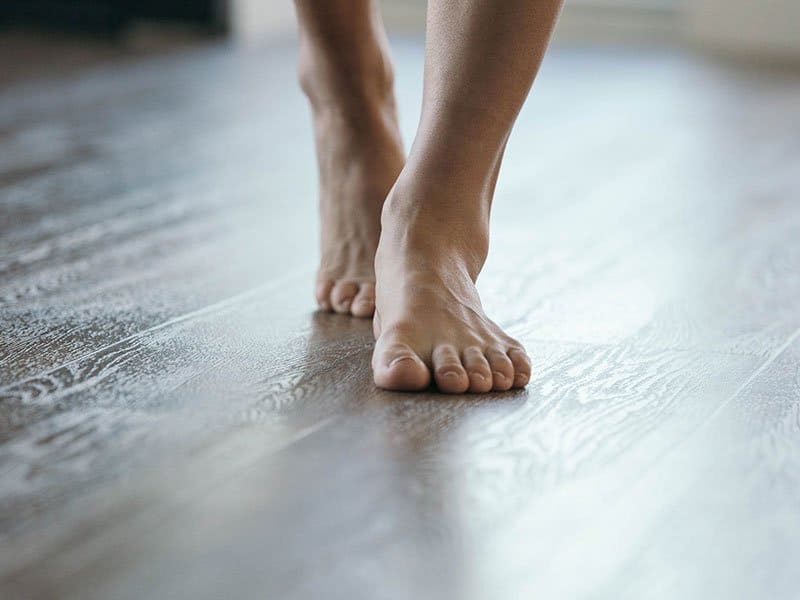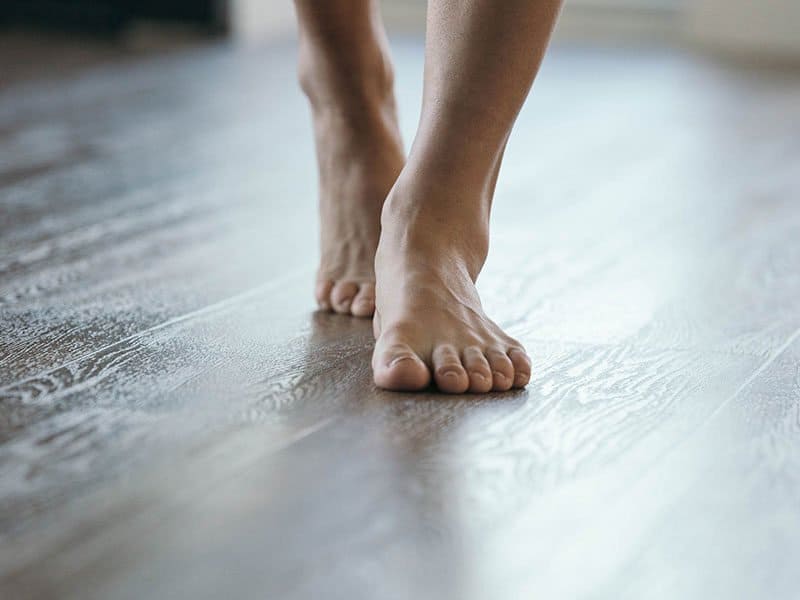 As mentioned earlier, Fusion Hybrid Vinyl Plank Flooring possesses top-notch durability that can withstand the heavy traffic of your home and office. Therefore, do not look at its affordable price and think it is not as durable as other flooring options.
Being a rigid core vinyl plank, this Fusion Hybrid floor is completely waterproof. It means you can install this flooring type anywhere in your house, including wet areas like kitchens, bathrooms, basements, or even laundry rooms. I guarantee you that the floor will remain intact without any warping or staining in such moist environments.
Furthermore, it has a wear layer on top to provide further protection against dents and scratches (from furniture sliding or your pets' claws). Plus, the floor is easier to clean, owing to this specific wear layer. That is why I say Fusion Hybrid Vinyl Plank Flooring can stand up to households with the busiest traffic.
The Permacore™ technology employed in this Fusion Hybrid floor guarantees no contraction or expansion after your installation. This trait is superior to real hardwood floors.
3. Eco-Friendliness
The Greenguard Gold certification from Fusion is the hard evidence for its product's high eco-friendliness, including that of Fusion Hybrid Vinyl Plank Flooring. There is no need to worry about constant maintenance with this flooring type, as it can endure typical damages, such as scratches, scuffs, and spills of any kind.
Whether it is water splashing from your kids' bathtub, or muddy boots, or your pet's food being knocked over, stay relaxed! Your Fusion Hybrid floor is completely safe from them. However, be aware that discolored vinyl flooring is a possible threat with Fusion Hybrid.
4. Installation Method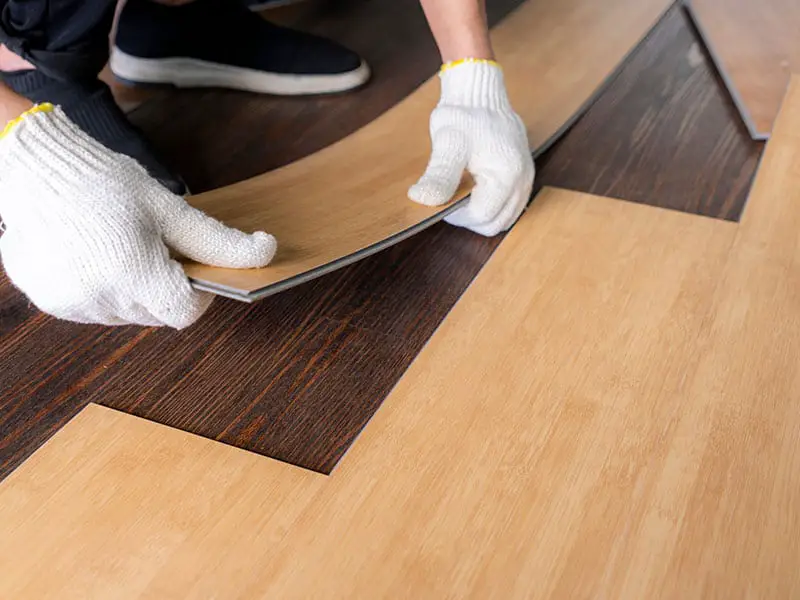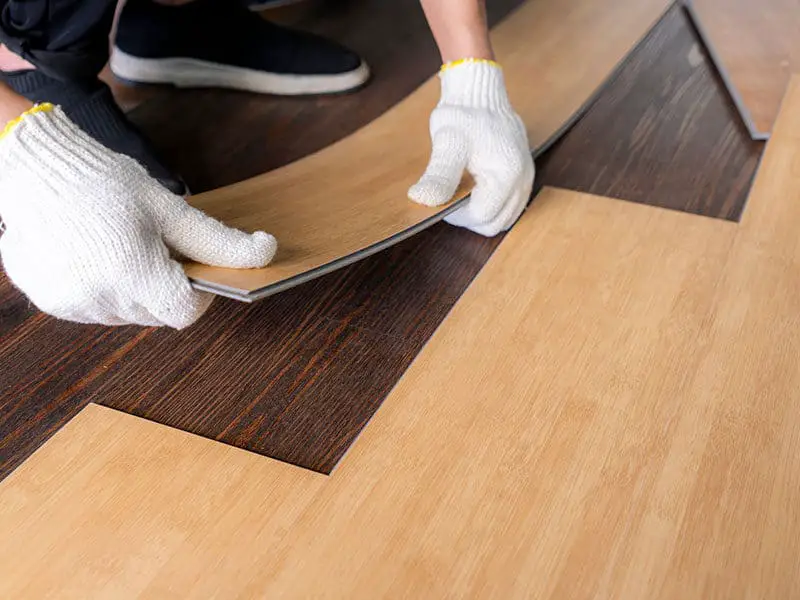 Most people believe that floor installation is a demanding task that requires costly professional help. It is true in most cases. However, with Fusion Hybrid Vinyl Plank flooring, you can easily install it on your own, even if you have no prior experience.
You can place your Fusion Hybrid flooring directly on top of your existing subfloor without having to pluck them out in the first place. All you have to do is follow their simple instructions.
On top of that, the drop-and-lock mechanism of Fusion Hybrid vinyl planks offers the most effortless installation process that you will experience. There is no need for complex transition strips and other expensive tools.
This simple installation only requires your time dedication. Depending on your site space, it usually takes a single day for you to finish the task properly. Rushing will do you no good, as it can void your warranties. However, as there is no glue or adhesive involved, you can walk on it immediately after installing.
If you want to see how the installation proceeds, follow the coming video for the detailed tutorial:
Maintenance Tips For Fusion Hybrid Vinyl Plank Flooring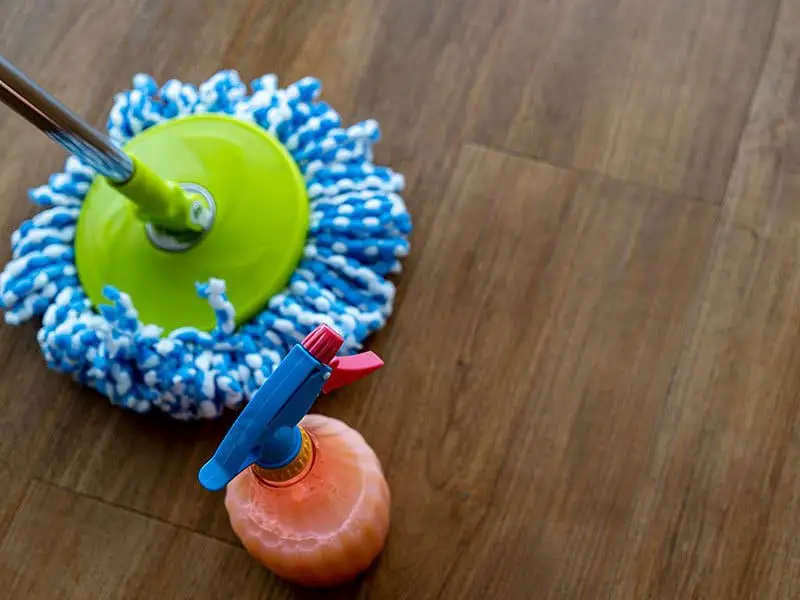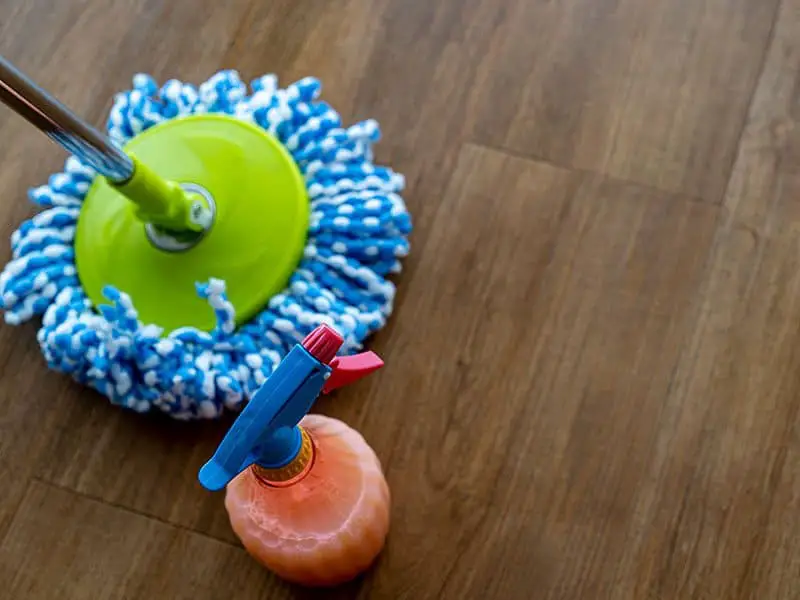 Essential maintenance tips to protect and preserve the beauty of your Fusion Vinyl Plank Flooring are all here in this section. This guide will come in handy if you decide to choose this particular flooring for your house.
Tip #1: Use Neutral Cleaners
Most flooring types require massive cleaning efforts, especially in selecting the appropriate cleaners. Normally, they would be expensive. Luckily, it does not apply to Fusion Hybrid Vinyl Plank Flooring.
Cleaning this particular flooring type is simple by utilizing a neutral cleaning product diluted with water. Bona Professional Series Cleaner is highly recommended for this task.
Besides using such cleaners, you can provide extensive maintenance by hardwood vacuuming or cleaning the floor with a mop or a broom on a daily basis.
Tip #2: Utilize Mats
Placing mats at doorways or entryways is an effective practice to prevent dirt and grit from contaminating and causing abrasive damages to your Fusion Hybrid flooring. Therefore, get yourself some mats and use them around every entry of your house.
Tip #3: Employ Floor Polish
Not only Fusion Hybrid Floor but all other flooring types will lose their shine over time. Hence, it is important to employ floor polish on a regular basis.
A good recommendation is Hilway Direct products. They can restore and protect your floor shine for up to a year.
Tip #4: Avoid Moving Heavy Furniture
Moving heavy objects can severely damage your Fusion Hybrid Vinyl Plank Flooring. Thus, there are two options for you here.
Number one, try your best to refrain from sliding them across the floor.
Number two, if you must move some furniture, always utilize boards or plywood to guarantee complete floor protection.
FAQs
As usual, I will answer all your inquiries about Fusion Hybrid Vinyl Plank Flooring in this section.
Important Remark On Fusion Hybrid Vinyl Plank Flooring
It is quite oxymoronic to say low price and high durability in the same sentence. However, this Fusion Hybrid Vinyl Plank Flooring review has proven the opposite.
Not only durable, but the product also has great wooden beauty, thanks to its various style options. It also receives much positive feedback from users for its effortless installation in both commercial and residential settings.
I hope that this article has provided you with a convincing option for your upcoming flooring projects. If you have used the flooring type before, share with us your thoughts in the comment section below. Thank you for reading!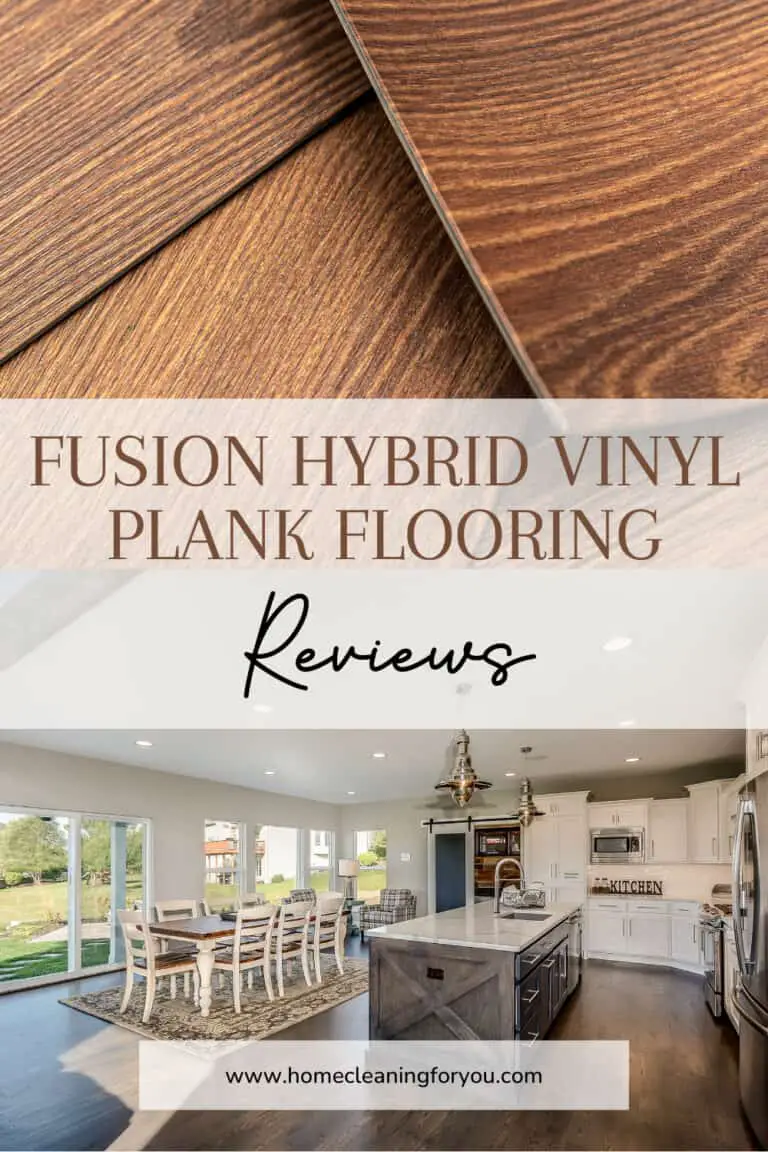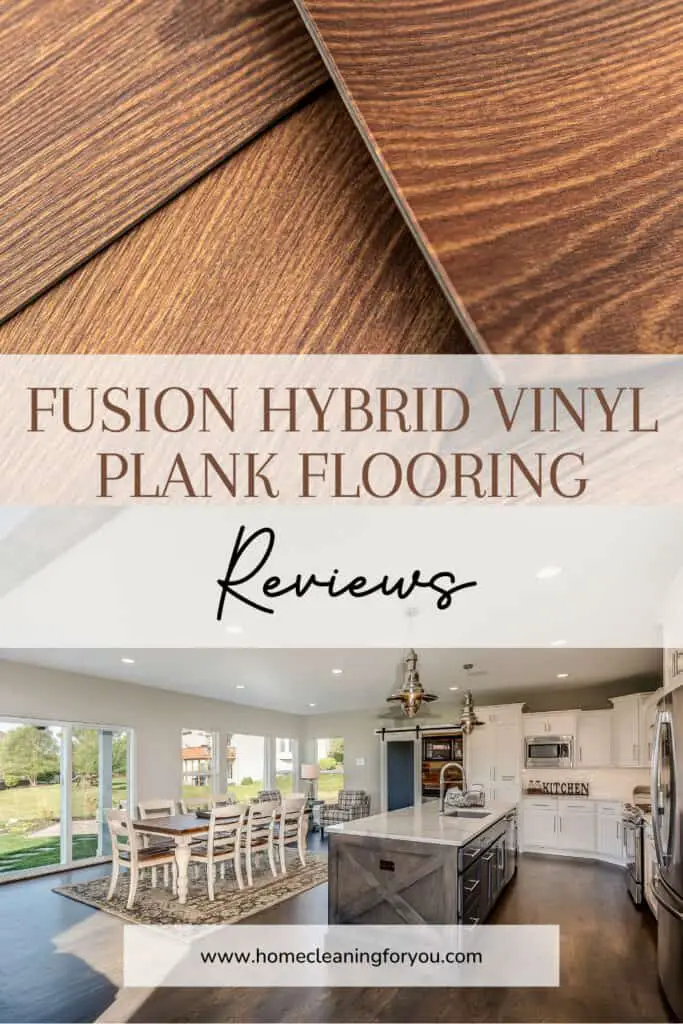 Reference
Pros & Cons of Vinyl Plank Flooring. The Good Guys. Retrieved June 02nd, 2021.
Fusion™ Hybrid Floors. Slaughterbeck Floors Inc. Retrieved June 02nd, 2021.
Fusion Hybrid Vinyl Plank Review. Floor Critics. Retrieved June 02nd, 2021.
Fusion Hybrid Engineered Vinyl Plank Reviews and Prices 2021. Flooring Clarity. Retrieved June 02nd, 2021.
Why Choose FUSION?. Earth First Flooring Tile. Retrieved June 02nd, 2021.