CoreLuxe Vinyl Plank Flooring Reviews – Cheap Flooring 2024
CoreLuxe vinyl plank flooring reviews will help you decide whether this affordable flooring can add practical and aesthetic value to your home.
If you like hardwood floors but have a limited budget, vinyl plank flooring might be a good option. CoreLuxe vinyl flooring by Lumber Liquidators is possibly the most cost-effective alternative to hardwood floors.
With the benefits it provides, such as low costs, simple maintenance, versatility, it isn't a surprise that more homeowners install CoreLuxe flooring in their homes.
But, floorings are a semi-permanent element in your home, and deciding among many options available can be challenging. Today, I'll cover all factors about CoreLuxe vinyl plank flooring!
Is CoreLuxe Vinyl Plank Flooring Good?
CoreLuxe vinyl plank flooring is cost-effective and nice-looking flooring for people who want to have hardwood-like floors and save some money.
The flooring is excellent quality for a vinyl floor, and durable. The design is stunning and the appearance and texture resemble real hardwood. If you are interested in stone vinyl plank floorings, you have fewer options in the CoreLuxe collection.
However, CoreLuxe floorings aren't as durable as hardwood floors and are prone to issues with fading and discoloration. If you have a limited budget and your old floors need replacement soon, CoreLuxe vinyl floors will be sufficient to get you covered for at least a decade.
What Is CoreLuxe Vinyl Plank Flooring?
CoreLuxe is a special line of engineered vinyl flooring, manufactured and available at LL Flooring (Lumber Liquidators Flooring), a seller known for a wide offer of all kinds of floorings type, including hardwood, laminate and vinyl plank.
CoreLuxe vinyl floorings come in planks of different sizes and resemble hardwood flooring. But, it is much more affordable than hardwood floors and lightweight. There are many sizes and styles in the CoreLuxe line you can choose from and get modern, traditional, rustic or any other effect.
These engineered vinyl plank floorings don't have phthalate, so they are safe to use indoors. Each CoreLuxe vinyl plank flooring style has Floor Score and Greenguard certification.
CoreLuxe Vinyl Plank Flooring Lines
CoreLuxe includes more than 400 different styles and options for vinyl plank flooring in three lines: CoreLuxe, CoreLuxe Ultra and CoreLuxeXD.
CoreLuxe
CoreLuxe is a basic line of luxury vinyl flooring and has three wood options to choose from – oak, pine and maple. The prices are reasonable, up to $3 per square foot.
The thickness of these vinyl floorings is moderate, from 5.3 to 5.5 mm. Most styles are available in 48-inches long planks. The CoreLuxe line offers an astonishing range of colors and shades.
I recommend the Sawmill Oak for the subtle tones and sophisticated look.
In most cases, you can expect a 10-year warranty for floorings from this collection, but some come with a 30-year warranty.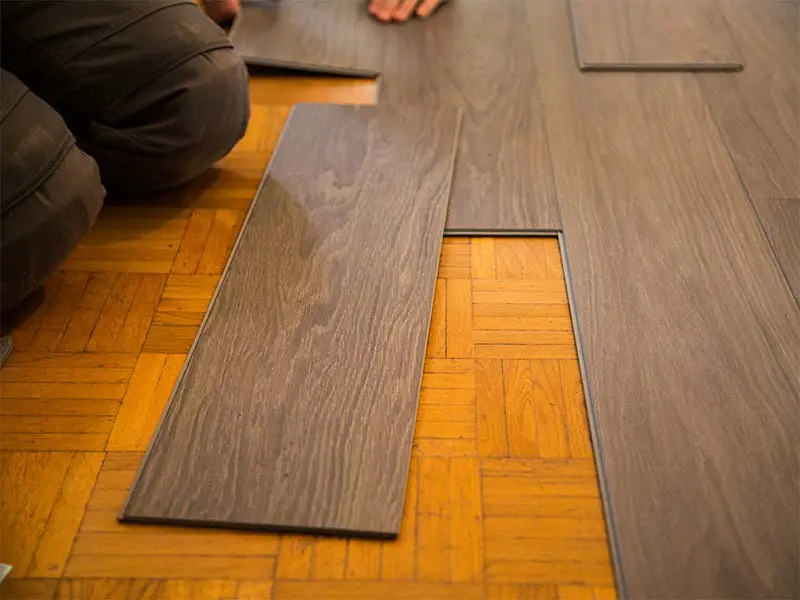 CoreLuxe Ultra
CoreLuxe Ultra has a wide offer in terms of wood styles. You can find vinyl plank floorings in beautiful Brazilian cherry style, hickory, oak, ash, walnut and pine.
The floorings from the CoreLuxe Ultra category are thicker than the basic models and can be seven or eight millimeters thick. Standard planks are 60-inch long and 48-inch wide.
The CoreLuxe Ultra also has options for every budget, because the floorings come in the price range from $2 to $5. The colors and looks are similar to the basic category, but each product is backed up with a lifetime warranty.
CoreLuxe XD
The third category – CoreLuxe XD differs from the previous two by its stunning cross-hatch texture. It also has deep and darker shades available for the floors.
You can choose between acacia, oak and hickory styles in different shades. The planks are the same size and thickness as the planks from the CoreLuxe Ultra line.
The most popular and beautiful style from the line is CoreLuxe vinyl plank flooring driftwood hickory, which looks good in every room.
The price tag is low, from $2 to $3, and the floorings include a 50-year warranty.
CoreLuxe Vinyl Plank Flooring Pros
Here are the most important pros of CoreLuxe vinyl plank flooring, explained in detail.
Design
Let's start with the obvious. CoreLuxe vinyl floorings look surprisingly similar to the hardwood floor. It isn't only the appearance that resembles the expensive hardwood floors, but it is also the texture. Therefore, these floorings look very realistic and are available in a wide range of wood styles, shades and colors.
Whether you want neutral floorings or rustic floorings with unique wood grains and knots, you will be able to find something that matches your preferences in the CoreLuxe lines. Ash, oak, walnut, acacia, pine and other wood types are realistically presented in CoreLuxe vinyl plank flooring.
Watch this video to know more: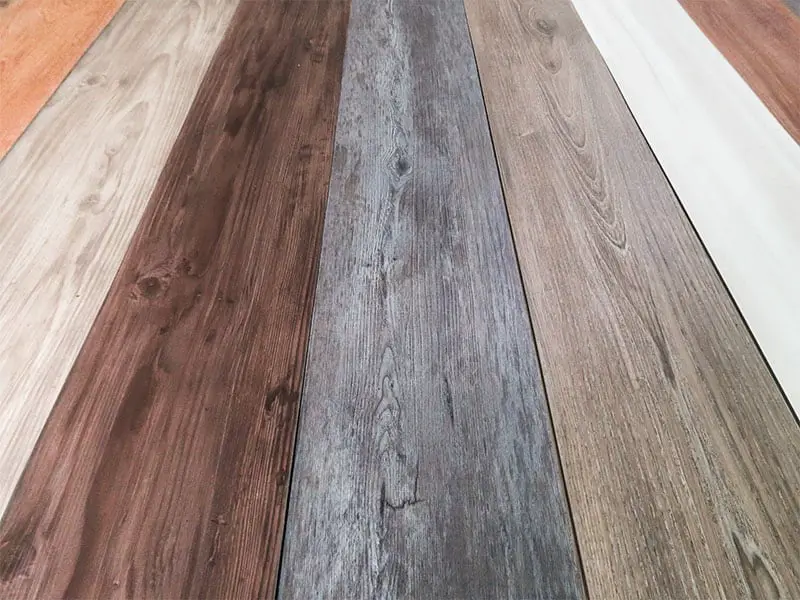 Strong Construction
Vinyl planks by CoreLuxe are durable and available in different thicknesses. The thickest planks of 7 and 8 mm can withstand heavy traffic and perform well in all rooms. The solid core of each plank is reinforced, and the floorings are waterproof.
The thinner planks are resilient to outer conditions to some point, but you can still choose them for rooms in which you don't expect heavy foot traffic, such as a bedroom.
Moreover, the wear layer doesn't scratch or stain easily, and it keeps the genuine wood appearance for a long time, especially if you protect the floor from furniture and fading.
Additionally, each product comes with a warranty, so getting the CoreLuxe vinyl plank floorings is a worry-free purchase.
Straightforward DIY Installation
CoreLuxe vinyl floor is suitable for DIY installation, which means there aren't additional costs for professional workers. The planks are easy to lock together, and the preparation of the subfloor isn't tiresome. There is no underlayment, no fuss and no use of complex tools.
Each plank comes with a solid core, which prevents bending while installing the planks.
Also, the planks are available in different sizes, so you get the size that has the most sense for your home. Installing CoreLuxe vinyl floor won't take you more than one afternoon! Once installed, use a mop for the vinyl floor to remove the dust and enjoy your new floors.
Indoor-Use Safe
Phthalic acid in high concentrations is toxic to humans. CoreLuxe planks are phthalates-free and safe for indoor use.
Additionally, CoreLuxe vinyl planks are certified by the two most important regulatory agencies – FloorScore and Greenguard. The certifications guarantee that planks are safe and include quality materials.
Waterproof
CoreLuxe vinyl planks are waterproof, which expands their application. You can install them in coastal areas, and any room you prefer, without the fear that the water will ruin your floors.
CoreLuxe Vinyl Plank Flooring Cons
CoreLuxe vinyl plank floors are great, but they do come with a specific set of drawbacks. Check them out!
Slippery
The products with flat textures from the CoreLuxe collection can be slippery because of the glossy surface. Also, moving wheelchairs or office chairs with castor wheels on the CoreLuxe vinyl floors isn't recommended. The slippery properties make the flooring unsuitable for rooms in which people exercise.
Fading
The surface layer of the CoreLuxe floor can lose its looks, fade and discolor if it is exposed to sunlight. The result is the stained floor, which cannot be fixed.
You may try to fix discolorations on the vinyl floor, but if you fail all that is left is to replace affected planks.
Watch this video to know more:
Subfloor Conditions
CoreLuxe vinyl plank floors are simple to install if your subfloor is balanced. The unlevel surface makes it impossible to install the floating vinyl planks or can cause the planks to deteriorate sooner.
Therefore, you might have to fix the subfloor before you install your vinyl planks.
Small Stone Collection
CoreLuxe vinyl plank flooring has only several options for stone appearance. The planks are available only in a couple of sizes.
Doesn't Improve Value
Installing a hardwood floor increases the value of your property. The same applies to stone tiles, even ceramic tiles. But, vinyl flooring, such as CoreLuxe, cannot improve the value of your home.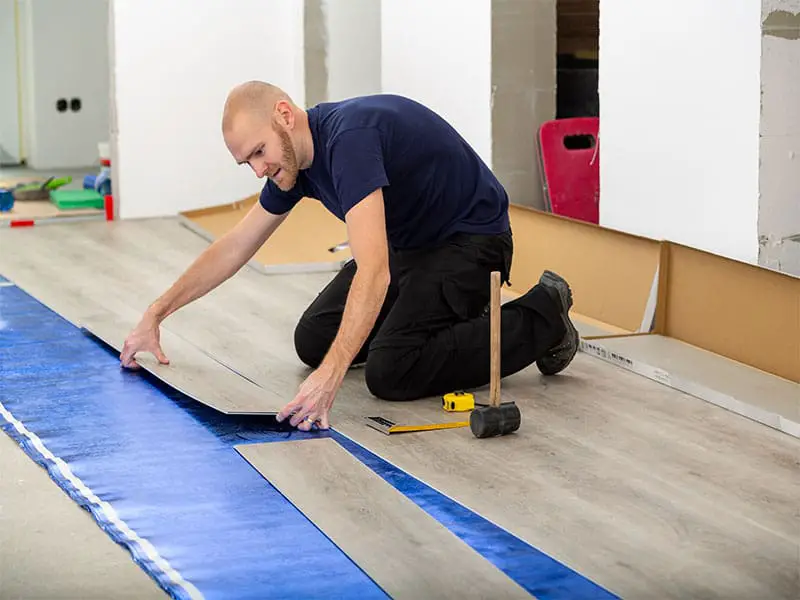 CoreLuxe Vs LifeProof
CoreLuxe and LifeProof are the two largest competitors in the flooring market, in the vinyl plank floorings category. The two brands offer similar products. CoreLuxe is exclusively sold by LL Floorings, and LifeProof is only available at HomeDepot.
At a glance, the two brands are quite similar. They offer a lot of styles and options, install similarly, and come in a wide price range. LifeProof has a wider price range and offers styles at $1.5 per square foot.
But, the CoreLuxe planks are more durable. Once locked on a flat and balanced surface, the CoreLuxe joints won't break or divide, which is something LifeProof users complain about.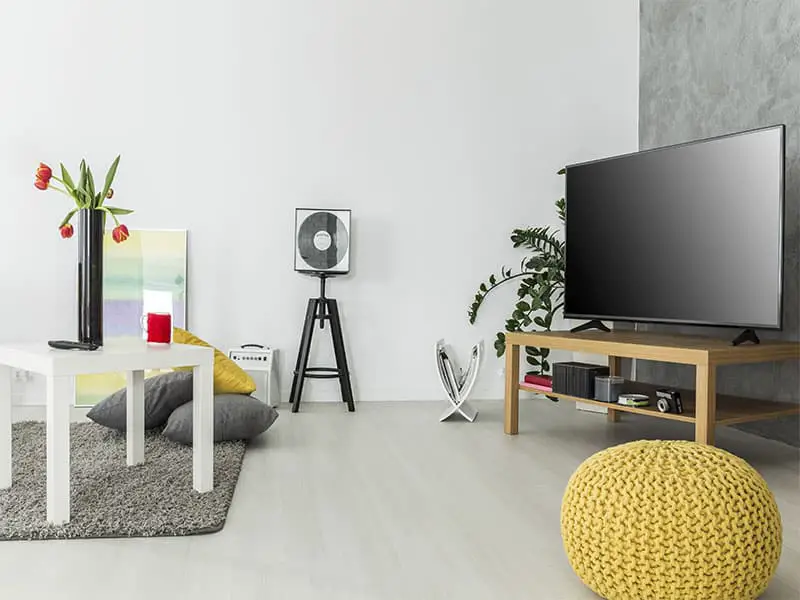 Where Can You Install CoreLuxe Vinyl Plank Flooring?
Because of the great benefits of CoreLuxe vinyl plank flooring, you can install it almost anywhere in your home. The waterproof properties make it an excellent choice for entrance, kitchen, even a bathroom.
The beautiful appearance of numerous CoreLuxe styles gives you unique opportunities to mix and match the floorings with other elements in all rooms in your home. For example, if you have traditional furniture, you can choose the warm shades of CoreLuxe XD collection, and save oak styles for the bedroom.
However, because of the slippery properties, I wouldn't recommend installing CoreLuxe in the nursery and office. Other floorings types might be more suitable for it, such as wall-to-wall carpet.
Watch this video to know more:
CoreLuxe Vinyl Plank Flooring Installation
If you wonder how to install CoreLuxe vinyl plank flooring, you'll be surprised by how easy it is. CoreLuxe vinyl planks are a type of floating floor, which means the planks lock together without any special effort.
You can install CoreLuxe vinyl floors on any type of subfloor, as long as the subfloor top surface is hard and flat. The basic subfloor imperfections are easily fixed because the planks have underlayment attachments. Therefore, you don't have to install the underlayment separately.
Overall, the installation process is straightforward and doesn't last too long. You only need a few tools. Therefore, you don't have to hire professionals to install the vinyl plank floor for you, which is a way to save some money.
But, if you are installing CoreLuxe flooring on concrete, I recommend cleaning the concrete thoroughly before you install your new floorings. You don't have to worry about acclimation like with hardwood.
CoreLuxe vinyl planks arrive ready for installation. The flooring also doesn't require sealing, drying or a similar process, so once you lock the planks, you can begin using your new CoreLuxe vinyl plank floorings.
Conveniently, the LL Floorings brand also sells finishing products for floors, such as corner pieces at a reasonable price.
CoreLuxe Vinyl Plank Flooring Maintenance
Before choosing new floorings, most property owners wonder how to clean CoreLuxe vinyl plank flooring. Luckily, it is one of the easiest floorings to maintain.
If you don't put rugs on top of the floor, you can use any sweeper to pick up dirt. Once the floor gets dirty, mop it with a standard homemade mopping solution. That is everything it takes to keep your CoreLuxe vinyl plank floors tidy.
Some people prefer vacuums over sweepers. In that case, pick a vacuum intended for hard surfaces and not for rugs and carpets, to prevent the brush roll from scratching the floor.
Watch this video to know more:
How To Protect CoreLuxe Vinyl Plank Flooring?
CoreLuxe vinyl floors are durable. But after some time, the upper surface will get scratched and stained. There are things you can do to prolong the pretty appearance of your vinyl plank floorings.
For example, avoid wearing high heels on the CoreLuxe flooring. Once you first install the vinyl planks, they will be able to resist heel scratches and punctures, but after a while, the protection will loosen and the damage can be visible.
Furniture pads are practical because they prevent the furniture legs from scuffing and scratching the floor.
Vinyl planks are somewhat soft, so they are prone to dents. If furniture sits too long on the same spot, it can cause permanent floor dents. To prevent it, rotate the furniture occasionally. You can also protect the floor from denting by installing plywood underneath the furniture.
Also, CoreLuxe vinyl flooring is quality flooring, but it is prone to fading when exposed to sunlight. You can use rugs on spots where sunlight hits the floor or curtains to filter the light.
Stick With Hardwood Or Choose CoreLuxe Vinyl Planks?
There is nothing better than genuine hardwood floors in terms of durability and appearance. But, you can achieve similar effects with high-quality vinyl planks by CoreLuxe.
Sure, these vinyl planks won't improve the value of your property and won't have a decades-long lifespan, but the CoreLuxe will save you the trouble of complex maintenance and pricey installation.
The overall costs of installing CoreLuxe vinyl floors are significantly lower than estimated costs for hardwood and tile. You can use the money to invest in other home renovation projects.
Would you consider CoreLuxe vinyl plank flooring? Share your arguments!
Don't forget to like and share the article if it helped you decide about your new flooring.