Vinyl Plank Flooring Cost: Last Free Guide You Need 2024
When it comes to vinyl plank flooring costs, a few things define the price. The total price for your vinyl flooring depends on whether you are building a new floor, upgrading an old one, replacing parts of damaged vinyl planks, the area size, etc.
Vinyl plank flooring falls in the budget-friendly flooring category, but there are high-end floorings on the market, too. It is also one of the cheapest floors to keep clean because you don't have to refinish it and apply expensive coatings to preserve the look.
The budget is a determining factor for many property owners during the floor choosing process, so let's answer the ultimate question: How much is vinyl plank flooring?
Along the way, you'll get to learn about vinyl plank flooring quality, and the differences between vinyl plank and other flooring options, price-wise.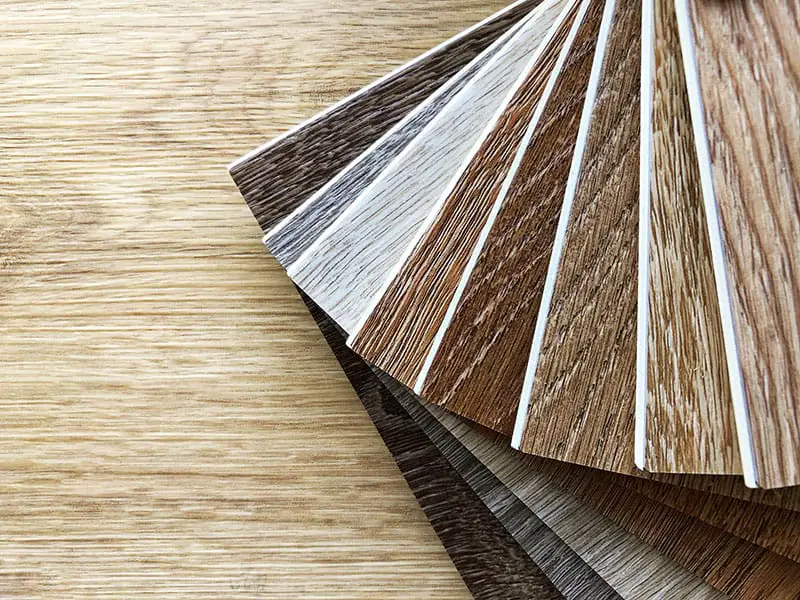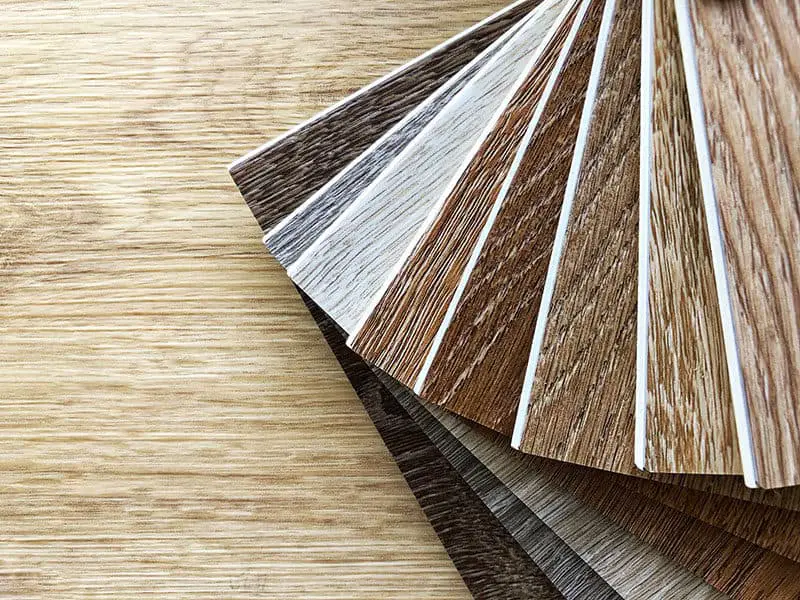 How Much Does It Cost To Install Vinyl Plank Flooring?
The price for vinyl plank floor installation includes:
Material (per square feet) – $1-$5
Material Premium Brands (per square feet) – $10+
Labor Costs (per square feet) – $1-$3
But, vinyl plank flooring is suitable for DIY installation, which gives you an option to reduce expenses even more. Moreover, vinyl plank flooring doesn't require expensive maintenance.
Compared to other flooring types, vinyl plank is more affordable than carpet flooring and hardwood and similarly priced as the laminate flooring.
What Is Vinyl Plank Flooring?
Let's be clear at the beginning – vinyl plank flooring isn't the cheap and flexible flooring used in the past. Modern vinyl planks are thicker, semi-rigid, and more durable than floorings used in the past.
Long planks come in different sizes and connect to each other via a click-and-lock system in an adhesive-free installation method. The flooring is easy to maintain and has excellent water resistance properties.
But, an additional improvement in vinyl flooring manufacturing is the appearance. Using modern printing technologies, brands make planks that closely resemble different wood types, natural stone, and other flooring materials.
Despite the improvements from cheap sheet vinyl flooring, vinyl plank type is still considered one of the most affordable floors you can install in different rooms.
3 Awesome Advantages Of Vinyl Plank Flooring
Vinyl plank flooring has many advantages and is one of the most popular floorings for solid reasons. But, here are the three advantages that make it stand out among other flooring options.
DIY Installation
Unlike hardwood or tile floors which require professional installation, you can take a weekend off and install your brand new vinyl plank flooring.
The design of each plank with a tongue and groove method makes the installation a breeze, even for people who aren't skilled in home improvement tasks.
You can see this video to know more:
Simple Maintenance
Vinyl is the simplest flooring material to clean and maintain. You can sweep or vacuum the floor to remove debris and dust. Next, a good mop for vinyl flooring and a weekly routine is all it takes to maintain floor hygiene.
Versatility
Interior design is a design branch that rapidly switches between trends while maintaining classical elements. Vinyl plank floor works for every interior style, modern, rustic, industrial, minimalistic, country, French, eclectic, etc.
There are numerous plank looks you can choose from and mix and match them easily with the rest of the interior design elements.
Also, vinyl plank flooring is suitable for installation in all rooms in your home – from the bedroom to the bathroom!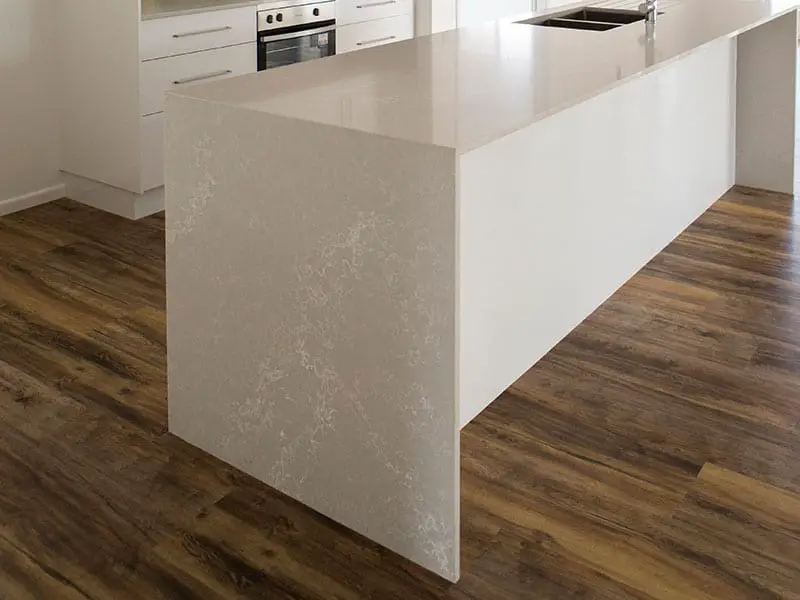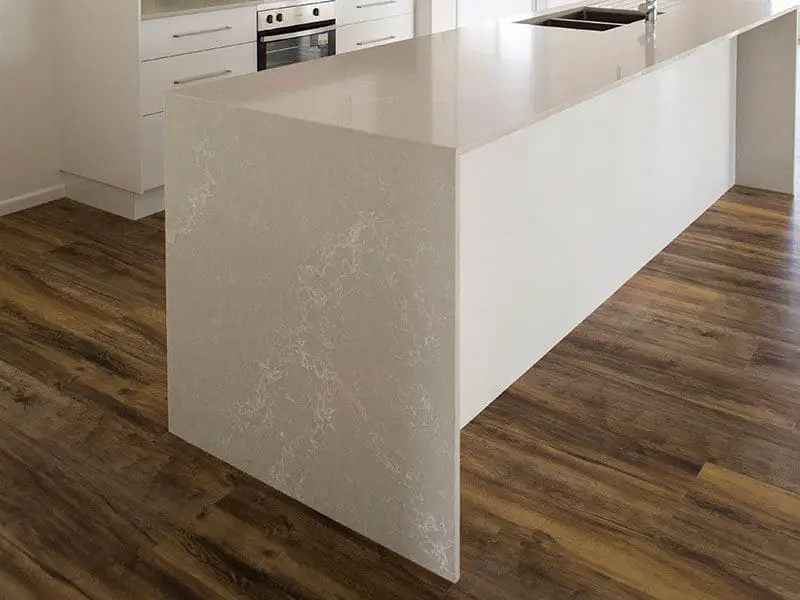 5 Key Points When Estimating Vinyl Plank Flooring Installation Cost
Before I present vinyl plank flooring cost estimates, let's talk about things that inevitably affect total costs.
Location
The state in which you live determines labor costs vastly. Materials are usually in the same price range if you go through large flooring retailers, such as Lowe's, USA Flooring, etc. You might get some discounts if you shop at local stores, but the largest difference is in labor costs.
Workers in states with higher cost index, such as California, New York and Oregon, tend to charge more than those with low indexes, such as Mississippi and Arkansas.
Subfloor Condition
Vinyl planks can be installed on an even floor, cleaned and prepared for new flooring. If the flooring has cracks or bumps, you need to fix those first to ensure the best performance of your new flooring.
For example, if you install vinyl plank flooring over cracked concrete, the water can penetrate through seams, get into those cracks and cause mold and mildew development. Therefore, the excellent vinyl plank flooring mold and mildew resistance can be compromised by the poor quality subfloor.
Vinyl plank flooring needs to be installed over dry, level, and completely clean subfloor.
Wear-Layer Thickness
The overall thickness of vinyl planks isn't as important as the thickness of the wear layer. The thicker the wear layer, the more durable and resilient the plank is.
The thickness is expressed in mil (not to be confused with millimeters). For low-traffic areas, you can get away with 12 mil.
But, I always recommend going for vinyl plank floorings with at least 20 mil of wear layer thickness. As you probably anticipate, the thicker the wear layer, the higher the price tag.
The thickest vinyl planks have a 28 mil wear layer, and they are more suitable for commercial use.
With vinyl plank flooring, it is worth giving extra money for thicker planks because it will improve the performance and durability of your floors.
You can see this video to know more:
Old Floor Removal
Here is the elephant in the room – before you remodel your floors, you have to take out the old floors. In most cases, it is a task that is better left to professionals.
If you are substituting hardwood floors or tile flooring with the vinyl plank, hire professionals for old floor removal. They will leave the subfloor in good condition, so you can save money on subfloor preparation.
You might try to remove old carpets, but ensure that no glue or tape is left behind. Old floor removal will cost you an additional $0.5 per square foot, a few cents more or less. Removing old tiles from concrete will cost you more.
Complete Floor Replacement Or Repairs
Lastly, are you installing new floors in the entire room or just replacing a couple of planks that show the most noticeable signs of wear and tear?
Logically, replacing damaged planks will cost you less than complete floor removal. But, if you regularly have to change planks in high-traffic areas, for example, around the doorway, consider installing new floors.
You can protect the affected area with area rugs.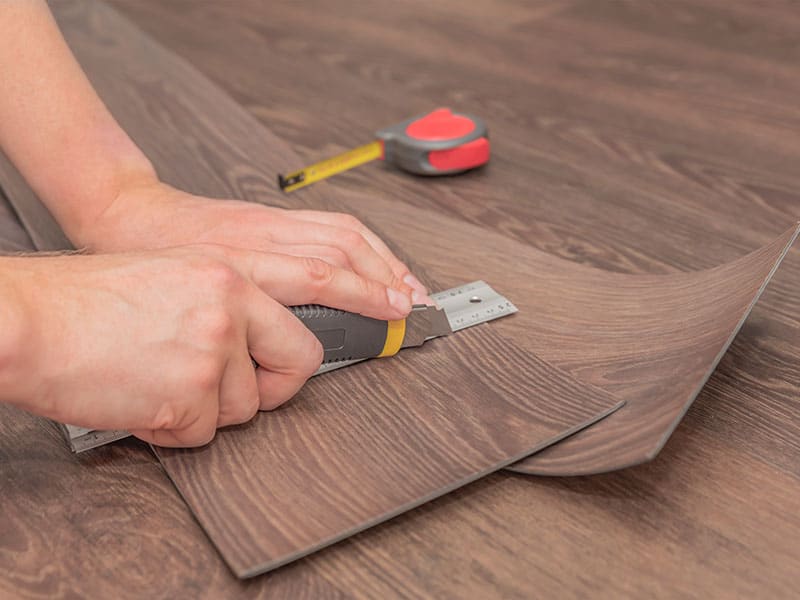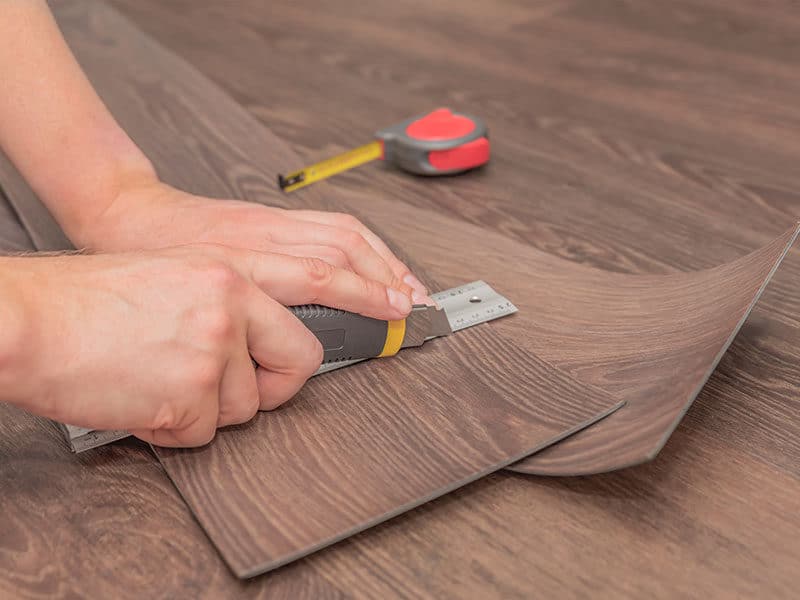 Vinyl Plank Flooring Costs Per Square Feet
Vinyl plank flooring comes in a wide price range and offers options for every budget and style. If you are looking for cheap and quick flooring for a utility room, vinyl plank is the right choice.
Furthermore, if you want to enhance the beauty of your living room, there are mid-priced and high-end planks that will cost you as much as hardwood floors.
When it comes to vinyl plank flooring, the price tag determines the quality, texture and look.
The vinyl plank floorings start at $1 for low-quality, thin planks. For thicker and more styles of planks, you can expect to pay around $5 per square foot.
Lastly, enhanced and textured vinyl planks with multiple protective coatings and stunning appearance can cost up to $10+ square feet.
Is It Worth Paying For Professional Vinyl Plank Flooring Installation?
I already mentioned that vinyl plank flooring is excellent for DIY installation. But, what if you don't want to get your hands dirty and leave the installation to professionals?
The average labor cost for vinyl plank installation is between $1 and $3 per square foot. The choice is on you.
If you are ready to invest more money into high-quality vinyl plank flooring, adding a couple of dollars per square foot won't make a significant difference to your budget.
But, if you opt for inexpensive flooring, within the low-quality vinyl plank category, giving money for something you can do yourself seems like a waste.
The mentioned labor costs don't include cleaning, old floor repair and removal.
Vinyl plank flooring is suitable for stairs, but the installation is tricky. You can see this video to know more:
Awesome Zero-Cost Vinyl Plank Flooring Maintenance
Installing new floors won't only cost you only for labor and material. You have to think about maintenance costs.
For example, costs for refinishing hardwood floors, which is standard maintenance, are a significant hit on your budget. You also need to buy specialized wood cleaners, change the vacuum if you own the one with a beater brush.
With vinyl floors, maintenance won't cost you at all. You can clean it with mild soap and water you have at home, there is no need to apply layers and layers of protective coating, sand the floor, and invest in expensive tools.
All things considered, once you install vinyl plank flooring, you are done with spending money on it, until the first planks start to show signs of wear.
You can see this video to know more:
6 Fantastic Vinyl Plank Flooring Brands: Price Battle
Now, when you know the national average costs, let's move on to the best vinyl plank flooring brands and their offers.
The following are brands worth your attention if you are interested in vinyl plank flooring:
Proximity Mills
Shaw
COREtec
Mohawk
Armstrong
Check the table for a comprehensive roundup of the best vinyl plank flooring brands' price range, warranties, and special considerations.
| Brand | Lowest Price | Low Price Mil | Low Price Warranty | Highest Price | High Price Mill | Warranty |
| --- | --- | --- | --- | --- | --- | --- |
| Proximity Mills | $1.5 | 12 | Limited lifetime residential/ 7-year for commercial | $10 | 22 | Limited lifetime residential/ 10-year for commercial |
| Shaw | $1.99 | 6 | 30-year limited residential | $2.97 | 12 | 25-year limited |
| COREtec | $4.99 | 12 | 30-year residential | $11.49 | 12 | Lifetime Structural |
| Mohawk | $1.40 | 12 | Limited lifetime | $2.79 | 12 | 15-year Residential/6-year light Commercial warranty |
| Armstrong | $1.39 | 12 | Lifetime Residential/7-year Commercial warranty | $4.89 | 20 | Limited Residential / 15- year limited commercial warranty |
| Mannington | $2.98 | 20 | Lifetime warranty | $11.56 | 20 | Lifetime warranty |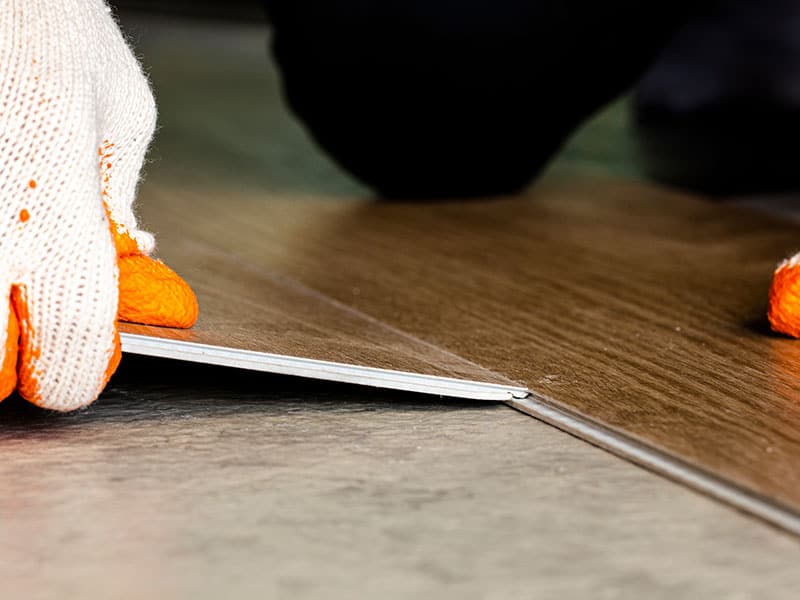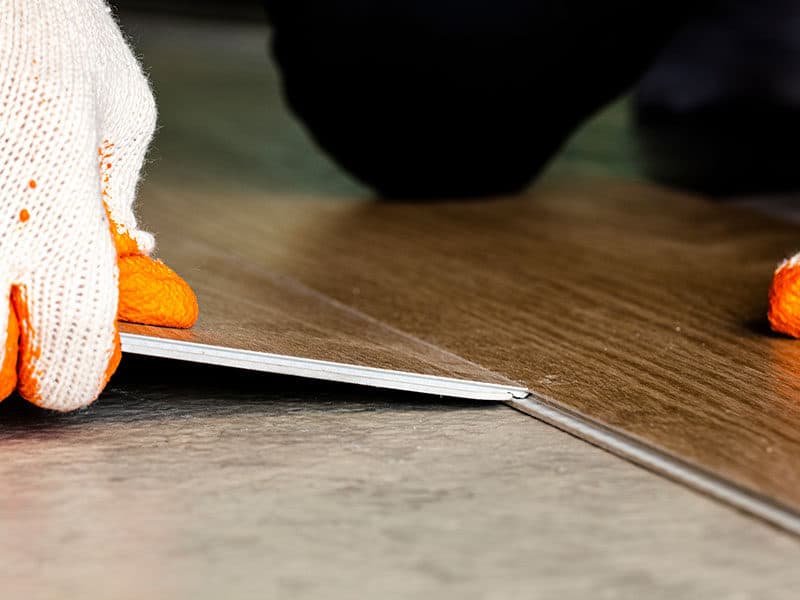 How Does Vinyl Plank Flooring Price Tag Compare To Other Floorings?
The click-and-lock method of installation is suitable for all types of floating floors, including vinyl plank flooring.Vinyl plank flooring is an affordable flooring type, alongside laminate flooring and carpets. But, what are the price differences between these seemingly same-priced floorings?
How much money can you save if you install vinyl plank wood-look flooring instead of hardwood floors? Let's discover.
Vinyl Plank Flooring Cost Vs Carpet
The average price range for carpet flooring is between $3 and $4 per square foot. Similar to vinyl plank flooring, high-end models can cost twice much as average.
But, carpet is difficult to install by yourself, requires professional cleaning every year, and a vacuum cleaner with high suction to extract all dirt and dust piled up in carpet fibers.
Because of that, DIY installation and material of vinyl plank flooring are more affordable in the long than having your carpets installed and cleaned every year.
Vinyl Plank Flooring Cost Vs Laminate
Vinyl plank and laminate flooring can cost between $1 and $5 for low and medium-quality flooring options. But, premium vinyl planks can cost up to $10 or $11 per square foot, double the price of high-end laminate flooring.
Vinyl Plank Flooring Cost Vs Hardwood
Hardwood flooring is one of the most expensive flooring types. The starting price is $5 for low-quality wood. Exotic wood can cost you $10-$15 per square foot, without labor costs.
Professional installation of hardwood floor is required, unlike vinyl plank floorings. You can pay $5-$8 per square foot for hardwood floor labor cost.
Vinyl Plank Flooring Price Vs Quality: What Is In It For You?
Mid-priced vinyl plank floorings offer excellent value for the money. Some of the most reputable brands offer planks with thick wear layers at reasonable prices and extended warranties.
So, you can rely on your floor to withstand heavy traffic for at least a decade. But, if you purchase premium flooring options, you can expect your vinyl floors to last even longer.
Moreover, if you are ready to invest more money into vinyl plank flooring, you can get textured wood-look planks that look exactly like hardwood floors. But, the price tag is lower and the water resistance is excellent!
Would you rather pay for high-end vinyl plank flooring or install cheaper hardwood floors? What are your arguments?
Spread the word about amazing vinyl plank flooring by sharing and liking the article!