Vinyl Plank Vs Laminate Flooring: Essential Differences 2024
Do you wonder which flooring is better for your home – vinyl plank Vs laminate flooring? The answer isn't simple. It is because there are several flooring aspects to consider and compare with your needs and preferences.
At a glance, both flooring options are durable, stylish and budget-friendly. The major difference is in the materials used. While laminate flooring is a type of engineered wood flooring, vinyl is a synthetic material.
So, how to choose? Let's break things down about all things you need to know about vinyl plank and laminate flooring.
Hopefully, by the end of the article, you'll be ready to decide which one is better suited for your dream home.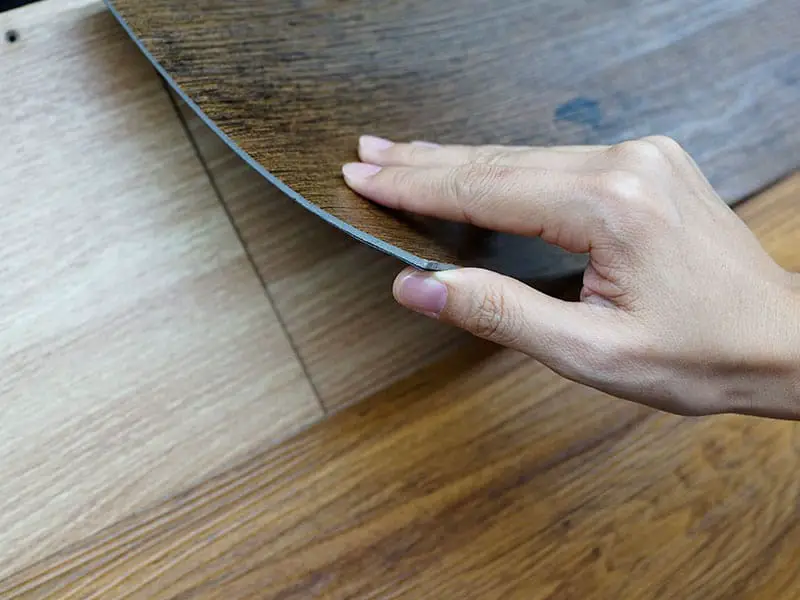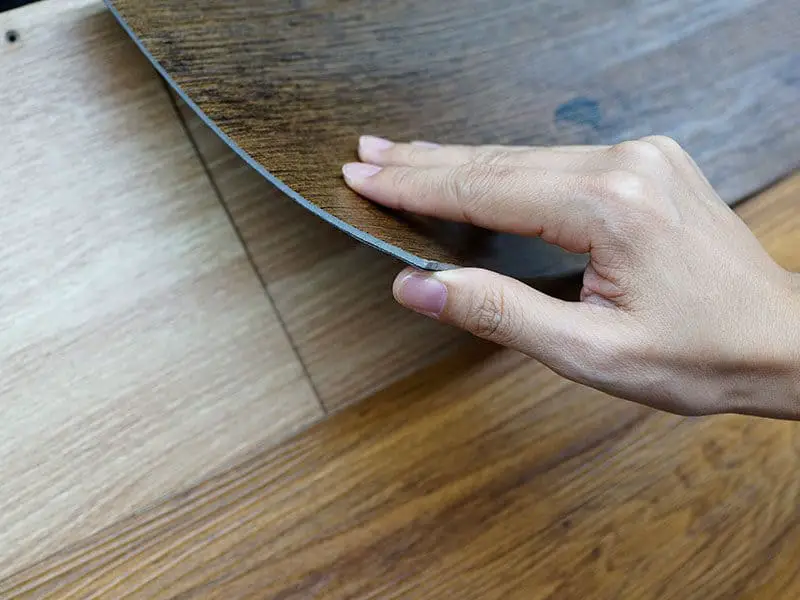 Which Is Better Laminate Or Vinyl Plank Flooring?
Vinyl plank flooring is more versatile and offers more colors, styles and options for styling with other elements in your home. But, compared to laminate flooring, vinyl planks are thinner, less comfortable and colder.
Laminate flooring is better in resembling wood styles and more eco-friendly.
Ultimately, it all comes down to your personal priorities and preferences.
Also, vinyl plank flooring is easier to maintain, and the lifespan doesn't depend on proper maintenance.
5 Similarities Between Vinyl Plank And Laminate Flooring
Vinyl plank and laminate flooring look the same from a distance. The appearance isn't the thing people get confused about when deciding between the two floorings.
Here are all similarities between vinyl plank and laminate flooring.
Appearance
Despite changes in construction, the top layer, the layer customers actually see in both vinyl plank and laminate flooring, doesn't include wood. In the case of laminate flooring, the top layer is a realistic image of wood.
Vinyl flooring also resembles wood. Premium vinyl planks realistically mimic the texture and look of wood.
Both floorings are available in a variety of styles, colors and wood types.
Laminate flooring is better in resembling wood, and vinyl planks are available in a tremendous variety of styles. You can find vinyl planks that closely mimic natural stone, ceramic tiles, etc.
Manufacturers also make laminate flooring with the image of these materials, but they are less popular than the products that mirror wood.
But, if appearance is the only determining factor between the two, you might have a hard time deciding between the two, because some styles look almost the same.
Installation
Installation of laminate flooring and vinyl planks is quite similar. Modern manufactures offer products in both laminate and vinyl plank flooring categories that install via the click-and-lock method. It is a glueless installation technique that is suitable for DIY.
In case of irregular shapes of the floor, you can cut vinyl plank flooring with a hand saw or fine-tooth blade, while you can use a utility knife to adjust vinyl planks size.
But, don't mix vinyl plank flooring with vinyl sheets. The vinyl sheet can be challenging to install by yourself and requires more skills.
You can see this video to know more:
Cost
Laminate and vinyl plank floorings are budget-friendly options. They are significantly cheaper than hardwood or stone tile floors. But, prices depend on several factors, including brand, style, plank thickness, etc.
According to data from Improvenet.com, the laminate flooring price range per square foot is from $1 to $5. (1) The same source, which gathers prices from all around the country, suggests that vinyl plank flooring prices start at $2 per square foot. (2)
The labor costs are similar, according to the same sources, with laminate flooring being slightly more expensive than vinyl to install. The labor costs start at $2 per laminate flooring installation and $1 for vinyl plank flooring setup. So, total costs are quite similar.
However, there are premium brands and styles for both flooring types. High-end vinyl plank floorings are slightly more expensive than laminate flooring, with a maximum price of $7 per square foot.
Don't forget to include the costs for old flooring removal, potential adjustments of subfloor and installation of new subfloor, if it is necessary.
Lifespan
Most people choose vinyl plank or laminate flooring instead of hardwood floorings because of the lower price tags and less risk of scratches.
Both floorings are durable, but the exact lifespan depends on several factors. Those include maintenance, the amount of traffic, the use around pets and children, the humidity range in the room, etc.
The average lifespan range of laminate flooring is between ten and 25 years, and vinyl planks can hold their appearance and performance for around 20 years or longer.
When it comes to lifespan, it is really a tie between laminate and vinyl plank flooring. As long as you keep your laminate flooring dry, it can maintain the impressive vinyl plank floorings lifespan.
You can see this video to know more:
Resale Value
Floorings are considered a long-term investment in every property. In the battle of laminate and vinyl plank floorings, there isn't a winner. None of the floors bring some impressive return of investment or improves the resale value of your home.
Cheap options in both flooring categories can look tacky, but not enough so they are deal-breakers for potential buyers.
If you are looking for floorings that will add prestige to your property, keep looking for other options, such as unique terrazzo floorings.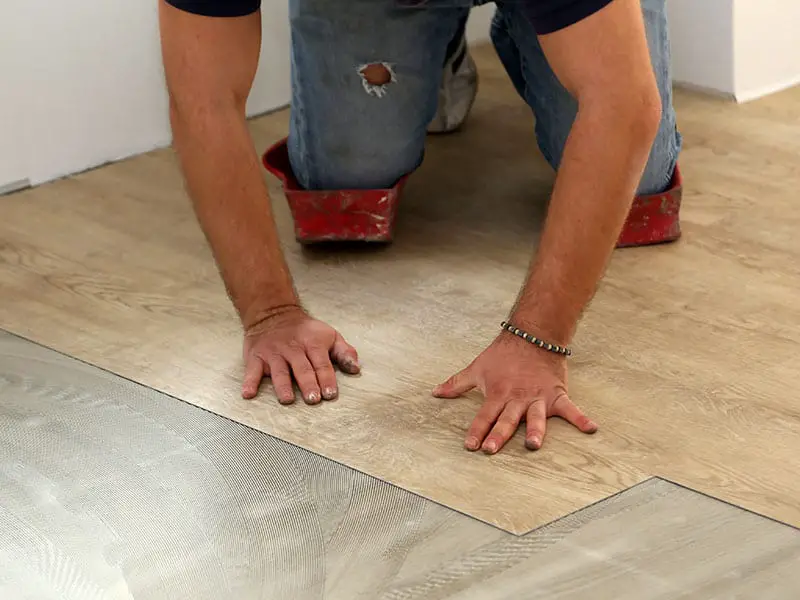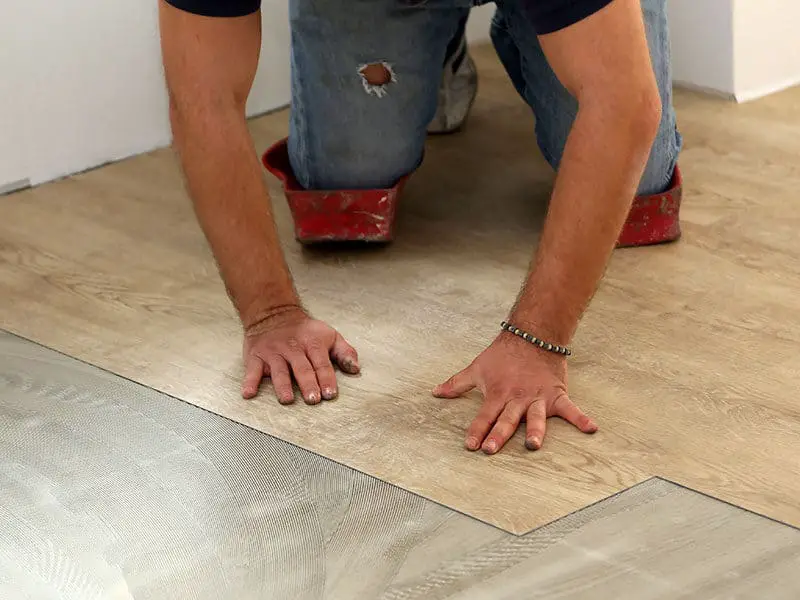 7 Differences Between Vinyl Plank And Laminate Flooring
There are significant differences between vinyl plank and laminate floorings that determine their use. Take a look at the following differences.
Construction
The most important difference between the laminate and vinyl plank flooring is the construction, the materials used, and their properties.
Vinyl plank flooring, as the name suggests, is made from vinyl. During the manufacturing process, PVC (polyvinyl chloride resin) melts down and mixes with fungicides, stabilizers and other synthetic materials to become resilient to outer conditions.
The mixture is then printed with a surface layer that resembles wood or stone. On top, there are several protective layers to keep the planks free of water damage.
The laminate flooring core consists of fiberboard and melamine resin. On top, there is a realistic photograph of the wood that the laminate flooring should resemble, and a transparent protective coat.
In simple words, vinyl plank flooring is 100% synthetic floor, while laminate flooring has layers that are made from wood byproducts and other materials.
Water Resistance
Because laminate and vinyl plank floorings are made from different materials, they have different properties. The laminate flooring core is wood, so it is susceptible to damage when it comes into direct contact with water.
As the core dries, it doesn't go back to its original shape and stay swollen. The top layer of laminate boards can chip off after water exposure. Quality laminate flooring with tight seams can withstand a small amount of water for a short time.
Therefore, laminate isn't a good option for rooms with standing water, such as bathrooms and basements.
New vinyl plank flooring is 100% water-resistant and waterproof. It means that it can be submerged in water and show no damage at all.
Plank Sizes
Both vinyl plank and laminate floorings are available in boards/planks of different sizes. Standard sizes for vinyl plank floorings are:
Width 4-8 inches
Length – 36 – 48 inches
Thickness 1.5 mm – 5 mm
The sizes for standard laminate boards are:
Width: 4 -16 inches
Length – 36 -48inches +
Thickness – 6 -12 mm
As you can see, laminate boards are significantly thicker than vinyl planks. Also, if you are looking for long and wide boards, you have a higher chance of finding what you're looking for if you focus on laminate floorings.
Maintenance
Vinyl flooring is the easiest flooring to clean. Whatever cleaning method you prefer – vacuuming, sweeping, dry or wet mopping – it works. Also, you can clean it with standard hard floor cleaners.
Laminate flooring is also easy to clean, but it requires a bit more care. You should never clean your laminate flooring with a wet mop because the water can damage it. A standard dust mop or a vacuum cleaner suitable for use on laminate flooring will be a great option.
Purchase laminate-safe cleaner, spray it on the floor and wipe with a dry microfiber cloth immediately.
None of the floorings are suitable for steam cleaning, though.
Because vinyl planks can be cleaned with a wet mop, it is easier to clean the floor thoroughly and disinfect it to remove all germs.
Vinyl floorings shouldn't be waxed, and all they need to maintain the beautiful shine is a standard cleaning routine. Laminate floorings are almost impossible to repair, and you can remove discoloration on vinyl plank floorings.
Eco-Friendliness
If you are eco-conscious then the environmental impact is an important factor in all home-renovating aspects. In that case, laminate flooring is a better choice.
The manufacturers of vinyl plank floors have improved the green status of vinyl plank flooring in the past couple of years. But, it is still a synthetic material that cannot be recycled.
Laminate flooring uses a plastic layer, but the core is wood byproducts, and a better choice for our environment.
But, if you are looking for a truly environmentally friendly floor, consider investing more money into bamboo, natural wood or linoleum flooring.
Comfort
Laminate flooring has a warmish feeling to it, especially when you install it with high-quality underlayment. Even without underlayment, laminate flooring helps minimize sound and is more comfortable to walk and stand on.
Also, the laminate boards are twice as thick as vinyl planks, which is a significant advantage.
The thickness and the options for laminate underlayment make it suitable for installation over concrete. It isn't an option for vinyl plank flooring because this type of flooring is cold and hard.
Standing on vinyl plank flooring for hours can cause knee and back pain. Vinyl also doesn't have any sound-proofing properties worth mentioning.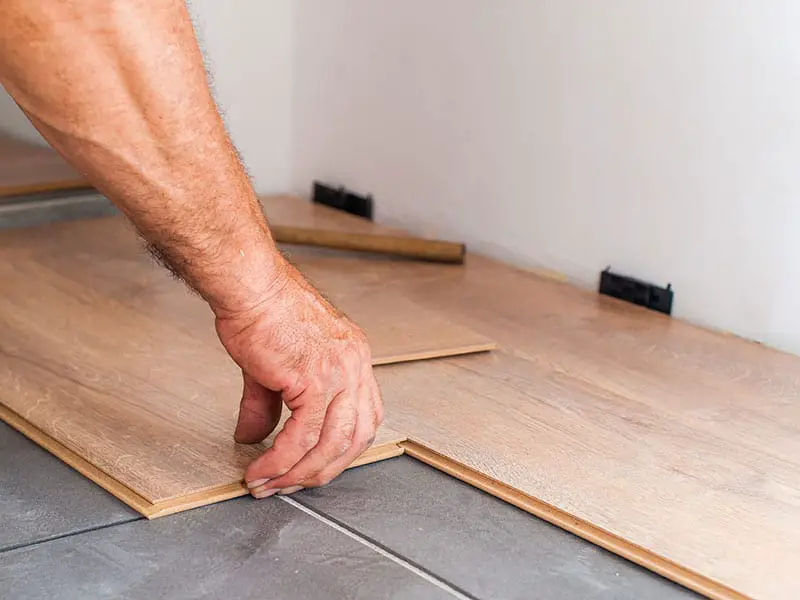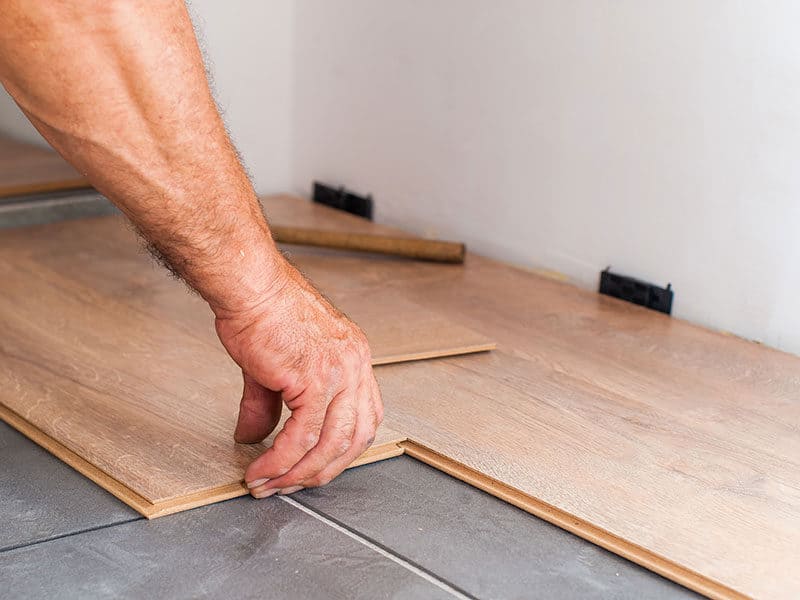 Installation Locations
Because vinyl plank flooring handles water and moisture well but is cold and hard, it is better suited for wet rooms with less traffic. Those include the bathroom, basement, and kitchen.
Laminate flooring is a better choice for living room or bedroom, but you should never install it in rooms with high humidity or water.
Because of the simple maintenance and resilience, vinyl plank flooring is a common choice in industrial areas.
Beginner's guide to installation of vinyl plank flooring in bathroom. You can see this video to know more:
Vinyl Plank Flooring Vs Laminate Comparison Table
Deciding between laminate flooring and vinyl planks is tough! I hope the simple comparison table with all the important information might help you make up your mind.
| Feature | Laminate Flooring | Vinyl Plank Flooring |
| --- | --- | --- |
| Installation | Click-and-lock method | Click-and-lock method |
| Lifespan | 10 - 25 years | 20 years + |
| Construction | Fiberboard core with melamine resin and realistic image | 100% PVC flooring |
| Recommended use | Office, living room, bedroom, dining room | Office, bedroom, dining room, bathroom, kitchen, basement, |
| Maintenance | Dry mopping, dusting, vacuuming, use of laminate-specific products | All techniques and all cleaners |
| Comfort | Thick planks, warm, soft underlayment | Hard and cold |
| Sound insulation | Moderate | None |
| Style | Available in a variety of styles, realistic wood images | Huge range of styles |
| ROI | None | None |
| Costs | $1-$5 per square foot | $2-$7 per square foot |
| Labor costs | $2-$4 per square foot | $1-$4 per square foot |
| Plank thickness | 6 - 12 mm | 1.5 - 5 mm |
| Plank length | 36 - 48+ inches | 36 - 48 inches |
| Plank width | 4 -16 inches | 4 -8 inches |
| Water-resistant | No | Yes |
Quick Overview Of Vinyl Plank Flooring: Pros And Cons
If you are looking for inexpensive, durable, waterproof and easy to maintain flooring, vinyl plank is an excellent choice. But, let's sum up all the important things about this flooring type so you choose confidently.
Pros:
Simple, click-and-lock installation
Budget-friendly
Easiest floor to clean
Huge range of styles and colors that look like wood, tile or stone
Waterproof
Cons:
Not very comfortable
Not recyclable
Hard and cold
Doesn't add value to your home
You can see this video to know more:
Top Vinyl Plank Flooring Brands For Best Quality
Vinyl plank flooring is more popular than laminate flooring. Thus, a lot of reputable manufacturers produce vinyl planks on the market. Here is a list of the best brands you can consider if you opt for vinyl plank flooring.
Quick Laminate Flooring Analysis: Pros And Cons
Laminate flooring is an excellent option if you want the look and feel of hardwood floors but at a fraction of the cost. Here are all the good and bad sides of laminate floorings, summed up.
Pros:
The realistic appearance of hardwood floor
Inexpensive
Comfortable
Easy to clean
Moderate warmth and sound insulation
Cons:
Prone to scratches
It doesn't handle water and moisture well
It cannot be repaired or refinished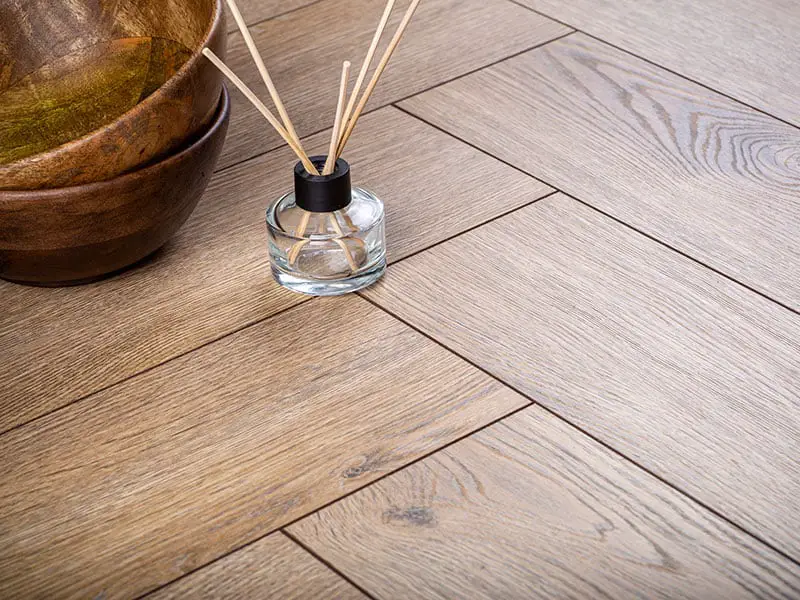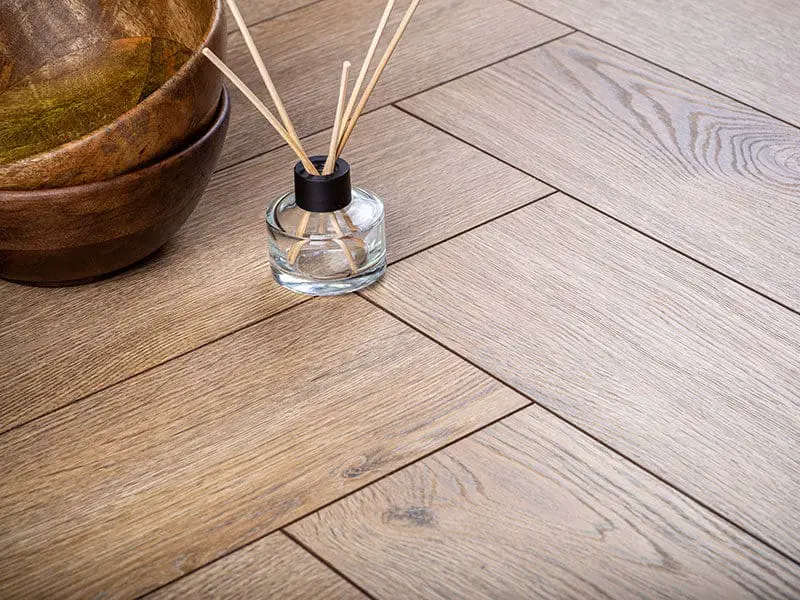 Best Laminate Flooring Brands For Performance And Durability
Even though laminate flooring isn't as popular as some other types of flooring, you have a great offer on the flooring market. Consider next brands if you lean toward laminate flooring:
Shaw Flooring
Pergo
Armstrong
Mannington
Choosing Budget Flooring For Your Home
Budget is an essential factor for many people when making a choice for floorings. Vinyl plank and laminate flooring are without a doubt two superb, inexpensive flooring options.
Both have their good and bad sides, but the choice depends on several factors. Try to answer the following questions:
Where do you want to install the floor?
Is comfort or simple maintenance more important to you?
What about environmental impact?
Which look do you want – stone, wood or tile?
With all the information presented in the article and answers, you would probably be able to decide. If you have more questions, please ask me in the comment section!
Share the article if you enjoyed it! Don't forget to give it a thumbs-up!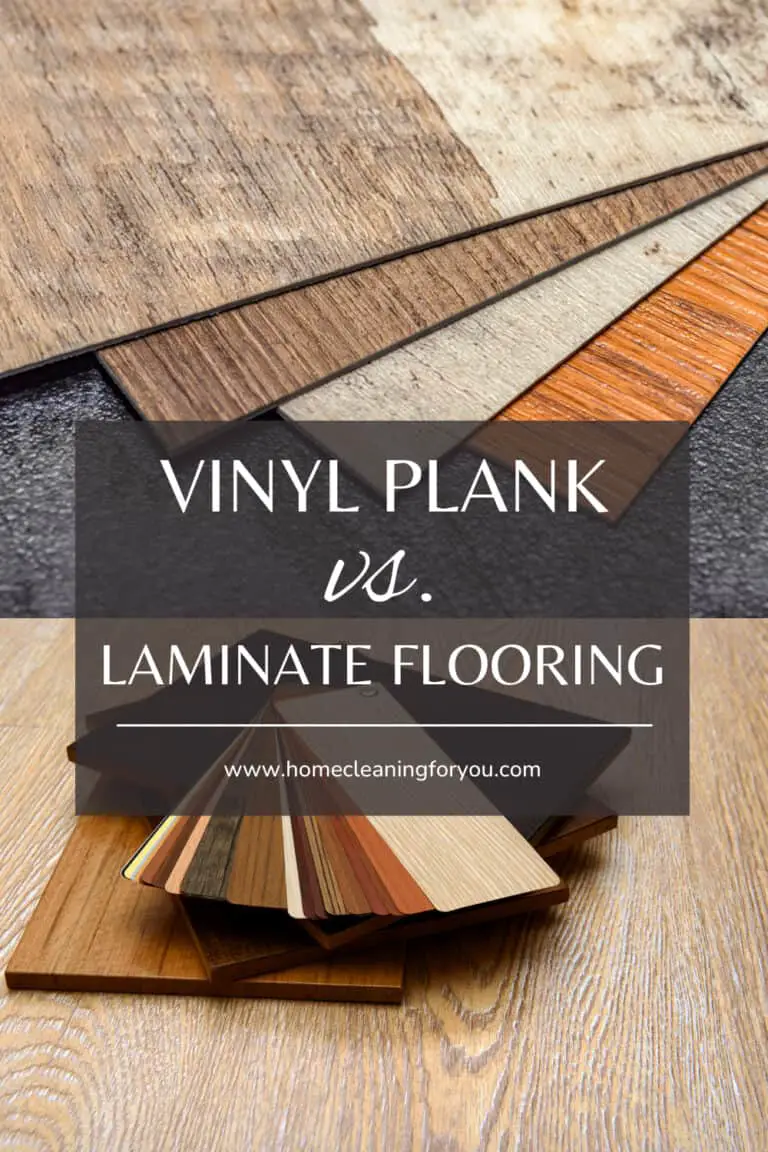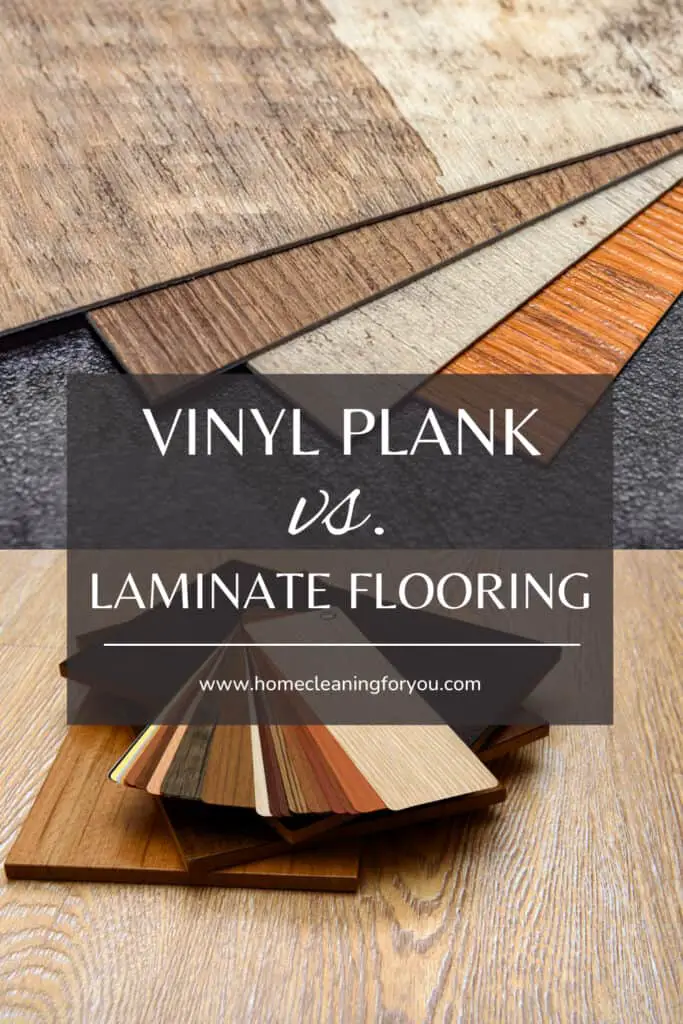 References:
2022 Laminate Flooring Installation Cost | Laminate Floors. Improvenet.com.
2022 LVT Flooring Cost | Cost to Install Vinyl Plank Flooring | Cost of Luxury Vinyl Flooring.